Last updated December 14, 2020
Refurbished Android Phones Offer Better Savings than Refurbished iPhones – Saving Buyers up to 55%
It's no secret that you can save a lot of money opting for a refurbished phone instead of a brand new one. Most phones lose a good chunk of their market value in just a few months following their release. And that's what makes the re-commerce market an attractive option for bargain hunters.
So, how much can you actually save by buying a refurbished phone? And which smartphone brands offer the most savings? To find out, SellCell.com decided to dig into their data to compare the current refurbished price to the latest MSRP of some of the most popular smartphones. The research included all top brands – Apple, Samsung, Google, LG, and OnePlus and their models released between 2018 and 2020.
Which Refurbished Smartphone Brands Offer The Best Savings?
Android Refurbs Offer the Best Bang-For-Your-Buck!
Make no mistake, by getting a refurbished iPhone instead of a brand new one, you can still save several hundreds of dollars. However, the biggest savings currently are without doubt across Androids. This is because Apple products are slow depreciators, so renewed Apple products also hold their value and are more expensive than other Smartphone refurbished brands. Android phones – even the newer ones, depreciate in value at a much faster rate and as such constitute some of the best deals in the refurb segment.
Key Findings – Which Refurbished Smartphones Save the Most?
If you're looking to maximize your savings when shopping for refurbished phones, Samsung and Google Pixel phones are your best bet. Samsung and Google top the savings chart, as buyers can save anywhere from 40 to 55% on smartphones released in the last two years vs the current MRSP.
The best value refurbished phone on the market is a Samsung S9+, which offers buyers a 55% saving vs a brand new model to the same specification.
Refurbished Apple iPhones on average can save someone 22% vs a current new option. But iPhones offer 20% Less Savings than Refurbished Samsung & Google Phones.
Buyers can save, on average, close to a whopping 36% on Samsung's 2020 high-end flagships when bought refurbished. This means you can pick up a refurbished Samsung Galaxy S20 Ultra with top-of-the-line specs and features for just $814, a whopping 41.86% discount over the listed price of $1400.
LG refurbished phones takes the third spot in terms of savings, and refurb buyers can save between 32% and 48% on handsets launched in the last two years.
OnePlus phones depreciate at a similar rate as iPhones and their refurbished phones offer savings of around 22% vs buying a brand new model.
Refurbished vs New Phone Savings Highlights
The infographic highlights all of the main savings that can be made across refurbished phones released in 2020, 2019 & 2018.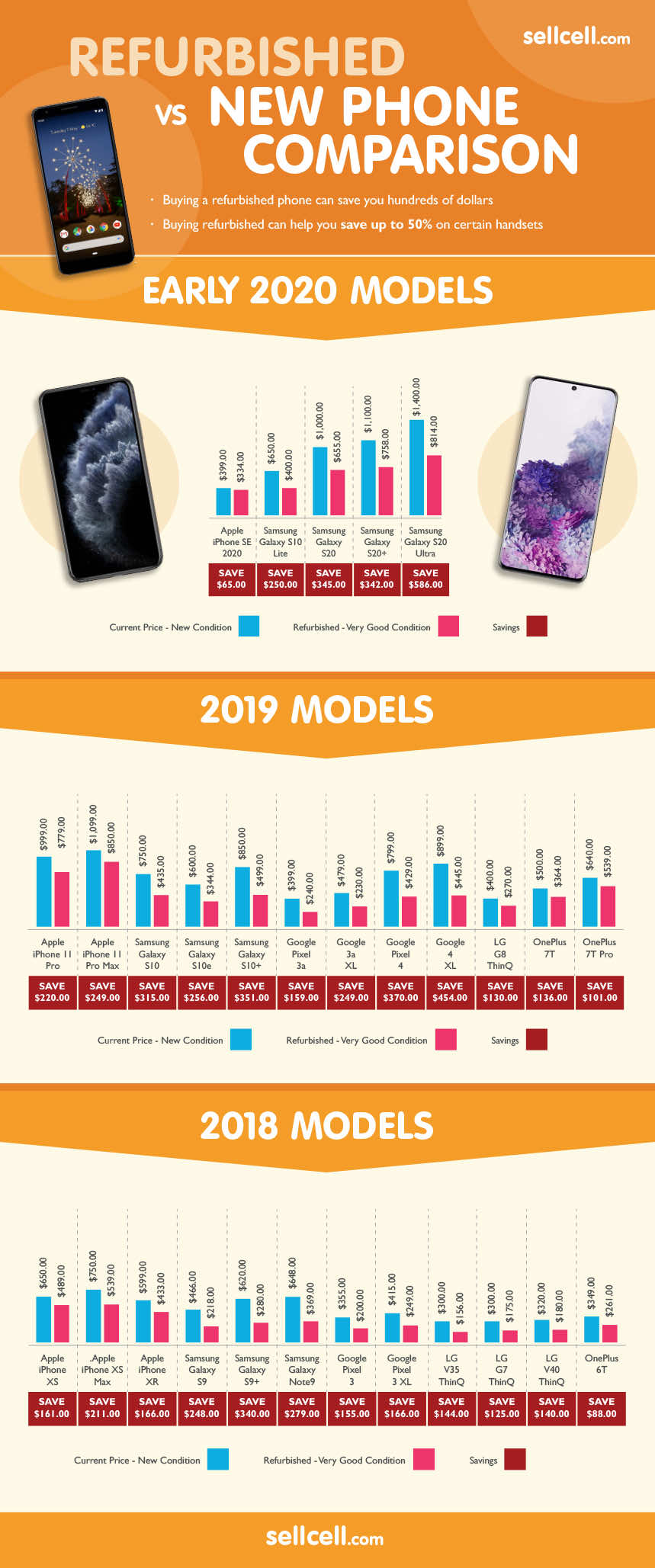 Top 10 Best Refurbished Phone Deals
After reviewing major smartphone releases since 2018 – SellCell can reveal the best refurbished phone bargains are as follows: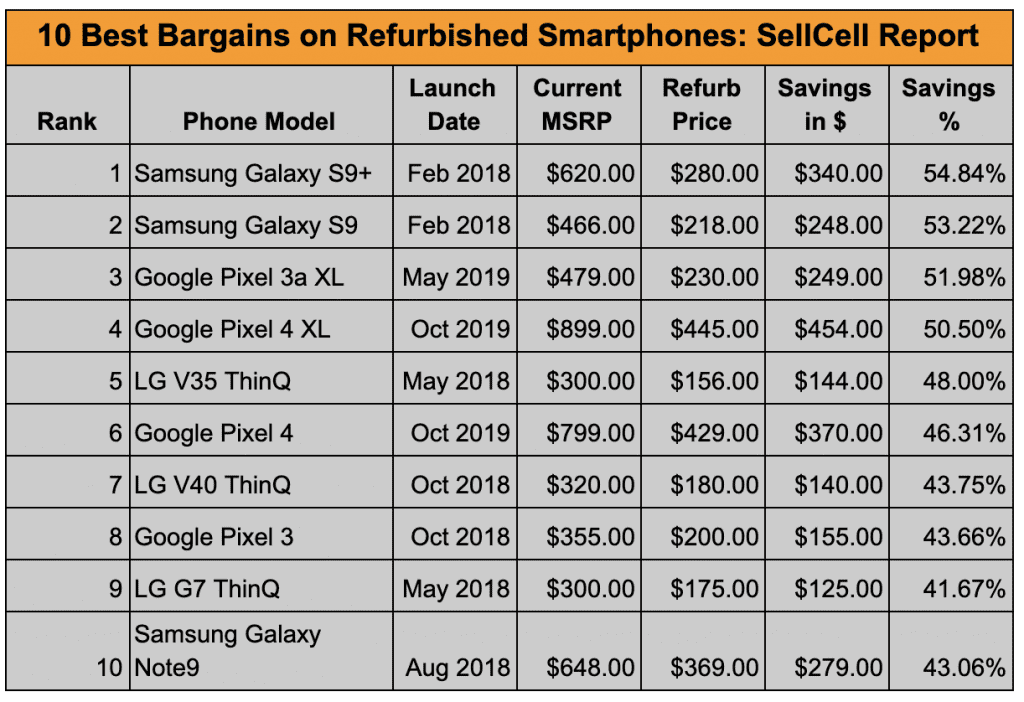 With the refurbished option going at $280 and offering savings worth $340 (54.84% off the market price of $620), Samsung's two-year-old Galaxy S9+ earns the top spot in our ranking.
Ranked second is yet another Samsung phone, Samsung Galaxy S9, whose refurbished variant currently sells at $218. That's a discount of more than 53% and savings of $248; the phone goes for $466 brand new.
Besides the above two, there's a third Samsung phone that can be quite a bargain for phablet fans: Samsung Galaxy Note9. Although the phone is two years old at this point, it still retails for $620 on Amazon. However, you can save $279 off that price and grab one refurbished for as low as $369.
A total of four Google Pixel refurbished phones, thanks to lower trade-in values, have managed to make it to the list — Pixel 3, Pixel 3a XL, Pixel 4, and Pixel 4 XL. For the uninitiated, Pixel 3 was released back in late 2018, while the other three are 2019 devices.
Google's official store lists the price of Pixel 3a XL as $479, Pixel 4 as $799, and Pixel 4 XL as $899, but taking the refurbished route can bring that down to $230 (~52% off), $429 (46.31%), and $445 (50.5%) respectively. Also, Google Pixel 3 is currently $355 on Amazon, but you can buy it refurbished for just $200 (43.66% off).
LG smartphone sales have dropped significantly in the last few years, and so finding newer LG models in the refurbished market isn't going to be easy. But if you're lucky enough, you can snag a $300 LG V35 ThinQ for as low as $156, a solid $144 discount (48%) over the current sticker price of $300.
Two other 2018 LG phones featured in the list are LG G7 ThinQ and LG V40 ThinQ. The current market prices are $320 for V40 ThinQ and $300 for G7 ThinQ, but you can get it refurbished for just $180 and $175, respectively (savings about 43% off each).
Best Refurbished iPhone Deals
Refurbished Android handsets dominate in terms of savings, but keep in mind that these devices will continue depreciating at a faster rate as newer models take their place each passing year.
And therefore, if you are someone who switches phones frequently, a refurbished iPhone is the best go-to option as you can not only snap it up at a bargain price but can also get a great trade-in offer when you sell it later on.
Here is a round-up of all hot refurb deals available on iPhones launched since 2018.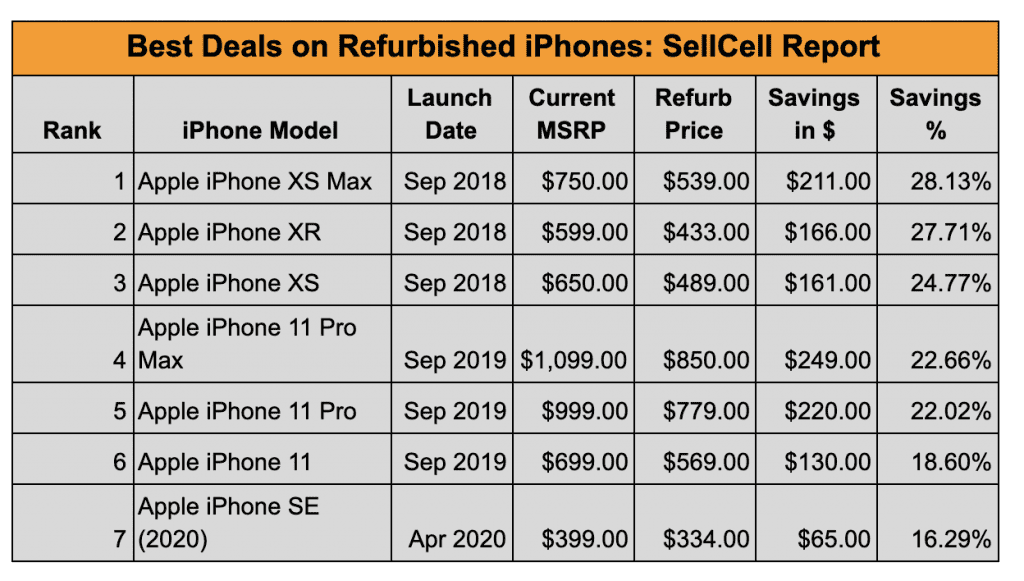 The 2018 iPhone XS Max presents the best deal among refurbished iPhones; it can be bought refurbished for $539 (about 28% off current MSRP of $750).
In the case of iPhone XR and iPhone XS, buying refurbished will knock 27.7% and 24.77% off of their current retail price of $599 and $650, effectively bringing the price down to $433 and $489 respectively.
Apple's iPhone 12 lineup is not official yet, and so iPhone 11, iPhone 11 Pro, and iPhone 11 Pro Max are the best flagship phones the company has to offer thus far. While the retail price of $699, $999 and $1099 remain unchanged since their launch last year, refurb deals can save you $130 (18.6%), $220 (22% off) and $249 (22.66% off) on iPhone 11, iPhone 11 Pro and iPhone 11 Pro Max respectively.
Interestingly, Apple's new iPhone SE 2020, launched late April, has also made it to the refurb market fairly early and currently sells for about $334 – 16.29% off the MSRP of $499.
Best Refurbished Samsung Deals
And now, let us take a look at some of the best refurbished deals available on Samsung phones launched within the same period.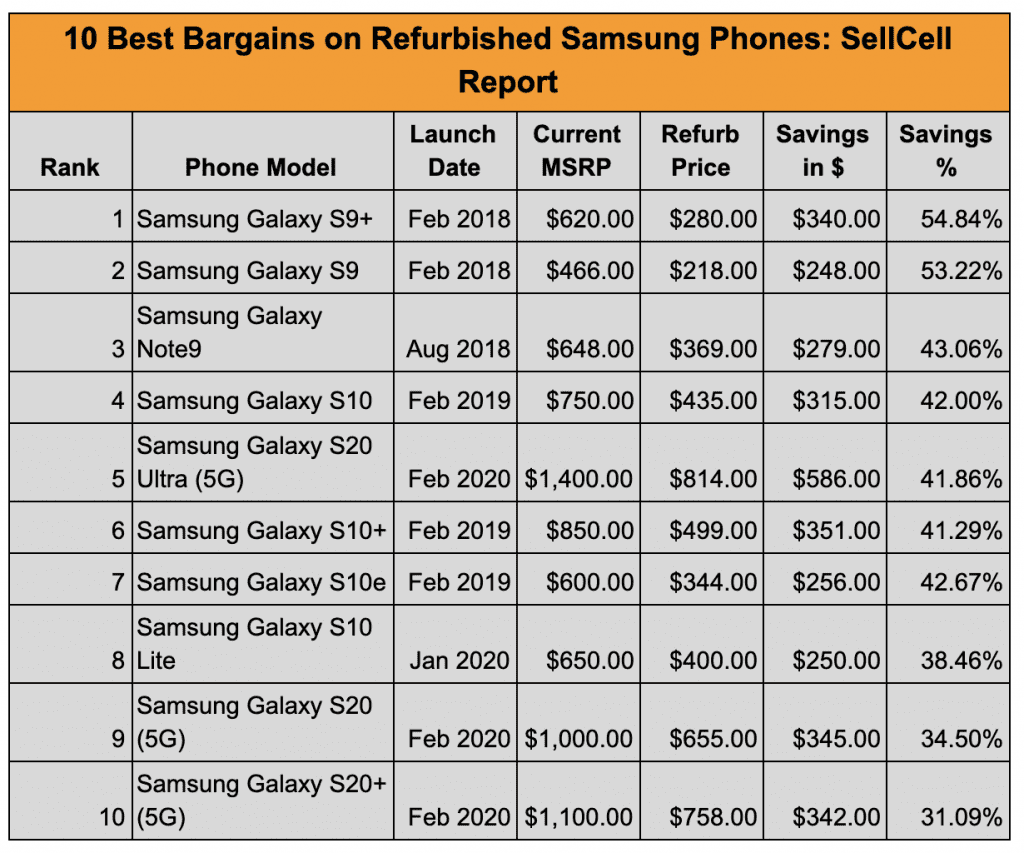 Besides the Samsung phones that made it to the list featuring some of the best Android refurb deals, you can also save quite a bit on the firm's relatively new S10 and S20 lineups.
The Galaxy S10 series has been discounted by an average of 42% across the board. You can score a $600 Galaxy S10e for $344, a $750 Galaxy S10 for $435, and an $850 Galaxy S10+ for $499.
Samsung's latest budget addition to the Galaxy S10 series, Galaxy S10 Lite, is also up for grabs for just $400 (38.46% discount), down from the original price of $650.
Even Samsung's latest Galaxy S20 flagship series is available refurbished at a nice discount averaging 36% from retail; the deal cuts the price of $1400 Galaxy S20 Ultra (5G) by $586, $1200 Galaxy S20+ (5G) by $342, and $1000 Galaxy S20 (5G) by $345.
Methodology of Analysis
SellCell looked at popular smartphone releases from top smartphone brands, including Apple, Samsung, Google, LG, and OnePlus since 2018 and calculated the price difference between buying them brand new versus refurbished. The current market price of smartphones included in the report has been obtained from various online stores, including Apple, Samsung, Google, Amazon, Walmart, Best Buy, eBay, etc. The best price available for the device in question is taken for comparison. Meanwhile, the refurb price of each model has been collected using SellCell's price comparison tool that compares deals from various reliable refurb sellers and shows the best available price for a particular device.
Each refurbished phone model is available in different buying grades such as 'Like New', 'Very Good', 'Good', and 'Fair'. While all refurbished units will operate 100% like a brand new phone, each device is assigned any one of these various options based on its external appearance. Phones in 'Fair' condition are usually the cheapest, but the report excluded the price of such models from the analysis for the sake of a fair comparison and only compared higher grade devices.
Prices taken into account for the study are what it costs to buy an unlocked, base variant of the device in question. (Date prices reviewed 17th August 2020 – subject to daily change)