Last updated December 14, 2020
Thinking of selling your smartphone before iPhone 12 release day? Then SellCell is by far the best place to do so.
If you want to make some extra cash, you might be thinking about selling your old handset. But have you checked the prices available to you? The likelihood is that you've checked what your carrier is offering for a trade-in; most people will do this by default. But, they rarely offer the best price for your handset. SellCell will.
Comparing the market when you sell your smartphone online is always a wise move. That way, you know you're not losing out on money that you could put towards your next handset. Nobody likes to feel shortchanged. So, let's take a look at how SellCell stands up against the "big four" US carriers.
Its All In The Data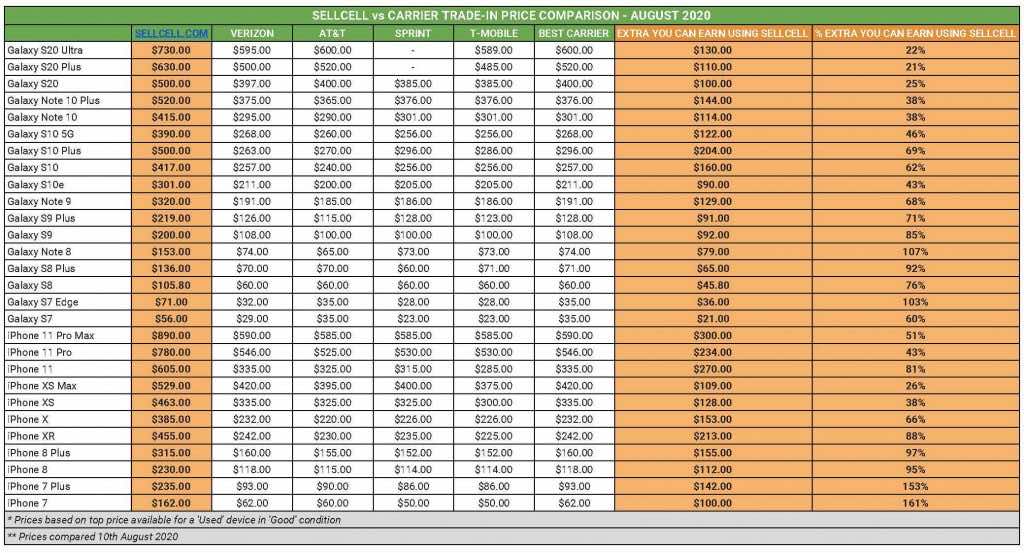 You only need to look at the figures to see that your carrier isn't offering you the best price. The value of your old smartphone isn't even the same across providers, with some offering $40 less for your handset than another carrier. It is these discrepancies that catch people out and short-change consumers.
Let's take a look at the iPhone 11 Pro Max. The current value of this particular model, brand-new and straight from Apple, is $1,099. Now, let's take a look at what the four most popular carriers are offering to trade this expensive handset in. You're going to be surprised…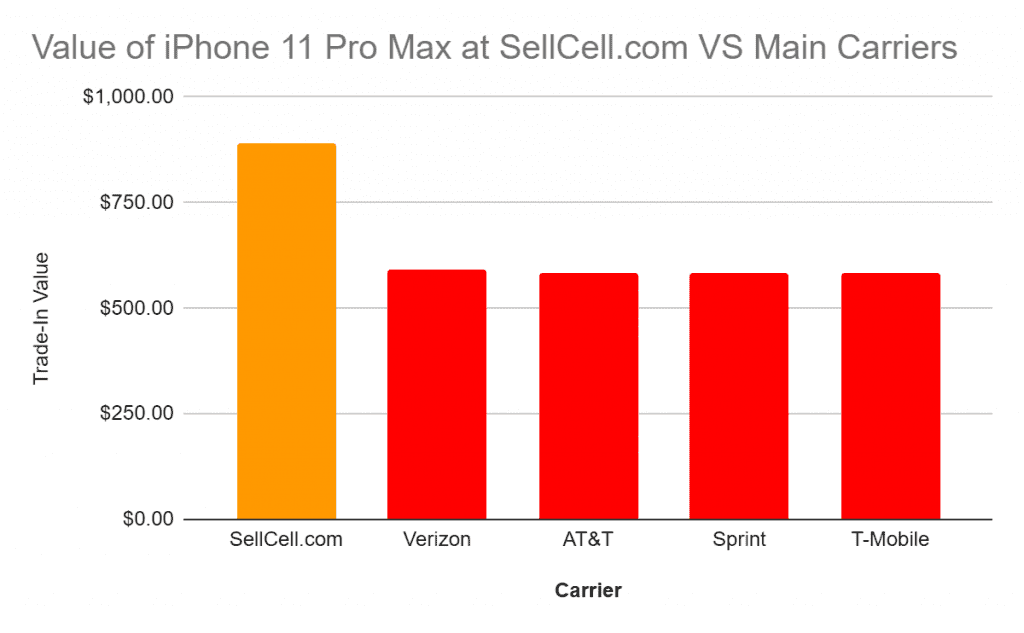 In first place, with the best carrier price is Verizon, who is offering a measly $590. Some quick math will tell you that is just over 50% of the price as new. The other three—AT&T, Sprint, and T-Mobile—are all offering $585. Not much difference, so you might think this is a good offer. It isn't.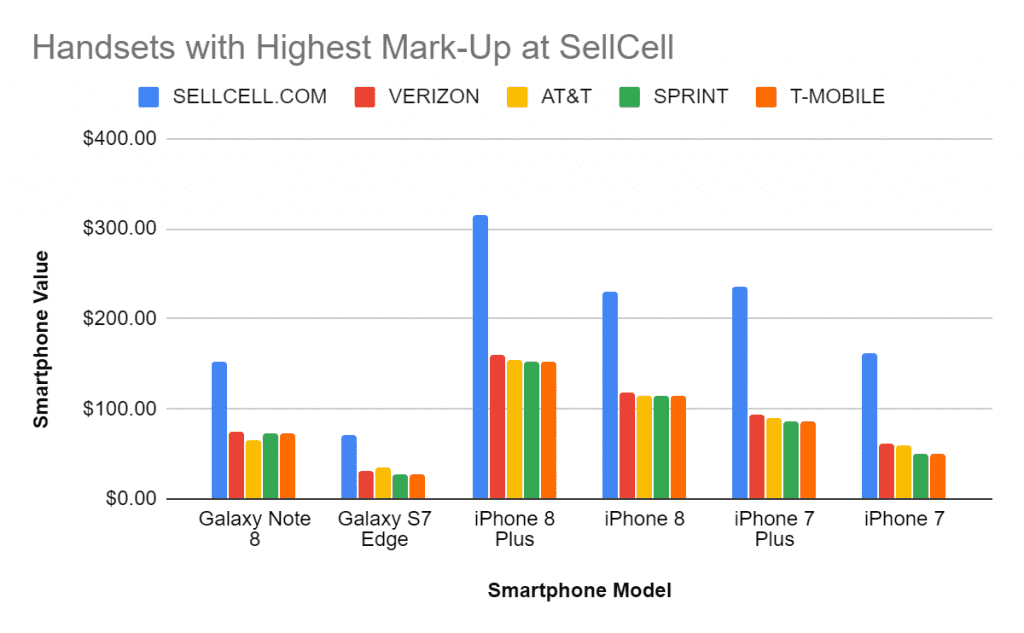 Taking a look at the figures, it is plain to see that SellCell offers the best price across the board. In some cases, such as with the Galaxy Note 8, you have a mark-up of 107% compared to the best carrier price from Verizon. They're offering you $74, whereas SellCell is offering you $153. You have to agree, that is a huge difference.
Likewise, the difference between the prices for the iPhone 7 Plus and iPhone 7 is dramatic on both counts. The chart illustrates that you're getting 153% and 161% respectively. If you are getting over 100% extra when compared to carriers, you can see that it makes sense to trade in via our site. You get more money back if you use SellCell than any of the carriers.
Get a Better Deal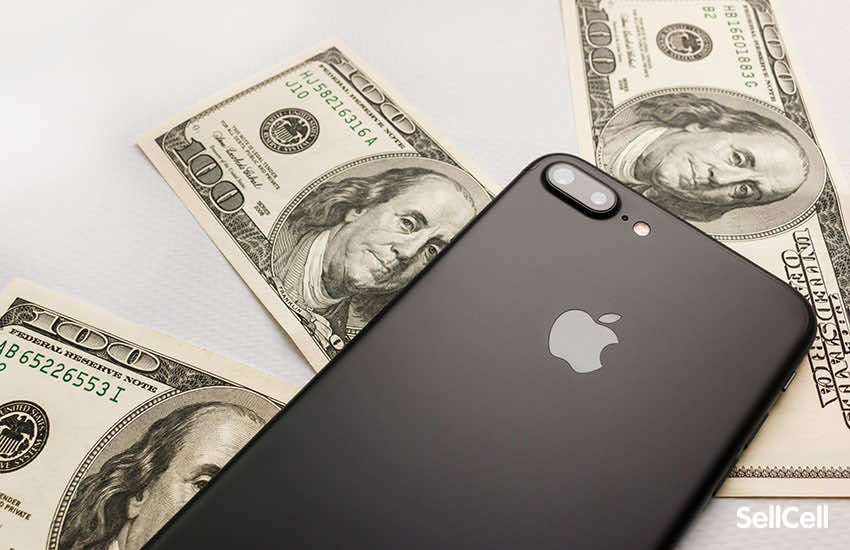 Head to SellCell.com's Apple iPhone 11 Pro Max trade-in page and you'll see a huge difference. OK, so we've seen that Verizon is offering the best carrier trade-in price at $585. Let's take a look at what SellCell can net you for a Verizon-locked iPhone, in like-new condition, with 256 GB storage. You'll notice a massive difference.
The price SellCell is offering for the same handset, in the same condition, locked to Verizon, is a huge $867. So, not only are you getting almost $300 more with SellCell, but you also know you're selling your handset to a trusted buyer with excellent ratings and great service. Tell us again why you thought Verizon would offer you the best price?
Always Shop Around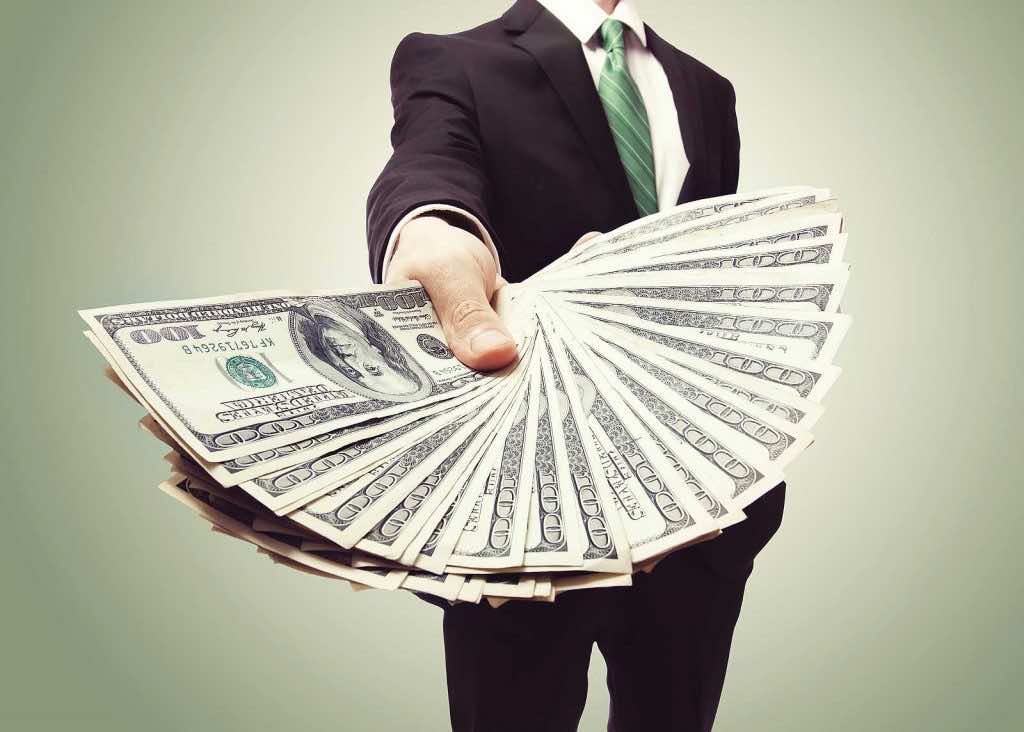 As you can see, using a phone trade-in price comparison site like SellCell will ALWAYS grab you the best deal for your old smartphone. You simply have to search for your handset and SellCell will provide you with the best price from a range of sellers whom we have personally vetted. That way you know you can trust them. You can also view their trust ratings right there in the search results.
The point here is that you should always shop around for the best deal when you sell your old smartphone or, in fact, any of your tech. SellCell don't just offer the best prices for smartphones. They also compare the market for your old Macbook, PlayStation, Xbox, and tablet. The service is quick, trustworthy, convenient, and—importantly, given the current climate—hygienic as you'll only need to hand the parcel over to the courier (and even that is normally free of charge from the buyer!).