Last updated September 17, 2020
It's that time of the year when Apple announces its latest range of flagship iPhones, and fans can't wait to see what the firm has in store with the new lineup.
Apple officially announced their Apple Watch and iPad lineup on 15th September but were still tightlipped about when they are officially unveiling their new iPhone 12 range. However, at this point we already seem to know a lot about the upcoming series. With an overhauled design and a host of radical new features up its sleeve, the iPhone 12 series could be the biggest launch in years for Apple, according to analysts and enthusiasts alike.
Apple is even ramping up the production of new iPhones to make sure there are at least 75 million units in stock ahead of the market release in anticipation of record demand for 5G handsets.
With the iPhone 12 hype train in full swing ahead of a potential launch this fall, we asked more than 2,500 US-based iPhone users if they intend to upgrade, what features they look forward to, which model they would opt for, etc.
KEY TAKEAWAYS FROM THE SURVEY
At 58%, 5G connectivity ranks as the most important feature of the iPhone 12 series that would make people want to upgrade.
Polled at 51.5% and 41%, 'Compact form factor' and 'New design' are high on the list of upgrades consumers are seeking in the upcoming iPhones.
Upgraded cameras and a faster processor are a must for nearly 33% and 19%, respectively, while 26% want the new iPhones to come out with a 120Hz display.
Surprisingly, the LiDAR scanner takes the last spot on the list as only about 15% want new iPhone cameras fitted with the advanced sensor.
41% polled 5G connectivity as 'Very Important' when deciding whether to upgrade to the iPhone 12; 23% marked it as an 'Important' factor; 15% think it is 'Somewhat Important'; 21% voted 5G as 'Not Important' in their decision-making process.
iPhones will come in three different screen sizes this year — 5.4-inch, 6.1-inch, and 6.7-inch. The survey reveals a majority (~54%) prefer the smallest 5.4-inch display, around 19% want the 6.1-inch screen, and 27% think 6.7-inch is the perfect size for a smartphone screen.
Four in 10 iPhone owners (41%) intend to upgrade to iPhone 12 after it is released, with an additional 25% indicating 'Maybe', while 34% said they don't have any plans to upgrade.
Among the potential buyers, a majority (44%) want the smallest and cheapest iPhone in the lineup, the iPhone 12 (5.4″ display). The iPhone 12 Max (6.1″ display) comes next at 25%, followed by iPhone 12 Pro Max (6.1″ display) at 18% and iPhone 12 Pro (6.7″ display) at 13%.
5G CONNECTIVITY – #1 REASON FOR AN UPGRADE
What are the most important rumored features of the new iPhone 12 that would make you want to upgrade? We asked this question to more than 2500 iPhone users, and here are the results.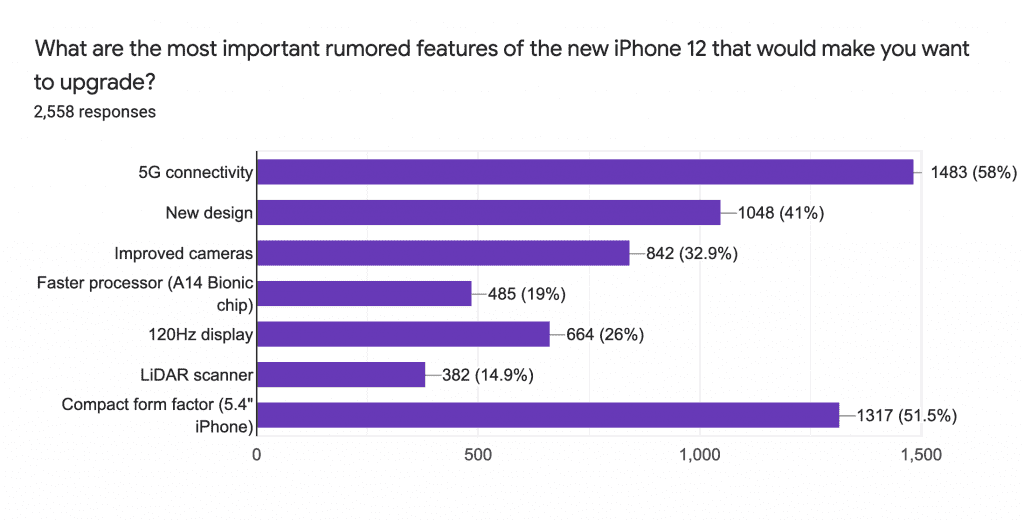 Note: Each respondent was allowed to select one or more than one option from the list.
5G connectivity of the iPhone 12 series tops the list of features that would convince one to upgrade at 58%, despite the fact that the technology is still in its early stages.
Per the survey, a majority of current iPhone owners appear to favor the supposed redesign of the upcoming lineup; 'Compact form factor' and 'New design' takes the second and third spot among the significant factors influencing the upgrade decisions. For the uninitiated, the iPhone 12 series is rumored to feature two significant changes in terms of design — a smaller notch and iPhone 4-esque square edges, instead of curved ones. Besides that, several reports also suggest that Apple will introduce a smaller 5.4-inch iPhone to the mix in an attempt to woo budget shoppers.
Every year, new iPhones come out with better cameras and a faster processor, and so it isn't surprising to see the two very likely improvements polled at about 33% and 19%, respectively. This year's iPhones will be powered by Apple's yet-to-launch 5nm A14 Bionic chipset, which is said to be almost 40% faster than its predecessor.
Meanwhile, 26% wants the new iPhones fitted with a display that supports a higher 120Hz refresh rate, as opposed to 60Hz in the current iPhones. For starters, a higher refresh rate would mean the content on the screen gets refreshed more dynamically, offering a smooth viewing experience.
LiDAR scanner is the least loved feature of the iPhone 12 — only about 15% think it is worthy enough for considering an upgrade. That said, the LiDAR system, which can measure distances of objects in front of it with great precision, can be a great addition to iPhones as it will help improve autofocus performance and add several AR capabilities.
The iPhone 12 series will mark Apple's foray into the 5G smartphone market, and so we asked our survey takers just how important the 5G factor is when deciding whether to upgrade to the iPhone 12; and here's what we found out: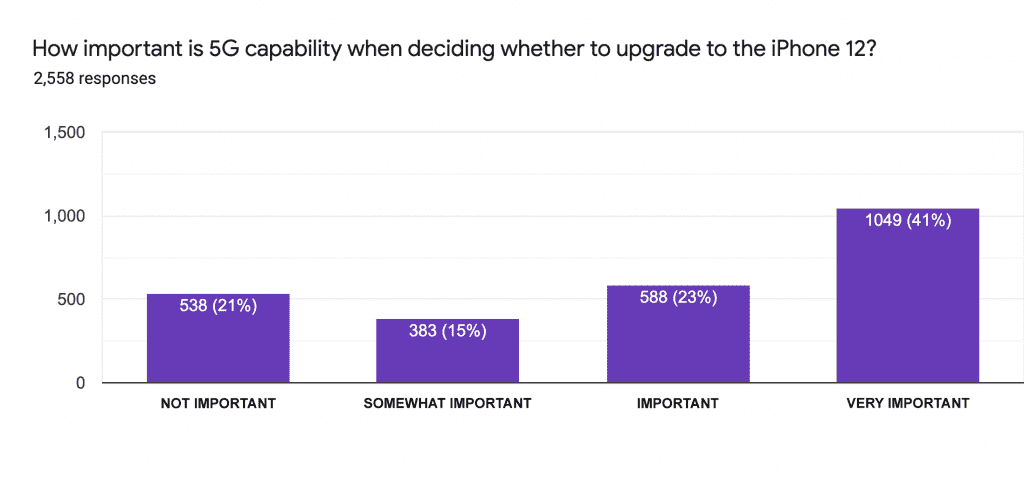 The number one response (41%) was 'Very Important' or 'Extremely Important.'
Another 23% think the 5G capability is an 'Important' factor when considering an upgrade.
It is only 'Somewhat Important' for 15%, while the 5G connectivity does not even matter ('Not Important') in the decision-making process for 21%.
FOUR IN 10 IPHONE USERS INTEND TO UPGRADE, WITH THE SMALLEST IPHONE BEING THE POPULAR PICK
The iPhone 12 series is expected to be available in three sizes – iPhone 12 with a 5.4-inch screen, iPhone 12 Max and iPhone 12 Pro – both featuring a 6.1-inch screen, and the iPhone 12 Pro Max with a large 6.7-inch screen.
The standard iPhone 12, albeit with a relatively larger screen, could take on an even smaller form factor than the iPhone SE (2020) thanks to the bezel-less design and higher aspect ratio (19:5:9 vs. 16:9).
The standard iPhone 12 could also be the cheapest of the four upcoming iPhones, with its starting price expected to be around $649. The expected starting prices for other models are $749 for iPhone 12 Max, $999 for iPhone 12 Pro, and $1099 for iPhone 12 Pro Max.
With three screen options to choose from, we decided to check in with iPhone users to see which one they would opt for if they upgrade.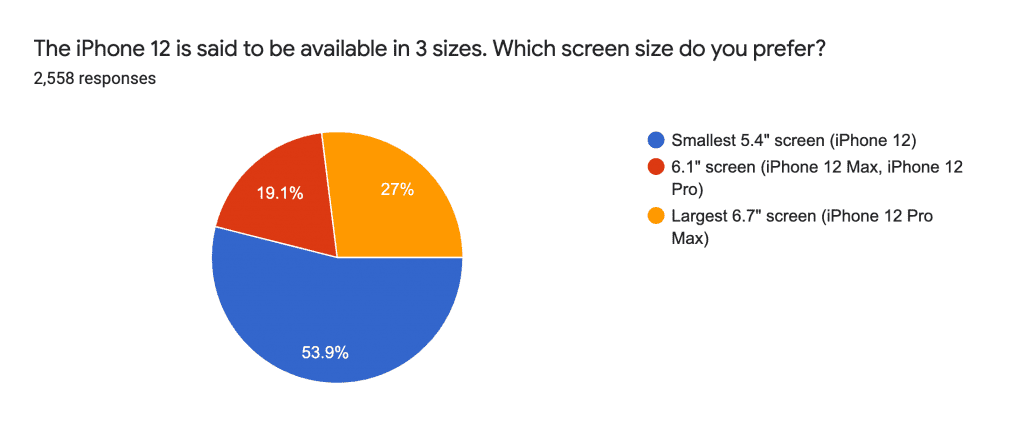 A majority (~54%) prefer the smallest 5.4-inch screen on the standard iPhone 12.
The 6.1-inch screen size gets a little over 19% votes, while 27% will go with the largest 6.7-inch screen option.
To check if the iPhone 12 series will live up to its hype, we sought responses from more than 2500 iPhone owners regarding their intent to purchase the upcoming models.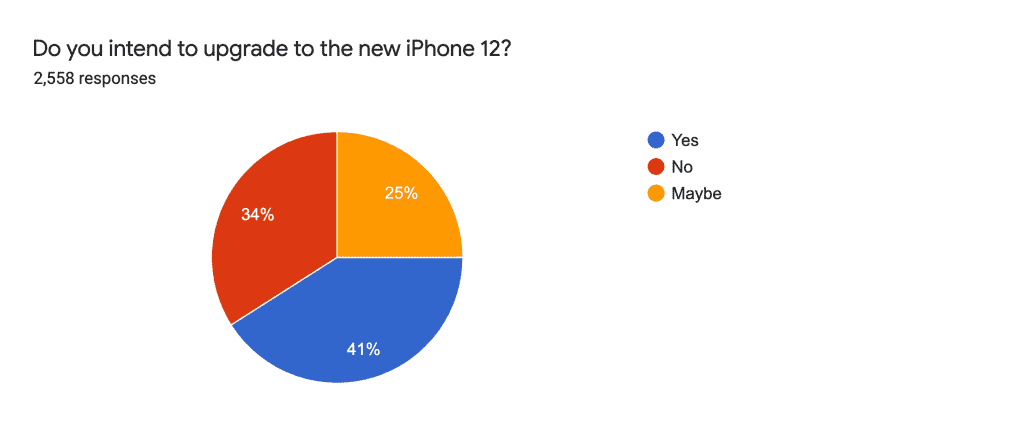 Four in 10 (41%) iPhone users intend to upgrade to one of the upcoming iPhone releases.
34% indicated they were sticking with their current iPhone model and not intending on upgrading.
25% selected 'Maybe' as they aren't yet sure whether or not to upgrade.
To those who answered 'Yes' to buying an iPhone 12, we asked which model they would buy when they upgrade, and here are the results.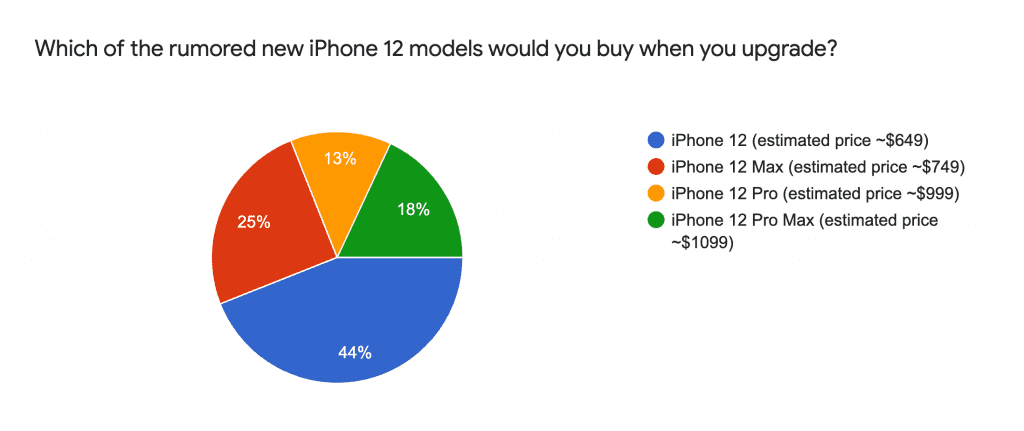 A majority (44%) intend to pick the compact iPhone 12 model when they upgrade.
iPhone 12 Max is the second most popular pick at 25% votes.
Other responses – iPhone 12 Pro (13%); iPhone 12 Pro Max (18%)
CONCLUSION
Although 5G technology is still in its infancy, the survey reveals that a majority of consumers want their phones to be 5G-ready – to be future proof for what is coming in the next few years.
The survey also indicates that buyers' needs are not aligned with what the smartphone industry is pushing with larger displays and extravagant pricing.
And if the survey is any indication, we should be seeing compact-sized affordable phones make a big comeback in the next few years.
With the iPhone 12 launch fast approaching, the next few days/weeks leading up to the unveil will be the last chance for users to get best prices for their old iPhones. The trade-in value of older models will diminish significantly following the release of the iPhone 12 lineup.
Apple and Carrier trade-in programs are notorious for offering some of the worst trade-in
deals, and on top of that, Apple in June further slashed the trade-in values of older models, so to get the best price for your old device ahead of the launch visit SellCell, who compare over 35 of the biggest buyback companies and guarantee the best price for your old device.
METHODOLOGY
The report is based on a survey – conducted between September 2-7, 2020 – involving more than 2500 iPhone owners, aged 18 years or older, based in the United States.
The responses to the survey were collected without storing any personally identifiable information of the involved respondents.
The motive of the survey was to collect responses from existing iPhone users regarding their intent to upgrade to iPhone 12.
Please see a handy infographic that sumarizes all of the data: