LG Resale Values Plummet as It Crashes Out of the Mobile Market With Depreciation as High as 93%
Shocking resale values have met consumers hoping to sell their LG handsets as the tech giant withdraws from the mobile market.
– 2020 Flagship LG handsets have lost up to 93% of their value within a year.

– "Like New" LG handsets depreciate by over $800 in some cases.
The mobile phone industry, like the tech industry in general, has seen its fair share of bad news over the past 12 months. Samsung users have discovered that their 2021 handsets are losing value fast, while its customers seek to jump ship to Apple. In fact, it only seems to be Apple which is weathering the storm that the last year has brought.
Now, as South Korean electronics giant LG has called time on its stint in the mobile industry, we are seeing the value of its handsets plummet. This shouldn't come as much of a surprise, but knowing that LG released its latest handset in March 2020, just over a year ago, it will undoubtedly be tough news to stomach for more recent investors in the LG ecosystem.
We've compared the depreciation value of LG's range of smartphones across the board, sourcing resale prices from over 40 buyback companies to discover just how much value LG handsets have lost. We've compared this to a range of the best-value phones (no surprise that Apple, Samsung, and Google handsets dominated this list) to see just how much LG users are losing out on. The results aren't pretty.
We have measured each LG handset in terms of the launch year, MSRP (manufacturers suggested retail price), and the top price offered for a handset in "like new", "good", "poor", and "faulty" condition. We based this on live figures collected from our range of trusted buyback partners. We have compared this to the best prices available for all phones to see how LG stands up against its peers in terms of resale value.
Key Highlights
The 2020 LG V60 ThinQ 128GB, in "like new" condition, attracts a top buyback price of $279, meaning it has lost 69% of its $899 MSRP.
Comparatively, Apple's 2020 iPhone 12 Pro 128GB model has lost only $147 since launch, retaining 85.3% of its $999 MSRP with a buyback value of $852.00 in "like new" condition.
The worst-performing non-LG handset is Samsung's 2020 Galaxy S20 Ultra 5G 128 GB model, which has lost 61.4% of its $1,399 MSRP, valued at only $859 in "good" condition.
Google's handsets float around the mid-range of value depreciation, with a 2020 Pixel 5 128 GB depreciating $324 in "good" condition, a loss of 46.4% compared to its $699 MSRP at launch.
The 2017 LG V30 64GB has lost the most value in the "like new" condition range, with owners losing a staggering 92.5% value in their handset.
Apple is still the best brand for retaining its value, while LG the handset is among some of the worst, losing over 90% of their value in some cases, even for a handset in "like new" condition.
Even LG's lower priced handsets fare poorly on the depreciation front with cheaper phones launched in 2020 also depreciating by up to 90% for a phone in 'good' condition.
LG Handset Value Depreciation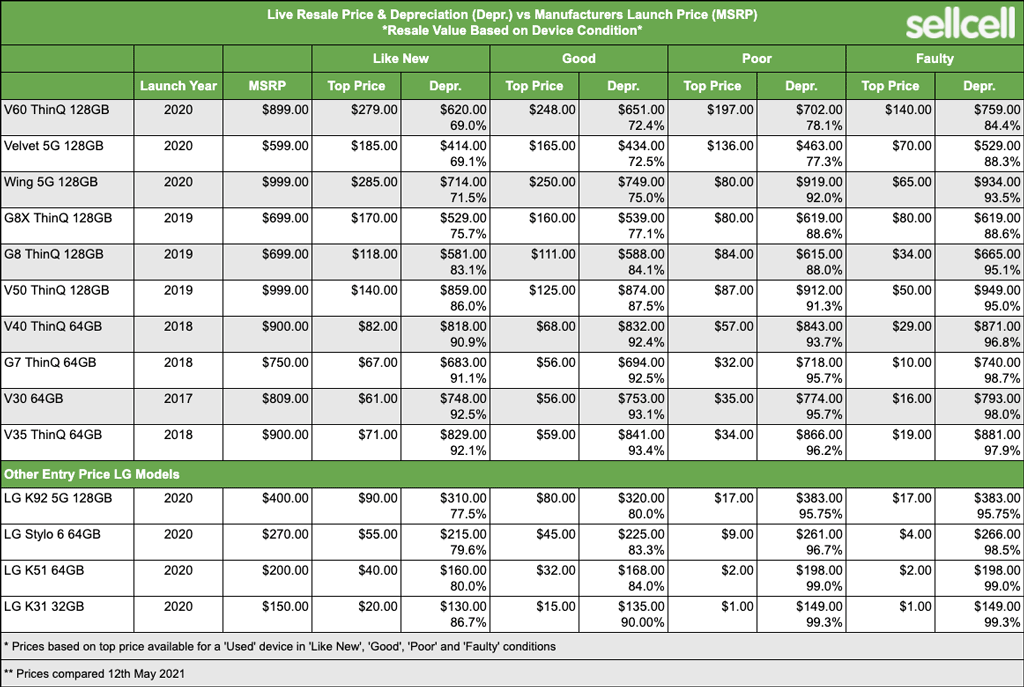 The data table above shows depreciation of LG handsets since launch. The brand released most of the handsets we compared within the last two years, yet none of them have kept their value as owners would have been hoping.
The most recent handset from LG is the Wing 5G 128GB—a strange handset with a rotating screen, allowing for an extended display—which saw release in September 2020 with an MSRP of $999. Valued at $285 only eight months into its life cycle, the Wing 5G is the worst-performing of LG's 2020 releases, with a "like new" cash loss of $714, which is a startling 71.5% of its overall value.
The picture is no better for LGs handsets in "good" condition, either. The same Wing 5G handset loses 75% of its MSRP in this condition range. The 2018 V35 ThinQ 64 GB handset is the worst performer here. Priced at $900 on release, this handset will only yield a return of $59, losing owners a problematic $841 in cash on their initial investment.
Really one wouldn't expect a great deal of return for a phone listed as "faulty" (more information here on how to keep a phone in the "like new" category and keep its value). However, if you do have a faulty LG phone, don't expect too much from it. An LG Wing 5G in this category is worth $65. This might not seem much, and it really isn't. Consumers will get significantly more for a faulty iPhone 12 Pro Max 128 GB, for example, as the next section illustrates.
Smartphone Handset Value Depreciation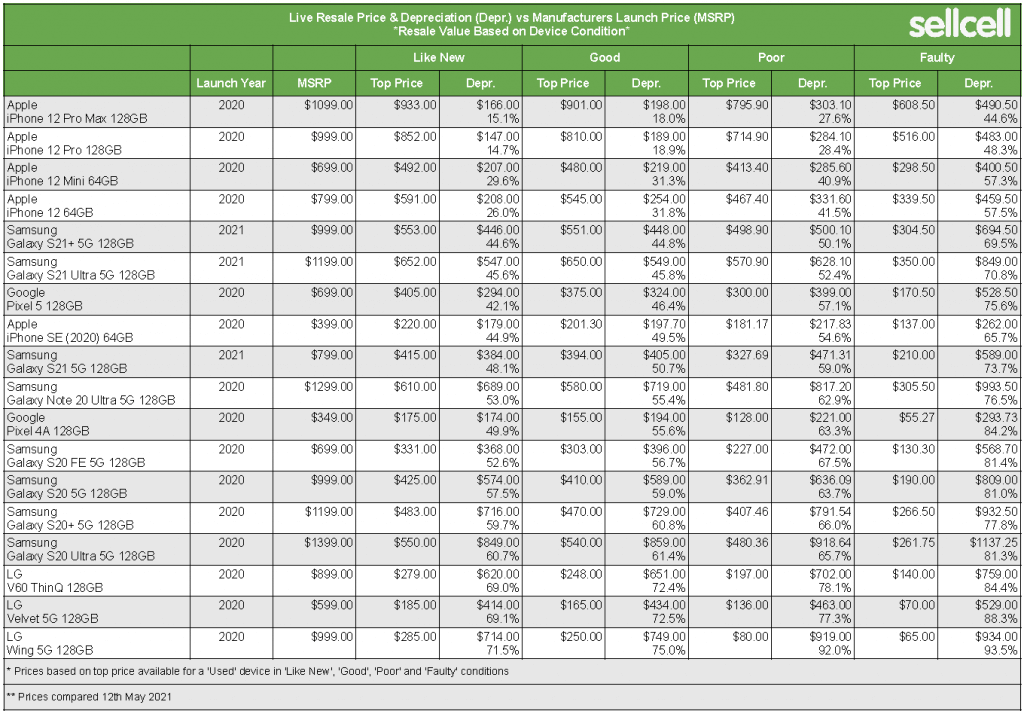 Once we factor other smartphone brands into the equation, the news gets even worse for owners of LG handsets. We compared LG's live resale value against those of the best-performing brands, which really serves to highlight the loss in value of LG smartphones, as well as indicating the best investment if you plan to re-sell a handset at a later date.
As one might expect from our previous resale value reports, Apple reigns supreme, taking positions 1-4. If you want your handset to keep its value, then you currently won't find a better investment than an iPhone 12 model. Perhaps this makes sense as all iPhone 12 handsets are pretty new, so you'd expect them to hold their value.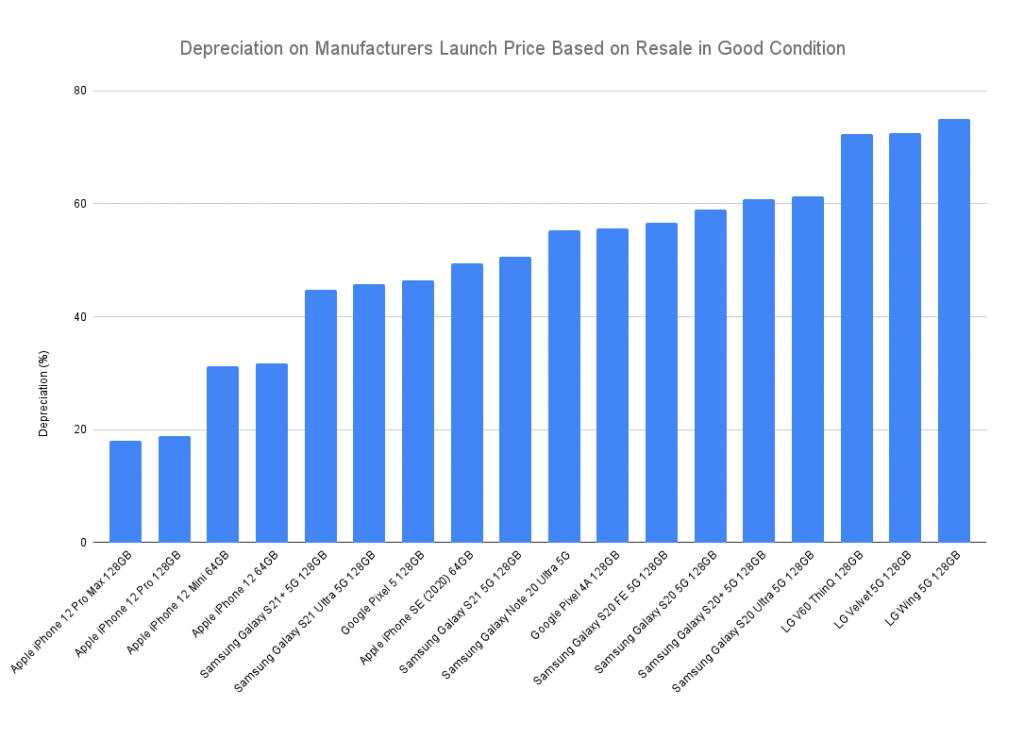 However, Samsung only released its Galaxy S21 range in 2021. Even so, the most expensive of its offerings—the S21 Ultra 5G 128 GB model—has lost a staggering 45.8% of its $1,199 MSRP, which is a cash loss of $549. So, it may not actually matter how new a phone is, as other factors come into play (such as Samsung bewilderingly driving the resale price of an iPhone up by offering exaggerated iPhone 12 trade-in deals, in an attempt to steal iPhone customers from Apple).
Google's mid-range Pixel handsets offer similarly mid-range buyback prices. However, it is worth noting that neither the Pixel 4a or Pixel 5 carries an MSRP that compares to Samsung or Apple's top-spec handsets. These are mid-range phones and, as such, don't carry an exorbitant price tag.
Nor do they cost as much as LGs 2020 handsets. A Pixel 5 in good condition, for example, is worth $375, losing $324 (46.4%) of its $699 MSRP. An LG Wing 5G, by comparison, is worth only $250 in good condition, losing an unbelievable $749 of its $999 MSRP, which accounts for 75% of the overall value of the phone.
So, any LG owners currently looking to sell their handset would be well-advised to invest their buyback cash into Apple's eco-system, as it is those handsets that hold the most value at this time. Check our brand loyalty survey and you'll see that a wide range of smartphone owners are looking to jump ship to Apple's experience, while Apple retains 92% of its existing customers; all of those people can't be wrong.
Bad News as LG Bows Out of Mobile War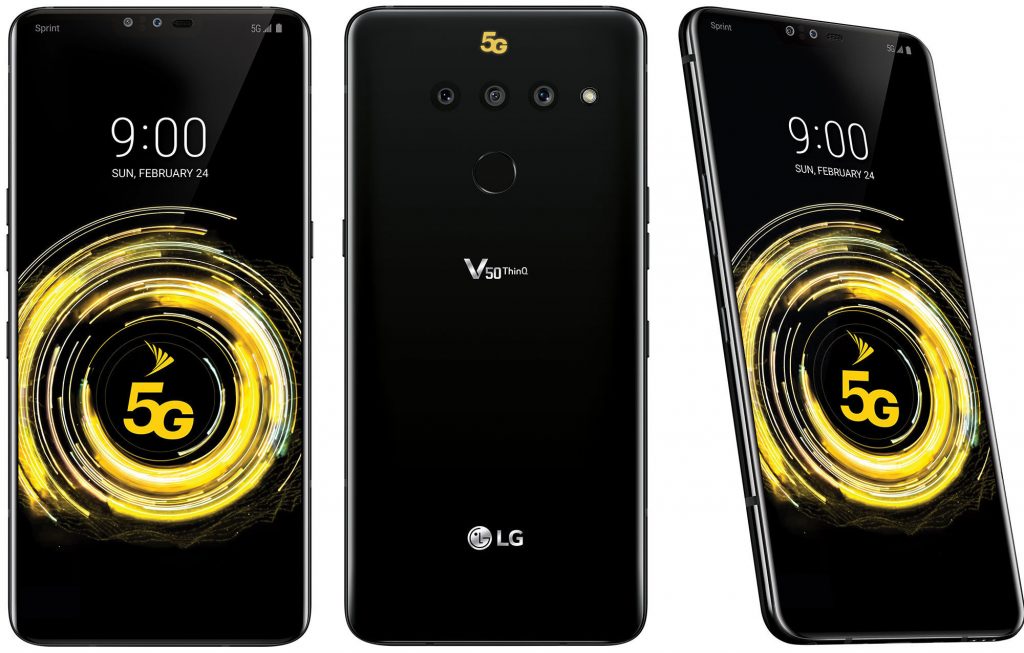 It is no coincidence that LG smartphones have plummeted in value. The brand has abandoned the design and manufacture of smartphones for good. If a brand has no confidence in its own product, even only eight months after it has launched a flagship device, then neither will buyback companies or consumers. As a result, the handset won't be in demand and its value will plummet.
If consumers are stuck with an LG handset, then the best thing they can do is search for their smartphone model on SellCell's website, get the best cash value you can by comparing over 40 buyback companies, and invest any money you make in an Apple product. It doesn't have to cost the earth, because you can put any money you make toward buying a refurbished handset via SellCell, too.
Methodology
This report is based on data collected from across SellCell's range of trusted buyback partners, comparing the best prices paid for LG handsets with a range of highest performing handsets in value retention.
We have looked at the value of handsets in 'Like New', 'Good', 'Poor' and 'Faulty' condition. For a detailed explanation of what constitutes these conditions please refer to our FAQ on this topic.
All data was collected from live resale price and depreciation monitoring, with data collected on May 12th, 2021.