Last updated June 6, 2023
Unlocked smartphones naturally hold more value than those tied to a specific carrier, but how do you go about it? This article will explain all.
Are you looking to sell your smartphone? You may have noticed that the buyback prices can vary wildly, depending on several factors including which network you use, how well your phone works, and whether it is showing signs of use.
Well, we have some information for you that could, depending on the condition of your handset, net you an extra $200, in some cases. The process is simple; all you're doing is unlocking your phone from your network or carrier. And, in most circumstances, this is free.
Seeing as nobody is going to turn down the potential to earn an extra $200 from their handset, completely free, let's take a look at what phone unlocking is and how you can do it.
What Is Smartphone Unlocking?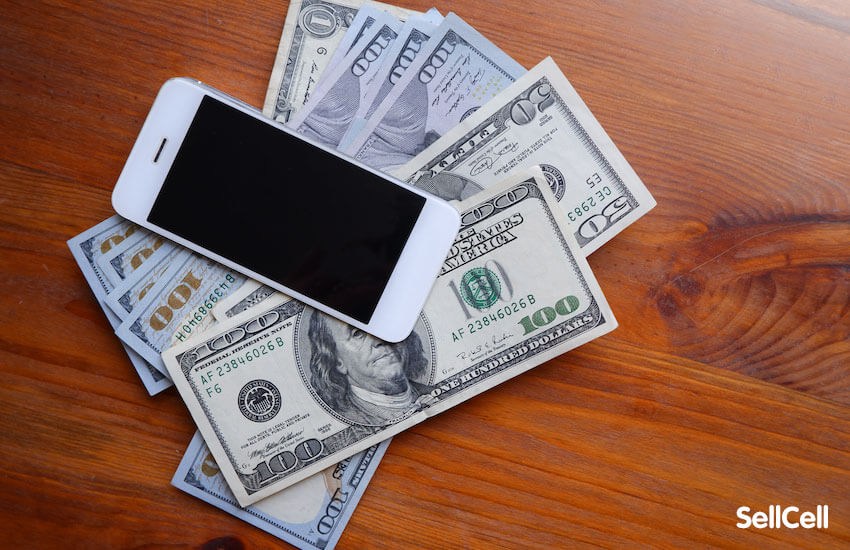 If you have bought your handset from a specific carrier like Verizon or AT&T, then you are likely to know that the carrier ties your handset to their network. This means, if you place a sim card from another carrier in your phone, it won't work. Your carrier has locked your phone so it can only receive calls and data via its cellular network, and nobody else's.
However, you can get around this by unlocking your phone, which basically means removing those network-imposed restrictions and allowing the handset to connect to pretty much any GSM cellular network; you just need the appropriate sim card for whichever carrier you wish to change to.
This said, phone unlocking also has implications when you are selling your phone to a buyback company. An unlocked phone is worth more to them than a network locked one. Why? Because this opens up the resale market for them, as anyone can buy the phone, not just a Verizon customer, for example.
Don't confuse unlocking your phone with modifying it via jailbraking or rooting. These are totally different processes and can actually damage your handset, so avoid this if you plan to sell your handset.
How Can You Unlock Your Phone for Free?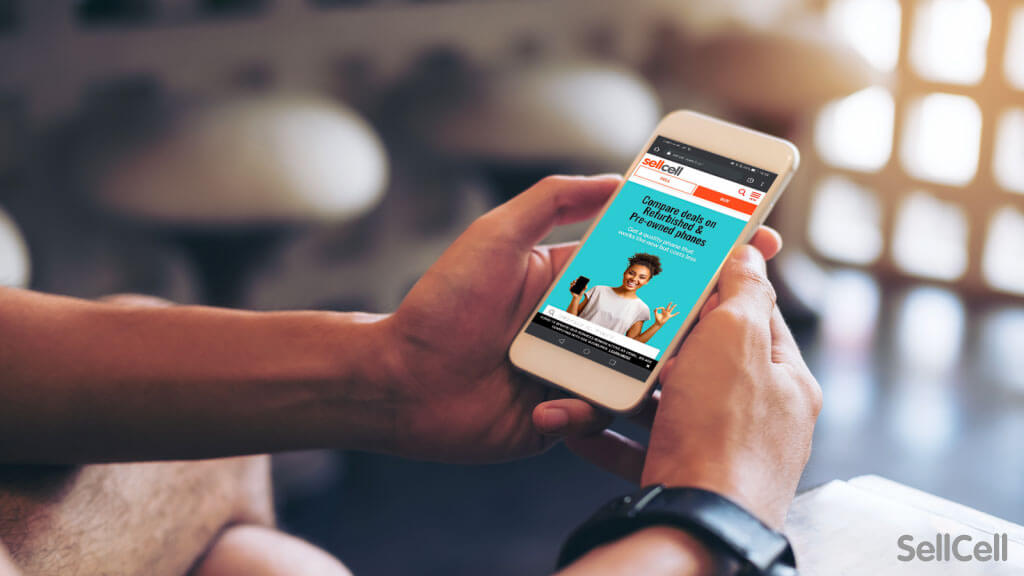 A quick internet search might lead you to think this is a service you need to pay for. Google "unlock smartphone" and you'll see hundreds of websites offering to unlock your handset for you, most of which charge you for the privilege. However, you can do it without spending a dime.
If you want to unlock your phone for free, then you are best to avoid websites that charge for the service. You can take a look at some sites that offer this service as per this MakeUseOf.com article, which explains the costs involved and the process.
The best (and easiest) way to unlock your phone for free is by contacting your carrier. However, there are certain obligations you must fulfill prior to unlocking the handset. The most important one being that you have paid off any contractual agreements in full. At this stage, the obligations move to the carrier, who has to unlock your handset for you. By law!
So, if your contract is up you can unlock the handset for free. However, if your contract isn't up, then you'll probably have to either pay the remaining contract amount off, or use one of the trustworthy paid sites mentioned in the MakeUseOf article above, if that is the cheaper option. Note that if you decide to go down the paid website route, you'll still be contractually obliged to pay your carrier the remaining fees, anyway.
When Can You Unlock Your Phone for Free?
According to the rules set out by the FCC (Federal Communications Commission), you can unlock your phone for free, with your carrier, once you have paid off all contractual obligations or you have paid the required termination fee.
Unfortunately, having already paid for your handset is the only way you can unlock your phone for free. Anything else will incur some sort of charge. If you have only recently bought your handset on a contract, then you'll have to pay the rest of that contract off, which might actually cost you more than you'll get when you sell the handset.
Additionally, the carrier mustn't have it on record that the handset you are using is lost or stolen. If this is the case, the carrier won't unlock it for you, because there is a risk that it was you who stole it! Obviously this won't be the case, but keep this in mind when you come to unlock your phone.
This can be a risk if you bought your handset from a website like eBay, Gumtree, or Facebook Marketplace and, in the case of the latter two, you're unlikely to be protected against this unless you paid via PayPal or credit card.
How Much More Money Can You Make by Unlocking Your Handset?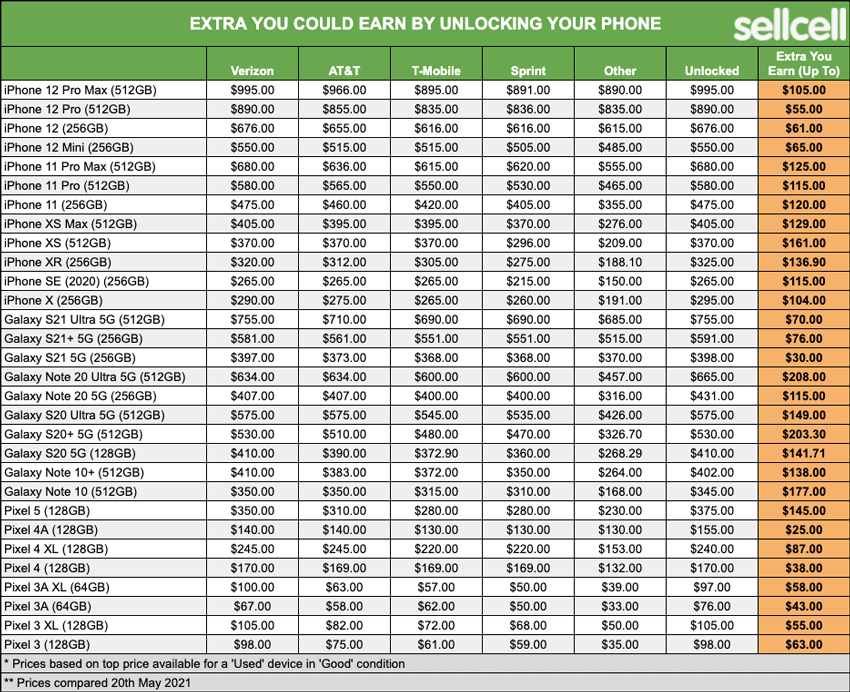 As you can see from the table above, you can earn between $25.00-$208.00 depending on which handset you own. The Samsung Note 20 Ultra 5G (512 GB) is the best performing handset here, as you can get up to the additional $208.00 we mentioned earlier with an unlocked handset if you trade your phone in with SellCell. Note that this is the maximum amount you can receive across all options (i.e. compared to your carrier or other means) and the phone must be in 'good' condition to claim this additional amount.
Looking at the statistics in the table above, we can see that owning a newer smartphone doesn't necessarily guarantee you a better price.
The Samsung Galaxy S21 Ultra 5G, for example, will yield an additional $70 if the handset is unlocked. Samsung released this handset in February 2021, so it is the newest handset on the list above. By contrast, the iPhone XS (512 GB) model will garner an additional $161.00 in some cases, and Apple released this phone in September 2018.
With this in mind, they base the trade in value of your phone on demand for a particular model or brand, rather than the age of the handset in question. However, in all cases, you're getting a better price for an unlocked device than a carrier locked smartphone.
Earn Even More by Selling Via SellCell
If you trade in via your carrier or the handset manufacturer, you're generally going to be doing yourself out of a handful of dollar bills. This discrepancy can be up to 80% in some instances, so it is best to shop around and find the best price for your unlocked handset.
You can do this with SellCell. Simply pop your smartphone's make and model into the sell your phone page on SellCell.com and we'll do all the legwork for you, returning offers from over 40 of our trusted buyback partners. This ensures you get the best price whatever handset you're selling.