About iPhone 13
The iPhone 13 was revealed at the Apple Launch Event named "California Streaming" on 14th September 2021. Apple revealed that the iPhone Mini will continue as part of the 13 range and that the Pro Range will also be launched alongside the standard iPhone 13 range. Apple highlighted a number of new colors, an enhanced and longer life battery and also the brand new faster A15 bionic chip. Customers were able to pre-order handsets on the Apple website on 17th September 2021. Here is the current range below:
| | |
| --- | --- |
| iPhone 13 Pro Max 1TB | $1599.00 |
| iPhone 13 Pro Max 512GB | $1399.00 |
| iPhone 13 Pro Max 256GB | $1199.00 |
| iPhone 13 Pro Max 128GB | $1099.00 |
| iPhone 13 Pro 1TB | $1499.00 |
| iPhone 13 Pro 512GB | $1299.00 |
| iPhone 13 Pro 256GB | $1099.00 |
| iPhone 13 Pro 128GB | $999.00 |
| iPhone 13 512GB | $1099.00 |
| iPhone 13 256GB | $899.00 |
| iPhone 13 128GB | $799.00 |
| iPhone 13 Mini 512GB | $999.00 |
| iPhone 13 Mini 256GB | $799.00 |
| iPhone 13 Mini 128GB | $699.00 |
There is no doubt that the iPhone 13 range will be an extremely popular upgrade for many phone users. But the new iPhone 13 will set you back financially, so it is essential that you get the most cash for your old phone when you upgrade.
How Do I Get the Most Money For My Old Phone When I Buy an iPhone 13?
If you want to upgrade to an iPhone 13 it is important to start thinking about finding the best phone buyer right now. iPhone models start to depreciate quickly in the run up to a new iPhone launch, so it is important to think about finding the best iPhone Buyer who will offer you the most cash for your old phone. You may be shocked that some of the best names for iPhone trade-in DO NOT offer you the most money for your old phone, as our table clearly shows below.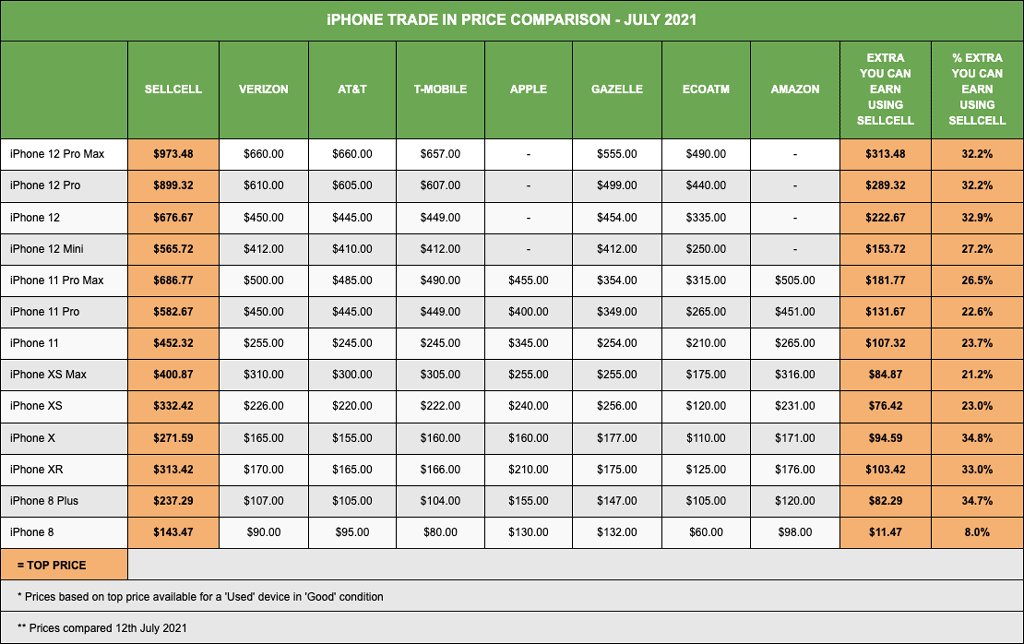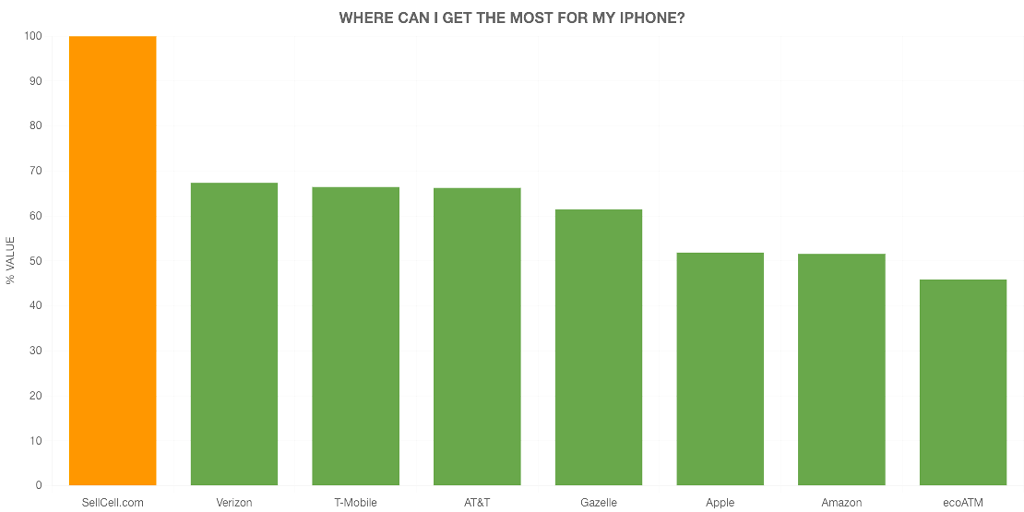 As you can see, SellCell offers the best price when trading in any iPhone vs other main buyback companies. SellCell is the US's No 1 Price comparison site comparing 40+ of the US's main buyback companies. As an independent site we have no vested interest in any one of the buyers listed on our site and our main objective is to get all users the best price for their old phone. We put our money where our mouth is and also offer you a Best Price Guarantee, which means we will pay you double the difference back if you find a higher price online anywhere else. You can find out more about our Best Price Guarantee Here. SellCell has also done all of the hard work for you by only featuring reputable buyback partners. SellCell vets all of the buyers shown on the site, so you have peace of mind that when you send your old phone to your chosen buyer they will pay out every time.
How Much is My iPhone Worth Today Ahead of the iPhone 13 Launch?
If you are thinking of upgrading to the new iPhone 13, you can keep track of the trade-in value of your old iPhone here.
Sign Up for Our Trade-In Price Alerts
If you want to keep track of the value of your phone, then we can help! You can either visit our site each day, or alternatively we can send you a TRADE-IN PRICE ALERT showing you the value of your phone each day by email. Remember phone prices fluctuate daily and they will drop ahead of the iPhone 13 launch, so an email price alert showing you the TOP PRICE that you can get for your old phone across 40 buyers, will ensure you are ahead of the game and trade-in at the right time.
(We can send you price alerts about all phone models including iPhone, Samsung, Google, LG & Motorola to name a few).
Simply add a few of your details about your phone model and your email address and we will alert you. (Don't worry, we won't bombard you, you can unsubscribe at any time!)
Frequently Asked Questions about iPhone Trade-in ahead of the iPhone 13 Launch
How Do I Get The Best Price for my iPhone if I am upgrading to an iPhone 13?
When you are looking to sell your old iPhone ahead of the iPhone 13 launch there will be lots of buyback choices available. Every phone buyer will offer you a different value for your old phone and some buyers will offer hundreds of dollars less. To avoid spending hours of time reviewing the prices of different buyers, start your journey on SellCell.com. Here you can review over 40 of the US's main buyback brands. This ensures that you will get the best price as SellCell compares the market and you will also be protected by sending your phone to a reputable business. For further tips about selling your iPhone prior to the iPhone launch see our article.
My Carrier Offers a Trade-In Service. Will I get a good deal from them?
Carrier trade-in services including AT&T, Sprint, Verizon etc sometimes offer a convenient way to trade-in your old phone when a new iPhone launches, but they will NOT offer the best price. Carrier trade in programs can offer you up to 70% lower value across some models than sites like SellCell. If you want the most cash to put towards your new iPhone 13 then the best place to compare all buyers prices is at an independent site like SellCell.com
I need to Sell My Old Phone to Buy an iPhone 13. I don't want to be left without a phone whilst I wait for the iPhone 13 to arrive. What can I do in this situation?
Don't worry SellCell can help with this. Another tip to ensure that you get the best price for your old iPhone is to find a partner who can lock in a quotation whilst you wait to receive your new iPhone 13. All of the buyers on SellCell list a price lock period where they will guarantee the quotation for a fixed period of time and most up to 30 days. As soon as the iPhone 13 is released, trade-in prices go down, so you can lock your price in and still hang onto your phone whilst you wait for your iPhone 13 to be delivered. Take a look at the price lock periods for each of our main buyers
How Quickly will a Buyer Pay me out for my Old iPhone?
As a comparison site SellCell helps you pick a buyer that pays out in a timescale that suits you. Across our 40+ buyers you can review prices and payout timescales to choose the best buyer for you. Buyer payout windows can differ from sameday to 14 days, so this information is very helpful in choosing the best iPhone buyer.