Last updated July 19, 2021
Thinking of upgrading to an iPhone 13? Find the best place to sell your old iPhone now to get the most cash to put towards your upgrade. Here's where to sell it.
As you are undoubtedly aware—thanks to all the media hype—there is a new iPhone on the horizon; the iPhone 13. According to various leakers and industry insiders, Apple will reveal the new 13-series handsets around September 13th, 2021. This is in line with previous iPhone models, which see release in mid-September. Pre-orders open within the week following the Apple announcement.
So, with this in mind, you might wonder what you should do with your old iPhone before the new iPhone 13 arrives. Well, you could always sell it. However, this comes with problems of its own. Who can you trust to sell your smartphone to? Will you get paid straight away? Will you get paid at all?!
Well, you can always let us answer those questions for you. Here's five of the best places to sell your old iPhone, before the iPhone 13 arrives.
Where Is the Best Place to Sell My Old iPhone for Cash?
This is the question on everyone's lips when they're looking to sell an old iPhone. Let's look and see how the land lies with various buyback options.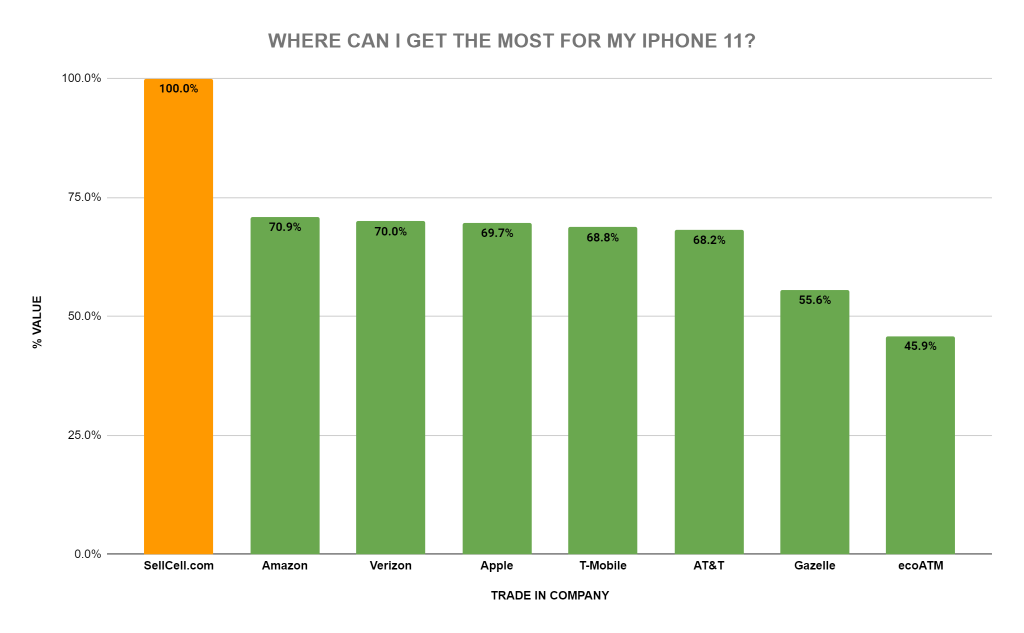 As we can see from the iPhone 11 data above, you can earn an additional $181.77 when you sell your iPhone 11 Pro Max with SellCell, compared to the next highest-paying buyer, Amazon. Likewise, you can earn $131.67 more than Amazon when you sell an iPhone 11 Pro with SellCell. If you're looking so sell an iPhone 11, then you'll get an additional $107.32 with SellCell compared to Amazon.
The story is pretty similar when you compare prices across carriers and Apple themselves, and prices get much worse when considering the likes of Gazelle and ecoATM.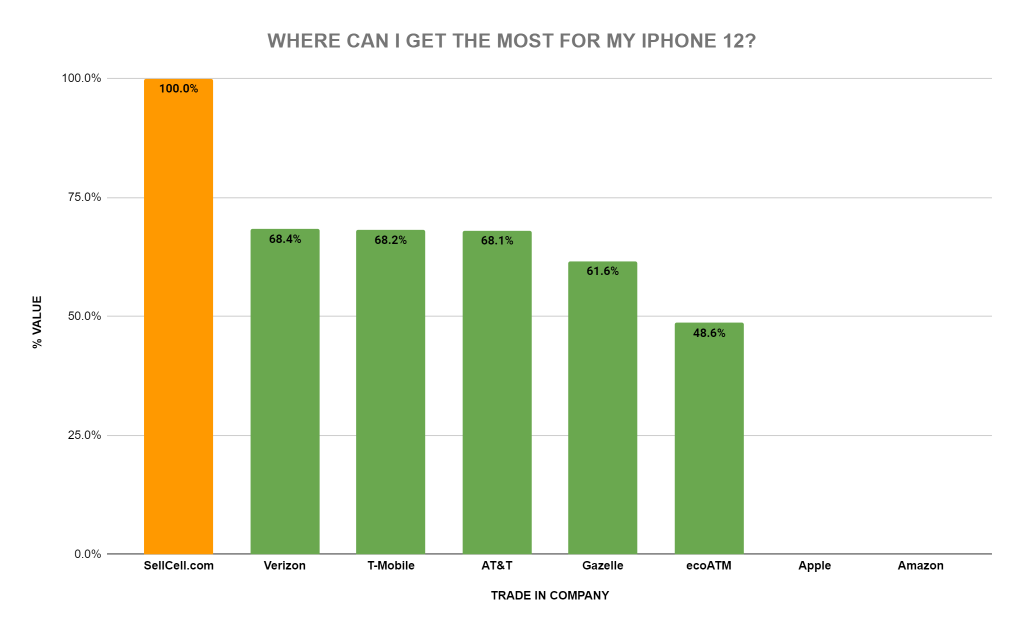 Looking at the figures for selling an iPhone 12, we can see that, again, SellCell offers the best prices compared to the various carriers, Gazelle, and ecoATM. Apple and Amazon don't currently offer a buyback price when you want to trade in any 12-series iPhones.
Verizon only offers 68.4% of SellCell's price when you sell an iPhone 12 Pro Max, leaving you $313.48 out of pocket if you trade your phone in with them. Even worse is ecoATM, which consistently offers less than half of SellCell's value if you use them, compared to selling your iPhone 12 through SellCell, irrespective of the model.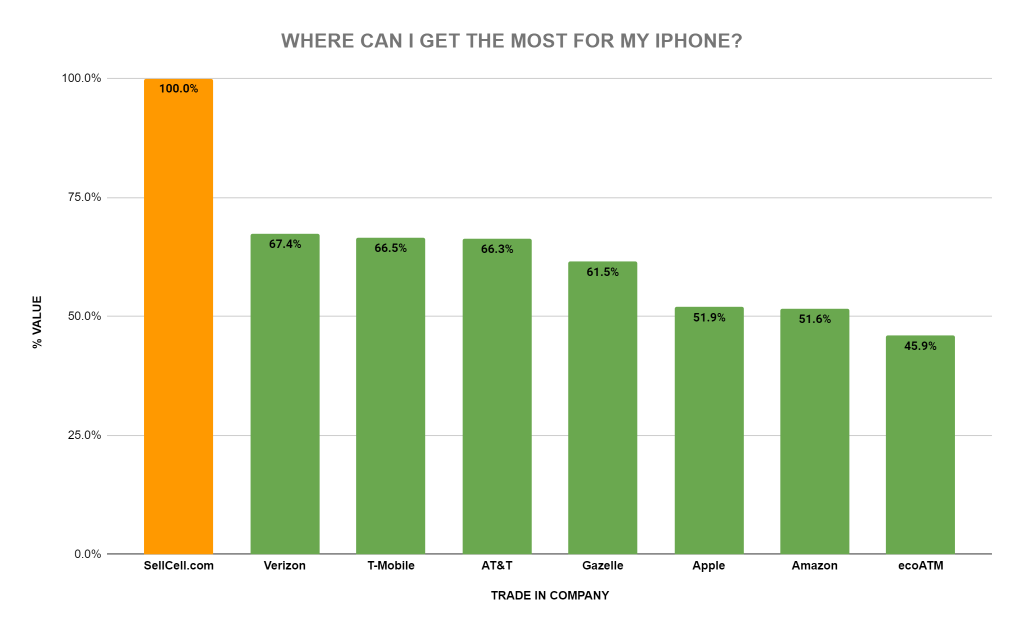 Looking at older models of the iPhone, you still get a better price when you sell your iPhone X or sell an iPhone 8 with SellCell. This illustrates that, no matter which way you look at it, you're always going to be better off trading your iPhone in for cash with SellCell.
Even Apple, who designs and sells the iPhone, doesn't offer great buyback prices. You're always best to use a comparison service like SellCell to sell your iPhone. There is a wide range of buyers available, yet the figures above show that they rarely offer competitive prices for your old handset.
Let's look at why SellCell is the best option, and why the rest aren't.
1. SellCell.com
SellCell is the number one place to sell your old handset – just ask Google, where we rank as the best website in the US to trade in your old smartphone and any other unwanted tech you have lying around.
Why? Because SellCell is an independent comparison site. It separates the wheat from the chaff for you, comparing over 40 buyback companies and dropping the best deals in your lap. This means you don't have to do any legwork; just give us the model of your iPhone and we'll find the deal that earns you the most cash, in an instant.
Now, more than ever, customers are embarking on their trade-in journey with SellCell. This makes perfect sense, because we offer a free service, which is totally impartial. Not only that, but we vet every single buyback merchant so that you don't have to.
All of our buyers are trustworthy vendors, and you can see that straight away, because we list trust ratings from Google, Trustpilot, and the Better Business Bureau, to name just a few. You'll see these ratings next to any of our buyers when you search for a deal to sell your iPhone.
Rather than having to sell your iPhone yourself privately, using a platform like eBay or CEX, you can have SellCell do it for you. A company with 15 years experience in trading tech putting all of their knowledge and experience at your disposal has to be a real advantage, no matter what way you look at it.
Not only that, but SellCell offers a best price guarantee. If you see a better price for your smartphone elsewhere, then SellCell will match it!
2. Carrier Trade In Options
Carrier trade-in options include the likes of Verizon, AT&T, and T-Mobile. If you want to sell an iPhone, then this is an option. However, it isn't going to be the best one. Trading in with Verizon, for example, will earn you 32.2% less cash on average, when compared to SellCell.
Why? Because your carrier doesn't offer competitive prices for old handsets. It's that simple. You can trade your handset in with them and you might get a reasonable deal, but it will never be as good as the deals you get with a comparison service like SellCell.
It may seem like a simple way to upgrade to the iPhone 13, but at the end of the day you're going to be out of pocket. The figures above show you this in black and white (and green and orange). Always see how much you can get with SellCell before heading down the route of selling back to your carrier.
3. Gazelle
Gazelle is a well-known brand when it comes to trading in your tech. It has been buying smartphones for quite some time now. However, that doesn't make it the best choice. Sure, you can get $555 for an iPhone 12 Pro Max, but that is way below the $973 you can get with SellCell.
Gazelle has had a confusing time of late. Gazelle closed its trade-in arm in January 2021, only to re-open it again some time later. This has caused confusion among former and potential customers.
Unfortunately, Gazelle also scores poorly with the Better Business Bureau (1.66/5 on 07/16/2021) and with Reseller Ratings (2.07/5 on 07/16/2021). This isn't exactly the best look, aside from the confusion caused earlier in the year and poor iPhone valuations. If you want to sell your iPhone, we suggest at least checking the values for yourself on SellCell.
(Pro-Tip: Then take SellCell's best price, because you won't get more cash for your iPhone anywhere else!)
4. Apple
Apple makes arguably the best smartphones on the planet at this time. Aside from its forward-thinking tech, Apple brand loyalty and high trade-in values all point to it being the most successful smartphone manufacturer there is.
However, one thing Apple generally falls short on is iPhone trade-in values. Looking at the figures above tells the tale; you can't even get a price on the iPhone 12 range from Apple, yet. And this is the manufacturer!
Sure, you get convenience, and with a trusted brand, but it will leave you out of pocket and nobody really enjoys being short-changed. If you want that extra cash for your iPhone then you're better off checking out the top buyers on SellCell's comparison service.
5. EcoATM
If you want to go to a brick and mortar store and trade your iPhone in, then you could try ecoATM. It is exactly what it says on the tin; an ATM-style device at which you can trade in your old devices, including smartphones and tablets.
ecoATM has a nice sustainability aspect to it; any handsets it can't repurpose for re-use has its components recycled. Given the amount of eWaste we produce, we could see this as a good option for the eco-minded. However, you'll never get the best price with ecoATM—it is a sister company of Gazelle and actually offers less than Gazelle does!
Trade-In Tip
You're probably sat there thinking "If I sell my iPhone now, what am I supposed to use in the meantime?" This is the main reason many people sell back to their carrier. They don't have a phone to use in the meantime and, when the new phone releases to the public, their carrier offers a convenient way to trade in the old handset against the new one.
However, you are then stuck with, for example, an iPhone 12, that is now worth significantly less than it was prior to the iPhone 13 launch. This is because the phone depreciates in value when its successor launches. Fortunately, we have a hack you can use to get the best price for your iPhone 12 after the new iPhone 13 launches.
With SellCell, you can lock in your best price for between 7-30 days. This means you can leave trading your existing iPhone until the day before the iPhone 13 launches, lock in the best price, and then keep your handset for up to 30 days (depending on the buyer). By this time, the new iPhone 13 is in your hand and you've got a fistful of dollars in the other. Chalk that one up as a win!
Now You Know Where to Trade In Your Old iPhone!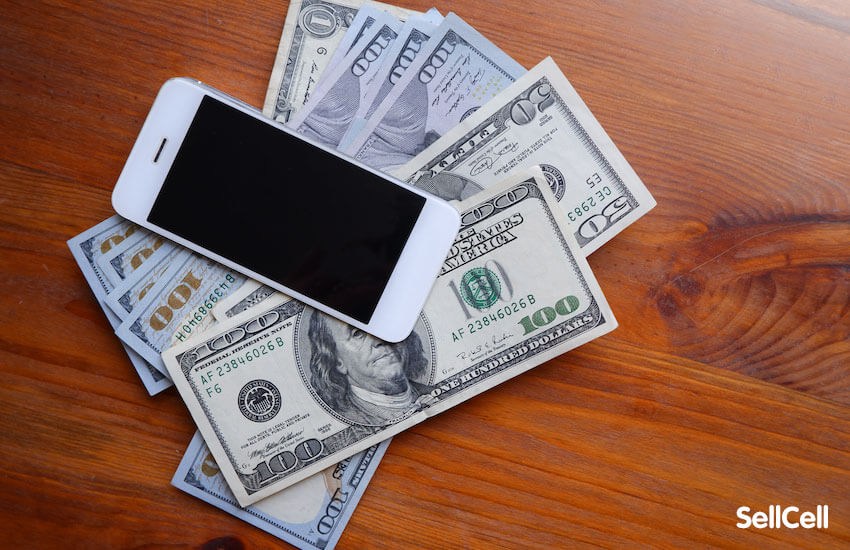 As you can probably see, there is no reason to start your trade-in journey anywhere else other than SellCell. We offer an unbiased approach to getting you the most cash for your phone, by searching through trade-in values offered by only the most trusted buyback vendors.
We operate free of charge, so you don't pay us a penny out of anything you earn from selling your tech through us. This one of the many reasons the biggest authority news sites are featuring us on a weekly basis. That, plus we have a team of people working behind the scenes with 20 years' experience in the global mobile market.
But, most of all, we just want to get you, our customer, the most cash for your old iPhone—or any other tech for that matter—in the most convenient and easiest way possible, with our best price promise constantly giving you peace of mind.