Last updated October 10, 2022
With the iPhone 13 due for imminent launch, lets take a look at which handsets iPhone owners are currently trading in.
Another year, another iPhone, and while we ruminate over whether the iPhone 13 will be unlucky for Apple, many current iPhone owners are trading their handsets in, ready for the next model. The 13-series is a hotly anticipated device, make no mistake, so it makes sense that we've seen an uptick in iPhone trade-ins. It happens with every new iPhone release!
So, as excitement and hype builds ahead of Apple's September announcement, lets delve into which handsets iPhone users are trading in the most; there are noticeable trends in the data.
Which iPhone Models are Users Trading In?
Looking at the statistics, we have several handsets we would expect to see in trade-in figures prior to the iPhone 13 launch. However, there are a couple of surprises hidden away that we wouldn't have expected. The figures below represent tens of thousands of iPhone trade-ins made within the past two-week period at SellCell.com.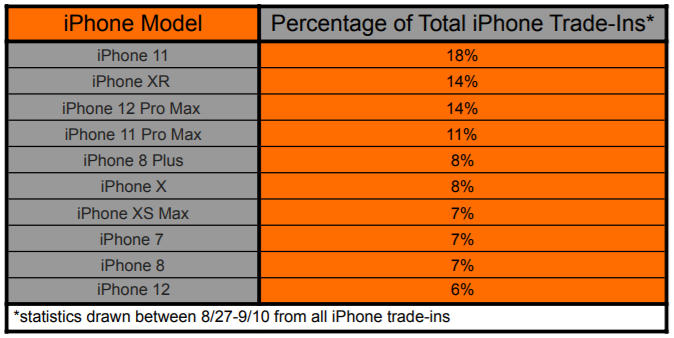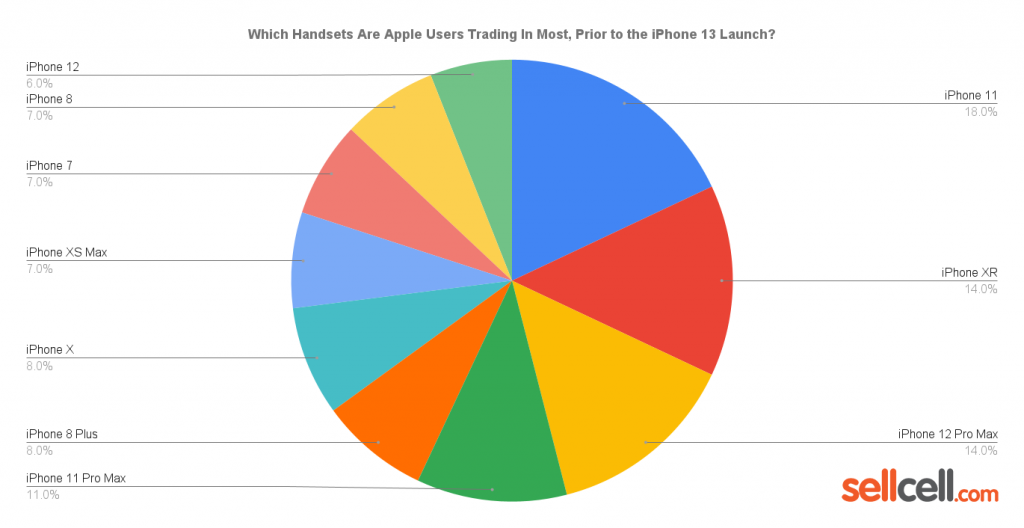 As we can see from the results chart above, the iPhone 11 tops the trade-in table. 18% of all iPhone's users traded in between 08/27-09/10 were iPhone 11-series handsets. However, this is absolutely something one would expect from trade in figures leading up to the launch of a new handset.
How so? Because the iPhone 11 has been available for two years, or at least it will be once the 13-series handsets hit shelves. As 24-month cellphone contracts are commonplace nowadays, it makes sense that people whose contracts are ending will want to trade in. This includes iPhone 11 users, clearly.
The iPhone XR comes in joint second place, with 14% of all handset trade-ins being the XR model. Apple launched the XR back in 2018, meaning some people have had this smartphone in their pocket for almost three years by now.
It is the joint second-place handset, the iPhone 12 Pro Max, that causes a real stir in this years' trade-in figures prior to iPhone launch day. Making up 14% of all iPhone trade-ins, this is a genuine surprise to see. However, there is a possible and plausible explanation.
The iPhone 12 Pro Max is the most expensive of all the handsets in the 12-series (obviously). Despite an initial drop in value post launch, the iPhone 12 Pro Max actually recovered some of its lost value. That's right, its trade-in price started creeping back up by month six of sale.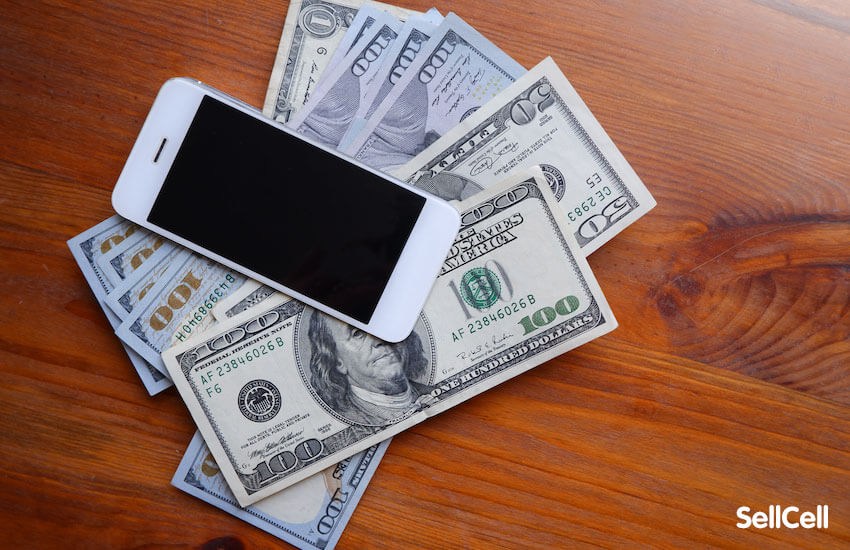 So, with a good trade-in price, and as the most prestigious of the 12-series smartphones, it makes sense that canny iPhone 12 owners are cashing in on the buoyant Pro Max value and getting the highest price for their handset, before it drops again following the 13 launch.
Don't forget as well, demand will still be high for Apple's last-gen handsets. They're not obsolete by any stretch of the imagination, so people still look to buy them, they just want to pay slightly less for what is soon to be a previous generation smartphone.
iPhone 12 Pro Max owners are likely to see this and will take the highest price they can, knowing that their handset might be worth up to 50% less post 13-launch, than it was prior to the Apple announcement.
Third position, with an 11% share of all iPhone trade-ins taking place in the lead up to the launch, is the 11 Pro Max. So, here, we probably have a combination of the above (two-year contracts running out and canny sellers) that leads to the 11 Pro Max being the third most-popular trade-in.
The remaining handsets are all older models, some dating back to the iPhone 7. However, the last of the most traded-in of the Apple models is the iPhone 12. It is surprising that this handset appears in the list, simply because it doesn't have the bells and whistles of the 12 Pro Max, so it isn't worth as much, therefore presenting a less attractive trade-in opportunity.
This could well be down to contracts as well, though. 12-month contracts are still very much prevalent, so those who invested in an iPhone 12 under a 12-month contract, will now find it is time to upgrade, and are doing so.
Should You Trade In Your iPhone?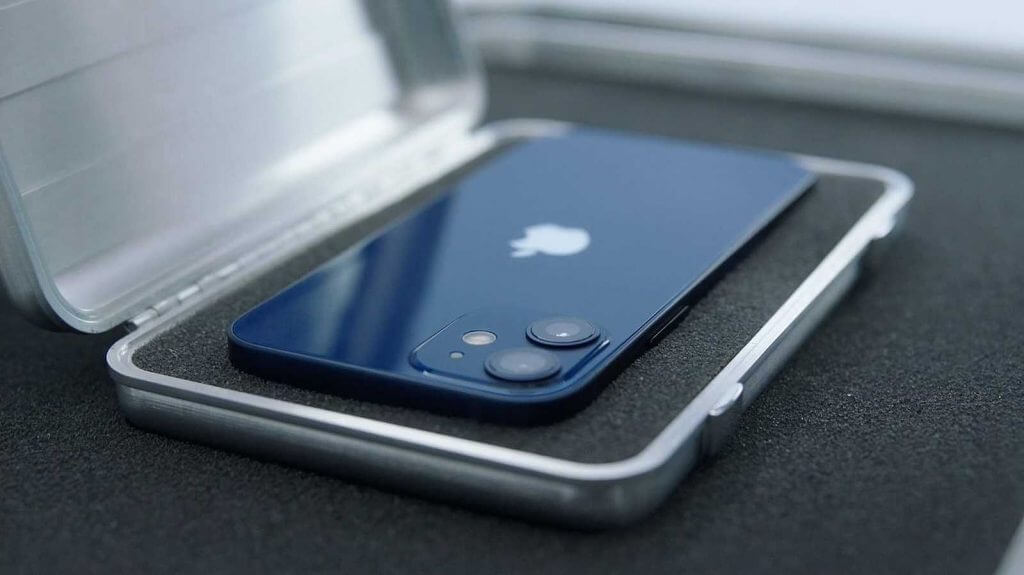 Whether you trade your iPhone in prior to the iPhone 13 launch is up to you. There are several factors you should consider if you can't decide whether to trade in now or wait until after the launch.
First, iPhone's (like any other smartphone) lose value the second an updated model launches. Once everyone knows the new features they can look forward to, previous generations become old hat and interest in them dwindles.
So, if you plan to trade in, you're possibly best to do so sooner rather than later, and certainly before Apple announces the 13-series.
Fortunately, you can lock your price in with SellCell, meaning you can get a pre-launch trade-in price and keep that price for a specified period of time (which varies depending on which of SellCell's trusted buyback vendors you choose).
The upshot of this is that you get the best possible trade-in value for your handset, and you don't need to send it off until the lock-in period ends. So, you have an excellent price for your iPhone and you potentially keep your existing handset until your brand-spanking iPhone 13 lands on your doorstep.
So, get the best price via SellCell and then lock it in prior to the iPhone 13 launch. This is the best advice you'll hear if you want to trade your iPhone in; don't sleep on it or you'll pay for it with your iPhone value.
Get Ready for the iPhone 13 Launch
As we ready ourselves for the iPhone 13 launch, you should keep abreast of the value of your own handset, especially if you're planning to sell your iPhone and get the 13-series with the proceeds. Do it now and you won't regret it, wait and you most likely will when you've got a handset worth $300 less than it was a week earlier.
If you want to track the price of your handset, you can. Simply use SellCell's Price Alert feature to let you know the value of your handset without you even needing to search yourself. It'll deliver your handset value to your inbox for you.
This way, you know you're getting the best price for your handset, because SellCell trawls its network of trusted buyback vendors to bring you their best price guarantee and deliver the highest value for your smartphone. All that remains for you to do is to claim the buyback price, lock it in, and send your phone off. Easy.