Want to keep tabs on the value of your smartphone without lifting a finger? Then SellCell's price tracking tool has got you covered.
It is incredibly useful to know the value of your smartphone. If the need (or desire) to sell it arises, then you want to know how much cash you'll get in the bank. However, this requires sometimes laborious internet searching, as you look through website upon website in search of the best price for your phone.
Step in SellCell. The US' top mobile phone comparison service is about to become even easier to use, thanks to introducing its new trade-in price alert.
Let's take a look at the new website feature's details.
What Is SellCell's New Trade-In Price Alert?
The new price tracking feature available via SellCell does pretty much exactly what it says on the tin. It allows SellCell customer's to set up alerts on the value of their handset. So, if a customer has an iPhone to sell prior to the release of the iPhone 13, they can set up a price alert that gives them live phone values for their particular handset.
The service is available completely free of charge, and you can unsubscribe from emails whenever you please. Note that you can currently only use the service to check the trade-in value of a mobile phone. So you can't track the price of a PS4, for example.
How to Access SellCell's Trade-In Price Alert Feature
Accessing the tool is simple. You simply need to head to the SellCell Price Alert page and fill in your details. This will sign you up to the service, and SellCell will then send you alerts as to the value of your handset via email.
To find the sign up page, click the option at the bottom of the screen in the black ribbon. This will take you to a
You'll need the following to sign up for free price alerts:
Here's how to navigate the sign-up process.
1. Find the Price Alert Sign-Up Page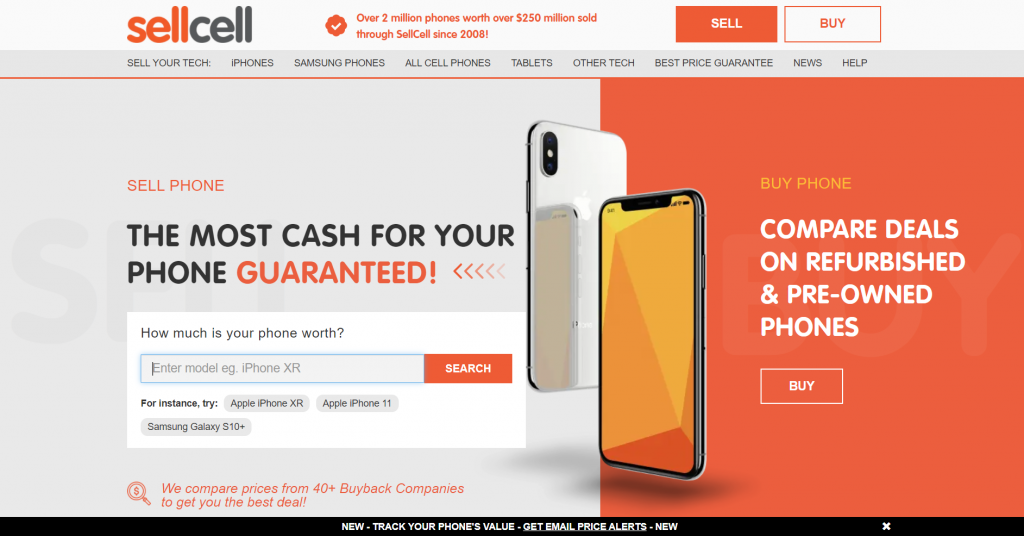 First, head to the sign-up page by following the link in the black notification bar at the bottom of the SellCell.com landing page. You can also get to it via its URL: https://www.sellcell.com/price-alert/.
2. Enter Your Details
The Price Alert sign-up page has several fields you'll need to fill in, which allow SellCell to send you the value of your phone via email.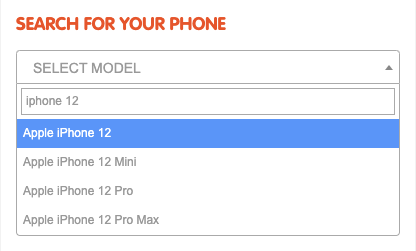 Use the drop-down menus and text fields to enter the make and model of your phone, along with your email address, and the other details you'll see on the page.
You can also set the desired alert frequency to daily, weekly, or monthly. So, to use the previous example, if you want to sell your iPhone, then you can have a daily alert so you know you're getting the best price when the time comes to trade it in.
3. Authenticate Your Email Address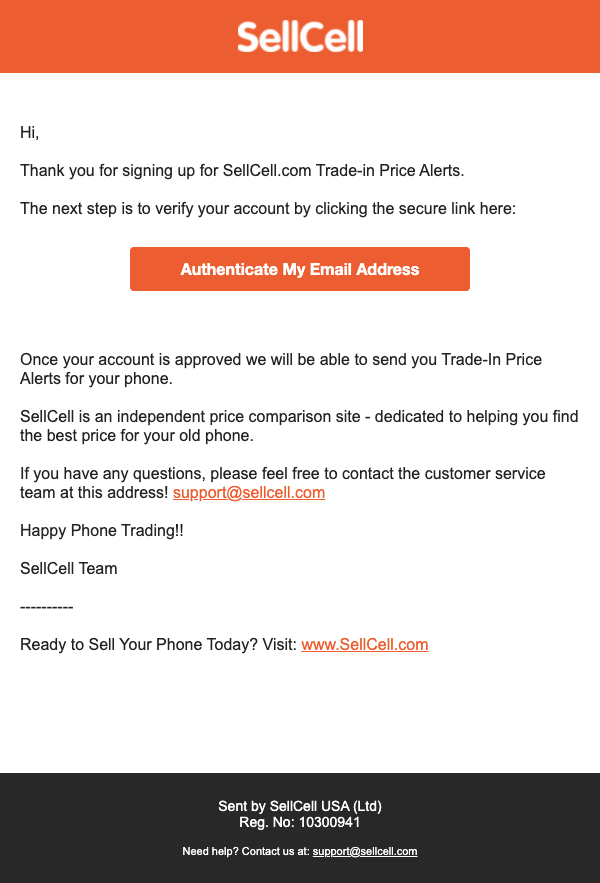 SellCell will send you an authentication email. So, watch for that arriving and, when it does, click the link to authenticate your email address. If you don't get the authentication email, check your junk mailbox. If you don't get the authentication email, contact SellCell support.
4. Get Your First Price Alert!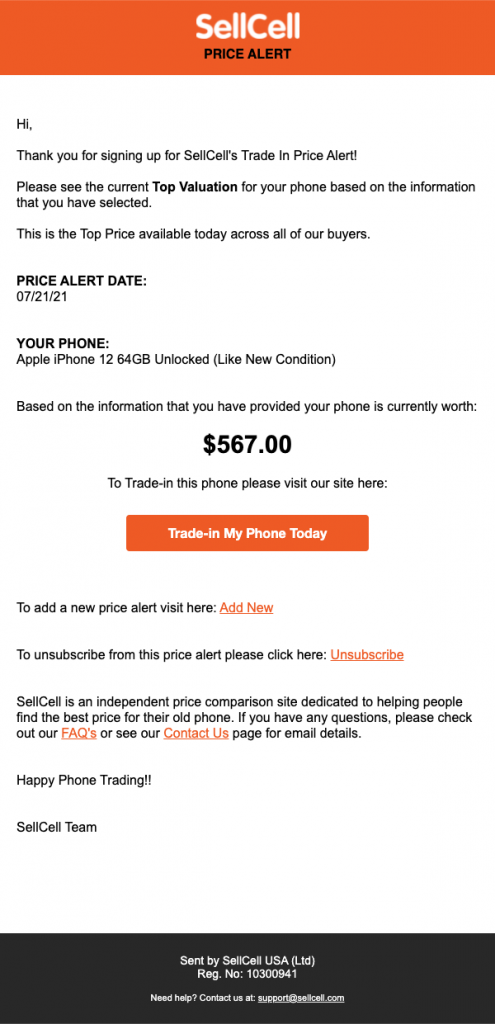 Now, you're done! You should receive your first price alert once you have authenticated your email address. You will then continue to get price alerts at your chosen frequency, via email. You can unsubscribe from your price alerts at any time.
Why Do You Need Smartphone Price Alerts?
You may not know it, but you should keep tabs on your smartphone's value. Here's why you need those price alerts.
1. Phone Values Depreciate FAST…
Anyone with a smartphone they intend to replace eventually can make use of free price alerts for their current handset. Smartphones generally depreciate in value soon after launch, before (hopefully for the customer) plateauing and maintaining the remaining value for a short time.
That can value depreciation happen incredibly quickly, as we have seen with the Samsung Galaxy S21.
2. … And Depreciation Is Even Worse When a New Handset Launches
Ahead of new smartphone launches, existing handsets will often see an exaggerated drop in value, as owners prepare to replace with the latest model. Prices drop even further once the new handset sees release.
To refer back to the topical iPhone 13 launch. As we approach September, when the 13-Series iPhones are due for launch, the trade-in value of the iPhone 12 is going to drop (despite the iPhone 12-series holding its value so well), if previous trends are anything to go by.
They'll drop further still once Apple releases the iPhone 13 handsets. So, with the above in mind, anyone with an iPhone 12 they are looking to trade in should sign up for price alerts. This way, they'll know they're getting the best price for their handset.
The same is true for any other handset. Samsung often releases its handsets shortly after Apple does, so Samsung Galaxy S21 prices will drop even further. If you are one of the many Samsung customers ready to jump ship to Apple, then a price alert will help you get the best price for your Galaxy smartphone.
3. You Can Act Immediately When You Get a Price Alert
If a customer is happy with a value SellCell provides in the price alert, they can quickly accept the deal and lock the price for up to 30 days, giving time for the iPhone 13 to be in their hands before they have to send their old handset for trade-in.
Rather than browsing the market for the best trade-in values, SellCell can send you them, straight to your inbox. You only need to open the email and you'll find the best deal for your smartphone.
Why Use SellCell to Trade-In Your Smartphone?
SellCell is the number one smartphone trade-in comparison site in the US. There are several reasons for this, all of which are of direct benefit to SellCell's customers. All of these factors make SellCell the best place to trade-in your handset.
1. SellCell Doesn't Cost a Penny
First, SellCell is free of charge, just like the new price alert feature. Customers don't give SellCell a cent during the entire transaction. It simply helps facilitate the transaction by recommending trusted buyers.
2. SellCell Only Uses Trusted Buyback Vendors
Second, with mention of trusted buyers, SellCell vets all of the 40+ buyback vendors available via website, prior to listing on SellCell.com. You can see how trustworthy each vendor is, as the website also displays scores from Google, Trustpilot, and the Better Business Bureau, to name a few.
3. SellCell Has a Best Price Guarantee
Third, SellCell operates a Best Price Guarantee. Essentially, this means that if you find a higher price within 24 hours of placing your order, SellCell will pay you double the difference. There is a reason SellCell is responsible for the trading-in of over 2 million devices; it offers the best price above its competition.
4. SellCell Does All the Hard Work for You
Fourth, SellCell does all of the legwork. A customer shouldn't have to trawl the internet to find the best price for their smartphone. So, rather than waste timing hunting the best price down, SellCell can do it for you in seconds. Simply entering the make, model, and condition of your handset is enough for SellCell to return a wide range of prices for your handset, with the best deal always displayed at the top of the list.
5. SellCell Is on the Buyer's Side
Finally, SellCell is all about buyer protection. So, while you should have no problems with its trusted buyback vendors, you can still have peace of mind. If there is ever an issue, SellCell will act as an arbitrator, so you don't have to deal with a problem directly.
Keep Track of Your Smartphone Value With SellCell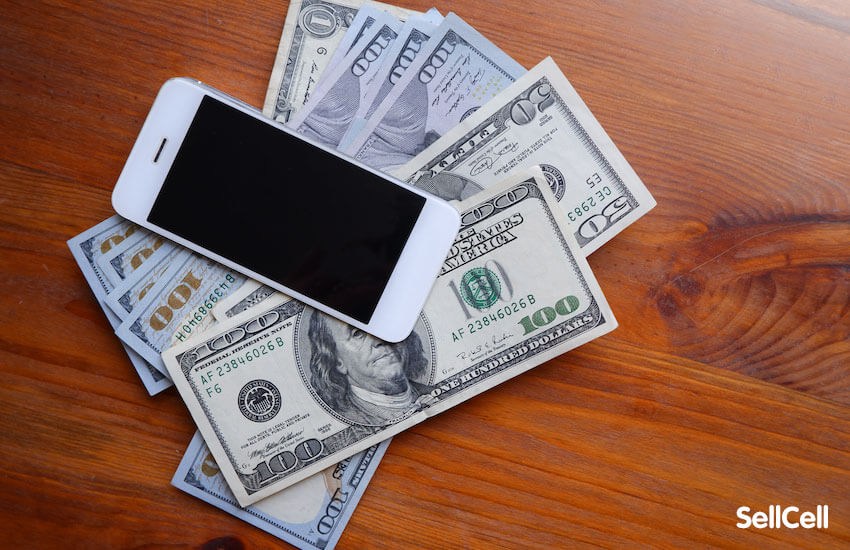 As you can see, there are plenty of reasons to sign up for SellCell's smartphone price alerts. Not only is it free, but it will help you get the best value for your smartphone, too.
You can then continue your trade-in journey with one of SellCell's 40+ trusted vendors, straight from your inbox. It doesn't really get much easier to sell your phone than with SellCell.