Last updated September 13, 2021
Want to know how much value your phone has lost? Then SellCell's new depreciation number-cruncher can tell you.
No matter which smartphone you buy, it loses its value the second it leaves the supplier. Given that some smartphones lose value faster than others, it makes sense that you should know exactly how much your phone is worth.
This is particularly true if you want to sell your phone. Knowing how much it is worth helps you decide whether it is the right time to sell; every phone has a resale value that fluctuates based on several factors.
Fortunately, SellCell is on hand to show you the exact figure relating to your smartphone's value depreciation. Its new Smartphone Depreciation Calculator can find the information in an instant. Let's inspect.
What Is SellCell's Smartphone Depreciation Calculator?
SellCell's new calculator allows customers to obtain live statistics relating to the value of their smartphone. It updates every day, so customers can see for themselves how the value of their handset can depreciate.
The Smartphone Depreciation Calculator covers a wide range of handsets from various manufacturers, including Apple iPhone, Samsung Galaxy, and Google Pixel, as well as Motorola and LG.
So, if you're interested in finding out how much your phone is currently worth, and how much value it has lost since you bought it, SellCell's calculator is the perfect tool.
How Does SellCell's Smartphone Depreciation Calculator Work?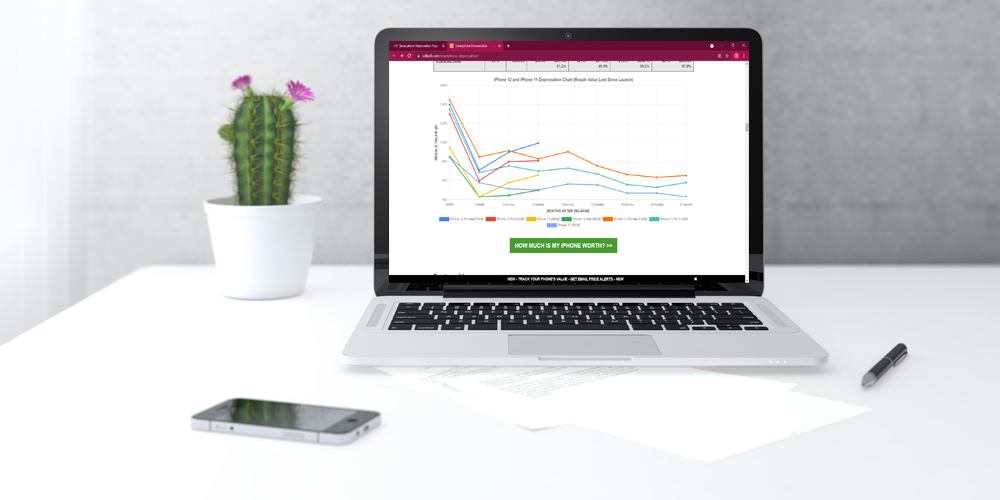 SellCell's calculator works by analyzing phone values VS the original price charged by the manufacturer. So, if you want to sell an iPhone, for example, you will be able to see how much your iPhone 12 is worth and compare that value to the initial sale price of a new iPhone 12.
SellCell compares the value of each handset across the 40+ trusted buyback vendors it works alongside. It then updates the depreciation calculator with the phone's current value, and calculates how much value your smartphone has lost, i.e. its depreciation.
SellCell updates this data on a daily basis, giving you the most up-to-date value of your handset. You can find the make and model of your handset easily, by using the search bar at the top of the calculator. Just head to the Smartphone Depreciation Calculator page and find out what you can get if you were to sell your smartphone today.
How Can the Smartphone Depreciation Calculator Help You?
Buying a smartphone is a major investment, given the amount of money consumers spend on their devices. Knowing the value of your smartphone is part of that investment, as you need to ensure you're getting the best value for money when you come to sell it on.
With upgrades in mind, knowing which smartphones hold their value could help you decide which handset, and which brand, you opt for next. There is no point investing in a new handset only for it to lose half of its value within a few months; this has recently been the case with Samsung smartphones.
SellCell makes it easy to find your exact make and model smartphone, with a search bar at the top of each phone brand's depreciation table. You can even see the depreciation based on the condition of your phone; even if your phone is faulty, you can still find it's value and make some money from it.
Simply put, SellCell's Smartphone Depreciation Calculator helps by delivering the current value of your phone, its depreciation value, and it does so daily.
This helps you stay informed about the right time to sell your handset and how much you'll get for it. It can also help inform investment choices for buying your next handset. If you look at the value trends for your chosen brand, this can offer insight into how your new handset is going to perform, value-wise.
Use SellCell's Smartphone Depreciation Calculator to Value Your Handset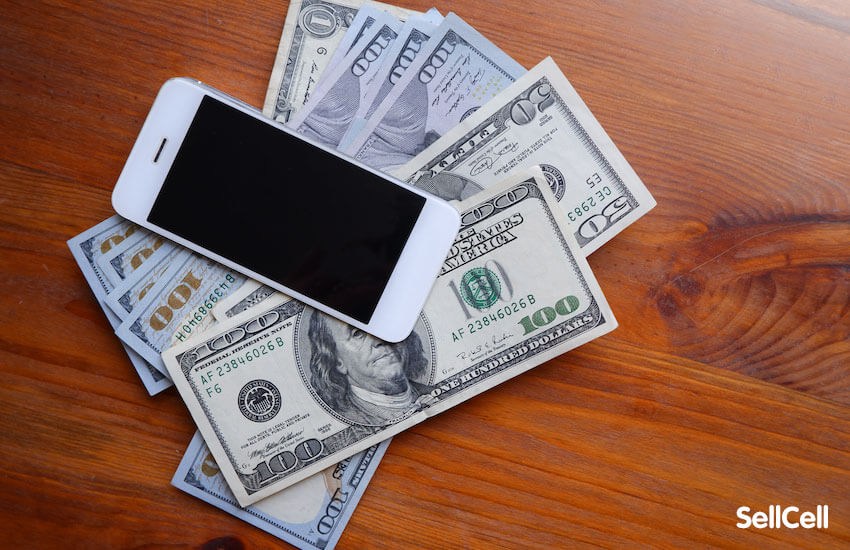 As you can see, SellCell's new calculator could literally save you hundreds of dollars if you use it wisely. It can give you a daily value for your handset, taken from its bank of 40+ buyback traders, keeping you on the ball when it comes to trading in.
Getting the best value for your tech is important, which is why SellCell only works with trusted buyback vendors. You can see ratings from the Better Business Bureau, Trustpilot, Google, and more, next to each and every search result SellCell returns via its website.
If that isn't enough, you can sign up for SellCell's phone value tracking alerts, delivered straight to your email inbox, further furnishing you with the ammunition you need to get the best deal available when you sell your smartphone.
FIND OUT HOW MUCH YOUR PHONE HAS DEPRECIATED BY: