– Of almost 11,000 US Android owners, 20% will upgrade to the S22 in February
– The high-end S22 Ultra is the most sought-after model from Samsung's forthcoming range
– The most traded-in Android model in the past two weeks is the Samsung S21 Ultra 5G
Samsung released its Galaxy S21 range back in February 2021, amidst a global health crisis and worldwide electronic component shortage. It was around the same time that Apple overtook Samsung as the best-selling smartphone brand in the world. Samsung, it seemed, had fallen foul of the havoc that 2021 wrought across the entire tech industry.
However, it would appear that all was not lost in the war with Apple. SellCell has carried out a survey of upgrade intention among Android users, discovering that the S22 might be the smartphone that puts Samsung back at the zenith point of smartphone sales. A tentative might, but it could happen if the survey results are anything to go by; Samsung may upset the Apple cart yet. Samsung is due to release its new range of smartphones on February 9th.
SellCell has surveyed almost 11,000 US Android users to determine upgrade intention. It has then compared this data with inside trade-in data to show correlations between the two data sets. Let's see what Android owners make of the forthcoming S22 smartphone range.
Key Highlights
Of the 10,678 survey participants, 2139 (20.0%) stated they will upgrade to one of the Samsung Galaxy S22 models, while 8539 (80.0%) said they won't upgrade to this range.
Within that percentage of Android users upgrading to an S22, 44.4% will opt for the top-of-the-range S22 Ultra. The standard S22 is the second most popular handset, at 30.1%. 25.5% of S22 upgraders will select the mid-range S22 Plus.
Males make up the majority of those upgrading to the S22, irrespective of the model. 61.5% of S22 upgraders are male, and 38.5% of S22 upgraders are female.
The Galaxy S22 Ultra is most popular among ages 25-34 and 35-44. Both these age groups account for 12.2% (each) of those upgrading to an S22.
The popularity of the Samsung Galaxy S22 Ultra correlates with the rise in trade-in popularity of the S21 Ultra 5G in the two weeks prior to publication of this report. The S21 Ultra 5G accounts for 22.3% of Android trade-ins in that two-week period.
Each of the 10 most traded-in Android smartphones during this same two-week period was a Samsung.
Worryingly for Samsung, both the Z Flip3 and Z Fold3 appear in the list of 10 most traded-in Android smartphones, suggesting the handsets aren't proving too popular.
SellCell Samsung S22 Survey
The survey results paint several pictures, and not just about Samsung, as the key findings above illustrate. Here's how respondents answered the survey questions.
NB: SellCell gave each respondent guidance prices for each S22 handset. These were S22 ($899), S22+ ($1,099), and S22 Ultra ($1,299).
1. Will You Be Upgrading to a Samsung Galaxy S22?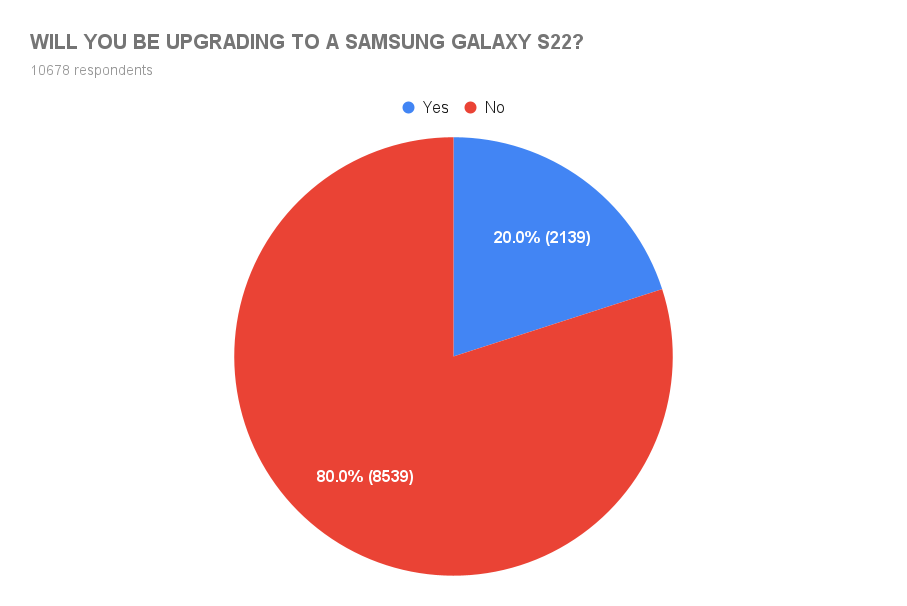 Don't let the chart above fool you. Even though 80% of the 10, 678 people surveyed said they won't upgrade to a Samsung Galaxy S22, that leaves 20% who said they will. This 20% is not to be taken lightly, as it is represents a large percentage when you consider the vast number of different smartphone models on the market.
Think about it from the perspective of another brand. Particularly Apple, as it will see these figures as a loss in terms of converts to the Apple ecosystem. This is 20% of Android users that Apple has failed to convert. It does, however, correlate with a survey SellCell conducted in 2021, which showed a 15% drop in Android users' intent to jump ship and upgrade to an iPhone, compared to data from 2020. Perhaps Android users are sticking to what they know, especially with the S22 on the horizon.
2. If You Are Upgrading to an S22, Which Model Will You Be Upgrading To?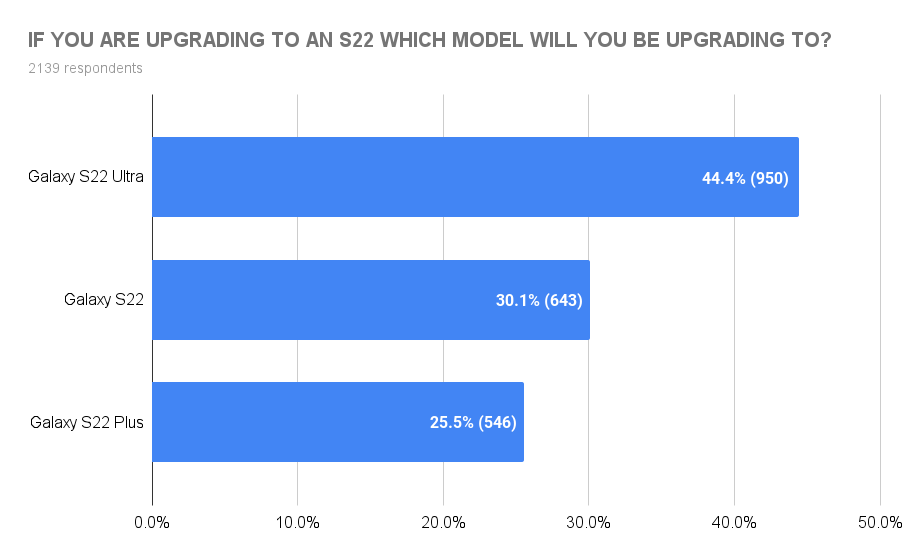 SellCell then asked the 20% (or 2139) of the respondents upgrading to an S22, which model they would select.
As you can see, almost half of respondents (44.4%) to question 2 stated they would opt for a Galaxy S22 Ultra. For some, this might seem surprising. The Ultra is the most expensive, after all, with SellCell giving respondents a guide price of $1,299 for this model. Still, intent is high for the premium pick.
The standard S22, comes second place, with 30.1% of the upgraders' votes. This is the least expensive model, with a guide price of $899. The S22+ fares worst, with only 25.5% of S22 upgraders plumping for the mid-range of the three handsets.
3. Gender of Survey Respondents Who Will Upgrade to an S22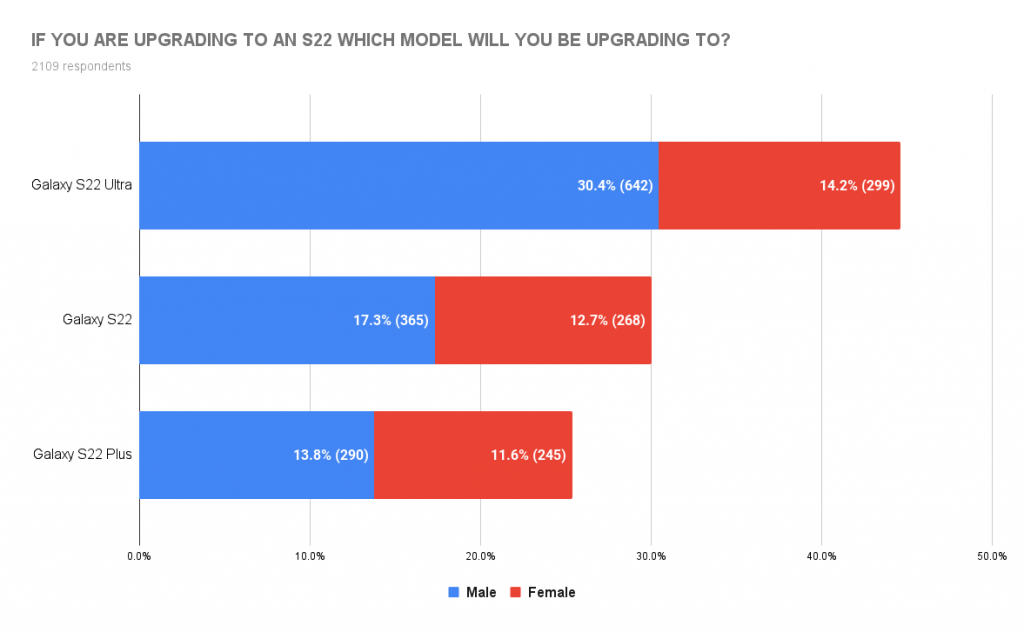 As the graph above shows, males make up the largest percentage of S22 upgrade intention, with a total of 61.5% of those upgrading to an S22 being male. Broken down by model, the S22 Ultra accounts for 30.4% of male upgrade intention, the standard S22 17.3%, and the S22+ 13.8%.
By contrast, only 14.2% of those upgrading to an S22 Ultra were women, with 12.7% for the S22, and 11.6% for the S22+.
Despite studies showing that it is women who show the most purchase intent when it comes to tech (especially laptops and smartphones), it is males who dominate the S22 upgrade figures, with almost a two thirds of those upgrading to an S22 being male.
It is also of note that of the 8539 respondents who are not upgrading to the S22, 53.5% were female, and 46.5% were male.
NB: Of the 2139 Samsung upgraders, 30 were unknown gender, and so the total number of responders to this survey question is 2109.
4. Age of Survey Respondents Who Will Upgrade to an S22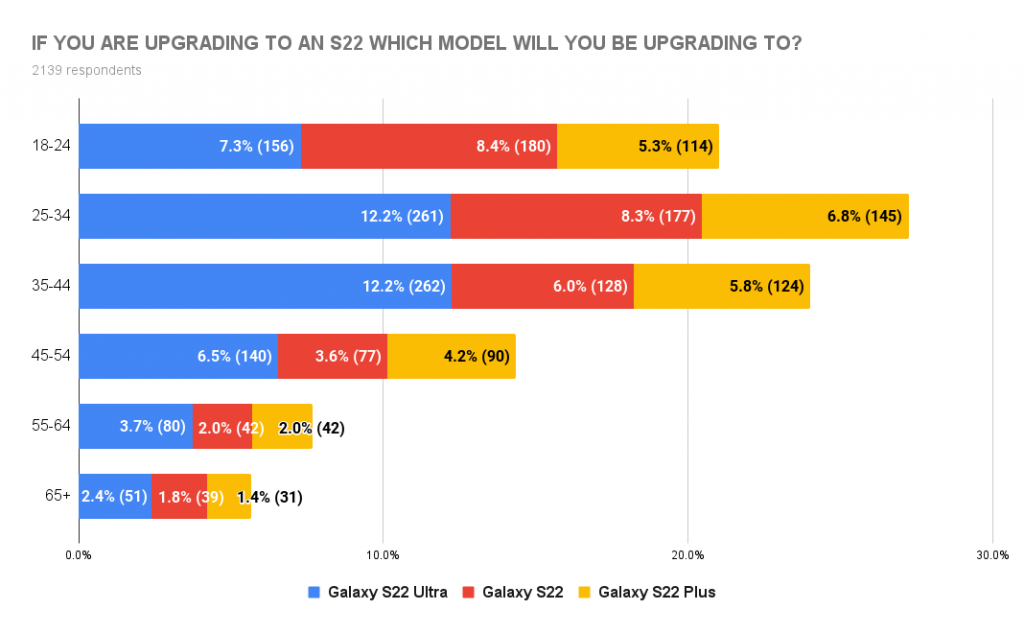 The age range 25-34 shows the highest intention to upgrade to an S22; 27.3% of those upgrading fall within this age bracket. Age range 35-44 shows the second highest intention (24.0%) yet, interestingly, 12.2 % of both age ranges intend to upgrade to the S22 Ultra.
Similarly, 18-24-year-olds account for 21.0% of the overall S22 upgrade intention, yet the standard S22 is treated as favorably in this age range as it is by ages 25-34. 8.4% of 18-24-year-olds upgrading to an S22 will upgrade to the standard model, and 8.3% of ages 25-34 will follow suit.
SellCell Internal Data Study
To assist in analyzing the survey data, SellCell also sourced internal data relating to trade-in figures between 12/27/2021-01/09/2022, comparing it with trade-in figures between 01/10/2022-01/23/2022. The findings are below.
Most Popular Android Models Traded In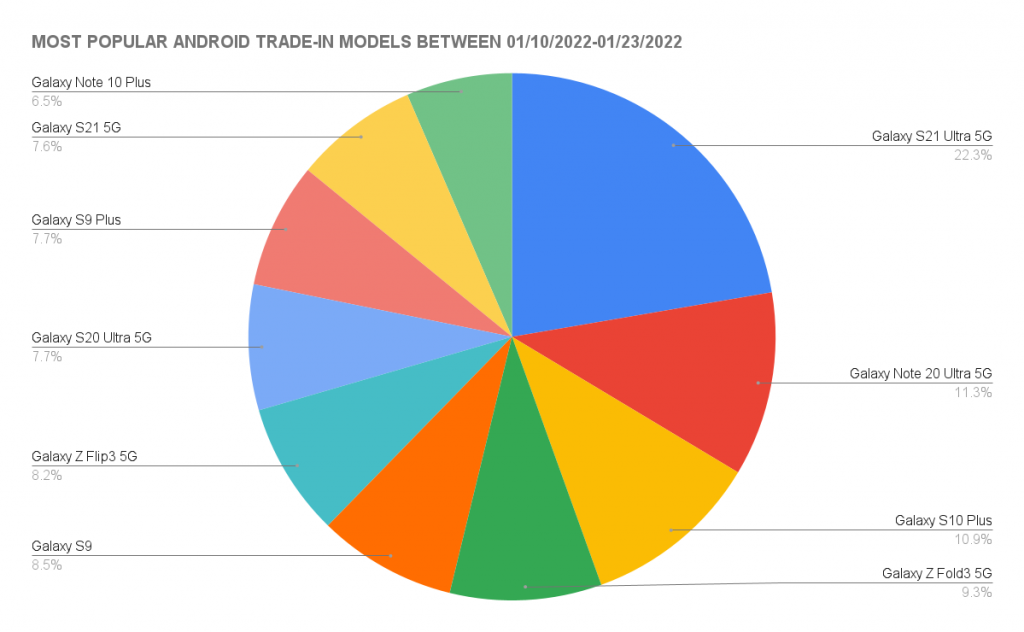 During the period 01/10/2022-01/23/2022, it is clear to see from the above data that Samsung has dominated Android trade-ins. In fact, no other brand has proven as popular as Samsung during this trade-in period.
The Galaxy S21 Ultra 5G tops the list when it comes to the 10 most popular Android models that consumers traded in during this period.
Maybe disquietingly for Samsung, the Z Fold3 and Z Flip3 appear on this list, too. Not a brilliant look, considering both handsets only launched in August 2021.
What Do These Survey Results Tell Us
With 20% of upgrade intention leveled at the S22, we may see Samsung claw back some of the ground it has lost to Apple and its market leading iPhone. In fact, with the S21 dropping in price when the S22 launches, Samsung could claw back more market share than it thinks.
Upgraders are more concerned about having premium features than how much the handset will cost, proven by the overwhelming popularity of the S22 Ultra upgrade intention (44.4%). In fact, given that the mid-range S22+ has the lowest upgrade intention (25.5%), it seems that people aren't so willing to compromise; they either want the cheapest handset, or they want the one with the best features, leaving less room for the middle ground the S22+ inhabits.
The male-female ratio of those upgrading to an S22 (61.5% male vs. 38.5% female) correlates almost exactly with SellCell's findings in its recent Tech Trade-In Trends 2021 report. The report shows males accounted for 64.4% of all traded-in tech in 2021. If there is an intention to trade, there's an intention to upgrade, and these two figures illustrate that perfectly.
Intention is high for owners of the S21 Ultra 5G to trade-in like-for-like. Both the S21 Ultra 5G and S22 Ultra are their respective generation's premium handsets. Thus, it makes sense that, as S21 Ultra 5G made up 22.3% of trade-in figures. Those trading in will probably replace their S21 Ultra 5G with the S22 Ultra—a similarly top-spec smartphone.
Samsung owners are likely staying within the ecosystem they know. SellCell's figures show a huge trend in Samsung trade-ins, with the ten most traded-in handsets all being Samsung; unsurprising given that it has the S22 smartphone launch approaching. It makes sense to assume that this trend shows that Samsung users are preparing for the release of the new handset by trading in their old Samsung to make room for new.
The increase in trade-ins of the Samsung S21 smartphones is also telling. It shows that S21 owners know the value of their handset will drop once the S22 lands. So, they are locking in their best trade-in price with SellCell prior to the launch, so they can capitalize on a pre-S22-launch trade-in value. This way, they can offset the cost of the S22 Ultra they intend to buy, which is looking to be Samsung's most sought-after smartphone when it launches.
Will the Galaxy S22 Prove Itself a Samsung Success?
Strong S22 upgrade intentions of 20% across all Android models, coupled with equally strong secondary market figures from SellCell's internal data, tells us that the S22 could prove incredibly popular and, yes, is likely to prove a success for Samsung.
Trade-in data is very telling, and given that SellCell has seen consumers flocking to trade in their Samsung devices with one of its 45 trusted buyback vendors, 2022 could well be a significantly better year for Samsung than 2021.
If you'd like to check the price of your smartphone, you can do so now via SellCell, and see whether you're sitting on a veritable goldmine in the form of an unused handset. If you decide to trade-in, do so before the S22 launches, as your handset's price will drop.
With a pre-launch price lock-in available with many of SellCell's buyback vendors, and backed by a best price guarantee, you'll get the best value for your Samsung smartphone, ready to offset against the cost of the S22, when it arrives.
Methodolgy
SellCell surveyed 10,678 Android users, to ask their thoughts around upgrading to a Samsung S22. A leading independent survey platform gathered survey data amongst US adults between the ages of 18-65+, with an equal split of male and female respondents. It took no personal identification, therefore, nor did it store any.
SellCell also used its own internal trade in data to identify trade-in trends and patterns ahead of the February 8th Galaxy S22 launch.