– 24% of iPhone users intend to purchase the new iPhone SE for use as their main device
– 16% of iPhone users will buy the iPhone SE 3 2022 as an additional device or a gift
– iPhone 11 users will drive trade-in and buy the new iPhone SE
The iPhone SE 3 is reportedly due for a 2022 relaunch, with Apple fans and experts alike predicting that the smartphone giant will launch the device in its forthcoming Apple Event, taking place on March 8th. This will be the first SE release in two years, and pundits are suggesting we'll see a new iPad and a new Mac alongside the SE 3.
In terms of aesthetics, we're expecting the SE 3 to follow a similar form factor to that of previous editions, with compact sizing at the forefront of the handset's design. We may also see the physical home button on the face of the device, as Apple returns to its retro roots with the SE 3; an important consideration for some.
Besides this, we're probably also going to see a similar budget-busting price tag, with the iPhone SE coming in at an incredibly reasonable price of $400. Those looking to invest in the Apple ecosystem without spending a small fortune will find the SE is an excellent entry point.
Make no mistake, this is a hotly anticipated handset from Apple. The 2020 SE launched in 2020 to similar hype, which was good enough to see it claim almost 25% of all iPhone sales. This is no mean feat, considering some see the SE as lacking the technical chops of its beefier (and more expensive) siblings.
With that in mind, how are things looking in terms of purchase intent? SellCell has conducted a survey among current iPhone users to assert just how many of them intend to buy the iPhone SE when Apple launches the device. Let's look at the data.
Main Findings
40% of the total (2549 respondents) surveyed stated that they would purchase the iPhone SE 3 2022 either for themselves or for someone else. This 40% comprises people sitting in two separate camps. 24% (616 respondents) of those who said they will purchase the iPhone SE 3 2022 will do so for themselves. The remaining 16% (420 respondents) stated that they would purchase the handset as a gift or for use as a secondary device.
Out of the (1036 respondents) buying an SE3, the majority will be buying for their own use (59.5%), after which Children (10.9%) seem to be the most intended recipients of the new iPhone SE3 2022, followed by Partners and Spouses (10.2%), Grandparents (4.5%), and other family members account for (3.4%) of intended recipients. (9.2%) would buy the iPhone SE3 as an additional device for themselves.
iPhone 11 users lead the trade-in charge, with the handset accounting for 11.5% of models that owners intend to part ways with once the SE 3 2022 arrives.
30% of those thinking of buying an iPhone SE3 are doing so thanks to its comparatively inexpensive price point.
Other reasons for investing in the iPhone SE 3 2022 include upgrading from an old handset (25.5%), 5G capabilities (15.2%), its compact form factor (11.3%), and for the retro home button (Touch ID) (6.7%).
Of those who didn't intend to upgrade, (66.2%) say they are still happy with their existing iPhone model, (9.3%) are waiting for the new iPhone 14 to launch, (4.1%) say it's too small and (3.0%) say it's not premium enough.
Summary
SellCell conducted a survey among adult iPhone users who use their iPhone every day as their primary device. Let's see what the 2549 respondents had to say.
iPhone SE 3 Purchase Intentions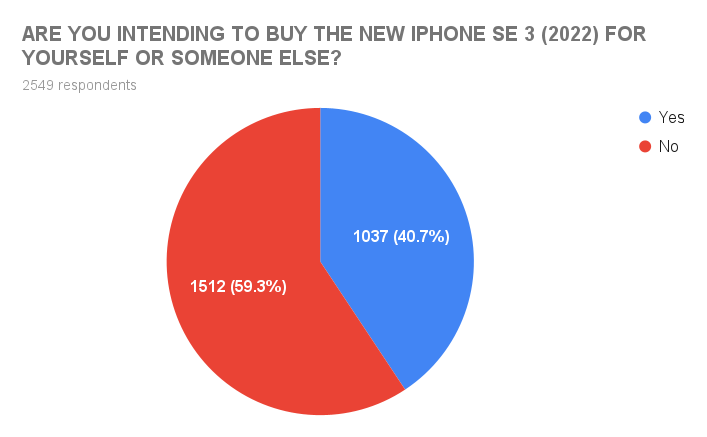 As the data above shows, just over 40% of the 2549 respondents intend to buy the SE 3 for themselves or for someone else, with 1037 people answering in the affirmative.
This might seem like a high figure, but it is important to drive home the point here that not all 1037 people are buying the new Apple device for themselves. We can break this down further…
iPhone SE 3 Purchase Recipients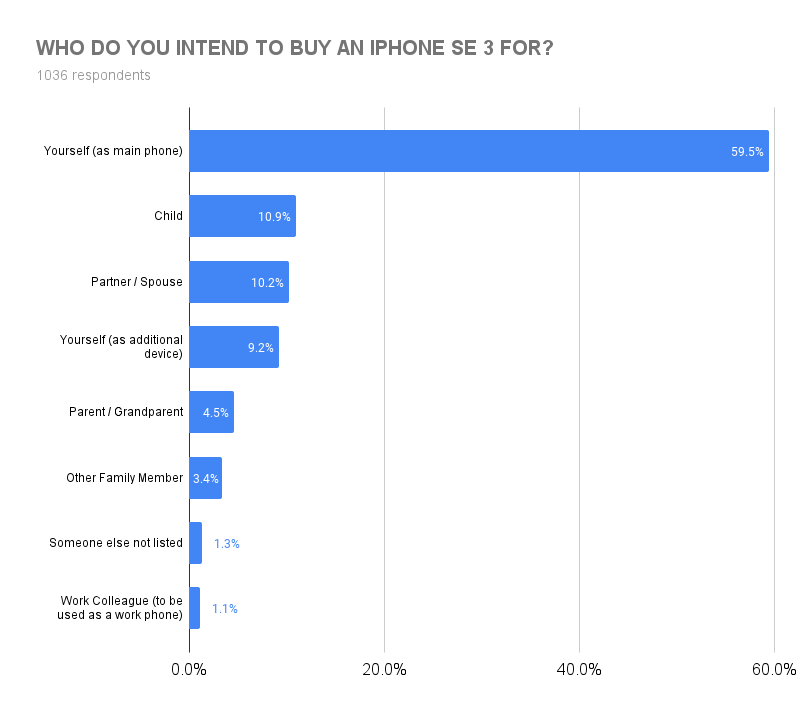 SellCell asked these 1037 respondents who they intend to buy the iPhone SE 3 for. 1036 of them responded, and of these, 59.5% of them stated it would be for themselves as a primary device. This leaves us with 40.5% of respondents who have totally different intentions for the SE 3.
As you can see, children make up the next-highest intended recipients for the new Apple smartphone. 10.9% of the 1036 respondents nominate their kids as lucky owners of the next iPhone. Partners and spouse will also be on the receiving end of the SE 3, with 10.2% of the 1036 respondents buying the device for their significant other.
9.2% of the respondents will buy the handset for themselves, but not for use as a primary device, i.e. it won't be their main handset. 4.5% of those who answered this question will be giving the device to parents or grandparents.
iPhone SE 3: Reasons Consumers Will Buy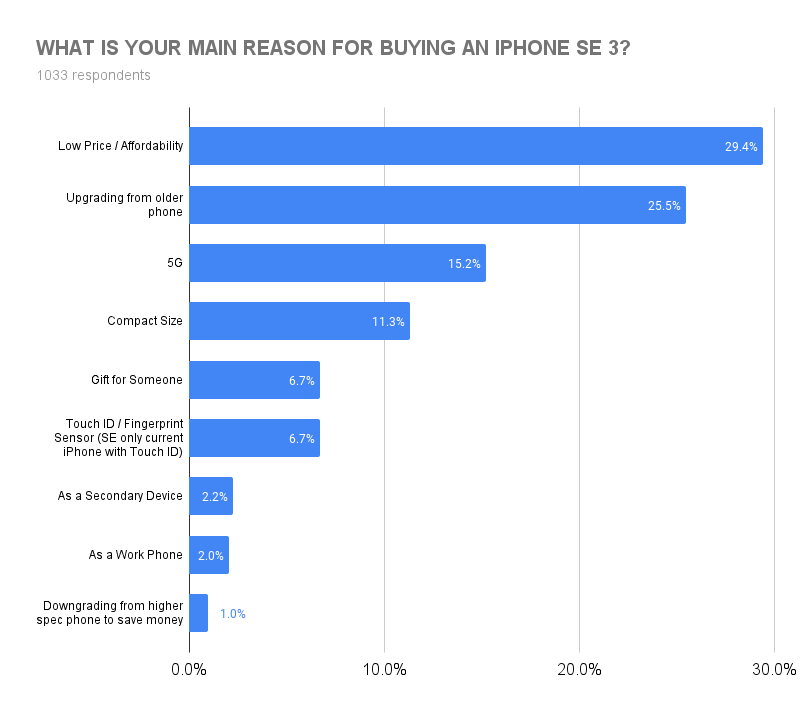 SellCell then asked why those upgrading wanted to invest in the iPhone SE 3 2022 model. As you can see, the figures speak for themselves, as 29.4% of the 1033 respondents to this question firmly have price as their primary concern.
25.5% of those who answered said this was so they could upgrade to the SE 3 from their existing, older smartphone. This makes sense; a lot of those who bought the previous SE model in 2020 will now be due to upgrade as they near the end of a 24-month contract.
15.2% want 5G, which the SE 3 offers at an affordable cost, along with the other refined features you get with Apple products. In fact, there are three feature-based reasons why users will buy the SE 3. 5G, as mentioned, the compact size (typical of the SE models), and the back-to-the-roots home button which will feature Touch ID.
iPhone SE 3: Reasons Consumers Won't Buy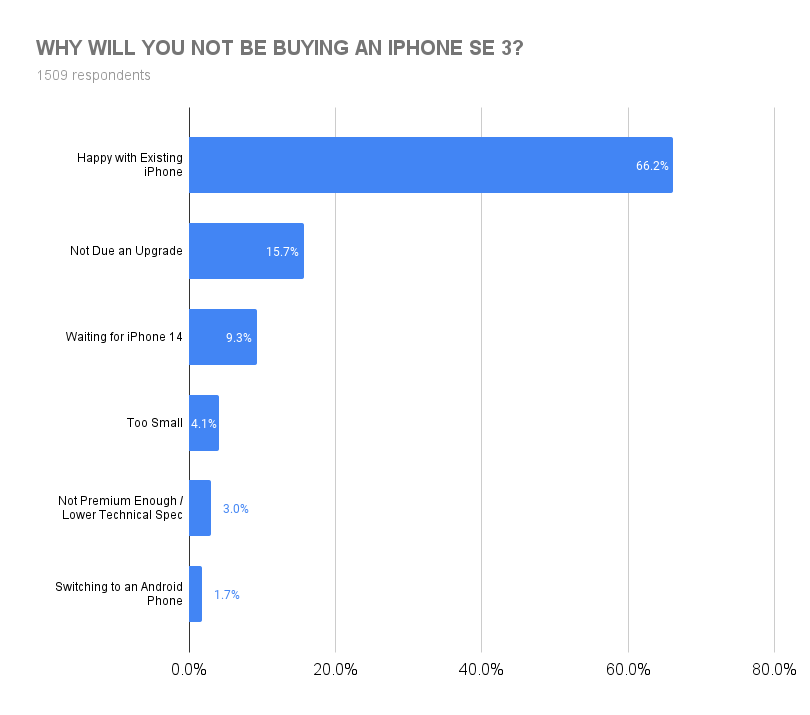 As we can see from the data illustrated above, most respondents who aren't upgrading cite satisfaction with their current iPhone as the reason they don't want to move to the SE 3. 66.2% of people not buying an SE 3 say this is why.
15.7% of those who aren't buying the SE 3 say it is because they're not due an upgrade, indicating that the intention to invest in the SE 3 would be there if they had reached the end of their contract.
An optimistic 9.3% of respondents not taking the SE3 are holding fire for the iPhone 14, which we'll probably see in September.
Features come under fire, too, as 4.1% of respondents think the compact SE 3 is too small. 3.0% don't find the technical specs exciting enough, but then we should expect that with a low-cost handset; you're not going to get the same features as a 13 Pro Max.
1.7% of those who aren't going for an SE 3 are making the jump to Android. However, before anyone get's too excited, we don't know how many people are likely to defect from mid-range Android smartphones in favor of Apple's new offering, yet. That figure may outweigh this 1.7% by quite a substantial degree.
iPhone SE Trade-In Intentions
Given that so many intend to upgrade to the iPhone SE 3, it is prudent to see what users have in store for their existing iPhones. SellCell's survey has plenty to tell us.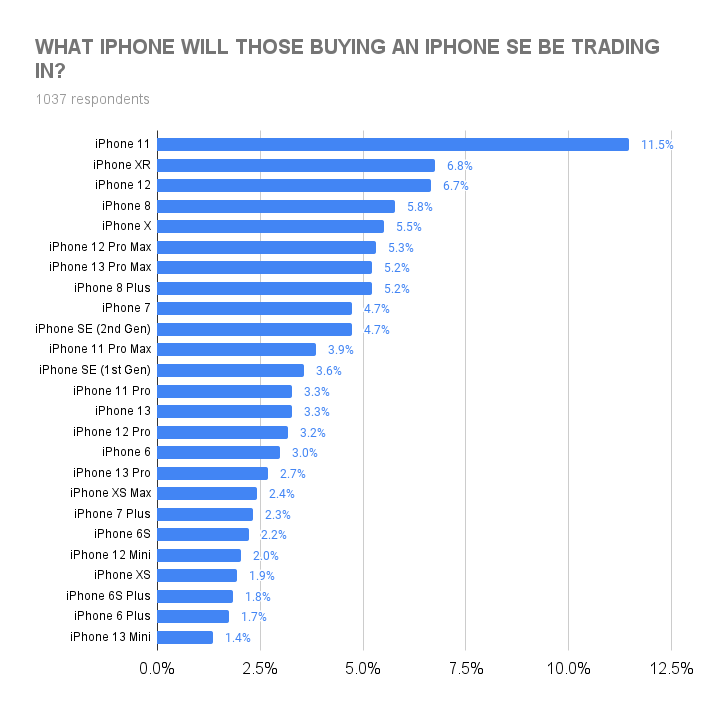 As we can see from the chart above, the iPhone 11 is the iPhone existing users will trade in when they buy the SE 3. They account for 11.5% of the 1037 respondents. The iPhone XR is next up, with a 6.8% share of the trade-in intention.
This aligns perfectly with SellCell's iPhone trade-in data. Between February 14th-27th, those who were selling an iPhone predominantly parted ways with the iPhone 11 and iPhone XR. 12.9% of all iPhone trade-ins were the iPhone 11, and 9.0% of all iPhones traded in were an XR, which Apple released back in 2018.
Perhaps a little surprisingly, we also have the iPhone 12 and 13 Pro Max appearing in the top ten, above. Particularly the 13 Pro Max, as this smartphone is still very new. However, let's not forget that 1% of respondents are trading down to a less expensive model to save money. These are Apple's two most expensive handsets, so it makes a modicum of sense.
What Do These Figures Tell Us?
The iPhone 11 will have passed its 24-month upgrade point for many users, with more joining them by the time the SE 3 hits the shelves. We can say the same for owners of the 2020 SE model. The 2022 SE 3 will be an attractive prospect for both groups, especially thanks to its price points and timely anticipated release date. SellCell can back this up further, given that 15.7% of those not upgrading to the iPhone SE 3 blame this primarily on the fact that they aren't due an upgrade. This could also show that more people might take the new handset—specifically—up, if their existing smartphone was due for an upgrade with their carrier.
10.9% of people intend to buy the SE 3 for their children. This would make perfect sense. Aside from its simple, intuitive UI that is easy for everyone to use, the SE 3 will probably only cost around $400. This makes it an excellent entry point for a child's first phone, as it comes with all the safety features you get with, for example, the significantly more expensive iPhone 13 Pro Max. This means parents can gift the handset to their child without spending a fortune, yet still keeping that Apple trust mark and investing in a device that is ideal for people of all ages.
We know some respondents will buy the handset for themselves, to use as a secondary smartphone. This indicates that, again, the price point is incredibly attractive to iPhone owners. So attractive, in fact, that they are happy to purchase the device even though they know it won't be in constant use as a primary handset. Pricing the SE 3 this way is clearly a brilliant move by Apple.
With parents and grandparents on the intended recipient list, we can suggest that people see the SE 3 as being easier to use. The device has features such as a physical home button with touch ID, making the smartphone more accessible for those among us who are perhaps less technologically minded or prefer simpler, more traditional methods of operation.
The affordability is by far the most attractive factor in the SE 3's release, and the figures above prove it. This has been the case historically; the 2020 iteration of the SE was the second best-selling smartphone that year, accounting for a whopping 22% of all iPhone sales in the US, as iPhone users were lobbying for better value iPhones. The SE was the second best-seller internationally, that year, too. It accounted for 21% of all sales according to Omdia and reported by wccftech.com.
Features are also major reasons for upgrades, with 5G connectivity a major selling point. Reuters (reported in US News) quoted JP Morgan, stating that 5G was high on iPhone owners list of desirable features, back in December 2021. It seems that pain point still exists, judging by the data above, making the SE an affordable 5G option for iPhone owners.
Those trading the iPhone 12 Max Pro and iPhone 13 Max Pro are making canny moves, here. The iPhone 13 Pro Max, in particular, is still an attractive trade-in option for those looking to sell iPhones, as it has held on to a sizeable chunk of its value since launch.
Will the iPhone SE 3 2022 Strike Gold for Apple?
That remains for us to see. However, given the performance of Apple's previous iPhone SE in 2020, and the purchase intention surrounding the 2022 device, it seems like Apple could be onto a winner with the forthcoming iPhone SE 3.
SellCell predicts that this will be a successful launch for Apple. With an incredible price point, premium features like 5G and, potentially, an A15 chip, and that Apple mark of quality, alongside a very user-friendly UI and UX, could we see the SE 3 outstripping its siblings in the 13-series? Perhaps we could…
Methodology
SellCell conducted an independent survey of 2549 adult US iPhone owners to ascertain iPhone SE 3 purchase intention and combine that with existing iPhone trade-in intention. The survey targeted iPhone owners who use their iPhone as their primary device. SellCell kept and recorded no identifying details from respondents.