Last updated April 8, 2020
Google Pixel phones are without doubt increasing in popularity. Indeed, it's been reported that Google Pixel was America's fastest growing major smartphone in 2018, seeing increased sales of 43% year on year. Our own data at SellCell supports this trend, with the number of people searching for a Google Pixel phone doubling over the past 12 months.
SellCell.com is the USA's No. 1 cell phone trade in price comparison, comparing the prices of over 20 leading phone buyback companies. We therefore collect trade in data across the whole market and can independently track the most popular phones US consumers trade in. We typically see spikes ahead of a product launch of consumers trading in their old phone with a view to upgrading to the latest model when it launches. With the Google Pixel 4 Launch Event scheduled on October 15th, let's look at some of the key trade in patterns of existing Pixel owners over the past few weeks, ahead of the launch.
Google Pixel Trade In Data (Pre-Launch)
Pixel fans appear to be excited about the new Google Pixel Launch. The number of trade ins of used Pixels has increased by 58% vs the previous month in the run up to the launch.
The Google Pixel 3 XL has seen a massive 153% increase in the number of trade ins over the last 4 weeks. This could point to the new Google Pixel 4 XL potentially being the phone to watch for prospective upgrades.
(Source: SellCell – Based on last 4 weeks trade in data 09/01/19 to 09/30/19)
What is the Most Traded In Google Pixel Phone?
The most traded in Pixel phone over the last 4 week period is the Google Pixel 3XL (21.5%)
This is followed by the Google Pixel 2XL (20.4%).
As above, this data infers that the Google Pixel 4 XL may be a very popular upgrade option – as people move to the next generation of the larger screen.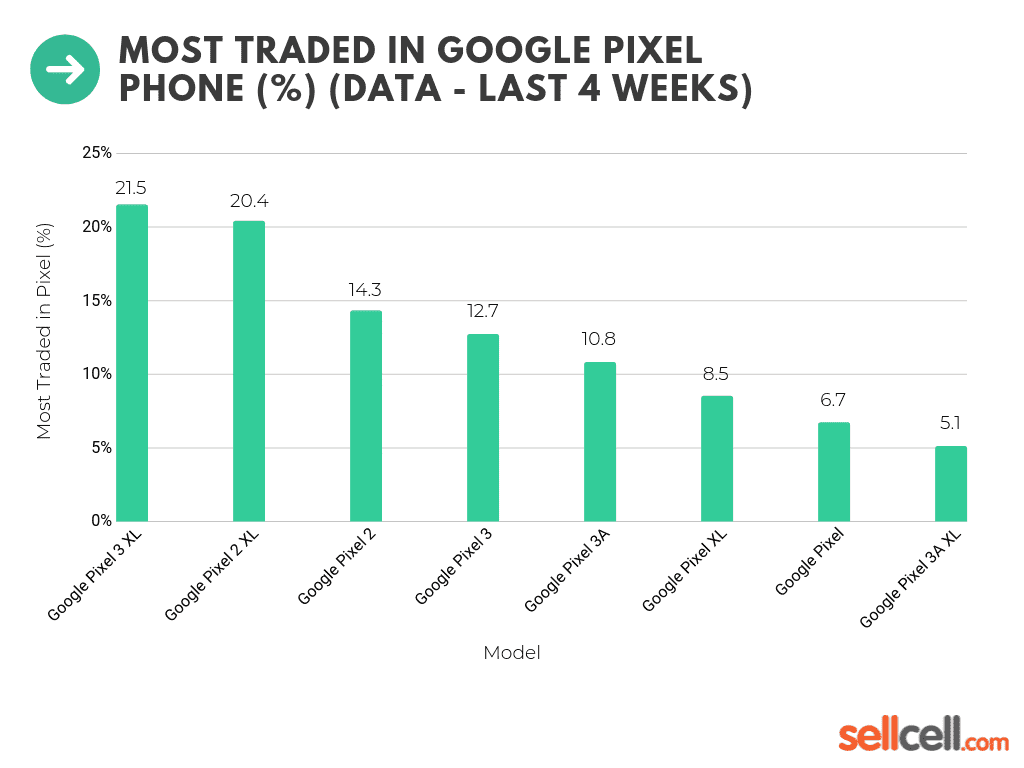 (Source: SellCell – Based on last 4 weeks trade in data 09/01/19 to 09/30/19)
Google Pixel Pre Launch Trade In Volumes (2019 vs 2018)
The last 4 weeks of trade ins across Google Pixels has increased by a whopping 687% vs the same 4 week pre-launch period in 2018!!
Yes this figure is correct and really shows the growing popularity of Google Pixel phones
How Brand Loyal are Google Pixel Users?
In our recent Cell Phone Brand Loyalty Survey, we asked over 2000 people if they were loyal to their smartphone brand. We asked Google users when they upgrade if they would be loyal to their brand or switch.
A massive 84% of existing Google owners will indeed stay with Google.
Again this is extremely positive for the Pixel 4 announcement in the next few weeks.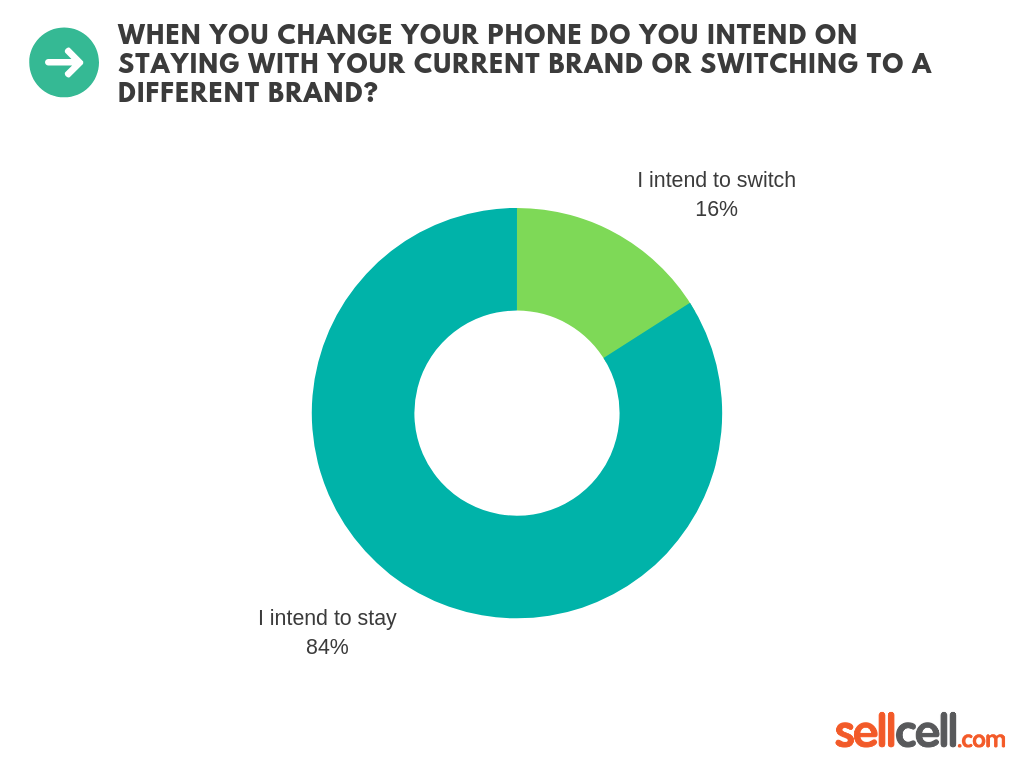 Do Google Pixel Phones Hold their Value?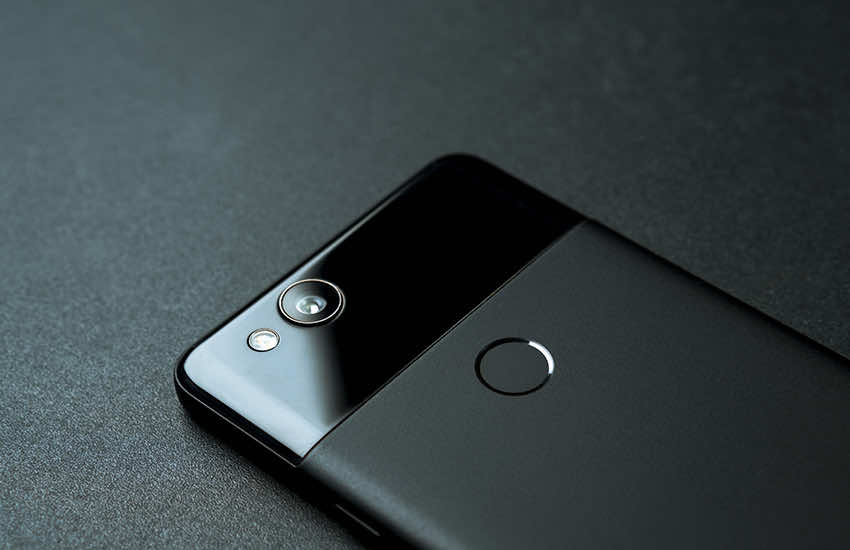 All phones depreciate in value as soon as they are purchased. The data below shows that Google Pixel has depreciated just under 70% since it was released. Phones generally have two dips in value, initially after they are launched in the first 12 months and then a second additional dip in value when a newer model comes out. It is therefore really important to sell an existing Google Pixel phone as soon as possible before the device loses further value ahead of the Pixel 4 launch.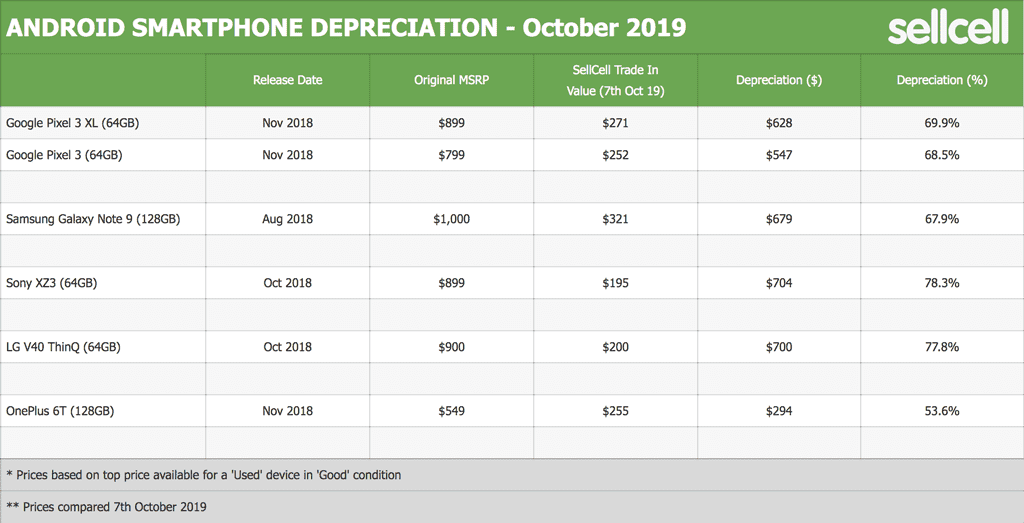 One of the key tricks to get the best price for an old Pixel whilst waiting for the new phone to be released is to lock in the price with a buyback company that offers a 30 day price lock guarantee before the inevitable drop post the launch kicks in. Most of the Buyers on SellCell offer this option.
Where to Go To Get The Best Deal for Your Old Google Pixel?
For anyone looking to upgrade to the Google Pixel 4, the best way to help pay for the upgrade is to trade in your old phone to offset the cost of the new one. When buying a new phone a lot of Americans still tend to trade in their old phone with their carrier and whilst this certainly is convenient you're not always getting the best deal as the carriers tend to pay less than other trade in companies out there. In fact, data shows that trading in your phone with your carrier could mean up to 80% less cash. To get the most cash for your old phone you need to shop around and this is where SellCell comes in. SellCell is a price comparison site that compares prices from all the leading trade in companies in the US to get you the guaranteed most cash. If you're looking to trade in your current phone to buy the new Google Pixel 4 then see our Google Pixel Trade In Price Comparison Chart below which shows just how much extra cash you can get by using SellCell compared to some of the other main trade in brands.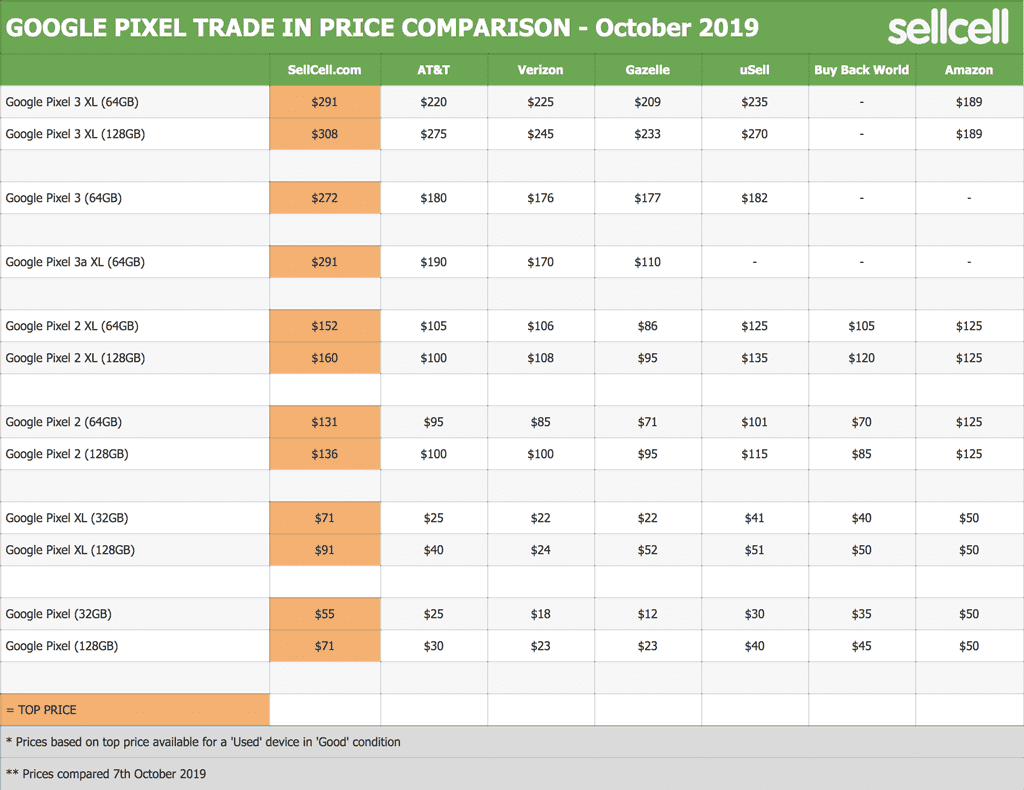 So if you are planning to upgrade to a Google Pixel 4 – Why not Check Out the Value of Your Old Phone Today!