The annual iPhone launch is always the busiest time of the year for people trading in their old phone to help pay for their upgrade and this year is no exception. In fact, since last Tuesday's iPhone 11 launch event iPhone trade in sales on SellCell.com have increased by over 185%. Furthermore, this is an increase of 23% on iPhone trade in sales seen during the Apple launch last year, with the iPhone X being the most traded in phone. This points to an extremely positive launch for Apple.
Take a look at the Top 100 Most Popular Cell Phone Trade Ins
Why is SellCell the Best Place to Sell your old iPhone?
SellCell.com simply helps users get more cash for their old phone than any other site!
The reason for this is that SellCell isn't a trade in site. It is a price comparison site that compares ALL the top trade in companies in the US to get the user the guaranteed most cash for their phone. We compare the whole market including 20+ of the top buyback companies such as Gazelle and Decluttr. This is why we're the No. 1 comparison site in the US for selling your phone
By using SellCell you will genuinely get more cash for your phone than any other site. We put our money where our mouth is and offer a Best Price Guarantee to back this up. To illustrate exactly how much extra you can earn by using SellCell see the following data tables with price comparisons for the current most popular iPhone trade in models.
As you can see SellCell achieves the top price for every single most popular iPhone model compared to the leading other brands…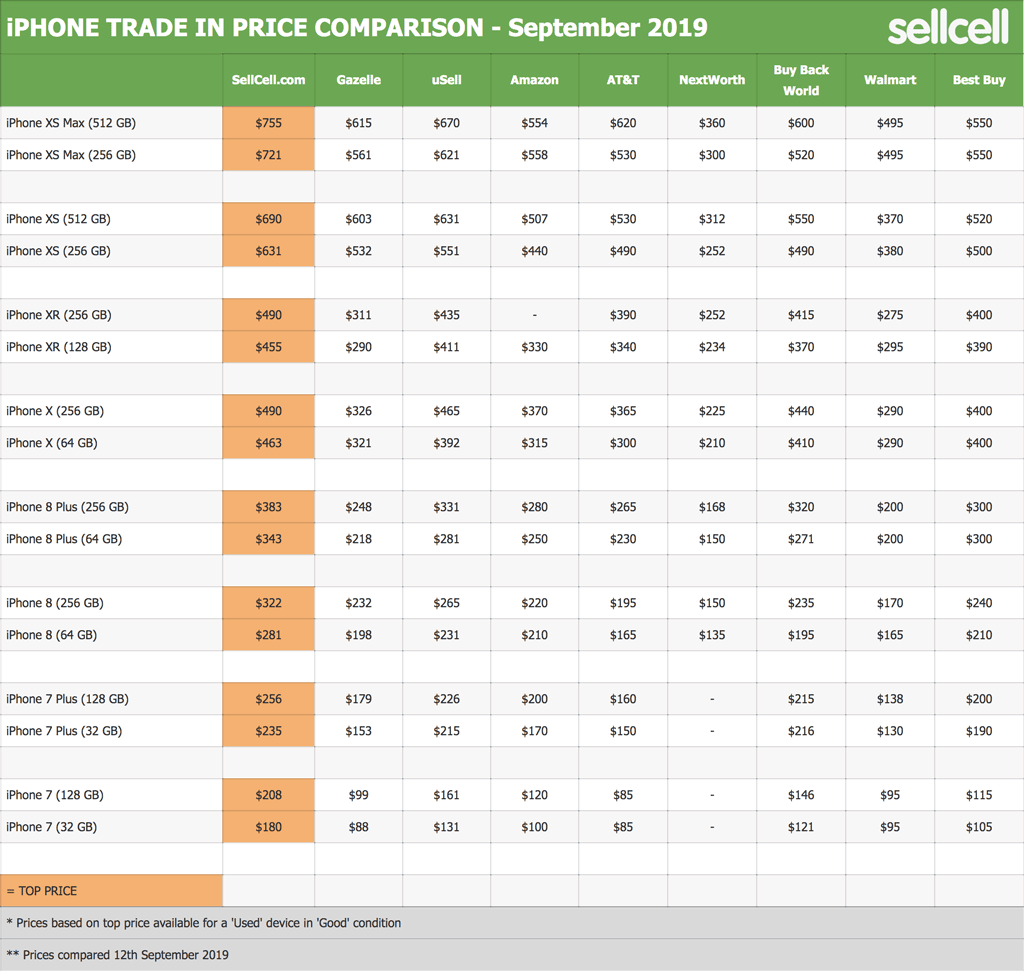 As you can see from the above data, using a price comparison is the best way to get the most cash when selling your phone.
What Makes SellCell Better than Other Cell Phone Trade-In Comparison Sites?
There are other price comparison sites in the US that can be used to compare buyback companies, but not all price comparison sites are equal. What makes SellCell better than the rest is that it compares far more buyback companies than any other site and the data backs it up!
If you look at the data table below you also can see that SellCell compares far more buyback companies than its next nearest rival and achieves the top price for every single one of the popular phone models below…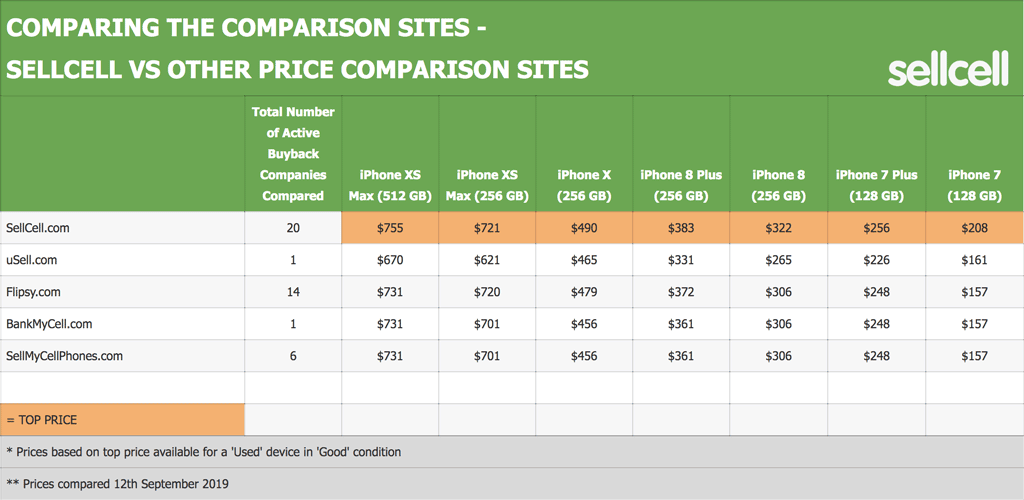 Reasons Why SellCell.com is the Best Place to Sell Your Phone
Take a look at the reasons why you should use SellCell to trade in your old phone
SellCell compares prices from 20+ of the leading buyback companies in the US including Gazelle, Decluttr, ItsWorthMore, BuyBackWorld & more. We compare more companies than any other site!
Best Price Guarantee – SellCell compares the whole market so you are guaranteed to always get the most cash for your phone. Our Best Price Guarantee means that if you a better price anywhere else we'll pay you double the difference!
USA's No. 1 Phone Trade In Price Comparison Site – more people use us than any other site!
Over 2 million phones worth over $250 million sold through SellCell since 2008!
Described as "the Kayak of phone selling sites"
Saves time and hassle – there's lots of different buyback companies out there and they all offer different prices. SellCell saves the time and hassle of manually checking prices by comparing all the top buyers in one place. It really is the only site you need!
SellCell is completely free and totally impartial. For each buyback company we show independently verified customer reviews to help users make the right decision
All the buyers on SellCell have been rigorously vetted so you know you are dealing with a reputable company
Quite simply, when it comes to selling your phone for the most cash, SellCell is the only site you need!
Check out the price for your phone, tablet or tech INSTANTLY here: