Last updated February 4, 2020
It's a very well-known fact that your phone loses a good part of its value as soon as you take it out of the box. Although this echoes across all smartphone brands, the depreciation rate isn't quite the same for each one of them — some brands depreciate faster than others.
SellCell, with the help of our phone buyback partners, has some exclusive data for tech enthusiasts regarding the rate of depreciation among the top smartphone brands. For the study, we've taken into account five of the well-known players in the smartphone business: Apple, Samsung, Google, Sony, and LG.
Which Smartphone Brands Hold their Value Best?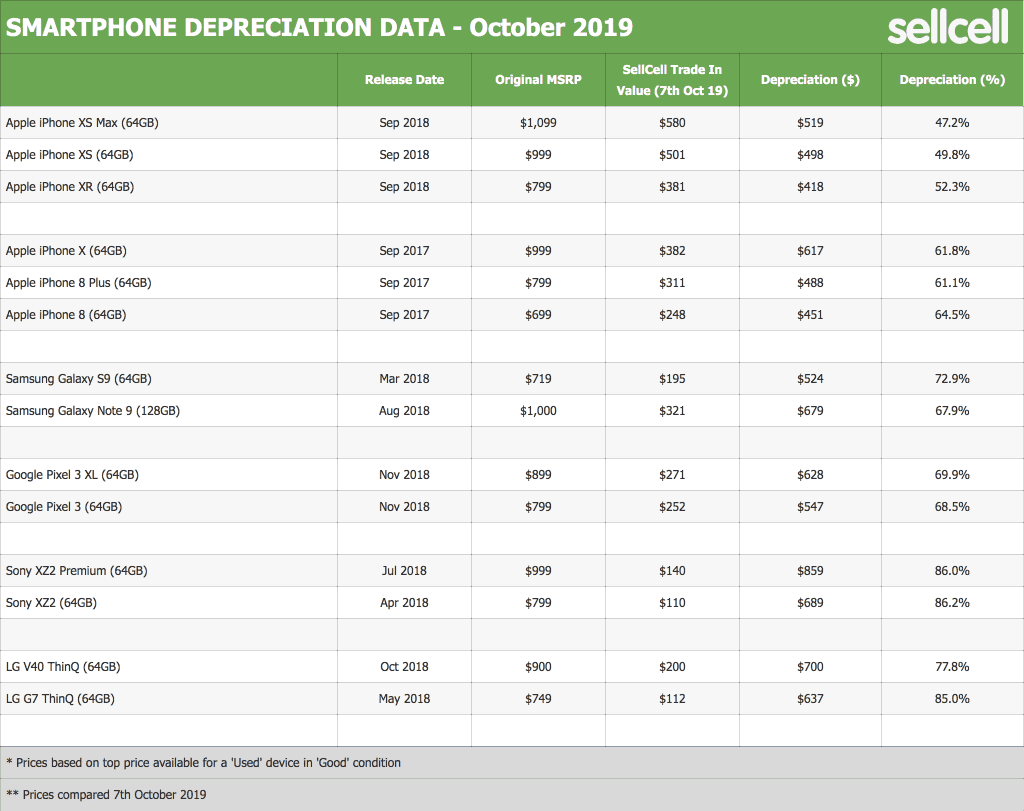 This year's results go in line with that of last year's for the most part. Apple once again blows the competition out of the water, retaining the first position as the least depreciating smartphone brand.
The best at holding its value is the $1099 Apple iPhone XS Max, which has lost only 47.2% of its value in a year since its release, making it worth $580. It's interesting to note that the next five places in the chart are occupied by one or another iPhone, although it should come as no surprise considering Apple tops USA Today's and Forbes' list of top valuable brands.
The results also resonate with our survey on brand loyalty published in August, which tagged Apple fans as the most loyal bunch. The unparalleled brand loyalty and unfaltering demand for used and refurbished iPhones in the smartphone market have helped the older iPhone models retain a relatively good percentage of their value even after months, if not years, of usage.
Other 2018 iPhones, iPhone XS and iPhone XR show impressive value retention status as well, with depreciation rates at 49.8% and 52.3% respectively. Priced $999 at the time of launch, you can now trade-in an old iPhone XS and still get more than half the original value at $501. In the case of the latter, the going trade-in price is $381.
Apple's 2017 iPhones still holding its value higher than 2018 flagship offerings from other brands underline the Cupertino giant's reputation for producing worthwhile handsets that remain high in demand even in the second hand and refurbished markets.
The 10th-anniversary special edition from Apple, aptly named iPhone X, will still fetch you $382 through trade-ins, having depreciated only 61.8% of its original value over two years. The story is not very different in the case of iPhone 8 Plus and iPhone 8 that were released alongside the iPhone X as they still retain close to 39% and 35.5% of their value.
Although Samsung and Google make some of the best Android phones, their handsets don't retain the value nearly as well as the iPhones. The next generation of Google Pixel will hit the market over the next few weeks, which may further affect the value of existing Pixel Phones. Samsung's recent plummet in value could be linked to the release of 2019 lineups, Galaxy Note 10 and Galaxy S10.
Samsung Galaxy S9, released sometime in May last year, currently sells for $195, which is a whopping 72.9% drop on the original price of $719. Meanwhile, Samsung's phablet Galaxy Note 9 holds up better than the S9 in terms of value retention. Having lost 67.9% of the value, you can still get $321 if you're planning to trade in the $1000 handset anytime soon.
The other brand that is in the same league as Samsung is Google's Pixel. Although Google is the maker of the Android operating system, the search engine giant's Pixel brand has not been in the smartphone business for as long as Apple or Samsung. It was in 2016 that Google decided to bid adieu to its handset lineup Nexus and start afresh with the Pixel brand. But, Pixel phones became a quick hit among the Android fans thanks to their remarkable camera performance and stock Android experience.
Priced at a premium, the Pixel phones are on par with Samsung high-end handsets when it comes to trade-in value. The 2018 Pixel handsets, the Pixel 3 XL and Pixel 3 have depreciated 69.9% and 68.5% respectively in almost a year after its release; they are now valued at $271 and $252 respectively.
Among the worst investments of last year are the flagships from Sony and LG's smartphone brands. They have suffered the worst depreciation, starting from 77.8% in the case of LG V40 ThinQ and going as high as 86.2% on the Sony Xperia XZ2. This means if you had bought a V40 ThinQ for $900 or an Xperia XZ2 for $799 last year, you would end up with $200 and $110 respectively if you're selling them today.
Similarly, the LG G7 ThinQ and Sony Xperia XZ2 Premium fell in value from $749 and $999 to $112 and $110 respectively, both suffering a price drop of around 85%.
Important takeaways from the study
Apple's iPhone is the least depreciating smartphone brand
Apple's 2017 iPhones – iPhone X, iPhone 8, and iPhone 8 Plus – still boast higher trade-in values as compared to 2018 flagship handsets from other brands
Samsung Galaxy flagships and Google's Pixel phones are the best at holding their values among Android smartphone brands
LG and Sony handsets are the worst investments as they lose more than 75% of their value in a year
Older phones depreciate swiftly as new models hit the market
To get the best value out of your older phones, you should trade in the device before the release of their new, upgraded models.
Factors that impact depreciation and how to ensure the best prices
Almost all the gadgets including your smartphone lose a good portion of their value as soon as they are unboxed. But, here are some factors that are under your control to ensure the best prices for your old devices:
Condition of the device: The condition in which you're selling your handset severely impacts its value. Although most buyback companies accept your device regardless of the condition, it's always a good idea to protect the device with a good quality case plus screen protector and maintain it in good condition to avoid excessive depreciation.
Timing is vital: Old smartphones lose value gradually as time goes by, but their trade-in prices fall flat when a new, upgraded model of the handset goes official. So, it's always recommended to sell your old handset before the launch of the new model. Indeed, most of SellCell's buyback partners let you lock in a price for a period of 14-30 days to guarantee the best value, while at the same time saving you the trouble of having to use a back-up phone while you wait for the new handset to arrive.
Choosing the right service: It has been discovered from our research that one would get better value from old smartphones, especially the iPhones, by selling them outright instead of trading them in for a new purchase through carrier exchange deals. The trade-in prices offered by carriers such as Verizon and AT&T are on average 45% lower than the best buyback offer listed on SellCell.