Last updated June 5, 2020
Key Highlights
Trading in your old iPhone with your carrier could mean getting up to 80% less cash across certain models
Apple and the major carriers on average offer 45% less cash for an old iPhone than SellCell
On higher end iPhones like the XS Max users could be missing out on over $200 if they traded in with their carrier
Apple has confirmed its launch event will take place on Monday, September 10 at 10am PT, where the iPhone 11 will be revealed. It's likely that pre-orders for the new phone will be able to be made that week. But with the price tag of the phone rumoured around the $1000 mark, it's wise to look at selling your old iPhone for the maximum amount of cash to help fund the new iPhone.
Selling your old iPhone to help pay for your upgrade
The best way to afford the price of a new phone is to sell your old phone to help subsidize the cost. There can be hundreds of dollars of value in your old phone and the amount your phone is worth can vary significantly amongst different cell phone buyers. This is why it is important to recognise that Apple and your existing Carrier are not the only options available when it comes to trading in your old device and in fairness they don't always offer you the best trade in value.
Nonetheless, for many people, trading an old iPhone in through their Carrier or Apple is the most convenient trade-in route and price many not be the most important motivation. However, for those who want to sell their old iPhone and get the most amount of cash there are other options available that will guarantee more money. It's a matter of choice!
Let's take a look at how the trade-in values of the leading iPhones can vary. For this exercise we have taken the current trade-in prices you would get from Apple, AT&T and Verizon and compared them to the current trade-in prices on SellCell.com, the USA's No. 1 price comparison site for cell phone trade-in.
Trade-in values of Most Popular iPhones (comparing Apple, Verizon, AT&T and SellCell.com)
APPLE TRADE IN PRICES – September 2019
SellCell
.com
Apple Trade In
Verizon Trade In
AT&T Trade In
Price Difference vs SellCell
% Difference
iPhone XS Max (512 GB)
$772
–
$655
$630
$142
22.5%
iPhone XS Max (256 GB)
$741
–
$575
$540
$201
37.2%
iPhone XS (512 GB)
$711
–
$560
$540
$171
31.7%
iPhone XS (256 GB)
$646
–
$510
$500
$146
29.2%
iPhone XR (256 GB)
$506
–
$415
$400
$106
26.5%
iPhone XR (128 GB)
$466
–
$372
$350
$116
33.1%
iPhone X (256 GB)
$482
$400
$385
$370
$112
30.3%
iPhone X (64 GB)
$456
$400
$325
$310
$146
47.1%
iPhone 8 Plus (256 GB)
$372
$280
$290
$280
$92
32.9%
iPhone 8 Plus (64 GB)
$331
$280
$250
$235
$96
40.9%
iPhone 8 (256 GB)
$338
$205
$215
$200
$138
69.0%
iPhone 8 (64 GB)
$289
$205
$185
$170
$119
70.0%
iPhone 7 Plus (128 GB)
$255
$195
$170
$165
$90
54.5%
iPhone 7 Plus (32 GB)
$235
$195
$170
$155
$80
51.6%
iPhone 7 (128 GB)
$162
$115
$105
$90
$72
80.0%
iPhone 7 (32 GB)
$148
$115
$105
$90
$58
64.4%
* Prices above based on top price available for a 'Used' device in 'Good' condition
Data Summary
Across the above iPhone models the trade-in prices offered by AT&T, Verizon & Apple are on average 45% lower than those that can be found on SellCell.com
With the iPhone XS Max (256 GB) a user would make $201 more using SellCell than a carrier
A user could lose out $171 by trading their iPhone XS (512 GB) with their existing carrier
On an iPhone 7, SellCell offers users up to 80% more value
Most Popular iPhone Trade In Models
It's always one of the busiest times of the year for people trading in their phones around new product launches. Indeed SellCell typically sees the volume of iPhone trade ins increase by over 120%+ following the annual iPhone launch event
Ahead of the imminent iPhone launch here are the current most popular iPhones people are trading in on SellCell…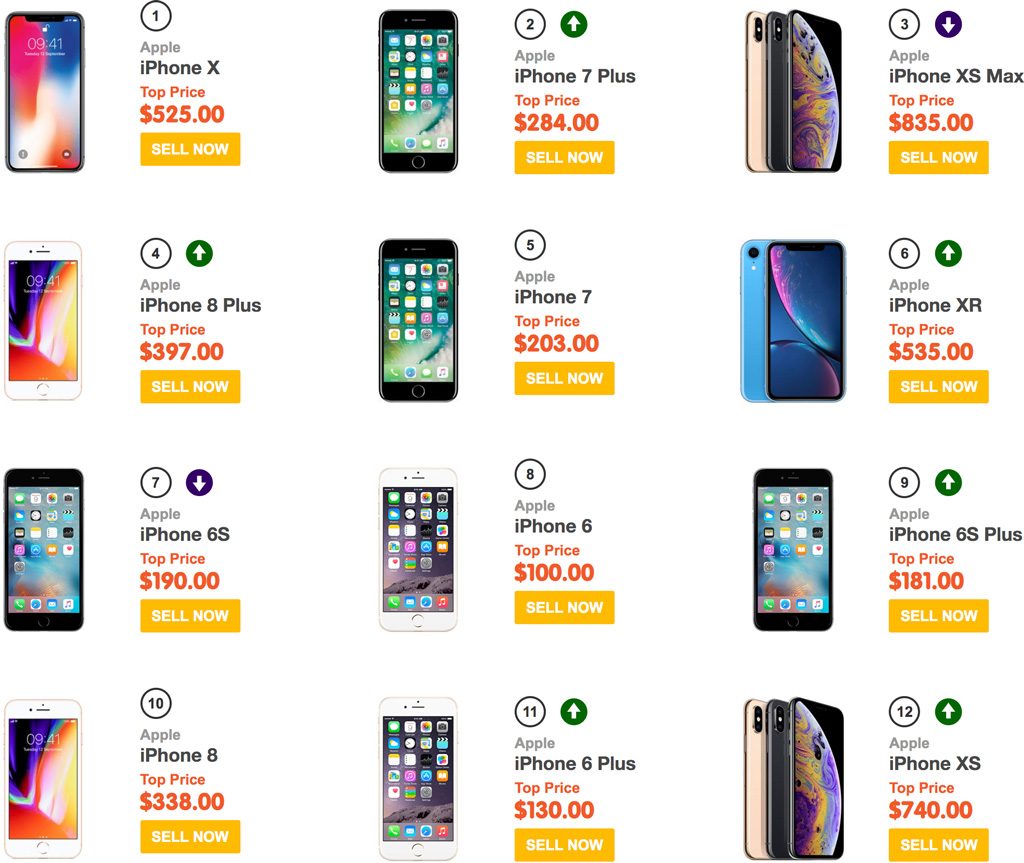 View Complete List of the Most Popular Cell Phone Trade In Models
To Get the Best Value for your old iPhone Timing is Critical
All phones lose value and depreciate over time as they get older. When a manufacturer launches a new phone, like the iPhone 11, the value of an older phone model quickly starts to drop. This is why it is critical to look at selling your old iPhone as quickly as possible around the launch date to avoid the value dropping.
But how do you get the best price whilst waiting for the new iPhone 11 to be released? There are ways that you can lock the price of your old iPhone in, while you wait for the new iPhone 11 to be delivered. Indeed most of the buyers on the SellCell site will allow a user to place an order to sell their phone on the site and lock this price in for up to 30 days. This means that the user has 30 days to send their device in and hold the price whilst they wait for their new iPhone to be delivered.