Last updated October 11, 2022
– 33% of Americans would buy a refurbished phone vs. 67% who would not!
– 24% would only ever buy a brand new phone and not a refurbished phone
– SellCell's stats show Apple refurbished phones prove the most popular
Many people (24%, to be exact), turn their collective nose up at the mere mention of refurbished smartphones. However, more people (33%) are switched on to the idea of buying a smartphone that hasn't come straight from the factory. They know refurbished smartphones present an excellent option, not only in terms of the financial outlay, but also for myriad other reasons.
One such reason is the environmental implications of buying a brand new device, and the e-waste produced in the manufacture of handsets, the emissions released during the many logistical operations it takes to make one single phone, the list goes on. When you buy a refurbished smartphone, you are essentially recycling it and, because of this, your carbon footprint is minimal; no e-waste has been created in order for you to own this handset, that's on the former owner. It is easy, therefore, to see how you're directly preventing damage to the environment by going for a refurb.
SellCell compares prices across a wide range of refurbished tech, including cell phones, iPhones, tablets, iPads, smartwatches, MacBooks, and more. It is for this reason that SellCell is in the perfect position to provide data planted firmly in the secondary smartphone market, and discuss used, refurbished, and pre-owned phone statistics.
Recent internal data from SellCell (featured in the report below) illustrates how 60% of all refurbished smartphones purchased in the last 12-month period were Apple devices. Not only that, but the most popular refurbished phone was the iPhone XR. SellCell wanted to delve deeper into the data, to discover how many Americans would consider buying a refurbished smartphone, and their reasons why.
SellCell surveyed 10,057 US adults, to ascertain whether they would consider entering the secondary market, and buy a refurbished device, comparing these results with refurbished smartphone buying trends from the last 12 months (March 1, 2021-February 28, 2022). Let's take a close look at the data.
Main Findings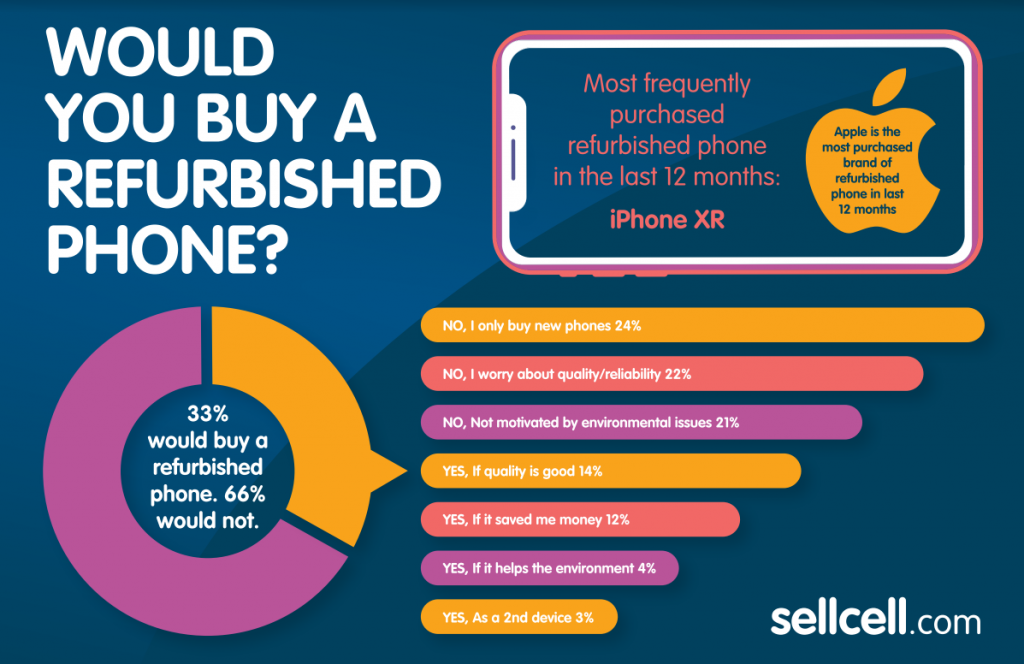 66.7% of respondents would not consider buying a refurbished smartphone, while a massive 33.3% of respondents said they would.
23.7% only buy new smartphones, 21.6% are concerned about quality or reliability, and 21.4% wouldn't consider a refurbished handset because they aren't motivated by environmental issues.
13.6% will buy refurbished smartphones if the quality is good, 12.7% will buy to save money, only 3.6% will buy to help the environment, and 3.4% will buy it as a secondary smartphone or for a child.
More women than men will only buy new phones (12.1% vs. 11.5%). However, more men will buy refurbished if the quality is good or if it saves them money (7.2% and 6.8%, respectively).
Apple devices account for 14 of the 20 most purchased refurbished smartphones, with the iPhone XR the most purchased, taking a 9.9% of the Top 20 Refurbished Phones sold.
Summary
SellCell asked 10,057 US adults a series of questions. The data is examined below.
Refurbished Smartphone Purchase Intent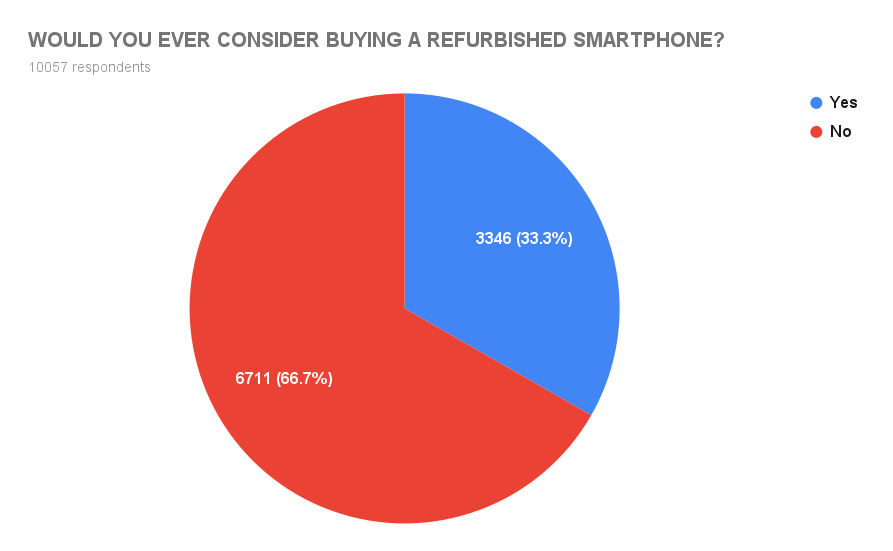 When asked whether they would ever consider buying a refurbished smartphone, 66.7% of the 10,057 respondents said they wouldn't. 33.3%, however, said they would. The reasons for both vary, but this 33.3% is a surprisingly large figure, and one that shouldn't be considered insignificant by any means.
This means that over a third of smartphone users will consider buying a refurbished handset for their next smartphone. Therefore, we can say that same third is helping the environment, whether that is their reasoning or not. This is an excellent step toward producing less e-waste, as more people opt for secondary market handsets.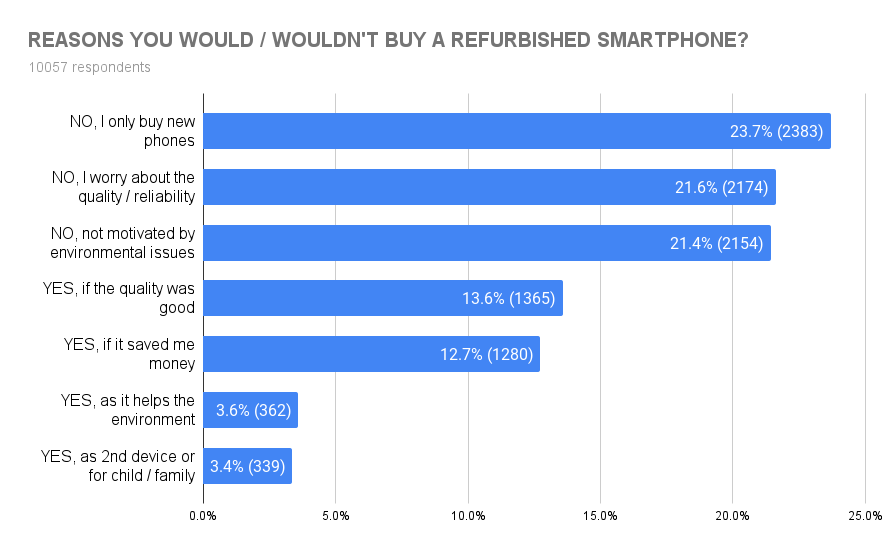 Those same 10,057 people were asked to select the main reason why they would or wouldn't buy a refurbished smartphone. 23.7% state that they won't buy a refurbished phone because they only buy new phones. 21.6% have concerns about the reliability or quality of a refurb, meaning they wouldn't consider buying one. 21.4% stated that they're not motivated by environmental issues, so don't feel the need to buy a refurbished smartphone.
On the plus side, the 33.3% of people who will consider buying a refurbished handset can be broken down as follows. 13.6% of all respondents will buy if the quality of the handset is good. Savvy savers make up 12.7% of the respondents, as a financial saving was the second-most cited reason people will buy a refurbished handset.
3.6% of the respondents will buy a refurbished smartphone primarily for environmental reasons, which is positive. This is still only a small percentage of people who are concerned about the e-waste their factory fresh smartphone is creating, though. The remaining 3.4% will buy a refurbished phone to give to a child or other family member.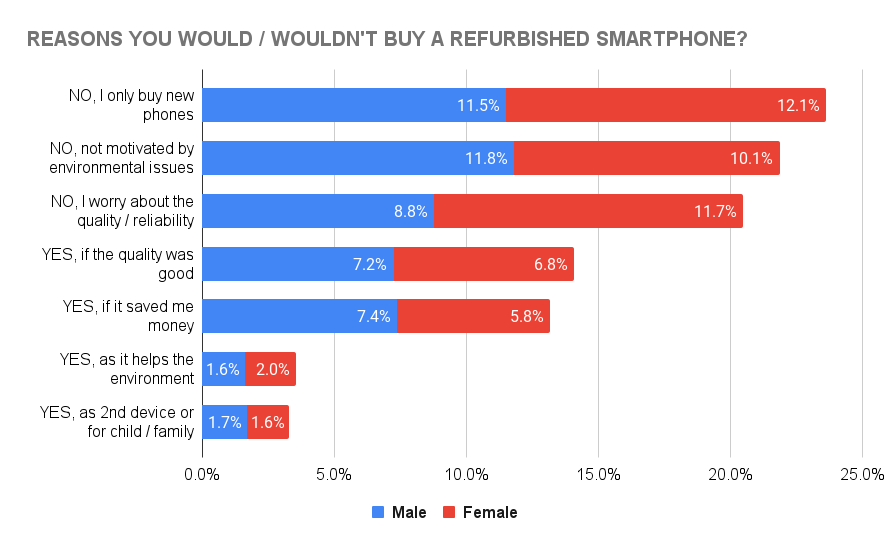 Breaking the above purchase intentions into gender, SellCell used a sample set that was split 50/50 male and female.
We can see that females edge the competition when it comes to only buying new phones, with 12.1% of respondents being female, vs 11.5% males. There is a wider gap when it comes to phone reliability and quality being a reason not to buy a refurbished smartphone. 11.7% of respondents were female, and 8.8% were male.
Which Refurbished Smartphone Is the Most Popular?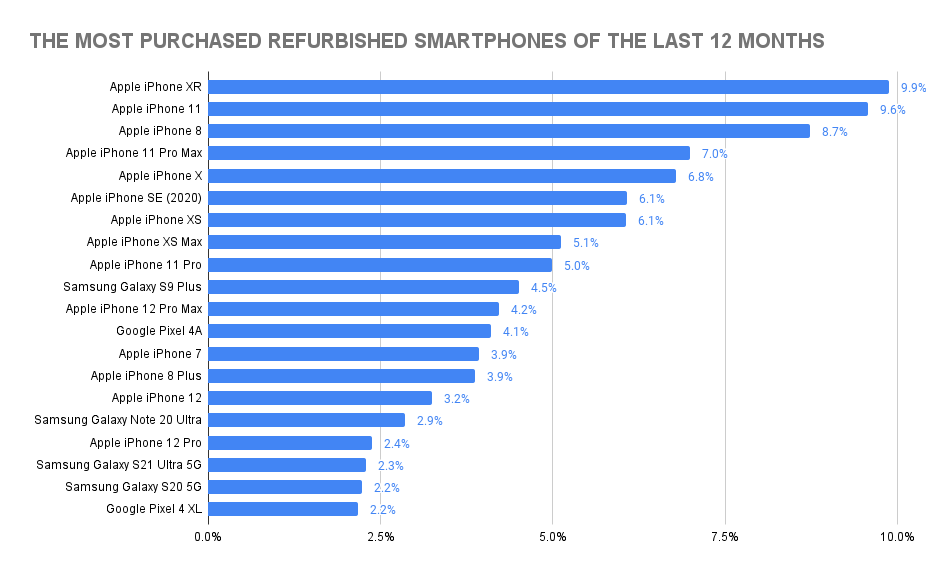 As the above chart shows, Apple proves incredibly popular for those who purchase on the secondary market. Other brands barely get a look-in. Could those who buy refurbished iPhone devices do so as they know iPhone holds its value better than any other phone?
Samsung takes the tenth spot, behind nine iPhone models, with its Galaxy S9 Plus. The Google Pixel 4a comes in at number 12. Between them, Samsung and Google only claim six of the 20 most purchased refurbished smartphones.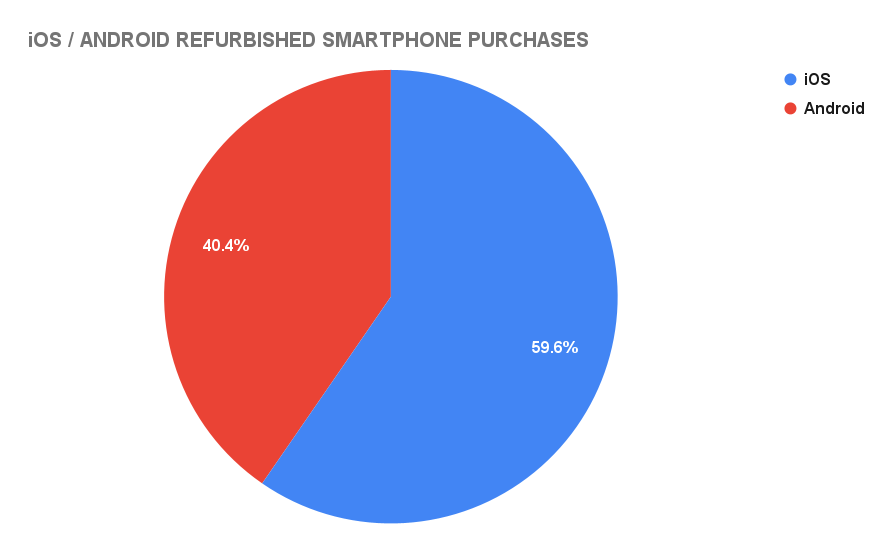 In fact, Apple accounts for almost 60% of all refurbished smartphone purchases in the last 12 months.
What This Data Tell Us
3.6% of refurbished smartphone buyers opt for a second-hand device with ecological considerations driving their purchase. Not a huge number, yet the entire 33.3% of those who would consider buying a refurbished smartphone are still doing their bit for the environment, whether or not that is their primary reasoning. Every refurbished smartphone, this 33% buys, is one less on landfill.
Consumers are concerned about the quality or reliability of a refurbished handset. In such an instance, the advice would be to use a smartphone price comparison service (SellCell offers). This ensures the best price when you buy a refurbished phone, and is normally backed by a guarantee to give you peace of mind.
Taking the above point into consideration, we see that 12.1% of respondents were female, and state they will only buy a new handset. This might correlate with the fact that 11.7% of all respondents who are worried about quality/reliability are also female. Obviously, if you have quality concerns about a secondary-market device, you'll buy new to avoid any perceived issues further down the line.
As the data illustrates, iPhones make an excellent investment. They are popular, and hold their value, so even if a consumer decides to buy a refurbished iPhone, the likelihood is it will still retain its value better than an equally specced Android alternative. This popularity is proven by the 60% share of the secondary market that iPhone has enjoyed for the past 12 months.
The 2018 iPhone XR claims 10% of the Top 20 refurbished smartphones consumers bought between March 2021 and February 2022. The XR represents excellent value for money, as it has an excellent feature set, with Apple's mark of quality, yet you can buy a refurbished iPhone XR for as little as $224, according to SellCell's price comparison at the time of writing. With this in mind, it is easy to see why the iPhone XR is proving so popular among second-market consumers.
To Go Greener, the Secondary Smartphone Market Needs to Bloom
If we are going to make an impact on the amount of e-waste we, as humanity, produce, then we need to consider alternatives to buying new devices. Buy a refurbished phone, and you're directly saving the environment, and buying a handset that may have otherwise been stripped for more valuable components, before heading to landfill, where it can still cause damage.
So, the ball is really in the consumer's court. If more can learn to trust (reputable) phone resellers, then we could see an uptick in the purchase of refurbished handsets beyond the 33% of consumers who will consider buying a second-hand smartphone.
Methodology
SellCell conducted a leading independent survey of 10,057 US adult smartphone users to discover refurbished smartphone buying intent, and analyzed this data alongside internal statistics based on tracked, refurbished smartphone sales.