Last updated February 24, 2021
Environmentally Friendly Millennials Lead the Way in Reducing Electronic Waste
Apple Owners Are the Biggest Recyclers, Recycling 13.8% More Devices Than Samsung Users
Year-upon-year, we see ever-increasing stockpiles of obsolete, broken, and discarded tech. As humanity continues to mass-produce technological hardware, so too do we mass-produce the associated electronic waste.
Recycling electronic waste correctly is crucial. Many of the components in electronic devices contain toxic substances such as cadmium, beryllium, and lead. Some even contain arsenic. Those devices that end up on landfill, therefore, can cause untold damage. As the components degrade, they can leak toxic substances into the soil, water, and air around them.
It's clear that recycling old tech is really important. But is it important to everyone? Or are there certain groups of people that are leading the way in helping to reduce electronic waste? This report will help to identify which Americans are the best recyclers.
Objective of Report
As the No.1 US phone and tech buyback site, SellCell compares over 40 buyback companies in order to give customers the best price for their unwanted tech, including smartphones, tablets, laptops, smartwatches and games consoles.
SellCell has collected independent trading data spanning the past two years. This report will reveal precisely which Americans are best at recycling old tech by age, gender, and US state. It will also show which tech brand Americans are recycling the most.
Summary of Key Facts
Millennials recycle the most old tech, accounting for 55.5% of Americans who recycle (trade-in) their old or unwanted devices.
Males sell more old tech than females, despite females being statistically more predisposed to pro-environmental attitudes.
California is significantly more active in recycling old tech. Californians account for an average of 20.5% of all devices recycled, which is over one fifth of devices recycled across the entire US.
Apple owners lead the way as the biggest recyclers, recycling 13.8% more devices than Samsung users.
Main Findings
SellCell has broken tech recyclers down into several categories. Below, you will find each category presented with the details in graphical form.
Age Classification
First off, we need to understand what the different age classifications mean and what age groups they refer to. This handy table will show you what we are actually referring to in our report. You can also see these age definitions explained here.

Age of Recyclers
Millennials lead the way by a longshot in recycling their tech, making up over 50% of US tech recyclers.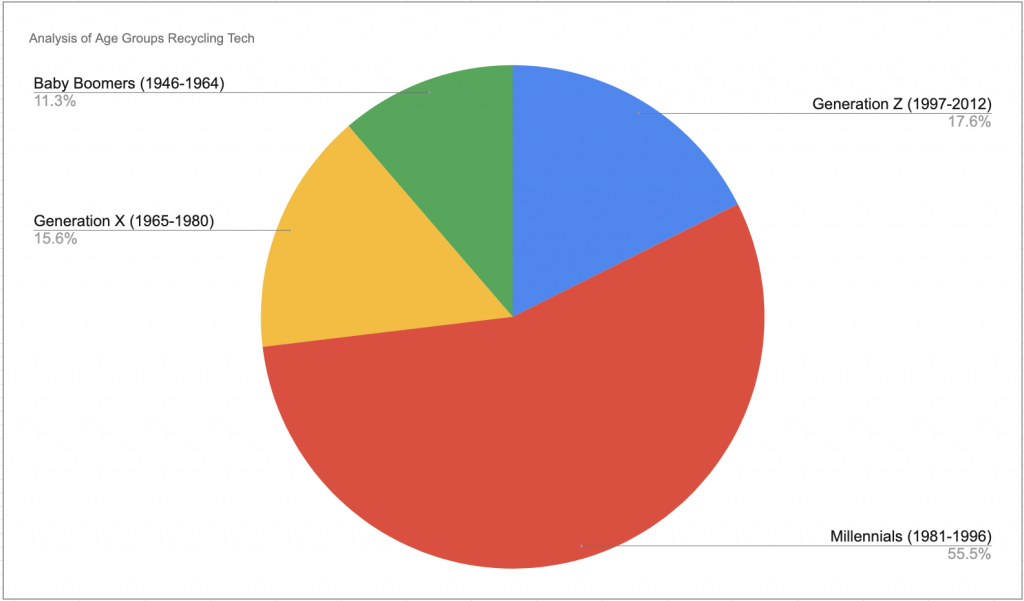 Of all the tech devices recycled through SellCell, those born between 1981-1996 clearly recycle the highest number. This age group accounts for 55.5% of all tech devices sold via the SellCell website.
With over half of all tech recycled by this age group, SellCell can confidently state that it is Millennials who are actively recycling their tech more and, by proxy, helping to save the planet from environmental damage.
While older generations may seem to recycle less tech, this could be down to the fact that they keep devices for longer. Baby Boomers, for example, keep their devices for approximately three years or longer, while the average lifespan of a Gen Z smartphone is only 21 months.
Gender of Recyclers
Men are the forerunners when it comes to the gender of SellCell recyclers, making up almost 2/3 of all recyclers.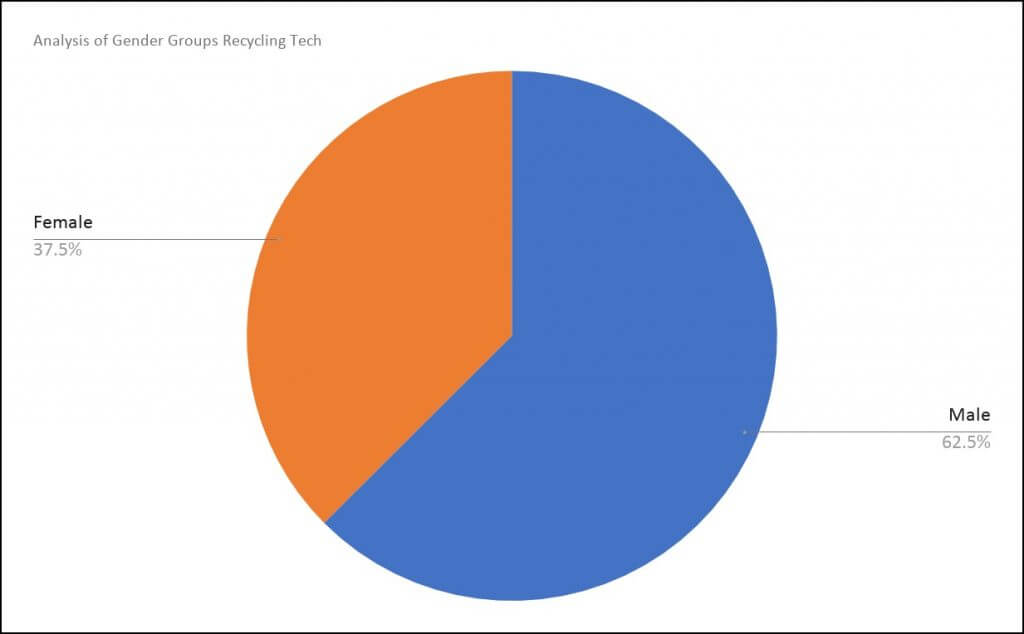 The data illustrating the gender of tech recyclers is also fairly conclusive. Since November 2018, 62.5% of customers who sold tech through SellCell identify as male. Only 37.5% identify as female.
Here, there is a clear gap between the gender of the recycler and the frequency with which each gender recycles.
According to research, women take a more favorable attitude to recycling than men which, some suggest, is partially because of toxic masculinity on the part of males, who view recycling as a "feminine" activity.
SellCell's data flies in the face of this research. It shows that, despite what their pro-environmental attitudes suggest, women don't follow up with pro-environmental behaviors, such as recycling tech. Men, on the other hand, do so more frequently.
Age and Gender of Recyclers (Combined)
Millennial males are the most prolific recyclers, hitting just under 40% of all recycled tech.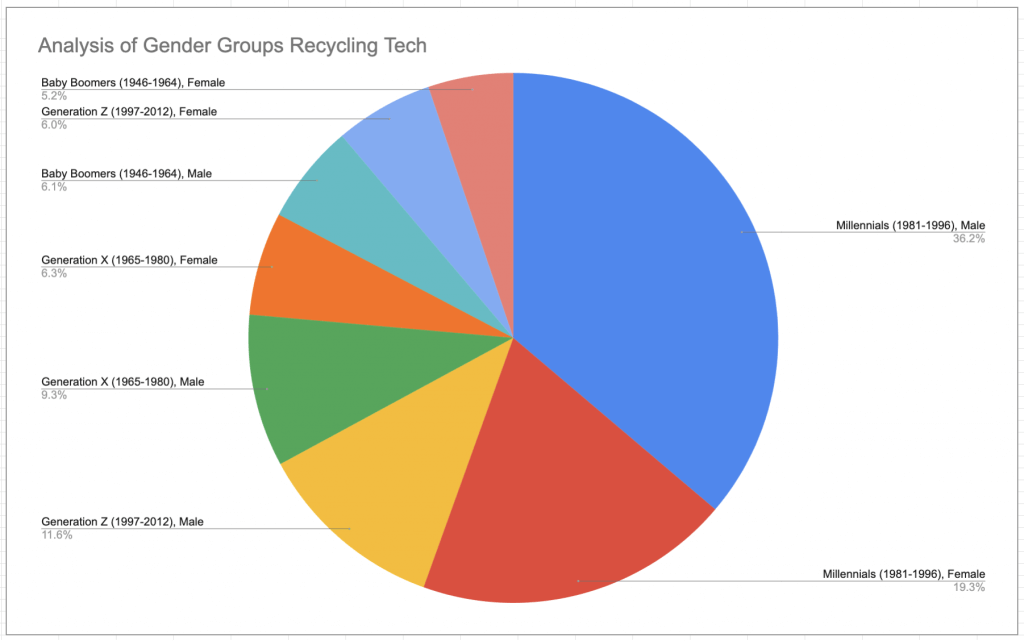 Combining both age and gender adds further evidence that male tech consumers are better at recycling their devices. Males born between 1981 and 1996 lead the way in terms of recycling their old devices.
Male millennials account for 36.2% of all recycled tech. Females in the same age bracket recycled only 19.3% of tech. Perhaps surprisingly, male Gen-Z recyclers make up almost double the percentage of tech recyclers when compared to females in the same age bracket.
Location of Recyclers (Top 10 Areas)
California is the most recycling-friendly state, with over 1/5 of all tech devices recycled by Californians.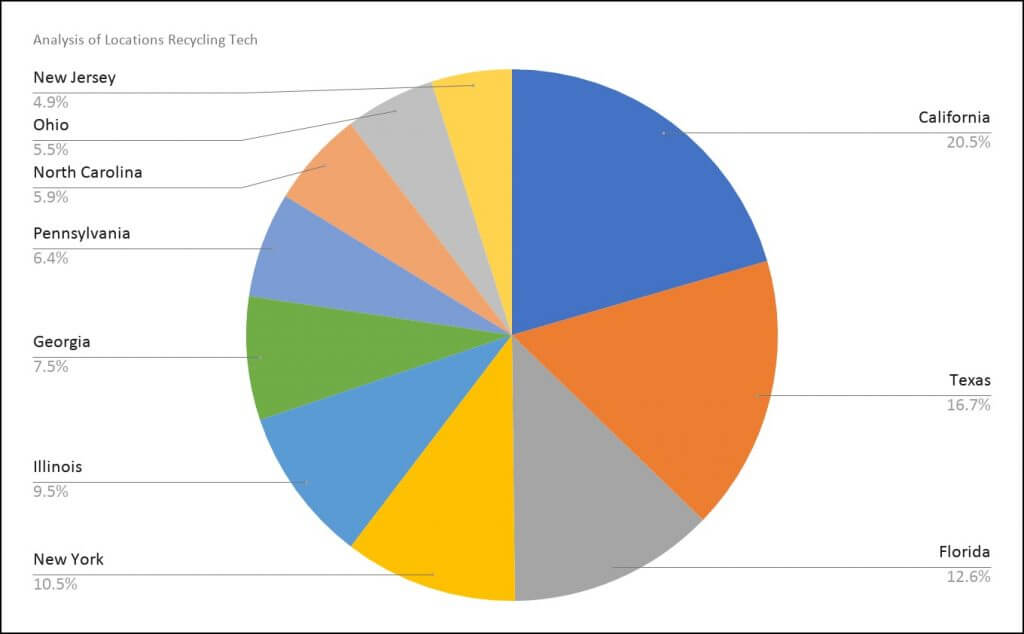 As the data explains, California has the best record for recycling tech, with 20.5% of recyclers being located in western US state. Heading to the south-central US, Texas ranks in second place, with 16.7%. South-eastern US consumers come in third, with 12.6% of all recycled tech accounted for by Floridians.
The above three US states account for almost 50% of recycled tech, when considering which States are best at recycling. The remaining seven states all manage only 10% or under, respectively, with New Jersey trailing as the tenth best US state, on 4.9% of all tech sold via SellCell.
This data also shows who are the worst recyclers by state. There are five states in total, all of which only manage to recycle 0.1% of tech each. These states are Wyoming, Vermont, Alaska, North Dakota, and South Dakota.
Which are the Most Recycled Brands?
Apple devices account for over 47.7% of all recycled tech, with Samsung devices trailing behind at 33.9%.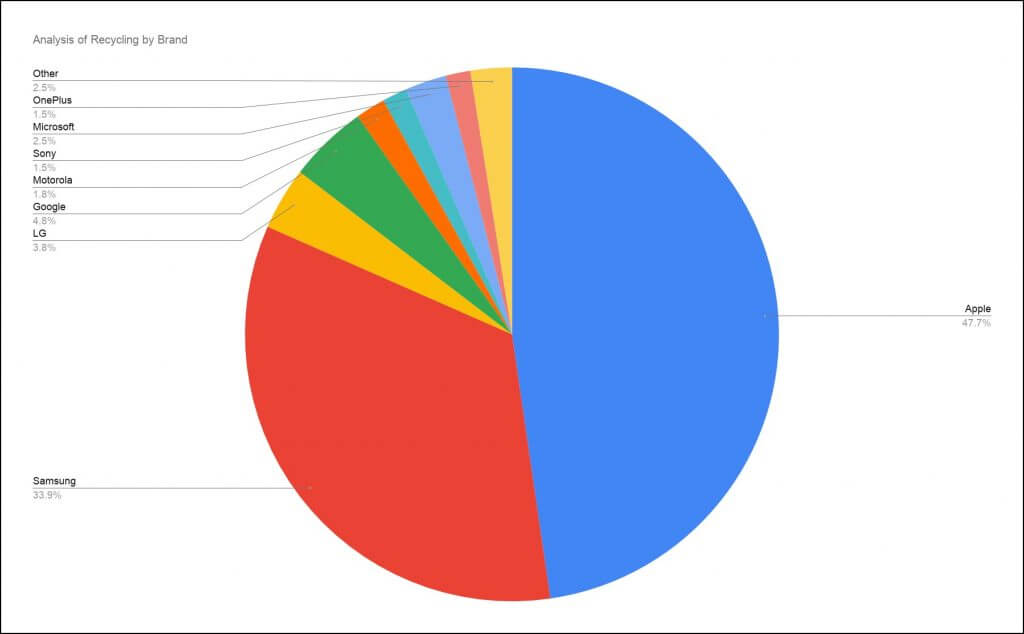 Of all the devices recycled, Apple's make up 47.7%. This means Americans with old iPhones, iPads, Macs, and even Airpods, are recycling their old Apple tech. This 50% will largely be driven by environmentally friendly Apple users who sell iPhones ahead of a new iPhone launch.
This is interesting data. Apple recently stopped shipping chargers and EarPods with their iPhone 12. This, Apple says, reduces carbon emissions and avoids mining for and using precious minerals. The decision is, on Apple's part, clearly an environmental one.
In buying an iPhone 12, and not receiving a charger or EarPods, a consumer is deciding to buy into this same pro-environmental ethos. So, it would therefore make sense that Apple users would adopt similar pro-environmental habits, like recycling old Apple tech when buying new.
It is of note that Samsung also reportedly followed suit, removing wall chargers and wired earphones from its Galaxy S21-series handsets. So, Samsung users may also buy into this pro-environmental attitude. When SellCell reanalyzes this data in the future, there may be a balancing of the scales between Apple and Samsung as the most recycled brands.
Interestingly, Microsoft makes an appearance in the most recycled list. This is largely as a result of users recycling old consoles ahead of the launch of Sony and Microsoft's respective next-gen consoles. PlayStation 3 and PlayStation 4 owners, for example, traded in ahead of the PS5 launch. Likewise, Xbox One and Xbox 360 owners traded in prior to the release of the Xbox Series consoles.
The data also shows that owners of Microsoft devices, such as Xbox, recycle their unwanted Microsoft tech more often than owners of Sony devices.
Conclusion
Overall, it would seem that American males are the best when it comes to recycling old and unwanted tech. Despite reports, it therefore would seem that males don't find recycling to be a feminine activity.
However, it is the much-maligned millennial who leads the way in the recycling game. Despite the oft-reported "throwaway" consumer attitude that we once charged millennials with creating, it would seem that older generations are doing a lot less to prevent our collective stockpile of abandoned tech from growing.
Apple's pro-environmental stance is an acknowledgement of the amount of eWaste it produces as a company and the harm that tech manufacture does on an environmental level. Apple is an American brand, so it is encouraging to see it leading so predominantly in terms of recycled devices.
According to the ITU, the US alone produces 13.1 megatons of eWaste per year, and that figure is rising. Of this 13.1 megatons, only correctly dispose of an estimated 9.4% of recycled tech properly, one of the lowest percentages globally.
If everyone recycled and refurbished their old tech, this percentage would increase, and America could really say it is playing its part in reducing eWaste that ends up on landfill.
Data Methodology
SellCell has used its own unique sale data, collected over the course of two years, and analyzing hundreds of thousands of consumers data during that time. This data was collected from sales of tech, by SellCell customers, to the directory of approved buyback companies that SellCell compares.
Using this data, SellCell has been able to produce the above statistics, which show trends relating to age, gender, and location of consumers who recycle old technology, alongside the most recycled tech brands.