– Despite offering insane trade-in prices, Apple still can't match SellCell.
– T-Mobile is offering the lowest trade-in value of all carriers.
– SellCell offers up to $165 more than Apple, in some cases.
September 14th saw Apple's keynote go down a storm. With it, we saw the launch of the brand new iPhone 13, along with a host of further upgrades across the Apple ecosystem. Namely, the iPad and Apple Watch, which both enjoyed the spotlight thanks to updates where they're concerned.
However, let's not make any bones about it. Everyone was there to find out about the iPhone 13. And, astutely, Apple used the iPhone 13 showcase to announce the trade-in values it is offering when you buy an iPhone 13; up to $790, Tim quoted.
This is great, but is it the highest value trade-in you can get? Well, no, it isn't, which is why you need to be wary about who you trade your old iPhone in with. Let's analyze the details.
Who Offers the Best Trade-In Price Across iPhone Models?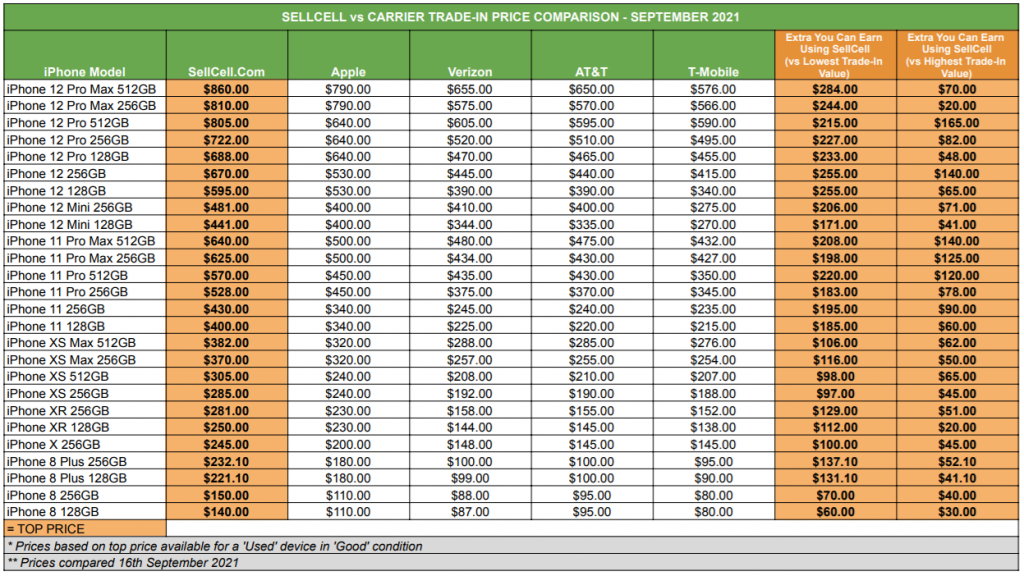 The numbers, as they say, never lie and, as we can see from the data above, there is only one website to trade in your old iPhone, and that is SellCell.com.
Across the board, you can see that SellCell offers a higher trade in value for the iPhone 12-series, 11-series, X-series, and iPhone 8-series. These iPhone series, incidentally, feature iPhone models consumers traded in the most, prior to the launch of the iPhone 13.
In some cases, as with the iPhone 12 Pro 512 GB model, SellCell is offering up to $165 more back against the next highest trade-in value. The iPhone 12 256 GB and iPhone 11 Pro Max 512 GB can net you $140 more, compared to the next highest trade-in value.
Likewise, the iPhone 11 Pro Max 256 GB is worth $125 more if you trade with SellCell. The iPhone 11 Pro adds an extra $120 in value with the comparison site. As you can see, trading in via SellCell can net you hundreds of dollars more, depending on which model you own.
Even Apple, who makes the iPhone, can't match SellCell's trade-in value. Let's take the iPhone 12 Pro Max 512 GB model as an example. Apple is offering $790 when you trade the handset in. However, SellCell can offer up to $860. A difference of $70. This might not seem like a tremendous difference, but $70 is better in your pocket than Apple's.
Even at the other end of the scale, we see Apple underperforming with its iPhone 8 128 GB value, too. It is offering $110, whereas SellCell offers $30 more at $140. Again, this might not seem like a great deal extra, but that's a nice phone case you just bought yourself with the additional money you earned from selling your iPhone with SellCell instead of directly back to Apple.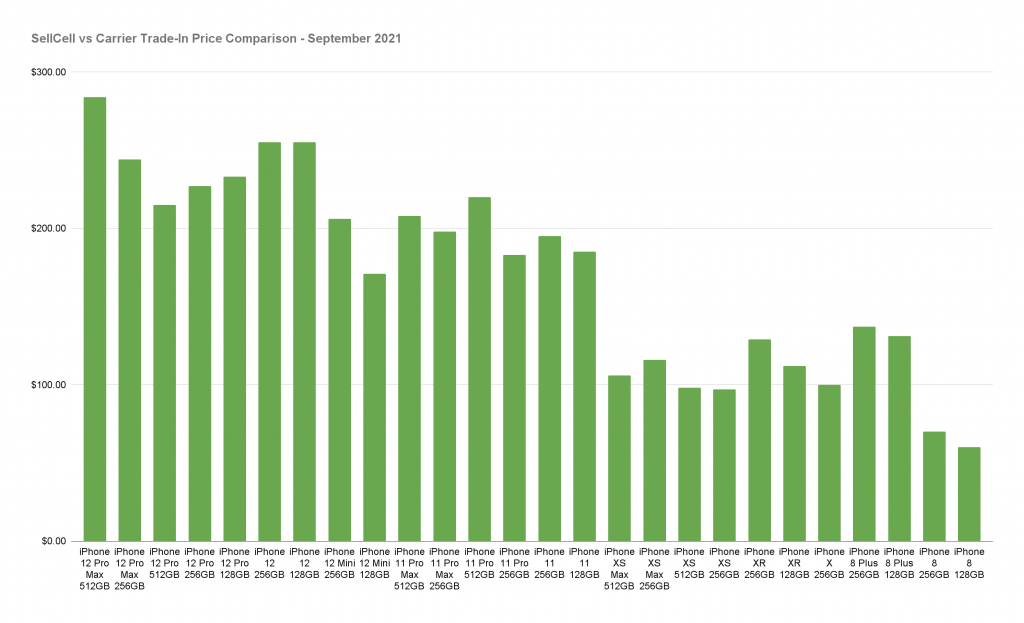 However, Apple isn't offering the worst trade-in values for iPhones, by any stretch of the imagination. Looking again at the figures for the iPhone 12 Pro Max 512GB model, we can see that Verizon are only offering $655; which is $195 dollars less than SellCell.
The picture only gets worse if your carrier is AT&T or T-Mobile. AT&T offers $200 less than SellCell. However, T-Mobile customers are in for a shock, as its meagre offering for the most expensive last-gen iPhone is $576. This is almost $300 less than what you can get with SellCell.
The iPhone 11, the most traded-in phone prior to the 13-series reveal, can net you $400 for the 128 GB version, and $430 for the 256 GB version. Providing you trade with SellCell, of course. Looking at the other candidates, you get up to $195 extra compared to T-Mobile, with $190 more than AT&T, and $185 more than Verizon.
That is a lot of money to lose out on if you're trading your iPhone in to get the latest iPhone 13. You need as much cash back as possible to ensure you get the best value for your money. Trade your iPhone 12 Pro Max 512 GB in with SellCell, for example, and you'll only need to stump up $539 toward the iPhone 13 equivalent.
This is quite shocking when you think about it; carriers offer significantly less than SellCell's trusted buyback vendors, which speaks volumes about how carriers look at their loyal customer base.
Why Don't Carrier's Offer the Best Trade-In Value for Your iPhone?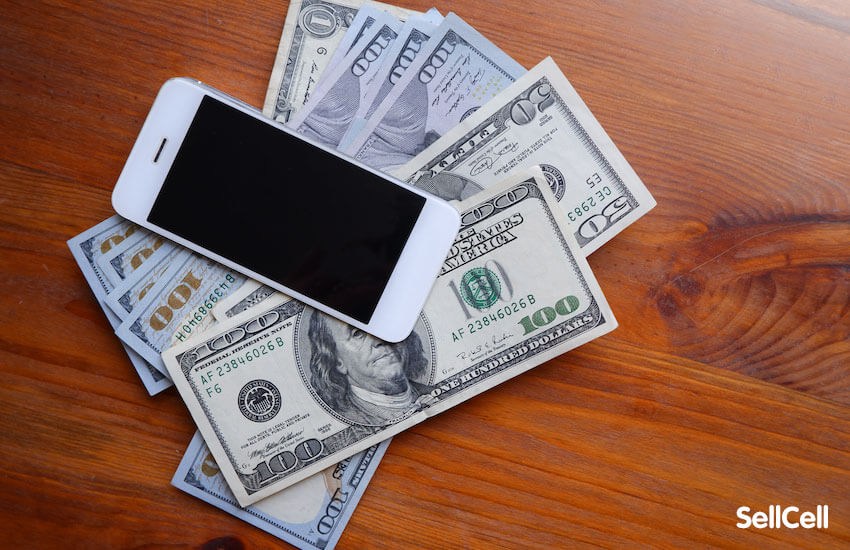 The simple answer to this question is carriers don't think they need to offer the best trade-in value for your handset. It is quick and convenient to just return it to your carrier and get money back for your old phone. But there is always a catch; that being you'll pay for the convenience with actual cash. In some cases a lot!
Your carrier relies on its customers following this mindset, despite it being just as quick and convenient to trade-in via alternative routes, such as with SellCell. Often, in fact, it is even easier, as SellCell takes all the hard work out of selling your old smartphone. Plus, you make more cash in the process. Nobody ever complained about getting paid more for something.
So, most customers will trustingly assume that their carrier is offering the best price. The fact of the matter being that it probably isn't offering the best price at all. You only have to look at the figures above to see this. Which is where SellCell steps in.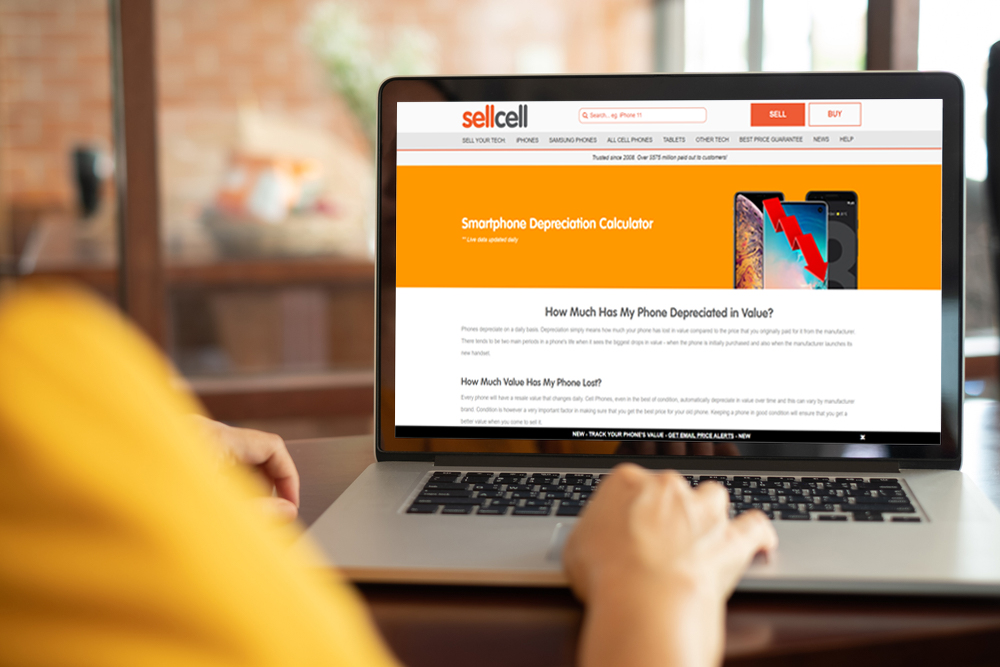 SellCell is a mobile phone reselling price comparison service, which compares prices across over 45 different buyback companies to ensure you get the highest value possible for your old iPhone. It sounds simple, and that's because it is. You just tell SellCell which iPhone model you want to sell, and it'll handle the rest. The process to sell your iPhone couldn't be easier!
Once you've found your best price, you just need to strike your deal with the buyback vendor and send your phone off. You can even lock your price in, meaning that you get that day's value until your new handset arrives; your phone's value won't depreciate in the meantime, leaving you with a phone worth less at trade-in.
SellCell even has a best price promise, so if you find you can get more for your handset anywhere else, SellCell will refund you DOUBLE the difference. You can't say fairer than that (although this is unlikely to happen, given that it has found the best price for you, already).
Have You Got an Old iPhone to Sell?
If so, then you need to head over to SellCell's iPhone price comparison page and see how much more you'll get with a trusted trade-in company, compared to your carrier. Or Apple, for that matter.
If you're not ready to sell just yet, you can still get your best price, lock it in, and if you change your mind at the end of the price-freeze period, you're under no obligation to sell.
In all, you really should be wary about whom to trade your old handset with, as you don't want to end up out of pocket, and SellCell doesn't want you to, either.