It often seems as though running a business requires more time and resources than it is possible to acquire. Business owners are forced to network with industry experts, track down the best suppliers they can find, demonstrate their strengths to customers around the world, and constantly devise new ways to innovate. This often makes traveling a necessity, while simultaneously demanding that someone is at hand to keep things running smoothly in the office.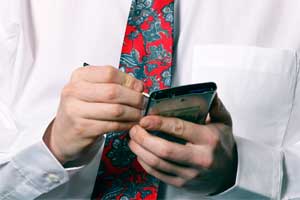 Operating a business while on the go divides attention in a multitude of directions, and requires an extraordinary effort to juggle so many obligations at once. And for sole traders, or those just getting started, the situation is even more daunting. So business owners today need great tools to help them multitask, stay connected, and keep organized, if they are to have any hope of success.
These are the top five apps for traveling business owners:
For business owners on the go, time tracking and expense billing can quickly devolve into a jumble of receipts and obscure notes. But TSheets simplifies billing by helping users easily track time spent on various tasks and projects. It facilitates clear scheduling, assists with budgeting, and provides detailed labour reports for clients, so that invoicing is quick, easy, and transparent.
For those working outside the office, it is difficult to track Accounts Payable and remember to sort through and pay the mounting pile of bills on time. So BillTracker helps business owners keep their accounts in order, confirm the accuracy of invoice totals, avoid double payments, and always meet due dates. With helpful reminders, calendar views that give billing breakdowns at a glance, and options for inputting recurring payments, it is the perfect solution for mobile businesspeople.
Business owners have to manage multiple accounts, juggle investments, and monitor loans. With so much financial information to keep tabs on, it is easy to make mistakes, which can become major problems for small businesses operating on tight budgets. Mint is a free app that collects financial information from multiple accounts in one place. With auto updates, secure account monitoring, and detailed real-time breakdowns, it is a powerful helping hand for any businessperson daunted by the prospect of budgeting and financial tracking.
LogMeIn puts the office computer right in your pocket. You will never again have to email yourself files or run the risk of forgetting to transfer important info to your mobile device. This remote access app––compatible with both Macs and PCs––makes business owners more versatile and connected than ever before, while nonetheless providing a safe and secure file sharing service.
For receiving payments on the road, Square is the perfect solution for any business owner eager to close deals at the spur of the moment. This credit and debit card swipe point is tiny, portable, and reliable. (The comparable service offered through PayPal is significantly bulkier.) It connects easily with iPhones and Android, and turns your mobile into an immediate point-of-service station, while only charging a small fee for each transaction.
Globalization, cheap transport, and the recent advances in communication technology have made the world more interconnected than ever. Business owners must now network across the globe, while nonetheless remaining intimately connected to their offices at home. So the modern businessperson is forced to find ways of navigating their company through obstacles that were simply not present in previous generations. Fortunately, technology is here to help. While it may never be easy, with the right tools, doing business abroad is no longer impractical.
About the author: Kirsten loves to travel but has to maintain her jewellery business Kirsten Hendrich Jewellery before even considering booking tickets. She relies upon some of these apps to help her keep connected to her business whenever she is on the move be it for work or pleasure.