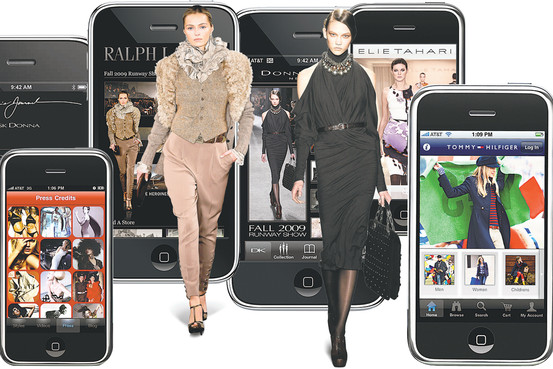 Not only is fashion something to keep in your closet, but you can now take it on the go with some of the most popular fashion apps available on the latest smartphones. It's easy to stay up-to-date on the latest trends and styles with convenience on a consistent basis.
1. Go Try It On
Compatible with the iPhone iOs or later, this app allows users to try on an outfit in a fitting room and upload it to the app for honest opinions on the clothing item from other members and fashionistas. Features include inspiration boards where it's easy to pin different items to create a styled look. The app provides plenty of inspiration on different styles and designs, while allowing users to shop for different items and accessories via the app.
2. TRENDABL
For those who can't get enough of both fashion and Instagram, TRENDABl works to combine the two for a tool where users can post their outfit of the day or a new pair of Louboutins. It's perfect for seeing getting in the know of what's currently on the market in the most popular clothing stores. Users prefer the user-friendly platform, compatible with the iPhone, and allowing its members to upload a photo with a filter, and then tag the item so it's easy to find from others conducting a search.
3. Speak Chic
There's no point in owning a designer dress if you can't pronounce the name. Speak Chic is a clever tool that audibly pronounces over 300 designer names phonetically to allow users to practice their fashion speech with ease and class. Everything from menswear brands to luxury watch designer names are listed on the expansive tool, even allowing you to suggest a brand that isn't listed.
4. Fashion GPS Radar
Perhaps the easiest way to stay updated on what local fashion events are in your area, Fashion GPS Radar is regularly updated as a VIP app that can only be downloaded through an invitation. If you happen to miss an event, photos are immediately uploaded with the best looks for a sneak peak. If that doesn't make you feel chic enough, it even allows users to RSVP for certain events right through the app, along with a map of the different locations. For buyers, they can use the app to conveniently request runway looks within minutes.
5. Snappette
One of the most popular Android fashion apps, Snappette shops for you by allowing users to upload photos of their finds in the mall or boutiques and provide info on the designer, price, and where to find it. Places like Ark offer a wide range of designer clothes for men and women, so this shop will pop up a few times. It allows users to cut to the chase for a convenient and easy shopping trip that might break the bank, but will allow you to be sent home with more goodies.
As technology evolves, so does the fashion world with the latest apps that both inspire and enhance every man or woman's closet. With the most popular smartphone apps, it's the easiest time to shop, be inspired, and dream of all things fashion.
This article was written by Abi who writes for men's and women's clothing website www.ark.co.uk who sell popular branded fashion from the likes of Fred Perry, Hearts & Bows, Cloak & Dagger, Superdry, Humor, Glamorous and more.