Last updated February 15, 2023
– 36% of people will check their phone in front of their partner on a Valentine's date
– 14% of people will use their phone under the table or sneak to the bathroom for surreptitious phone checking
– 50% of people will ditch their phone in order to gaze longingly into their partner's eyes this Valentine's Day
Love is in the air! Or is it? Well, Valentine's Day is just around the corner, and with Cupid's arrow poised to fire at the nearest derriere, SellCell wanted to find out what smartphone behaviours star-crossed lovers will exhibit when their date night is in full effect.
We know from a previous SellCell smartphone relationship survey that 71% of people spend more time with their phone than their romantic partner. Can the saint of courtly love tempt even the most hardcore smartphone users to give their thumbs a rest, or will they still be TikTok-ing videos of their Chateaubriand and resolutely ignoring their partner across the table from them?
SellCell surveyed adult phone users to see whether old habits die hard or tradition reigns supreme; will people be dedicating the day of love to their partner, or will their smartphone be the object of their desires? Probing into intended phone use during Valentine's date night, let's look at what (potentially) alarming results SellCell's survey yielded.
Key Findings
50.4% of people will ditch their handset on date night, refusing to look at their phone. That leaves 49.6% of people who just can't resist basking in the glow of their smartphone screen instead of being attentive to their date.
Of that 50.4%, more women (26.0%) than men (23.6%) resolve to leave their smartphone out of the equation when it comes to their Valentine's date.
Of the 49.6% that will use their phone, most people (51.8%) will use their smartphone to check messages or speak to family while they're in the middle of a Valentine's rendezvous, while 3.8% of scoundrels people will check Tinder for a better option during the date!
Thankfully, of the 49.6% of people who will use their phone, 75.2% of people will only use their phone for thirty minutes or less, so romance isn't entirely dead… Well, it might be for the 4.2% of people who intend to invest two hours or over in their smartphone instead of their partner.
Of the 50.4% that won't check their phone, a loving 90.4% of respondents would prefer to focus on their date and the partner they're on it with.
53.9% of total respondents would be quite rightly upset if their partner was on their smartphone during their Valentine's date.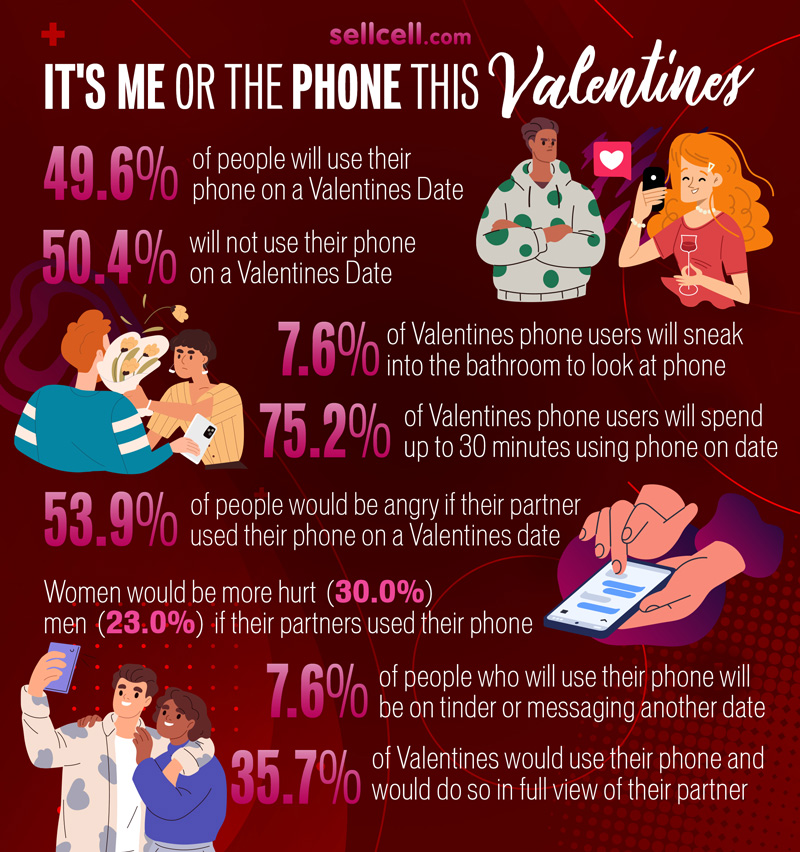 Summary
SellCell asked adult smartphone users the following questions, to gauge their use of smartphones during a Valentine's Day date.
1. Would you use your phone during a Valentine's dinner or date?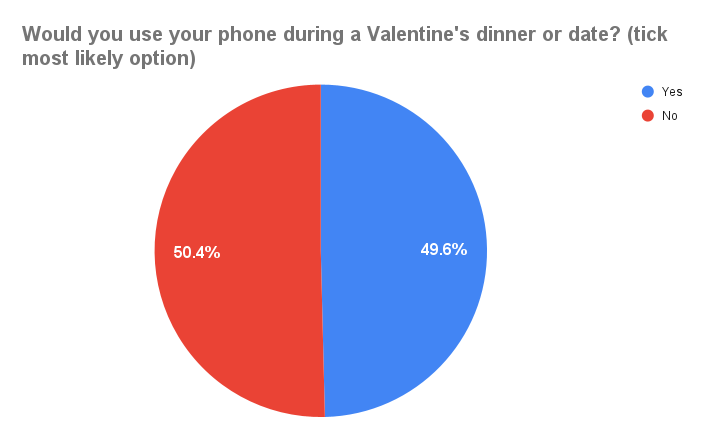 The less than overwhelming response to this question shows that only 50.4% of people won't use their phone during a Valentine's dinner or date. This is just over half, leaving a disappointing 49.6% of people who would rather use their smartphone as a barrier to true romance. With over one in four smartphone owners admitting to using a phone during meal time, this could come as less of a shock.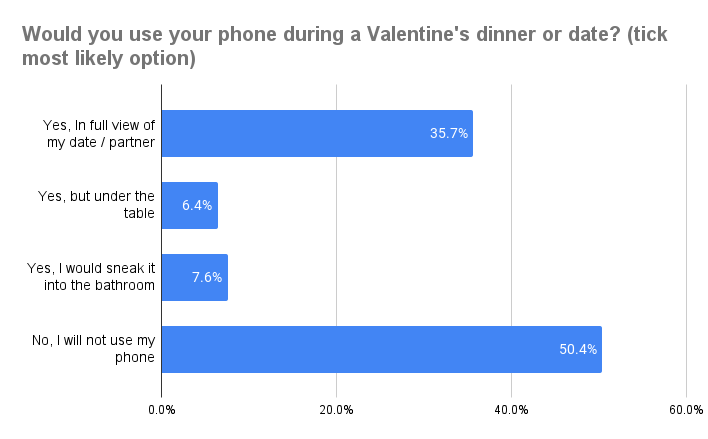 Breaking the yes/no answers down, we can see that 35.7% of people will openly use their phone in front of their partner during the date. 6.4% of them will do their partner the courtesy of using their phone under the table, while 7.6% of people will waste even more time on the date by getting up and sneaking into the bathroom to check their phone. Bravo to the 50.4% who remain resolute that they won't use their phone on Valentine's Day with their partner or date.
2. (If yes to Question 1) Why would you use your phone?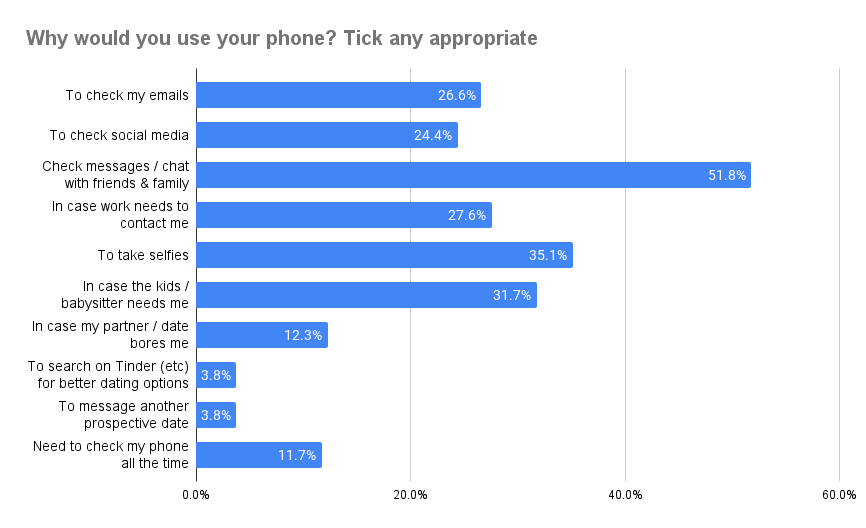 Of the 49.6% of people who answered "yes" to question 1 (yes, they would use their smartphone on a Valentine's date) SellCell asked why they would use their phone.
51.8% said they would do so in order to check their messages or chat with friends and family. As you might expect, a large percentage (35.1%) of respondents want to be in the photo with their Chateaubriand, because they'll use their phone to take selfies, presumably to post on social media, which is what 24.4% of people will be busy checking instead of giving their partner some love.
31.7% have the very reasonable excuse that they will check their phone in case the children or childminder needs to get in touch, 27.6% in case work needs to contact them, and 26.6% feel the need to check emails during a romantic interlude.
12.3% of respondents said they'll check their phone if their partner or the date bores them (presumably they haven't heard the adage that only boring people get bored), and you'll actually find a horrifying 3.8% of daters swiping furiously right on Tinder while they look for a better option than their date! Scandalous! The same figure will also use their phone to message other potential dates. Equally scandalous!
3. (If yes to Question 1) How Long Will You Spend checking/using your phone during a Valentine's date?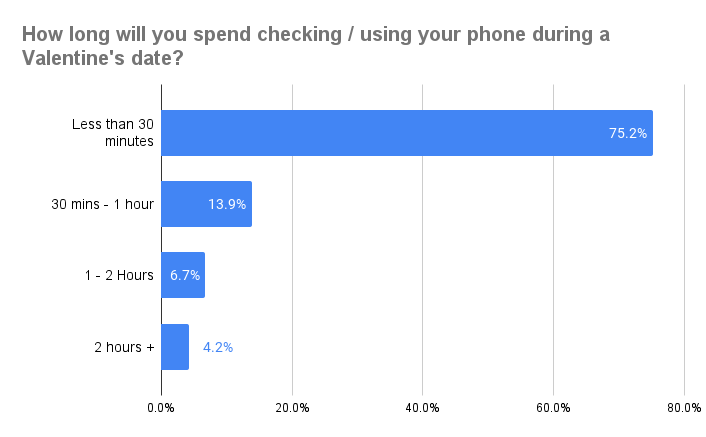 Of those 49.6% who will use their smartphone, SellCell asked how long they'll actually spend using it. Thankfully, 75.2% of smartphone owners will spend thirty minutes or less on their phone. This is just about acceptable. 13.9% will spend between 30 and 60 minutes on their phone, which is less acceptable.
6.7% will spend between one and two hours on their phone, which isn't really acceptable at all. 4.2% of those asked will spend more than two hours on their phone, at which point you need to ask what they even bothered going on the date for.
4. (If no to Question 1) Why won't you use your phone?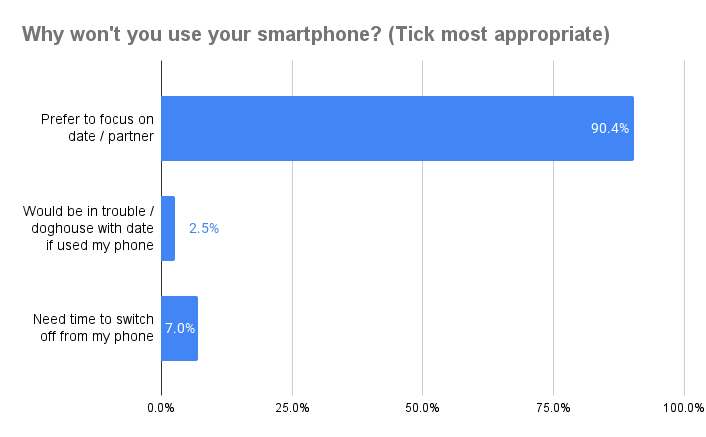 Restoring some faith in humanity are the 50.4% of people who won't use their smartphone on Valentine's Date night. Even more romantically, 90.4% of those respondents will ditch the smartphone because they prefer to focus on their partner or date instead of a phone screen.
2.5% admit they won't check their phone because they'd be in trouble with their date if they used their phone (clue: there is a reason they keep going to the toilet, see Question 1). 7.0% of those who won't use their phone are selfishly doing so because they need time to switch off from their phone, killing any romantic sentiment instantly. Kind of misses the point of selflessness on Valentine's Day…
5. Would you be angry/hurt if YOUR partner was on their smartphone during a romantic Valentine's meal/date?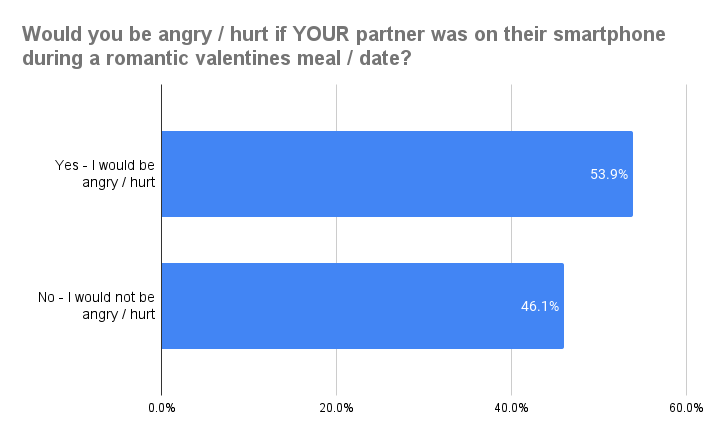 When asked this question, 53.9% of all respondents said yes, they would be angry or hurt by the partner's smartphone use on a Valentine's date. 46.1% stated this wouldn't hurt them or cause anger. So, if you plan to use your phone during your Valentine's date, spare your partner's feelings and perhaps consider leaving it in your pocket or purse. If you plan to take TikTok video footage of your piece of beef for over two hours, consider staying at home and never dating again.
Nothing Says "I Love You" Like a Heart Emoji
So, now we know exactly how everyone plans to spend their Valentine's Day, and thankfully the majority of old romantics (but only by a whisker) will avoid using their smartphone in order to dote upon their date. For the rest of those out there who simply can't go without blue light for a couple of hours, at least try to perhaps agree with yourself that you'll only check your phone when you're partner has gone to the bar or toilet, and spare everyone's feelings in the process.
Methodology
SellCell surveyed 1018 US adult smartphone users to ascertain what their smartphone use behaviour would be like during a Valentine's Day date. No personal details were recorded or stored during the collection of data.