Last updated October 11, 2022
– iPods on average have depreciated by 89% since Launch – so now could be a good time to sell
– iPod Touch 7th Gen 256GB has the best resale value. Users can still get $100 for this iPod in good condition
– Average Resale value of iPods has remained fairly static over the last 6 months. There has been marginal average recovery (+3%) in resale value since Apple's announcement to discontinue the iPod
Apple recently announced (Tuesday, May 10, 2022) that they were removing the nostalgic iPod from their range after 20 years. This has caused a lot of noise about whether this was the right move from Team Apple, as iPod fans reflect fondly about their iPods. There have also been reports that iPods have been sold on Ebay and other marketplaces for hundreds if not thousands of dollars, but experts do not expect this to last for too much longer. So are iPods actually worth hanging onto as 'collectors items' or is it best to cash out now?
SellCell is in the perfect position to give a measured view on this, regularly comparing the resale prices of 40+ tech buyers. SellCell have analyzed the prices of leading iPod buyers to determine their current resale value and if this has moved since Apple's announcement to discontinue the iPod.
So, was it the correct decision by Apple to exit from the product? If we are looking purely at resale value from a wide array of iPod buyers, then the answer is probably yes!
Let's dig into the data….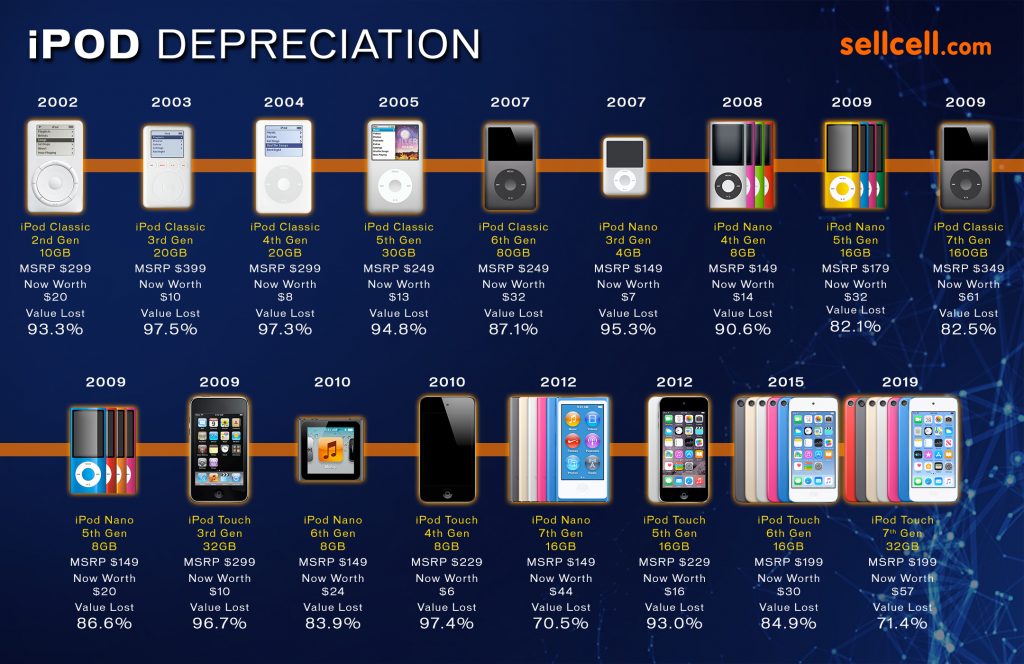 Main Findings
iPods on average have depreciated by 89% since launch. This is, however, incredibly slow depreciation considering some of the iPods are 20 years old. Depreciation ranges from 98% (2003 range) to 71% for newer 2019 iPods
iPod Touch 7th Gen 256GB has the best resale value. Users can still get $100 for this iPod in good condition
Newer iPods still retain a fairly good resale value, with the iPod Touch 7th Gen 128GB still worth $70 (good condition), iPod Touch 7th Gen 256GB still worth $100 (good condition) and the iPod Touch 6th Gen 128GB worth $60 (good condition)
Average Resale value has remained fairly static over the last 6 months. There has been a small, marginal recovery in resale value since Apple made its announcement to discontinue the iPod on 10th May of circa 3%. This is based on the tracked prices of a selection of iPods showing an average depreciation rate of 86.3% on 1st May 22 to 83.4% on 16th May 22
Average value you can get for your old iPod is $28, but this ranges from $5 – $100 for newer iPods
Sadly, early iPod Classics are now only worth $5 – $32. The iPod Classic 7th Gen 160GB is still worth a respectable $61 in good condition
Summary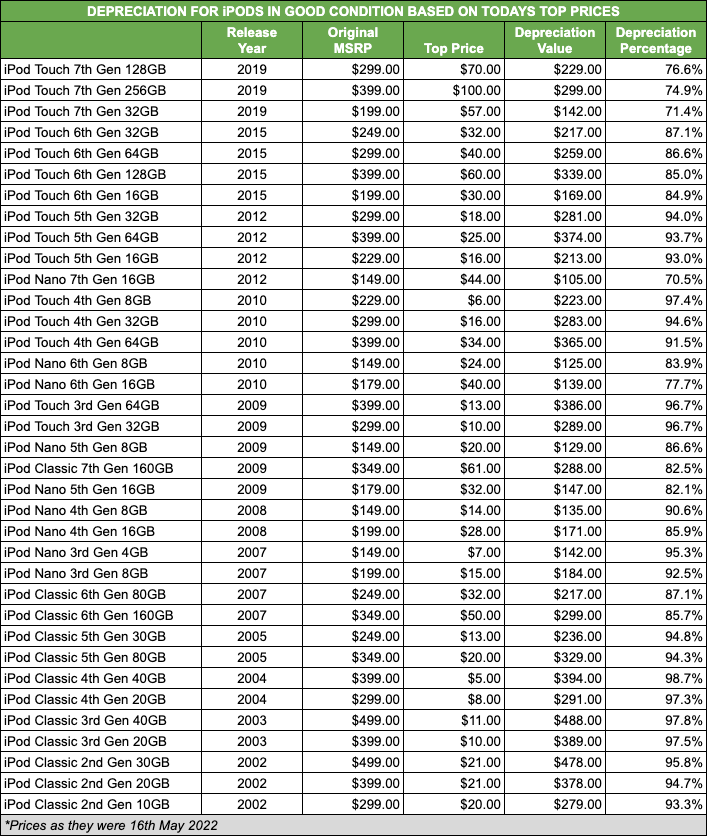 SellCell reviewed internal iPod value data across a wide range of iPods from 2002. Above, you can see the data for all models within those ranges.
It is clear to see that older iPods have depreciated heavily, circa 90% plus. In Apple's defence this is to be expected for a 20 year old product. The fact that they are still holding any value is impressive and falls in line with the slow depreciation rate of Apple products vs other manufacturer phone brands. For newer iPods there is a good gain to be had in selling an old iPod with values of $40 – $100 still on the table.
The iPod Touch 7th Gen 256GB is still worth a very respectable $100 with a depreciation rate of 74.9%. The 32GB version is worth $57 with the lowest depreciation rate of all iPods at 71.4% (in good condition)
Average Depreciation Across Ranges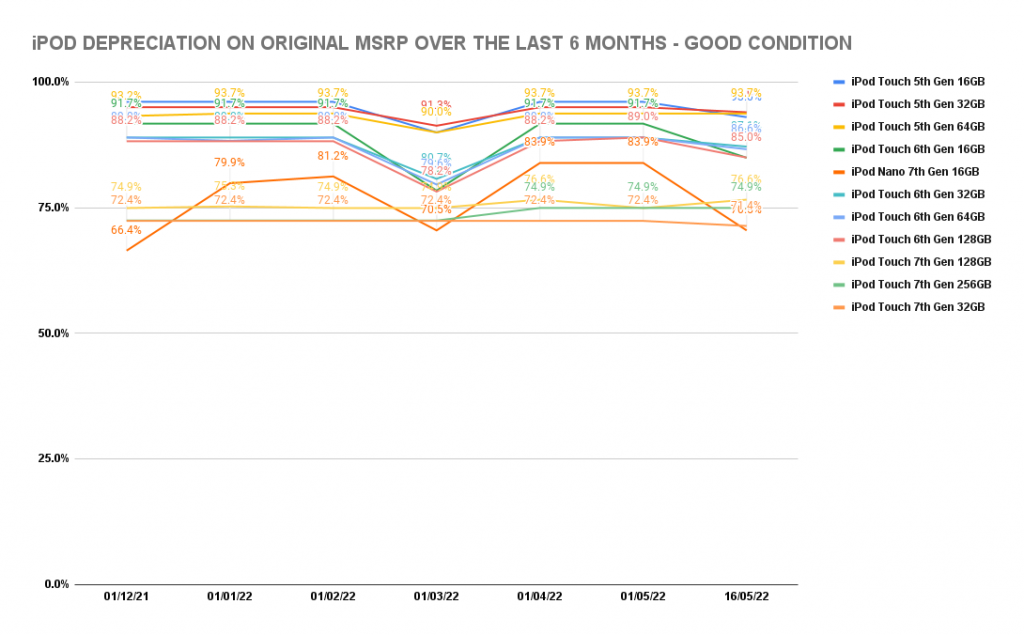 The charts above take a sample of iPod models and tracks their pricing over the past 6 months. The data illustrates that resale value across these iPods has remained fairly static over the last 6 months. There is some positive news in that there has been a slight uptick in value recovery in the days since Apple has announced that the iPod will be discontinued. Notably, the iPod Nano 7th Gen 16GB has seen value recovery of 13.4% since Apple's announcement and the iPod Touch 5th Gen 16GB a value increase of 3.1%. The news has clearly caused some buyers to increase the value of some of the iPod lines. Overall the value appreciation across some key lines is just under 3% (2.9%) Good news but nothing major to line your pockets. There may be some further improvement over time.
To Sell or Not To Sell is the Question?
Pricing research indicates that over a long period of time iPods are likely to have less and less value, so if you need an extra $50 in your back pocket now is the time to sell your iPod. The good news is that over the next few weeks there may be a small increase in the resale values of some iPods following Apple's announcement, so there is not a blind rush to make any decision to keep or sell. As there isn't a huge amount of money 'for the taking' across the board, it may be a personal decision to hold onto your iPod and continue to use it as a second device, gift to your child as a music player or just keep hold of it for nostaligic reasons. SellCell predicts that depreciation, as with all Apple products, will continue to be quite slow and there may be a small increase in the resale value over the next few weeks, but not a lot!
Methodology
SellCell analysed pricing data for iPod ranges from leading independent US iPod Buyers, considering the trade-in value from a wide range of models in "good" condition, to determine the value depreciation of the handsets from launch to 16/05/22.