Last updated October 11, 2022
– Sony's PS5 leads the charge, as it is worth almost as much as when it launched 18 months ago.
– Microsoft's Series X also performed well, with only 21% depreciation in the 18 months since launch.
– Apple's iPhone 13 range is the leading handset in smartphones, with a value reduction of only 27% in 8 months.
– Samsung Galaxy S22 range of handsets shows the worst performance, depreciating by 51.6%.
PS5, Xbox Series X & iPhone 13 ranges come out on top!
As many of us are aware, no sooner have you invested your cash in a device does it start to lose its value. However, looking at trends, we can see that some devices hold their value significantly better than others. The reasons for this vary, and range from the demand a device creates to brand trust and reputation.
SellCell—the US No.1 price comparison site for tech products—has produced its 2022 Annual Tech Value Report, which looks at the resale value of new/recently launched tech and compares it to the MSRP, offering valuable insight into the market leaders (and those brands which trail behind) in terms of value retention.
Because of its perfect positioning, SellCell can offer a calculated and methodical view of tech value, as it can access resale prices across 40+ tech buyers. SellCell has analyzed price data across this range of buyback vendors to determine current resale value since launch. SellCell only tracks prices from official independent buyback vendors, removing any grey-market price inflation, thus representing a device's real value.
Note that the most aggressive depreciation occurs in the first two months post-launch, with most devices. After this point, devices won't recuperate much of their value, if any, and instead will see a slower decline in value over the next twelve months. The first two months, therefore, set the bar in terms of what is to come for a device's value. This report offers insight into the fastest and slowest depreciating devices since launch.
Main Findings
Sony's PS5 Digital Edition shows the slowest depreciation across all tech, in the time since launch 18 months ago. With only an 8.0% decrease in value, and an average monthly depreciation of merely 0.4%, Sony is onto a winner, here.
Microsoft is also having a fine time of it. The Series X has only lost 21.0% of its value since launch, or 1.2% monthly on average. The Series S isn't far behind it, losing 31.4% of its launch MSRP, or 1.7% a month.
In seven months, Nintendo's Switch OLED ties squarely with the Xbox Series S in terms of its 31.4% value depreciation. However, monthly depreciation of 4.5% paints a different picture for Nintendo.
On to smartphones, and Apple's iPhone 13 range performs best, with an average depreciation of only 27.5% across all models. This equates to an average monthly depreciation of only 3.4%.
With an uncharacteristically high depreciation of 47.1% (an average of 23.6% over the two months since launch), Apple's iPhone SE 2022 edition disappoints in terms of value retention.
Google's Pixel 6 shows an average of 48.5% depreciation across all handsets, with only seven months under its belt, exhibiting a 6.9% monthly decline. However, this is far from the worst performing handset…
Samsung's S22 range is the worst performing across the smartphone landscape, with 51.6% depreciation in only three months since launch, averaging a terrifying 17.2% monthly decline in value.
Apple pretty much dominates the tablet space, with its best-performing iPad Pro 11 3rd Gen (2021) losing 42.3% since launch 12 months ago, a monthly average of 3.5%.
As with the iPhone SE 2022, the iPad Air 5th Gen (2022) shows disappointing value retention, losing 32.1% over the two months since launch, averaging just over 16.0% per month.
Bad news again for Samsung, as its Galaxy Tab S8 has lost a huge 65.4% of its value in only two months since launch.
In the war of the wearables, Apple's Watch Series 7 shows 58.2% depreciation over seven months (8.3% per month) since it launched. In nine months, Samsung's Watch 4 depreciated by 76.0% (8.4% per month). So, an almost identical monthly performance for both.
Summary
SellCell analyzed the data to see which devices performed best overall in the months since their respective launches. Note that, for the purpose of this report, SellCell has considered values for devices in like new condition across its pool of over 40 trusted buyback vendors.
2022 Annual Tech Value Report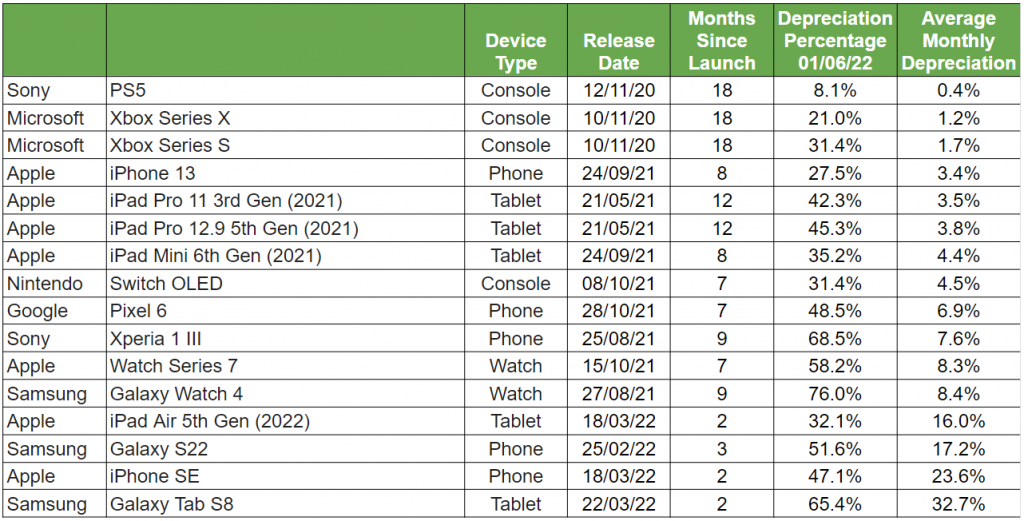 The table above shows some of the best and worst performing tech over the past 18 months. Given SellCell's recent reports around value retention in the smartphone market, some results here are fairly predictable, although there are a few curveballs in there, too.
It may surprise some that, even 18 months after launch, the PS5 has seen depreciation of only 8.1% in total, which amounts to a mere $30 drop in value. However, is this really that surprising? Probably not, because Sony suffered semiconductor shortages, logistics issues, and multiple other issues during the COVID crisis, just like every other tech brand out there.
Sony, however, just happened to be releasing a console mid-COVID, which, because of the aforementioned issues, meant that it was low on stock at launch. The upshot of this is increased demand, particularly when consoles are in such short supply. Sony still isn't quite meeting that demand, meaning the resale value of the PS5 remains very high.
Not even Microsoft, with its Xbox Series X and S, comes close to Sony. The Series X, which has also been available for 18 months, has lost 21.0% of its initial launch value, and the Series S has lost 31.4% of its value. So, not great, but given the amount of time that has passed since launch, we can still view this as a positive result for Microsoft.
It is Nintendo's ship that looks like it is sinking fastest out of the big three consoles, though. It released the Switch OLED last year and, despite only being seven months old, it has lost a less-than-impressive 31.4% of its value. While you might compare this to the Series S, don't forget that Microsoft's digital only console has got 11 months on the Switch OLED, so on a month-by-month basis, the Switch OLED is performing the worst.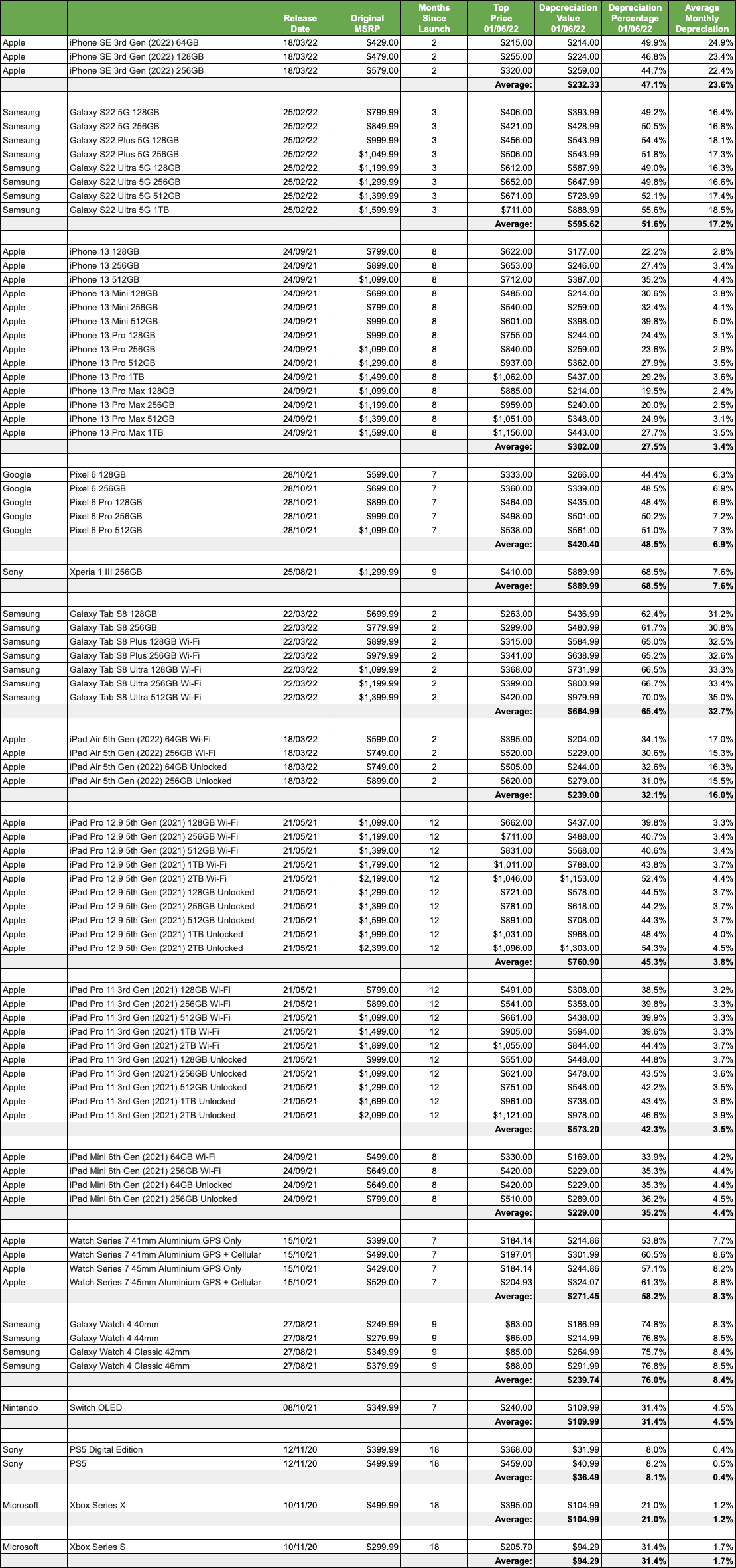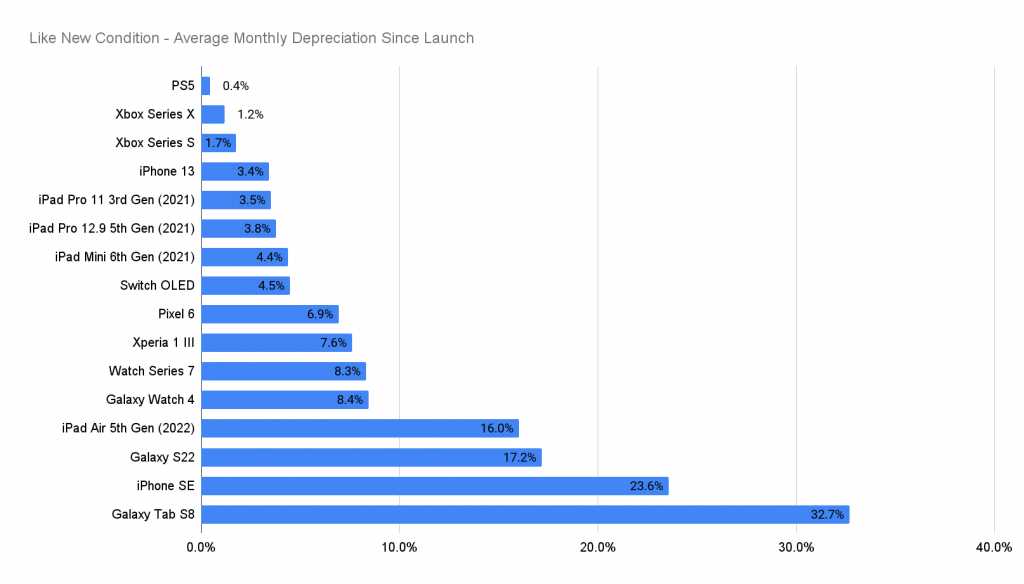 Digging down further into the monthly figures, we can see where each brand's respective strengths and weaknesses lie. This is where the curveballs manifest, with some surprising results.
We've discussed the consoles, but what about smartphones? Well, as we would expect from SellCell's previous research into smartphone value retention, the iPhone 13 range comes out on top in value retention, just as it has done since launch. Across the full range of models, the iPhone 13 has still only lost 27.5% of its value in eight months, proving that investing in an iPhone is investing wisely.
This continued buoyancy that the iPhone 13 range is enjoying suggests that now might be a good time to consider trading in your iPhone 13 if you feel it isn't for you, or you've spotted something else you'd rather use as your daily driver instead. The value of your iPhone will drop further from hereon-in, so striking while the iron is hot is the best way to secure the top price for your handset.
Compare this to Samsung's performance and you'll see where the difference lies. The S22 range has only been available for three months, and yet in that time the models across that range have lost an average of 51.6% of their value, which is 17.2% a month.
All this said, the 2022 iPhone SE has had a very poor run since its launch two months ago, losing 47.1% (an average of 23.6% over the two months since launch) of its initial launch value. If the demand isn't there, values will plummet, and it seems that the latest iteration of the SE hasn't performed as well as Apple might have hoped, when compared to previous iPhone models.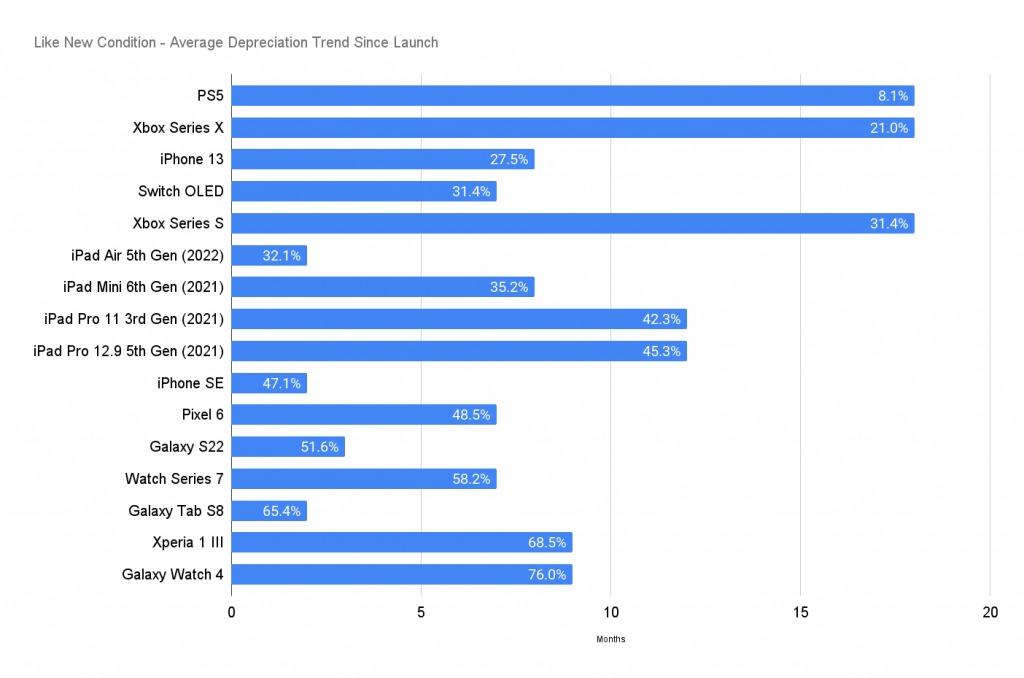 One name we rarely see smartphone analysis like this is Sony. However, the brand makes a second appearance in this data with the Xperia 1 III. It may well have depreciated by 68.5%, but that averages out at 7.6% per month, which isn't terrible considering Apple and Samsung dominate the smartphone market.
The Pixel 6 hasn't done a great deal better, losing 48.5% of its value over 7 months, or 6.9% a month. If Samsung's S22 range continues on a downward trend, it may be worth less than the Xperia 1 III at the same seven-month point in its life cycle. So you can see how close this competition actually is. Perhaps we'll see a stronger release with the forthcoming Xperia 1 IV, which Sony has penciled in for a June launch.
Tablets tell a similar tale. Apple's 2021 run of iPads—the Pro 11 (3rd Gen), the Pro 12.9 (5th Gen), and the Mini (6th Gen)—have all performed well since launch, losing only 42.3%, 45.3%, and 35.2% of their values, respectively. Sadly, the 2022 iPad Air 5th Gen hasn't seen such success. Losing 32.1% of its value in just two months shows that demand wasn't there for the latest Apple slate, and puts it not far behind the Mini (6th Gen), a tablet that is six months its senior.
Watches make an appearance, too. And for once, Samsung and Apple are almost neck-and-neck in terms of monthly depreciation, with the Galaxy Watch 4 losing 8.4% of its value per month since launch, and the Apple Watch Series 7 losing 8.3% a month, on average.
What Do the Next 12 Months Hold for These Brands?
That really remains for us to see, but given that Sony is in a strong position with its PS5, if not its previous Xperia 1 III; perhaps it can pull a rabbit out of the hat with the Xperia 1 IV, although it won't match the success of the PlayStation 5 for value retention.
Apple continues to dominate the smartphone and tablet markets, despite the relatively poor performance of the iPhone SE 2022 and iPad Air (Gen 5), with its flagship devices storming the choppy sea of smartphones, Apple riding the crest of that particular wave.
As you see, though, devices lose their value fast, spare some rare exceptions. So, if you want to sell your phone, or any other tech, it is always going to be in your favor not to dwindle on acting once you've made the decision to sell, as that value drops further each day.
Methodology
SellCell took internal sales data to ascertain the best price currently offered for a wide range of tech. It considered prices for smartphones, gaming consoles, tablets, and smartwatches, allowing SellCell to discover which tech has performed best in terms of value retention since each respective device was launched.