Apple didn't unveil the new iPhone 12 series at the September 15 event, but an imminent launch is on the cards according to the latest reports.
A recent purchase intent survey from SellCell.com revealed that four in 10 iPhone users are looking to upgrade to an iPhone 12 model, and this could mean that a lot of people are going to be trading in their old iPhones to offset the upgrade costs.
And while there are plenty of places where you can trade-in your old iPhone, it is worth noting that the prices are not the same across the board.
In this report, we have compared the trade-in prices of different iPhone models at Apple, cell phone carriers, and online buyback companies to figure out which of them offers the highest payout. Further, the report also gives an estimate of how much extra one can earn by switching to another trade-in scheme.
Note: SellCell is a price comparison tool that compares trade-in prices from various reliable third-party buyback services. We've used data from SellCell.com to identify the best price currently being offered on a certain iPhone model by our partners.
SellCell vs. Carriers
Every big cell phone carrier in the US, including Verizon, AT&T, T-Mobile, and Sprint, have a buyback program in place to help ease the financial burden of owning a new phone.
But, are these carriers offering the best trade-in value for your old gadgets? The answer is a resounding no, according to our analysis of iPhone trade-in prices.
To better understand the shortfall in trade-in quotes at carriers, take a look at the chart below to see how they stack up against what SellCell offers.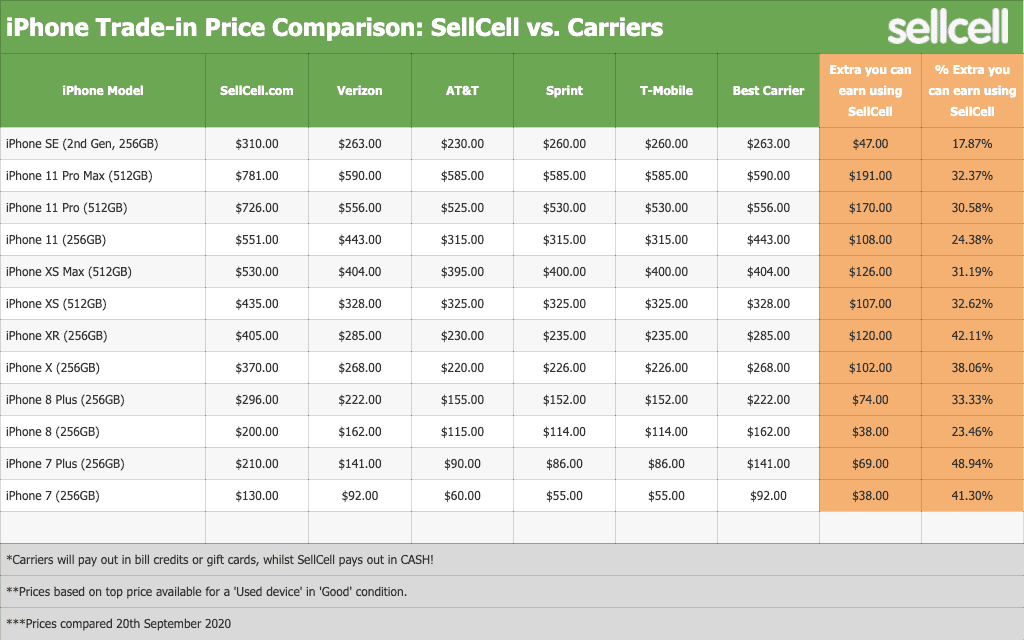 Among the carriers, Verizon provides the highest trade-in value for older iPhone releases, but it is still significantly lower compared to SellCell's valuation.
An iPhone SE (2nd Gen) in good condition can fetch you up to $310 on SellCell, but the best trade-in deal you can get from a carrier on the same device is $263 (Verizon) – a difference of $47.
The price difference is even more pronounced in the case of 2019 flagship iPhones, and – on average – you can get up to 29% higher value when you trade in these devices through SellCell, as opposed to carriers. SellCell currently values the iPhone 11 Pro Max, iPhone 11 Pro, and iPhone 11 units at $781, $726, and $551, respectively, whereas Verizon (which, again, has the best deals as far as carrier trade-ins go) has set their trade-in prices at $590, $556, and $443, respectively.
The case is the same for the 2018 iPhone XS Max and iPhone XS, and trading them in through SellCell could net you an additional $126 and $107, respectively, on top of the best prices that carriers have to offer.
According to SellCell's price comparison data, the best price you can get for an iPhone XS Max in good condition is $530, and it is $435 in the case of iPhone XS. In comparison, carriers offer a far lower trade-in value for the said models, with the highest offer being $404 on iPhone XS Max and $328 on iPhone XS by Verizon.
Similarly, a working, good-conditioned iPhone XR is worth $405 on SellCell.com, while taking the carrier trade-in route will fetch only up to $285 on the same device – that's a difference of a whopping $120.
When Apple launched iPhone X in 2017, it was the first-ever smartphone to feature a $1000 price tag. However, most carriers currently value the phone somewhere between $220 and $268 thanks to depreciation and lowball trade-in deals. On the other hand, customers can turn in their old iPhone X with SellCell and get $370, which is about 38% higher than the best deal from carriers.
Other 2017 iPhones, the iPhone 8 Plus and iPhone 8, currently sit at a maximum carrier trade-in value of $222 and $162, respectively. Interestingly, the devices are worth an additional $74 (~33.33% extra) and $38 (23.46% extra) when sold through SellCell.
The difference in trade-in value hits almost 50 percent in the case of iPhone 7 Plus, with SellCell offering $210 on the device and Verizon capping its buyback value at $141.
Comparably, the best carrier trade-in value for the standard iPhone 7 is $92 on Verizon, while the device is worth an additional $38 (41.30% extra) on SellCell.com.
SellCell will pay you in cash for each successful trade-in, while carriers pay you in the form of bill credits and gift cards, which can only be redeemed in their respective stores.
SellCell vs. Apple
Apple also lets you trade in an old iPhone or a smartphone from another brand in exchange for gift cards or store credits, which you can put towards a brand new iPhone.
Apple's buyback program is probably the most convenient way to swap your outdated iPhone for a new one, but how do their trade-in values stack up against the alternatives? We decided to find out by comparing the trade-in deals from Apple to that of SellCell, and here are the results.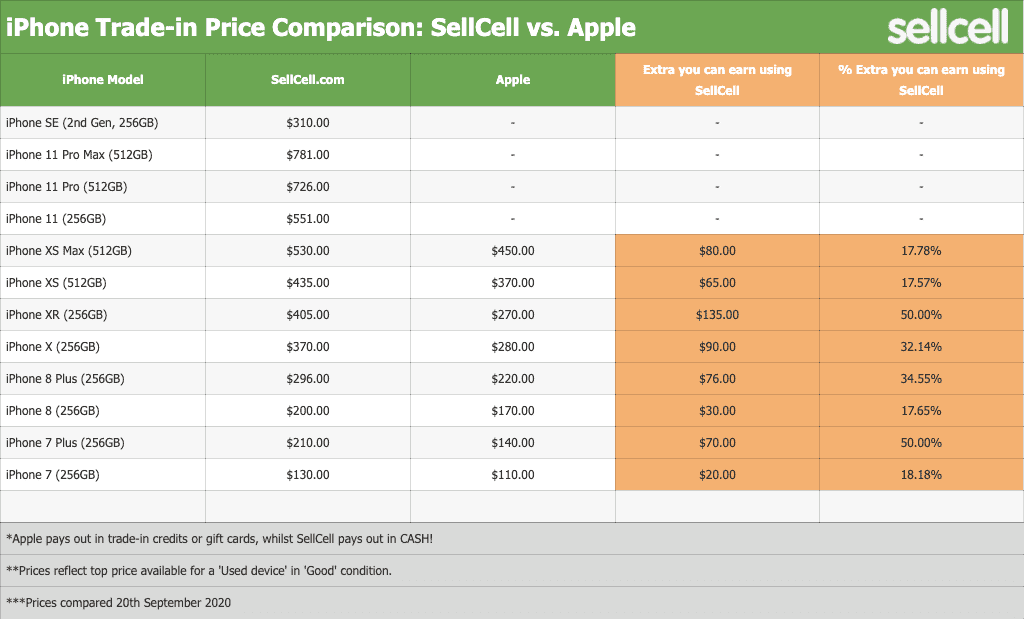 Unfortunately, Apple's recent releases – which include iPhone 11, iPhone 11 Pro, iPhone 11 Pro Max, and iPhone SE – do not qualify for the firm's trade-in scheme as of now. However, this could likely change soon after the launch of the iPhone 12 lineup.
Apple in July slashed iPhone trade-in values across the board, so it shouldn't be surprising to find out the iPhone maker doesn't really offer the best trade-in prices in town.
The estimated trade-in value is about $450 for iPhone XS Max and $370 for iPhone XS, according to Apple's official website. But, if you want an extra 17% in bonus cash on either of the models, you can choose to cash them in through SellCell.com that offers $530 on iPhone XS Max and $435 on iPhone XS.
The best prices for an iPhone X, iPhone 8 Plus, and iPhone 8 maintained in good condition are $370, $296, and $200 respectively on SellCell — a solid $90, $76, and $30 higher than what Apple offers on the respective models.
Four-year-old iPhone 7 Plus and iPhone 7 can still garner $210 and $130 on SellCell but are only worth $140 and $110 respectively at Apple.
Apple has similar payout options as carriers and offers bill credits and gift cards in exchange for your device.
Conclusion
While Apple and carriers offer notoriously low trade-in prices for old iPhone models, their exchange programs can come in handy if you are unable to pay the full price upfront for a new iPhone and would like discounts in monthly installments.
Besides that, it is quite clear from the report that third-party buyback companies offer much better prices for older iPhones than the official channels.
However, with so many online trade-in sites to choose from, you will have to do a bit of shopping around to find reliable services that offer the best price for your smartphones.
Alternatively, you can simply use SellCell.com to browse through all available deals from our vetted partners and ultimately get the maximum cash for your handset.
Additionally, SellCell users can lock in the current trade-in value and hang onto their old device for up to 30 days as they wait for Apple to release new iPhones — all without having to worry about potential price drops.
Methodology
We compared iPhone trade-in prices at various carriers, Apple, and SellCell.com to identify which of them offers the most value for older iPhones.
The iPhone models included for the report are iPhone 7, iPhone 7 Plus, iPhone 8, iPhone 8 Plus, iPhone X, iPhone XR, iPhone XS, iPhone XS Max, iPhone 11, iPhone 11 Pro, iPhone 11 Pro Max, and iPhone SE (2nd Gen).
For uniformity purposes, SellCell used the highest available storage variant for each iPhone model mentioned in the report.
Unlike most trade-in programs, SellCell has an additional 'Like New' option in its appraisal page to ensure even better prices for devices maintained in mint conditions.
But, we've only taken into account the trade-in prices we offer for devices in 'Good' order for the sake of a fair comparison against alternatives.
Bear in mind that the prices could frequently change due to various factors, including new phone launches, and also trade-in value offered by Apple and carriers may vary based on whether you trade-in through their online website or physical stores.