– 14.1% of current iPhone owners intend to upgrade to the iPhone 14, down 29.6% compared to iPhone 13 purchase intent figures.
– But 13.2% of existing Android users intend to switch to the iPhone 14 when it launches
Every year, around September, Apple hype reaches a crescendo as the world's most popular smartphone brand releases the next iteration of its fabled phone hardware. Apple announced the iPhone 13-series back in September 2021, and now we're looking ahead to September 2022, and the unveiling of the iPhone 14.
The rumor mill is obviously in full effect, with leakers predicting all manner of forthcoming features, including punch-hole cameras, flush rear-face cameras, a change in appearance, and bigger battery capacity. However, other experts have countered some of these rumors, for example, claiming that the housing for a 48 MP camera simply won't be flush with the phone's rear face because of the sensor's space requirements.
All that said, you'd still expect iPhone users—and the wider smartphone community—to be as excited about this release as they were the iPhone 13, but it seems that isn't necessarily the case. iPhone owners don't seem as motivated to want to switch, at least not at this stage in the game. Could this spell disaster for Apple and the iPhone 14, or will interest grow as we get nearer the launch?
SellCell has surveyed 19,586 US adult iPhone and Android smartphone owners—equally split—to gauge hype around the forthcoming iPhone 14, and see who, if anyone, will switch to the iPhone 14 when it hits the proverbial shelves. Let's analyze the data.
Main Findings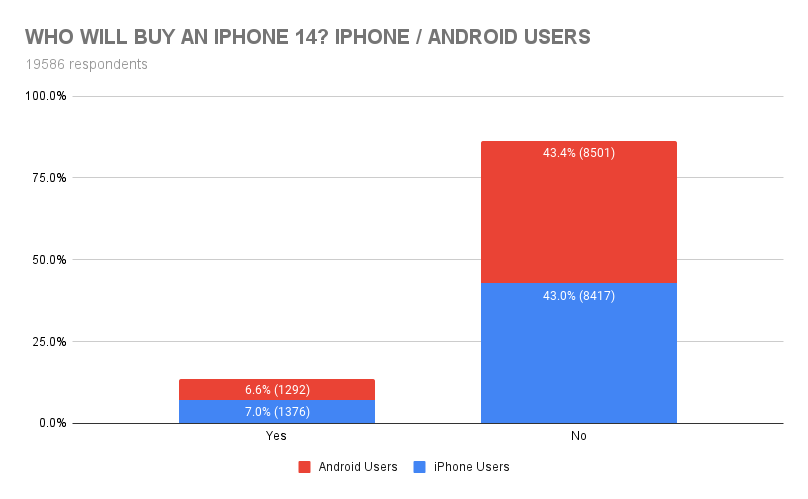 When asked whether they would buy an iPhone 14, a respectable 13.6% of 19,586 respondents answered in the affirmative, leaving 86.4% who aren't investing in the next iPhone model.
Of the 9793 respondents who currently own an iPhone, 14.1% will consider upgrading to the iPhone 14-series in September.
13.2% of Android users, who made up the remaining 9793 of all respondents, indicated that they would jump ship from their current handset to the iPhone 14-series—a huge chunk of the Android consumer base.
iPhone 14 purchase intent has dropped when compared to purchase intent for the iPhone 13. Last year, 43.7% of iPhone owners said they would upgrade to the iPhone 13, compared to only 14.1% who will upgrade to the 14 this year.
Likewise, while many Android owners are sticking to their guns this year, 13.2% will upgrade to the 14. However, that figure resided at 18.3% for the iPhone 13 in 2021, a number that has decreased steadily year on year.
Summary
Let's dig down and see exactly what these numbers could mean for the iPhone 14, and why the interest might not be there (yet)…
Would you buy an iPhone 14?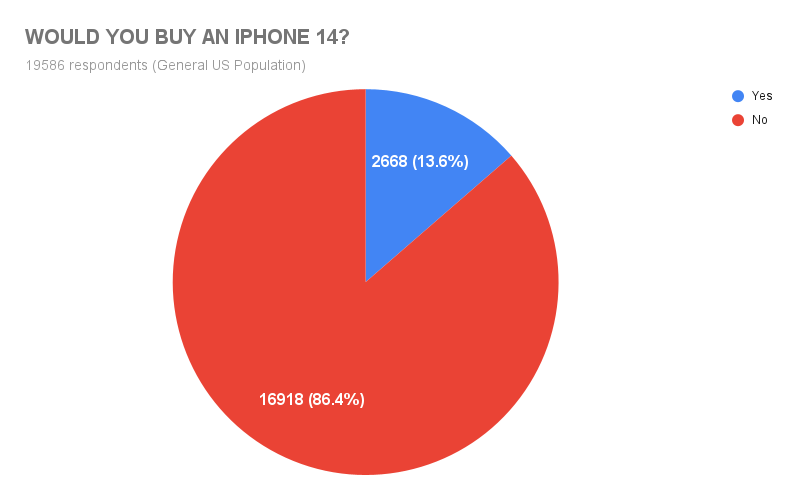 SellCell asked 19586 US adult smartphone owners if they would upgrade to an iPhone 14 when it releases at the end of 2022. 13.6% of respondents said yes, and 86.4% said no. Note that respondents here are split 50/50 between iPhone and Android users, so we can expect less positive results, as the die-hard Android fans will give a flat "no" to that question.
The figures for iPhone users only don't paint a better picture, though…
Would you buy an iPhone 14 (iPhone users only)?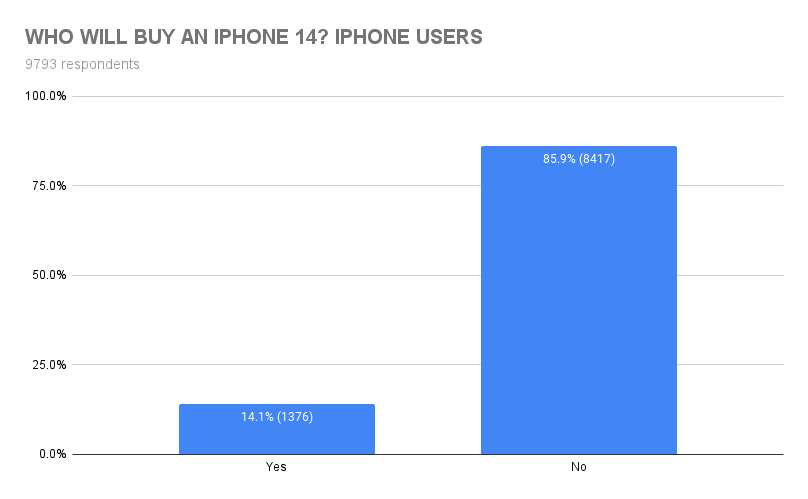 While still a high percentage, only 14.1% of current iPhone users intend to buy an iPhone 14-series handset, compared to 43.7% purchase intent at the same time last year for the iPhone 13. So, perhaps the die-hard Android users aren't solely to blame for the results after all.
Rumors suggest a raft of changes when the iPhone 14 comes along, some of which perhaps lessening motivation. There is the reported old-school iPhone 4 flat edges, along with the titanium strip, for example. Those looking for a step forward in design are likely to raise an eyebrow at Apple incorporating iPhone 4 aesthetics into the iPhone 14 design.
Likewise, other renders and product leaks have suggested it doesn't look much different from the iPhone 13. Aside from the A16 chip and 48 MP sensor the Max versions of the 14 are likely to get, there doesn't appear to be a huge difference between the 13 and 14, looks wise at least.
But why is purchase intention among existing iPhone customers seemingly lower than last year, for the iPhone 13? It could be down to factors aside from hardware rumors…
Consider the iPhone 13 launch. Setbacks caused by COVID hit the handset's release, including logistics issues and supply chain problems. This meant that demand for the handset was incredibly high, as Apple produced fewer devices due to those aforementioned issues.
Because consumers struggled to get hold of the iPhone 13 until well into 2022, there will be less appetite for an upgrade so soon down the line. With this in mind, purchase intention for the iPhone 14 has suffered a knock-on effect.
This isn't to say we won't see an uptick in iPhone 14 demand nearer launch, as rumors grow and become more substantial. However, will it be enough to make the iPhone 14 one of Apple's success stories? That remains for us to see.
Would you buy an iPhone 14 (Android users only)?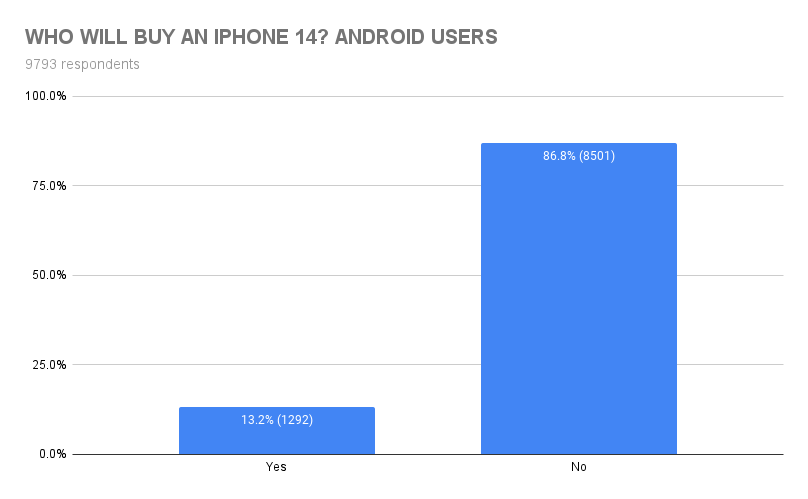 As you can see, 13.2% of existing Android smartphone owners will bite the bullet and invest in an iPhone 14, slightly less than the existing iPhone owners above.
This represents a decline in iPhone purchase intent among Android users, and a decline that has continued for three years now. 2021 purchase intent showed that 18.3% of Android users would jump ship for the iPhone 13. 2020's figure was a whopping 33% for the 12, so you can see that interest is waning a touch. The solid sales figures of the S22 range may have helped boost Samsung loyalty.
Will the iPhone 14 Be a Huge Flop vs. iPhone 13, or a Huge Success?
Apple is likely hoping not, while Samsung is likely counting on it. However, we're still three months away from launch, and anything can happen during that time. That being said, the delays Apple experienced in meeting iPhone 13 demand could well have repercussions when it comes to the iPhone 14 launch, particularly seeing how comparatively low purchase intent currently is.
A lot of people have only recently secured a 13-series handset, so their contracts won't be due for renewal until long after the iPhone 14 launch, which will certainly affect purchase intention at this stage. Whether this is a successful launch for Apple remains for us to see. Hopefully, the Apple hype machine is geared-up to bring it home for the brand come iPhone 14 launch.
Methodology
SellCell surveyed 19586 US adult smartphone owners (9793 iPhone owners and 9793 Android owners) to ascertain iPhone 14 purchase intention among those groups. SellCell took or held no personal details from respondents during the survey.