Resale Value drops 12% in one week post iOS 16 Reveal...
Apple's WWDC 2022 has breezed by, and with it came a wealth of software and hardware additions to the brand's ever-growing ecosystem. One such newcomer is iOS 16, which Apple has penciled in for a fall release. It brings with it a host of fresh features and upgrades to existing apps like Maps, Messages, and Wallet.
However, for all the rejoicing post-announcements, this leaves a lot of existing Apple customers in the lurch. The arrival of iOS 16 also heralds the demise of certain iPhone models; namely the iPhone SE first generation, the iPhone 6S and 7-series handsets.
This is all down to the fact that these models won't support iOS 16. Therefore, they won't benefit from the security patches and feature updates that newer models will continue to enjoy. The upshot of this is that anyone using one of the affected handsets will be vulnerable to attack, with personal data very much under threat.
SellCell, the US' No.1 smartphone price comparison site, has looked into value depreciation data for some of the iPhone 6S, and 7-series models—all of which won't receive the iOS 16 update—in "good" condition, to ascertain how badly this news has affected the value of said handsets.
SellCell is perfectly positioned to analyze the data—it has access to value data from over 40 trusted buyback vendors, meaning it can track and access current phone values by the second. It can then present these results alongside past trends to illustrate smartphone value in real time.
Key Findings
iPhone 6S Plus (128 GB) drops from $94.00 to $83.00 since June 6th; a value depreciation of 11.7% in just a week.
iPhone 7 Plus (256 GB) has seen a drop of 10.1% of its value since iOS 16 news broke, falling from $138.00 to $124.00 and losing $14 off its resale value
The iPhone 7 (256 GB) has fared little better, losing 9.8% of its value; it fell from $82.00 to $74.00.
If you own an iPhone 6S (128 GB), then your phone value has depreciated by 7.9%, dropping from $38.00 to $35.00.
Later iPhone models remain seemingly unaffected, as they will receive the iOS 16 update.
Summary

SellCell has analyzed depreciation data across over 40 trusted buyback vendors, and as you can see from the table above, values have dropped significantly since Apple announced the fall launch of iOS 16, and the subsequent unsupported handsets came to light.
This decision shouldn't come as a surprise, though. With each update, Apple will phase out older handsets. This is an example of planned obsolescence—when a device becomes unusable when it is still in perfectly good working order, because of something like lack of software support, as here—a practice that is rife across the tech industry.
The iPhone 6S Plus has been available since 2015, and its value had already dropped to just under 10% of its MSRP; on June 6th, the handset was worth $94.00, vs. its initial MSRP at launch of $949.00. To lose a further 11.7% of what value remains, in less than a week, is worrying. Especially knowing that the trend will continue even further. The 6S has seen a loss proportionate to 7.9% of its value on June 6th.
At this rate, it will leave iPhone 6S Plus owners with a worthless handset way before the arrival of iOS 16. If you currently own an iPhone, SellCell's advice is to trade your iPhone now to avoid falling foul of any further value depreciation. Given that Apple will no longer support your handset come fall, you should think about upgrading now; you can save money by trading your old handset in, and then using the cash to offset the cost of your new phone. You can save even more if you buy a refurbished iPhone.
The comparatively more recent iPhone 7-series hasn't fared well from the iOS 16 announcement, either. The 256 GB iPhone 7 Plus has lost 10.1% of its value between June 6th-12th, with the standard iPhone 7 (256 GB) losing 9.8% of its value.
What Does This Data Tell Us?
The data is quite revealing, and in several ways. First, it tells us that as soon as planned obsolescence is on the horizon, demand for those devices drops, which results in significantly lower values, and values that will continue to fall until you're left with a useless, worthless collection of glass and electronic parts. The best you can do at that point is recycle the handset and ensure it doesn't go to landfill. This leaves you out of pocket, though.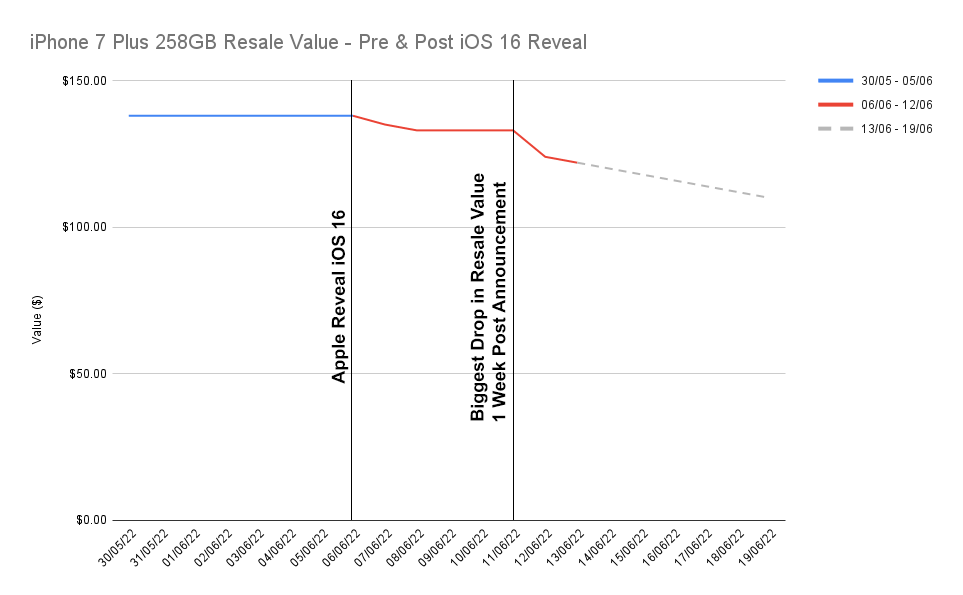 What it also tells us is, to avoid the above, owners of the models listed as unsupported by iOS 16 should consider trading in their handsets sooner rather than later. Take the depreciation for the iPhone 7 Plus (256 GB). This handset in "good" condition would fetch you $138.00 if you decided to sell your iPhone between the 30th of May and the 6th of June. Now, you're looking at a resale value of $124.00—a figure that will continue to fall as iOS 16 approaches.
It also hints at what is coming for the iPhone 8-series of handsets. As soon as Apple announces its next iOS iteration, and the devices receiving the chop then, you can bet your bottom dollar that the 8-series, and potentially even the X-series, will be listed as unsupported devices.
If you look at the current value of the iPhone 8-series, it is a healthy $152-$217. The value of the iPhone X-series ranges from $217-$329. So, if you want to make the most money for your handset, the advice is to think about selling your iPhone sooner rather than later. Many buyback vendors will let you lock your price in, giving you a cooling-off period in case you change your mind about trading in.
Goodbye Faithful iPhones
If you own an iPhone on this list, then you're probably a little shocked to see its value decline so rapidly in such a short space of time. The trend will continue downwards, so the time is now to trade your iPhone in and grab some of the cash value it still holds. You can use this to offset against the cost of a refurbished handset, supporting the circular smartphone economy as you do.
If you own an iPhone 8 or X-series, then it might also be worth your while considering a trade-in before your phone's value is stunted by future Apple announcements…
Methodology
SellCell used iPhone value data from 40+ trusted buyback vendors on its website, in order to calculate the depreciation of the handsets since launch until June 6th, and further depreciation from June 6th to June 12th, to illustrate how the iOS 16 announcement had affected the value of iPhones that the new software won't support.