Read on to find out how many people recycle, globally, which countries are the best and worst at recycling, and how much waste we produce across the world, yearly.
This article will give you statistics relating to how many people recycle, and what countries those people come from.

It will inform you regarding how much general waste, and how much electronic waste, each country produces.

The article will also show which countries are the major culprits for creating waste and the recycling of waste.
In this article, you can find out exactly how many people recycle. Waste is a massive problem, irrespective of whether it is e-waste, food waste, or general waste. Some countries do a great job of promoting and actioning recycling. Other countries fall way behind on the recycling initiative.
SellCell Soundbites:
The US is the worst culprit for the amount of waste it produces compared to its share of the global population. It creates almost three times the amount of waste compared to its global population share.
China is the leading nation when it comes to the production of electronic waste, or e-waste, creating a staggering 10 million metric tonnes of waste a year.
Younger people recycle the most. 92% of 18 to 34-year-olds recycle, compared to only 68% of those aged 65 and over.
What Is Recycling?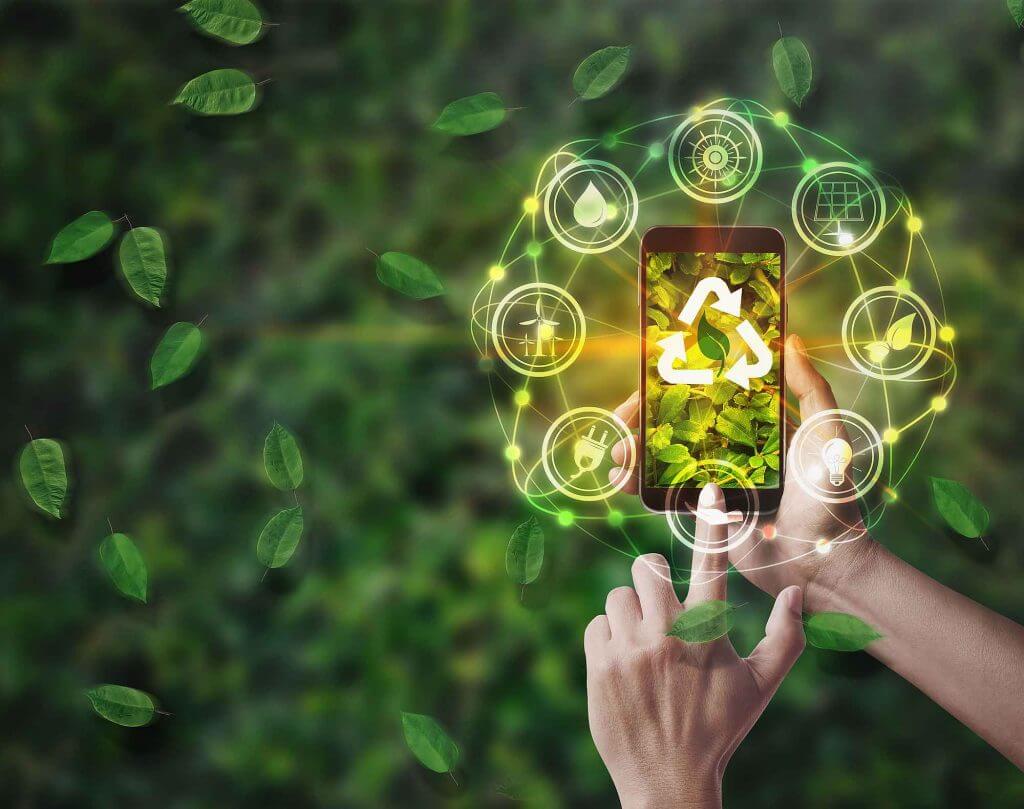 Before we discuss how many people recycle, we need to define recycling. Recycling is an essential process that involves collecting used materials such as paper, plastic, glass, and electronic waste to create new products. It is not merely an option, but a crucial responsibility we all must uphold. Instead of thoughtlessly discarding these materials, we must actively take part in recycling initiatives to promote sustainability and safeguard our environment.
Separating recyclable items properly is of utmost importance. By diligently placing items in designated bins, like bottles in one and electronics in another, we ensure the appropriate handling of these materials. Electronic waste, in particular, demands careful recycling because of its potential environmental hazards and the valuable resources it contains.
Let us remember that recycling is not just a feel-good gesture; it's a collective effort with significant impact. By recycling electronic waste and other materials, we conserve precious resources, reduce pollution, and play our part in creating a cleaner, greener future for generations to come. The welfare of our planet depends on it.
What Can You Recycle?
Recycling is a critical aspect of environmental responsibility, and there are various materials that we can recycle. General waste items like paper, plastic, glass, and metal can all undergo recycling to reduce the strain on natural resources. We can convert paper into new paper products, we can repurpose plastics into different items, we can melt glass down for reuse, and we can recycle metals for various applications.
Additionally, electronic waste, or e-waste, is a significant concern because of the proliferation of discarded electronic devices. E-waste encompasses computers, smartphones, and appliances that contain valuable and hazardous materials. Recycling e-waste is imperative as it allows for the retrieval of valuable metals and reduces the potential environmental harm from toxic components in landfills.
How Do You Recycle Electronic Devices?
Trading in a smartphone or other electronic device is a beneficial practice for the environment because of its positive impact on electronic waste reduction. By using platforms like SellCell.com, individuals can sell their used devices, ensuring they are properly recycled or refurbished instead of ending up in landfills. This makes recycling a cellphone or other device easy.
SellCell.com connects sellers with reputable buyers, promoting the reuse of electronics and decreasing the need for new device manufacturing, which consumes valuable resources and generates significant environmental emissions. This sustainable approach not only helps conserve natural materials but also minimizes the potential environmental hazards associated with improper disposal, making it an eco-friendly choice for tech-savvy consumers.
Recycling: What Can and Can't You Recycle?
Below is a table illustrating what you can and cannot recycle based on commonly recycled materials.
| | | |
| --- | --- | --- |
| Type of Waste | Can Be Recycled | Cannot Be Recycled |
| Paper | Newspapers, Magazines, White paper, Telephone directories, leaflets, flyers, envelopes, shredded paper. | Sanitary products containing paper, used paper towels, cotton wool, wet wipes, sticky paper like Post-Its, foil gift wrap, foil food wrappers, wallpaper, brown paper (recycled with card). |
| Card | Cardboard boxes, corrugated card, delivery boxes, greetings cards (without added plastics like glitter), egg boxes, brown paper. | Glitter covered greetings cards, food/drink cartons. |
| Metal Packing | Drinks cans, food tins, biscuit tins and lids, aerosols, aluminium foil including trays, aluminium tubes. | Laminated foil (like cat food pouches), foil food packets, metal lids (recycle with glass), metal chemical containers, metal kitchen ware, metal items mixed with plastics. |
| Glass | Any color bottles, jars, non-food bottles (perfume etc). | Glass cookware, drinking glasses, vases, ceramics, nail varnish bottles, microwave plates, mirrors, light bulbs, window glass. |
| Plastic Bottles | Detergent and soap bottles (pumps removed), cleaning product bottles (leave pumps on), skincare product bottles, shampoo bottles, drinks bottles, water bottles, milk bottles. | Chemical bottles, black plastic bottles, anything plastic like a pot, tub, tray, or tube. |
| Mixed Plastics | Pots, tubs, trays, tubes, clear plastic packaging, non-black plant pots, anything else in the "plastic bottles" section above. | Black plastic (sorting equipment can't detect black plastics), crisp/sweet wrappers, film lids, laminated pouches, plastic toys, medicine packaging, toothpaste tubes, polystyrene, chemical bottles, bubble wrap. |
| Garden Waste | Grass, leaves, weeds, flowers/plants, hedge clippings and prunings, branches, twigs. | Animal waste, fire cinders, plastic garden waste, treated wood. |
Source 1
Recycling: Do NOT Recycle These Items
There are a number of items that you simply can't recycle, and the reasons are varied but obvious when you consider the item itself. You can't recycle the following. Instead, it should go into your household waste for collection by the local refuse/sanitation department 1.
Laminated food pouches (cat food, baby food, coffee)
Drinks glasses (even if they are broken).
Dirty/stained/greasy paper, including white paper and wrappers.
Glass kitchenware such as Pyrex dishes.
Greetings cards covered with glitter.
Adhesive paper like Post-It notes.
Nail varnish/lacquer bottles.
Window/mirror glass
Crisp packets
Serious contaminants like nappies, medical waste, hazardous waste, pet litter, animal bedding from meat-eating animals (you can put rabbit straw in garden waste, but not wooden cat litter pellets, for example).
Can You Recycle These Items?
There are a lot of items you can recycle that don't fall into the above categories, but you can actually still recycle them! Check the details below for information on how to recycle 1.
Batteries
You can recycle all household batteries. This includes the small button-style batteries you find in remote controls, watches, and digital kitchen scales. You can do this in most stores that sell batteries, as they must supply battery recycling services by law.
Laptop and mobile phone batteries.
Car batteries (at specific recycling points).
Building Materials
Recycle bricks and rubble either at home (you can use them to build something else), at local recycling centers, or you could even sell them on an online marketplace. Rubble is great for part-filling plant pots for drainage.
Take plasterboard to your local recycling center.
You can repurpose wood easily, or use it for your firepit!
Hazardous waste
You can take some hazardous waste to local recycling centers, but check with the center first before you cart it off to them, in case it is something they don't accept.
Computers/Games Consoles
Some local recycling centers take computers and games consoles to strip down and recycle the parts.
You can donate a computer or games console to a charity, even if it doesn't work, and they can make money selling it to a buyer who will recycle it.
You can trade your computer in with a site like sellcell.com, and the great thing here is you'll make some cash. Even if it doesn't work!
Printer Cartridges
You can recycle printer cartridges at many local recycling centers.
You can also send your cartridges off to companies who specialise in refilling and recycling them.
Mobile Phones/Smartphones
If you have an unwanted mobile or smartphone, you can give it to a charity shop who will profit from selling it on.
You can trade in your old mobile or smartphone with a site like sellcell.com. Much like with computers, you will also get some cash in the bank if you recycle this way.
NEVER put your old mobile phone in the bin or leave it in a drawer.
What About Landfill?
Landfill is a major issue across the globe and is the exact opposite of recycling. We should aim to send as little to landfill as possible, as it is incredibly harmful to the environment. Here are some statistics relating to landfill and the growing problem it poses 2.
We send around 2.12 billion tons of waste to landfill every year.
On average, one landfill occupies 660 acres of land. However, some landfill sites take over 2,000 acres of land.
The largest landfill in the world is the Apex Regional Landfill, in Las Vegas. It takes up 2,200 acres of space. For context, one football pitch takes up 1.32 acres of space, so you could fit about 1666 football pitches into this space.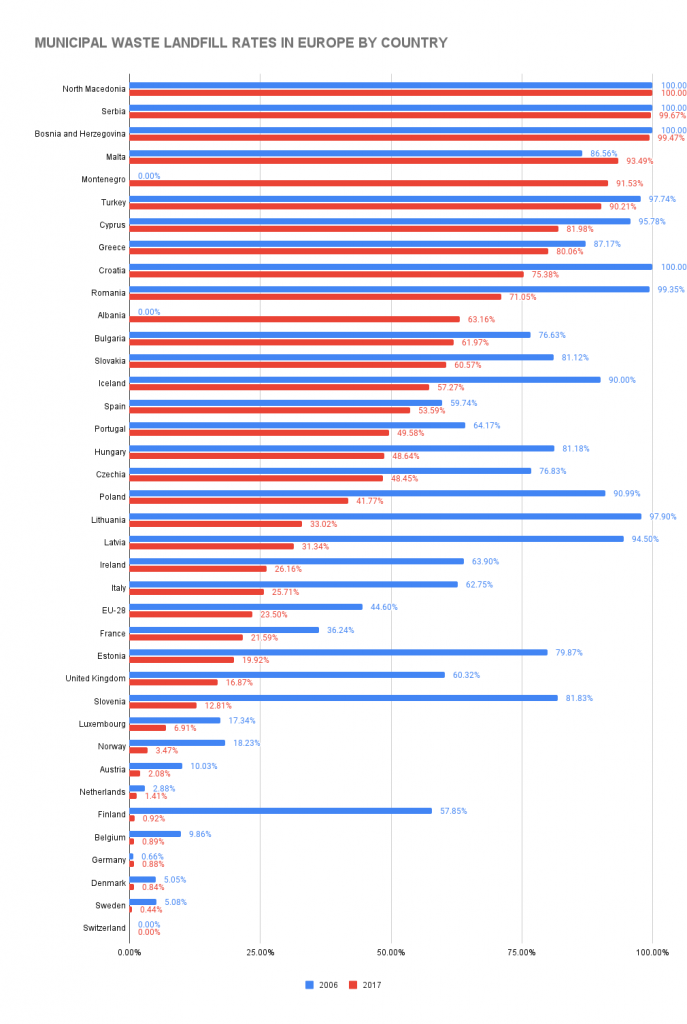 MUNICIPAL WASTE LANDFILL RATES IN EUROPE BY COUNTRY
2006
2017
North Macedonia
100.00%
100.00%
Serbia
100.00%
99.67%
Bosnia and Herzegovina
100.00%
99.47%
Malta
86.56%
93.49%
Montenegro
0.00%
91.53%
Turkey
97.74%
90.21%
Cyprus
95.78%
81.98%
Greece
87.17%
80.06%
Croatia
100.00%
75.38%
Romania
99.35%
71.05%
Albania
0.00%
63.16%
Bulgaria
76.63%
61.97%
Slovakia
81.12%
60.57%
Iceland
90.00%
57.27%
Spain
59.74%
53.59%
Portugal
64.17%
49.58%
Hungary
81.18%
48.64%
Czechia
76.83%
48.45%
Poland
90.99%
41.77%
Lithuania
97.90%
33.02%
Latvia
94.50%
31.34%
Ireland
63.90%
26.16%
Italy
62.75%
25.71%
EU-28
44.60%
23.50%
France
36.24%
21.59%
Estonia
79.87%
19.92%
United Kingdom
60.32%
16.87%
Slovenia
81.83%
12.81%
Luxembourg
17.34%
6.91%
Norway
18.23%
3.47%
Austria
10.03%
2.08%
Netherlands
2.88%
1.41%
Finland
57.85%
0.92%
Belgium
9.86%
0.89%
Germany
0.66%
0.88%
Denmark
5.05%
0.84%
Sweden
5.08%
0.44%
Switzerland
0.00%
0.00%
According to European landfill rates up to 2017, North Macedonia sends 100% of its waste to landfill. This means it doesn't recycle any of its waste. At least not according to official reports.
Serbia is almost as bad, as is Bosnia and Herzegovina, which both send 99.67% and 99.47% of their waste, respectively.
Switzerland, on the other hand, produces no landfill waste. Sweden has reduced its landfill waste from 5.08% to 0.44%. Finland has managed an impressive reduction from 57.85% to 0.92% of waste going to landfill.
How Many People Recycle in the World?
First, we will look at global waste and recycling data. Then we will break it down by country, and other criteria.
Global Municipal Waste and Recycling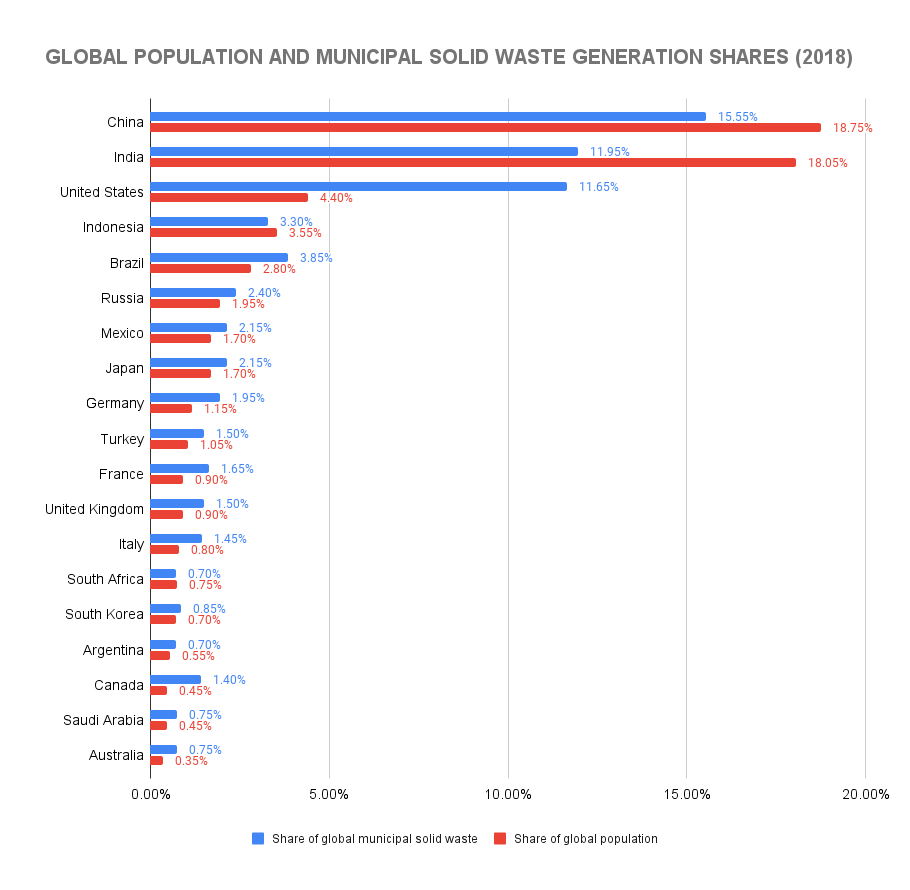 GLOBAL POPULATION AND MUNICIPAL SOLID WASTE GENERATION SHARES (2018)
Share of global municipal solid waste
Share of global population
China
15.55%
18.75%
India
11.95%
18.05%
United States
11.65%
4.40%
Indonesia
3.30%
3.55%
Brazil
3.85%
2.80%
Russia
2.40%
1.95%
Mexico
2.15%
1.70%
Japan
2.15%
1.70%
Germany
1.95%
1.15%
Turkey
1.50%
1.05%
France
1.65%
0.90%
United Kingdom
1.50%
0.90%
Italy
1.45%
0.80%
South Africa
0.70%
0.75%
South Korea
0.85%
0.70%
Argentina
0.70%
0.55%
Canada
1.40%
0.45%
Saudi Arabia
0.75%
0.45%
Australia
0.75%
0.35%
The data above shows that China produces the largest share of municipal waste on the planet, claiming 15.55%. China accounts for 18.75% of the global population.
By contrast, despite only accounting for 4.40% of the global population, the United States accounts for 11.65% of the world's municipal waste, making it by far the worst culprit in terms of waste production per capita.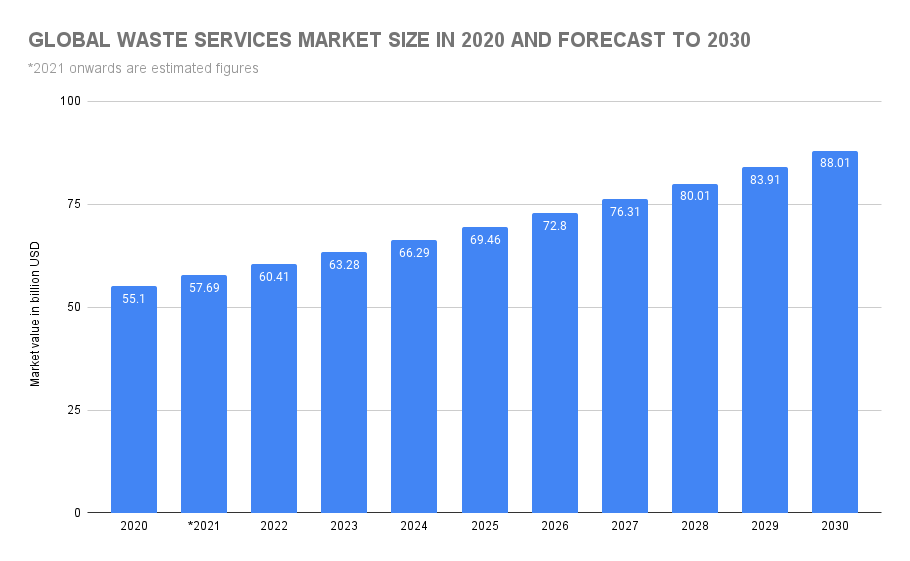 GLOBAL WASTE SERVICES MARKET SIZE IN 2020 AND FORECAST TO 2030
Market value in billion USD
2020
55.1
*2021
57.69
2022
60.41
2023
63.28
2024
66.29
2025
69.46
2026
72.8
2027
76.31
2028
80.01
2029
83.91
2030
88.01
*2021 onwards are estimated figures
In 2021, the global waste services market was worth a reported $57.69 billion.
If we continue to produce waste at the same rate as we do currently, the global waste services market will be worth an estimated $88.01 billion by 2030.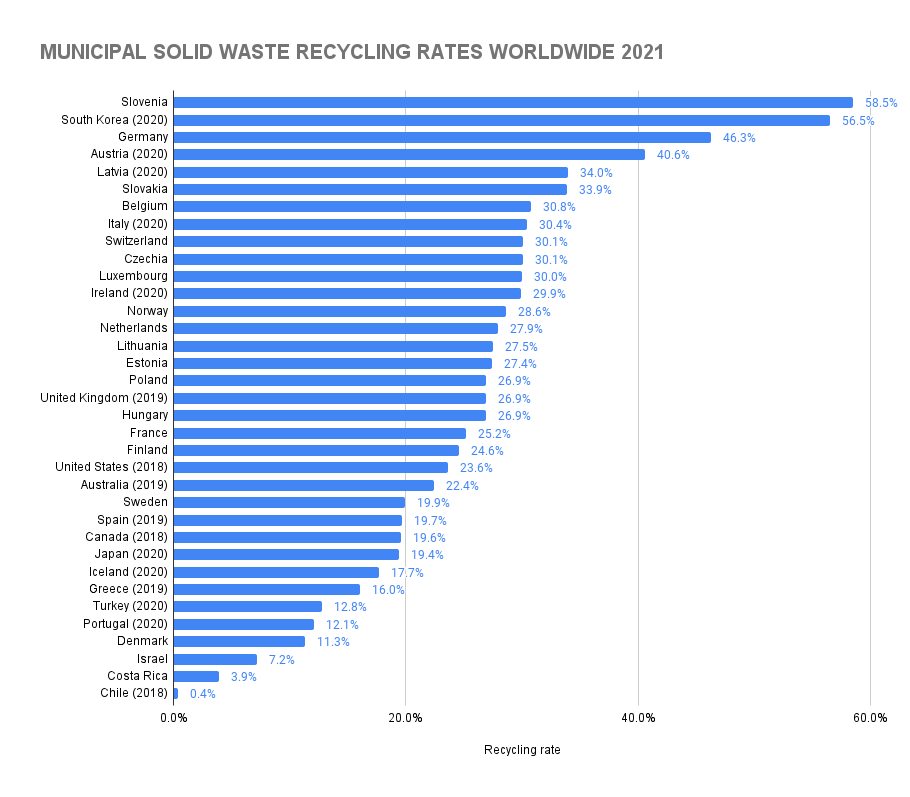 MUNICIPAL SOLID WASTE RECYCLING RATES WORLDWIDE 2021
Recycling rate
Slovenia
58.5%
South Korea (2020)
56.5%
Germany
46.3%
Austria (2020)
40.6%
Latvia (2020)
34.0%
Slovakia
33.9%
Belgium
30.8%
Italy (2020)
30.4%
Switzerland
30.1%
Czechia
30.1%
Luxembourg
30.0%
Ireland (2020)
29.9%
Norway
28.6%
Netherlands
27.9%
Lithuania
27.5%
Estonia
27.4%
Poland
26.9%
United Kingdom (2019)
26.9%
Hungary
26.9%
France
25.2%
Finland
24.6%
United States (2018)
23.6%
Australia (2019)
22.4%
Sweden
19.9%
Spain (2019)
19.7%
Canada (2018)
19.6%
Japan (2020)
19.4%
Iceland (2020)
17.7%
Greece (2019)
16.0%
Turkey (2020)
12.8%
Portugal (2020)
12.1%
Denmark
11.3%
Israel
7.2%
Costa Rica
3.9%
Chile (2018)
0.4%
In terms of recycling municipal waste, according to 2021's figures, Slovenia leads the charge in terms of recycling rates. It recycles 58.5% of its municipal waste.
South Korea comes a close second, recycling 56.5% of the municipal waste its population generates.
The UK only manages to recycle 26.9% of its municipal waste, meaning 73.1% of the waste goes to landfill.
The US recycles 23.6% of its municipal waste. The rest ends up on landfill, which is probably why it has landfills exceeding 2000 acres in size.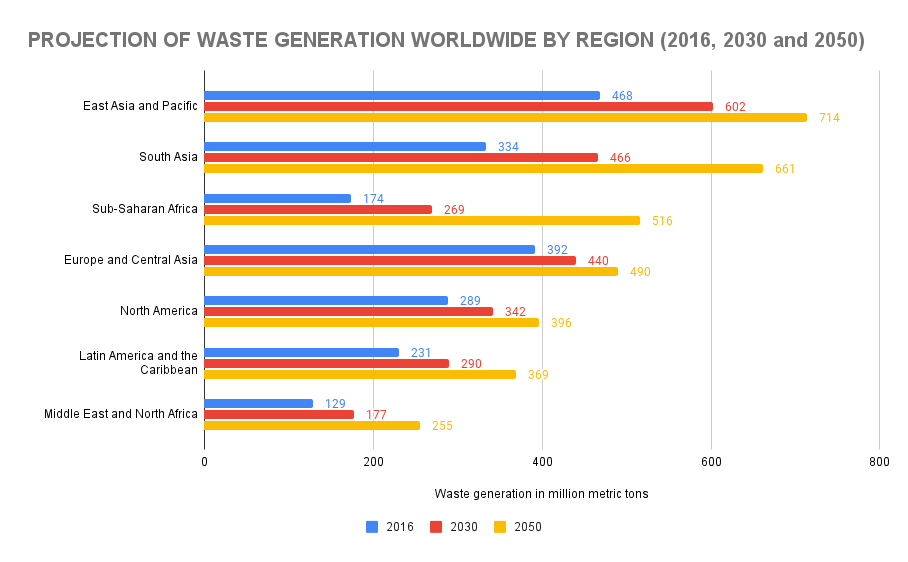 PROJECTION OF WASTE GENERATION WORLDWIDE BY REGION (2016, 2030 and 2050)
2016
2030
2050
East Asia and Pacific
468
602
714
South Asia
334
466
661
Sub-Saharan Africa
174
269
516
Europe and Central Asia
392
440
490
North America
289
342
396
Latin America and the Caribbean
231
290
369
Middle East and North Africa
129
177
255
*Figures above are million metric tons
In terms of projected waste generation, the East Asia and Pacific region is estimated to produce the most waste in the coming years. In 2016 the figure was 468 million tons of waste produced, with 602 million tons projected for 2030, and 714 million tons for 2050.
Europe and Central Asia, and North America regions both show the slowest growth in terms of volumetric waste production. The 392 million tons of waste Europe and Central Asia produced in 2016 is estimated to increase to 490 million tons by 2050. The 289 million tons produced by North America is estimated to reach 396 million tons by 2050.
US Municipal Waste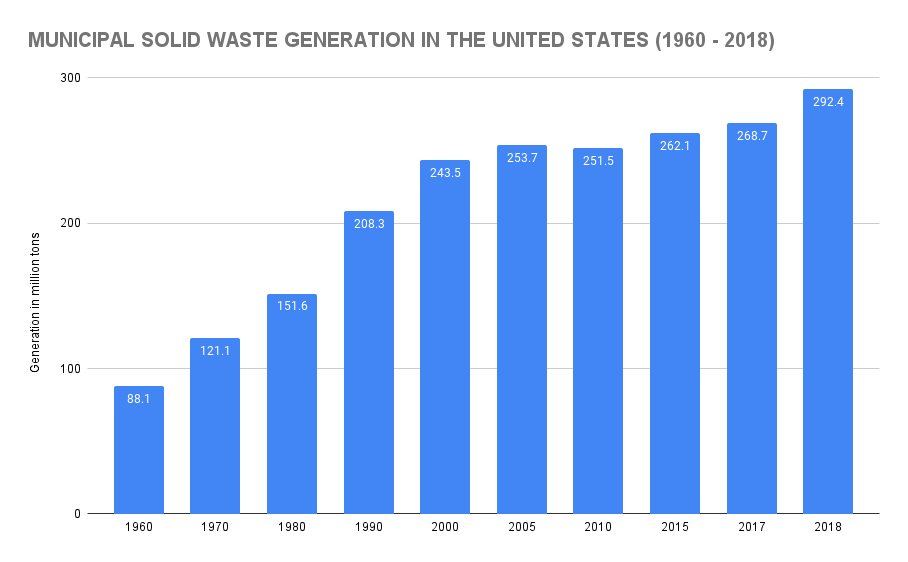 MUNICIPAL SOLID WASTE GENERATION IN THE UNITED STATES (1960 – 2018)
Generation in million tons
1960
88.1
1970
121.1
1980
151.6
1990
208.3
2000
243.5
2005
253.7
2010
251.5
2015
262.1
2017
268.7
2018
292.4
In the 1960s, the USA was producing 88.1 million tons of municipal waste; a figure that had almost doubled to 151.6 million tons by 1980.
Between 2005 and 2010, the amount of municipal waste generated in the US dropped from 253.7 million tons to 251.5 million tons. By 2018, this figure was at 292.4 million tons.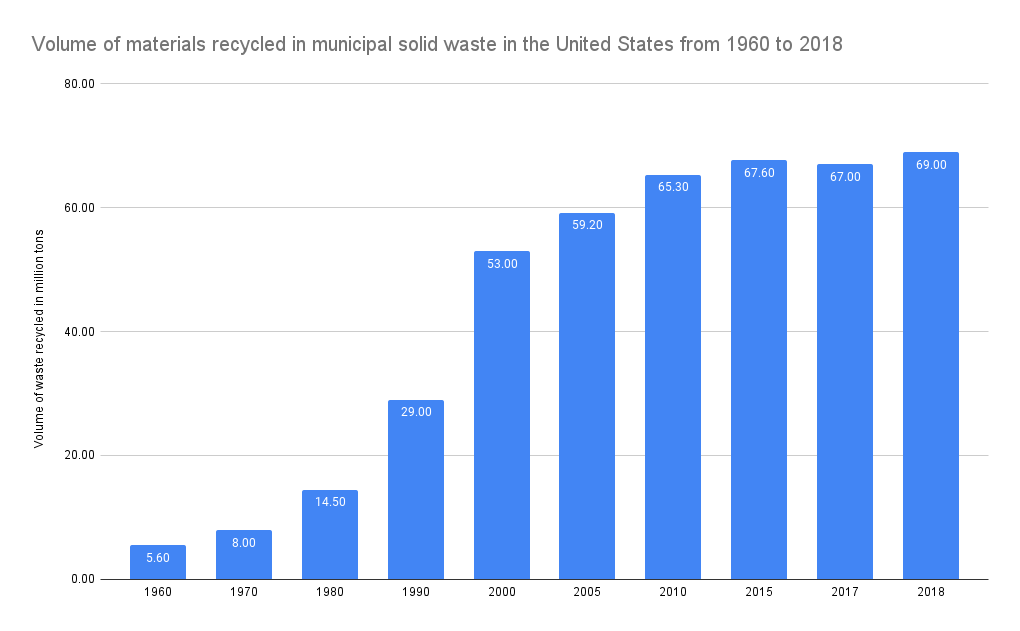 VOLUME OF MATERIALS RECYCLED IN MSW IN THE UNITED STATES FROM 1960 TO 2018
Volume of waste recycled in million tons
1960
5.6
1970
8.0
1980
14.5
1990
29.0
2000
53.0
2005
59.2
2010
65.3
2015
67.6
2017
67.0
2018
69.0
In 1960, the USA recycled 5.6 million tons of its municipally generated waste. By 1980, this figure had almost tripled to 14.5 million tons.
In 2000, the volume of US recycled materials had reached 53.0 million tons. By the time we reach 2018, the US was recycling 69.0 million tons of municipal waste.
UK Municipal Waste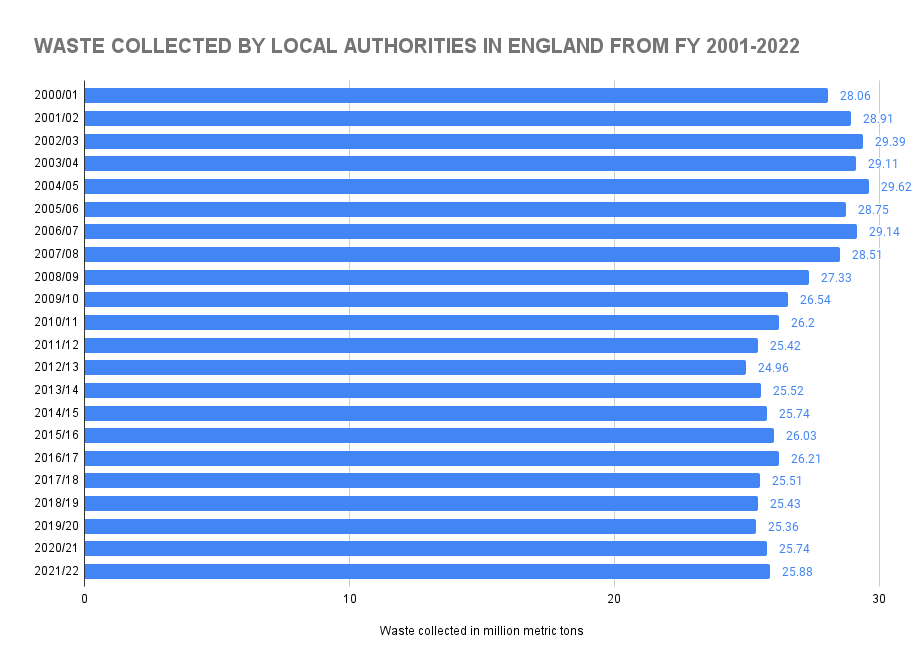 WASTE COLLECTED BY LOCAL AUTHORITIES IN ENGLAND FROM FY 2001-2022
Waste collected in million metric tons
2000/01
28.06
2001/02
28.91
2002/03
29.39
2003/04
29.11
2004/05
29.62
2005/06
28.75
2006/07
29.14
2007/08
28.51
2008/09
27.33
2009/10
26.54
2010/11
26.2
2011/12
25.42
2012/13
24.96
2013/14
25.52
2014/15
25.74
2015/16
26.03
2016/17
26.21
2017/18
25.51
2018/19
25.43
2019/20
25.36
2020/21
25.74
2021/22
25.88
In 2000, UK local authorities collected 28.06 million tons of municipal waste. This figure reached its peak in 2004, when it hit 29.62 million tons.
Since 2004, and up to 2021, the volume of waste collected in the UK has been in steady decline, with the latest figure showing local authorities collected 25.88 million tons in 2021.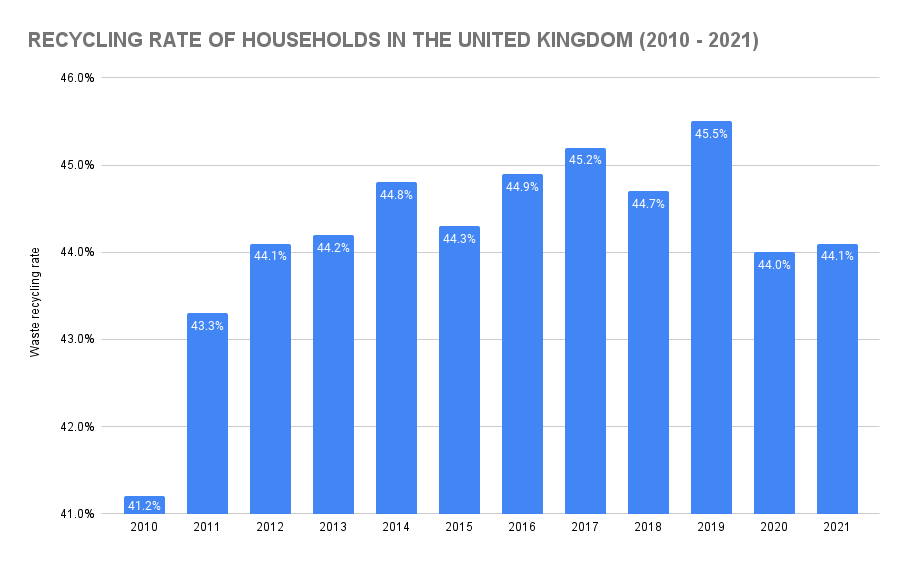 RECYCLING RATE OF HOUSEHOLDS IN THE UNITED KINGDOM (2010 – 2021)
Waste recycling rate
2010
41.2%
2011
43.3%
2012
44.1%
2013
44.2%
2014
44.8%
2015
44.3%
2016
44.9%
2017
45.2%
2018
44.7%
2019
45.5%
2020
44.0%
2021
44.1%
In 2010, 41.2% of UK households were recycling their waste. By 2011, this figure had grown to 43.3% of households.
By 2019, this figure had peaked to 45.5% of households recycling waste. This figure dropped to 44.0% in 2020, which could be down to the effects of COVID on local authority services. By 2021, we see a slight uptick to 44.1% of UK households recycling.
Europe Municipal Waste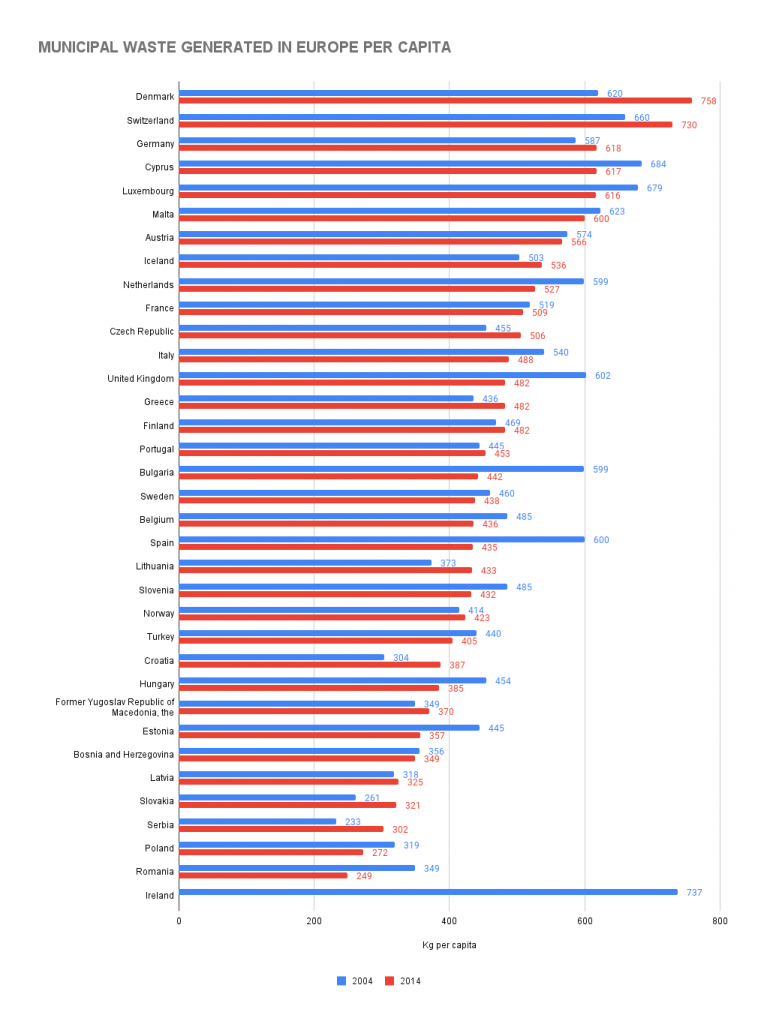 MUNICIPAL WASTE GENERATED IN EUROPE PER CAPITA
Country
2004
2014
Denmark
620
758
Switzerland
660
730
Germany
587
618
Cyprus
684
617
Luxembourg
679
616
Malta
623
600
Austria
574
566
Iceland
503
536
Netherlands
599
527
France
519
509
Czech Republic
455
506
Italy
540
488
United Kingdom
602
482
Greece
436
482
Finland
469
482
Portugal
445
453
Bulgaria
599
442
Sweden
460
438
Belgium
485
436
Spain
600
435
Lithuania
373
433
Slovenia
485
432
Norway
414
423
Turkey
440
405
Croatia
304
387
Hungary
454
385
Former Yugoslav Republic of Macedonia, the
349
370
Estonia
445
357
Bosnia and Herzegovina
356
349
Latvia
318
325
Slovakia
261
321
Serbia
233
302
Poland
319
272
Romania
349
249
Ireland
737
*Figures above are Kg per capita
According to the EEA, Denmark produces the most waste per capita, per year. The figure stands at 758 kg as of 2014.
Switzerland produces 730 kg per capita, but it is worth noting that none of its waste goes to landfill. Instead, it is recycled or burned to produce energy.
The United Kingdom produced 602 kg per capita in 2004 but, by 2014, this had reduced to 482 kg per capita.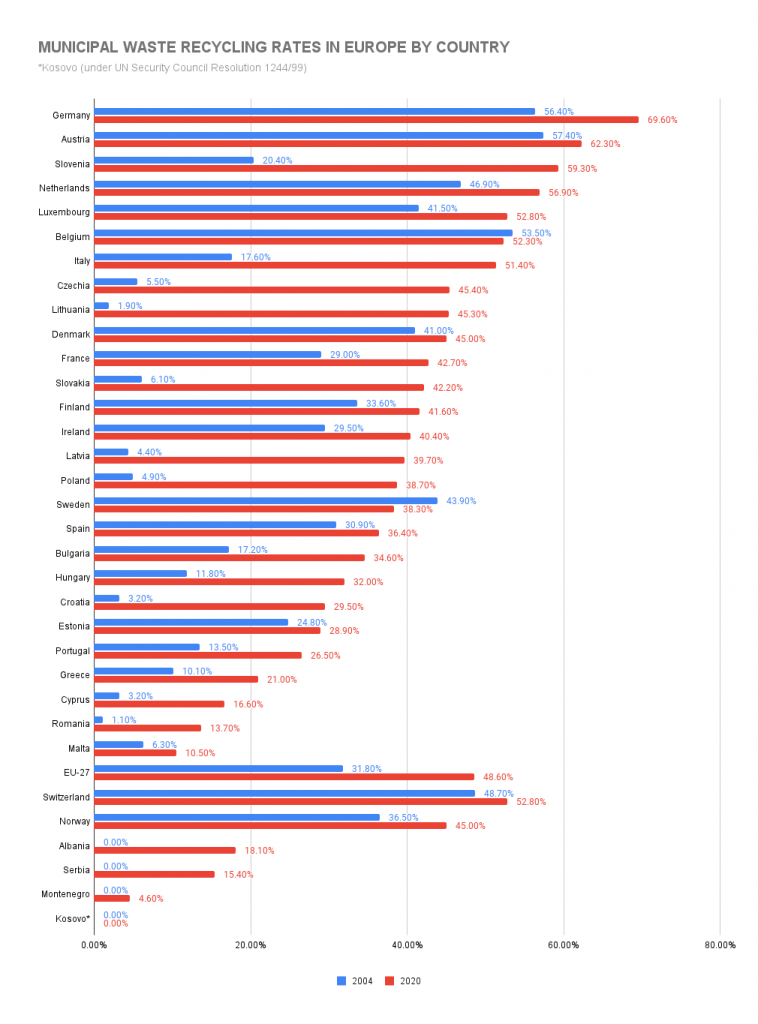 MUNICIPAL WASTE RECYCLING RATES IN EUROPE BY COUNTRY
Countries
2004
2020
Germany
56.40%
69.60%
Austria
57.40%
62.30%
Slovenia
20.40%
59.30%
Netherlands
46.90%
56.90%
Luxembourg
41.50%
52.80%
Belgium
53.50%
52.30%
Italy
17.60%
51.40%
Czechia
5.50%
45.40%
Lithuania
1.90%
45.30%
Denmark
41%
45%
France
29%
42.70%
Slovakia
6.10%
42.20%
Finland
33.60%
41.60%
Ireland
29.50%
40.40%
Latvia
4.40%
39.70%
Poland
4.90%
38.70%
Sweden
43.90%
38.30%
Spain
30.90%
36.40%
Bulgaria
17.20%
34.60%
Hungary
11.80%
32%
Croatia
3.20%
29.50%
Estonia
24.80%
28.90%
Portugal
13.50%
26.50%
Greece
10.10%
21%
Cyprus
3.20%
16.60%
Romania
1.10%
13.70%
Malta
6.30%
10.50%
EU-27
31.80%
48.60%
Switzerland
48.70%
52.80%
Norway
36.50%
45%
Albania
0%
18.10%
Serbia
0%
15.40%
Montenegro
0%
4.60%
Kosovo*
0%
0%
*Kosovo (under UN Security Council Resolution 1244/99)
Germany leads the charge with recycling municipal waste. In 2004 it was recycling 56.40%. By 2020 this figure stood at 69.60%.
Switzerland recycled 48.70% in 2004, and 52.80% in 2020. The remaining waste is burned to produce energy, rather than sent to landfill. Switzerland has zero landfill.
Recycling by Age Group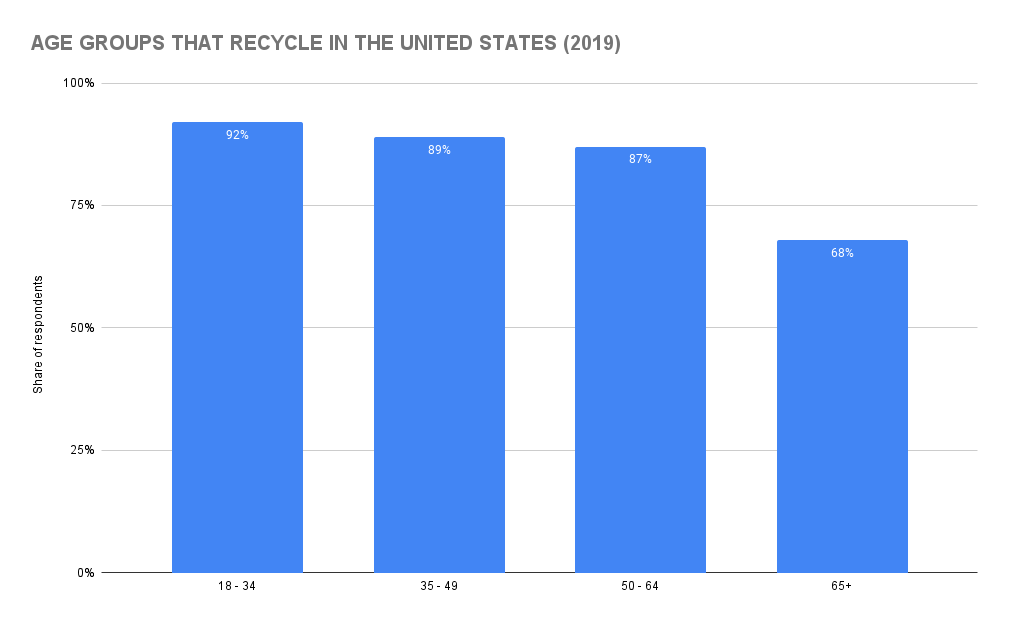 AGE GROUPS THAT RECYCLE IN THE UNITED STATES (2019)
Share of respondents
18 – 34
92%
35 – 49
89%
50 – 64
87%
65+
68%
The age group that recycles most in the US is 18-34, of which 92% recycle their waste. 89% of 35 to 49-year-olds recycle, while 87% of 50 to 64-year-olds partake in the practice. Only 68% of those aged 65 or over recycle.
Global E-Waste
Electronic waste, or e-waste, is a major issue. As we rely more on technology, the waste generated in its production and disposal is growing beyond control.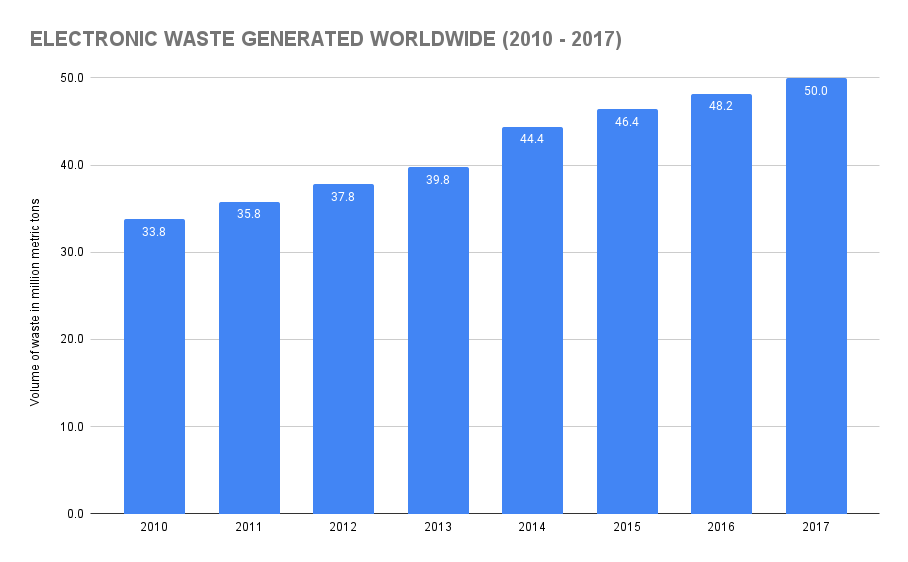 ELECTRONIC WASTE GENERATED WORLDWIDE (2010 – 2019)
Volume of waste in million metric tons
2010
33.8
2011
35.8
2012
37.8
2013
39.8
2014
44.4
2015
46.4
2016
48.2
2017
50.0
2018
51.8
2019
53.6
As the above chart demonstrates, e-waste is a growing concern. In 2010, global production of e-waste stood at 33.8 million tons. By 2017 this figure had reached 50.0 million tons of e-waste.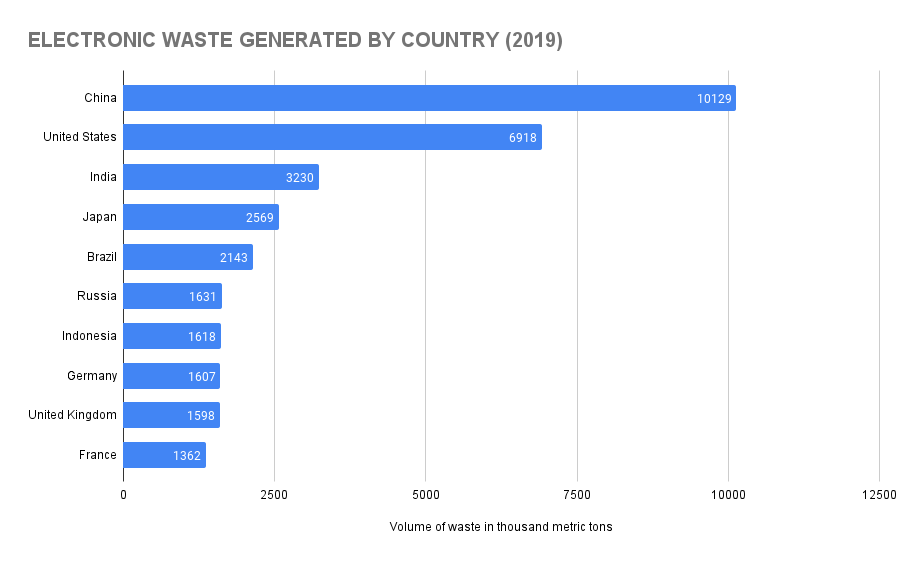 ELECTRONIC WASTE GENERATED BY COUNTRY (2019)
Volume of waste in thousand metric tons
China
10129
United States
6918
India
3230
Japan
2569
Brazil
2143
Russia
1631
Indonesia
1618
Germany
1607
United Kingdom
1598
France
1362
Breaking the figures down by country, it is no surprise that China produces most of the world's e-waste. As the largest electronics manufacturing country, it generated 10.1 million tons of e-waste in 2019.
The USA is the second worst in the world for e-waste, producing 6.9 million tons of e-waste. For more information relating to US e-waste, check out SellCell's report on which Americans are best at recycling their e-waste.
The United Kingdom produced 1.6 billion tons of electronic waste in 2019.

The above table shows the scale of our e-waste problem. Of the 50 million tons of e-waste produced in 2019, 38% was small equipment, 20% was large equipment, 17% was temperature exchange equipment (refrigerators, heaters, etc), 15% was screens, 9% was small IT equipment, and 1% was lamps.
Of the 50 million tons, 80% was not collected for recycling, leaving only 20% that was documented, collected, and recycled.
Of the 80% that wasn't recycled, 76% of e-waste is not documented. So it was either dumped, traded, or recycled under inferior conditions. One positive factor there is that at least some of that undocumented e-waste was traded in. 4% was thrown into household waste. This illustrates the importance of recycling your old tech.

The above table shows the scale of the problem in the United States. In 2016, it produced 6618 kilotons of e-waste, and only 16% (1070 kilotons) of that waste was collected. It put 7536 kilotons of electronics on the market in that same year.
By 2019, the US was producing 6918 kilotons of waste, and only 15% (1020 kilotons) of it was collected, despite 8354 kilotons of electronic going to market.
Recycling: More Important Now Than Ever
As this report illustrates, recycling is of utmost importance if we are to reverse the damage we are doing to our planet. Time is undeniably running out, as the waste we produce threatens to destroy the earth. By taking a leaf out of Switzerland's book, the rest of the world could work together to reduce the impact our waste has on this world.
Sources