The 50th Anniversary of the First Mobile Phone Call is in April 2023. Our report will document the story behind the first portable cell phone call, who made it and what happened on that monumental day. We will also document the history of the mobile phone over the past few decades.
This article will reveal:
SellCell Key Findings:
The first call made on a mobile phone was on April 3rd, 1973, by Martin Cooper
The first portable phone that made a call was a Motorola DynaTAC
The first cell phone was made by Motorola and launched on the market in 1983
In 2022 over 1749.7 million phones were sold in the world
When was the first mobile phone call made?
Fifty years ago, on April 3rd, 1973, Motorola engineer Martin Cooper made history by placing the first-ever mobile phone call. Little did he know that his revolutionary invention would eventually become one of the most important and ubiquitous pieces of technology in the world today.
When is the 50th anniversary of the first mobile phone call?
The 50th anniversary of the first cell phone call is April 3rd, 2023. This revolutionary moment marked a new era for technological advancement and sparked an industry that continues to grow rapidly today.
Who made the first mobile phone call?
The first man to make a mobile phone call was Martin Cooper, who, at the time, was an engineer working for Motorola He was born in Chicago, Illinois in 1928, and went on to work for various tech companies.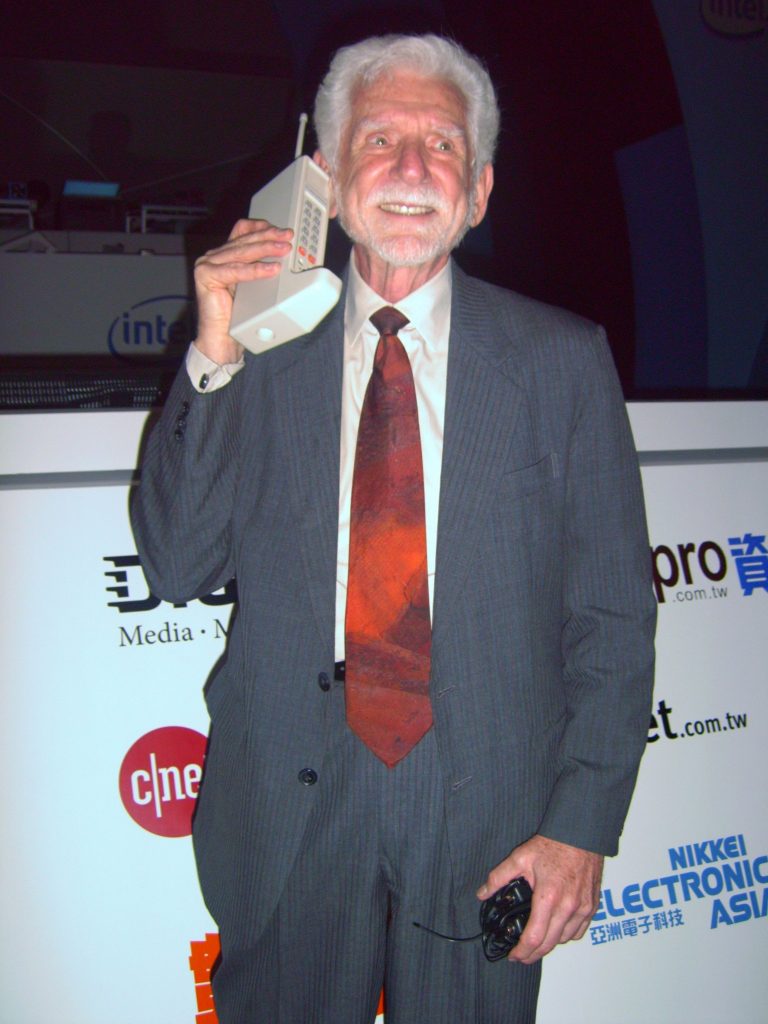 On April 3rd, 1973, Cooper made history by placing the world's first-ever cell phone call. He is widely regarded as the father of the modern mobile phone.
Cooper called Joel S. Engel, a rival working for Bell Labs. The call was to brag about the success of creating a handheld mobile phone, especially since Bell Labs had been dreaming of creating such technology since the '40s.
"Joel, I'm calling you from a cellular phone, a real cellular phone, a handheld, portable, real cellular phone," Cooper said, gloating, as per one of Cooper's interviews with CNN.
His invention was revolutionary at the time, and it sparked off an entire industry that has since grown exponentially in size and scope. The handheld mobile phone was similar to a brick in shape and weight, so it took another decade before the first commercial portable cell phone was released for close to $4,000.
Cooper's vision for wireless communication changed the world forever and his legacy lives on today through all of the incredible mobile devices that are available to us. He continues to be an inspiration to inventors, engineers, entrepreneurs and innovators around the globe who strive to create innovative products that improve our lives.
What mobile phone made the first call?
So what did Cooper use to make his historic phone call? That would be the Motorola DynaTAC. This device weighed in at a whopping 2.5 lbs and had a talk time of 35 minutes. It featured an alphanumeric LED display and a "transmit" button that allowed users to place calls. Ten years later, in 1983, the DynaTAC 8000X was released for close to $4,000.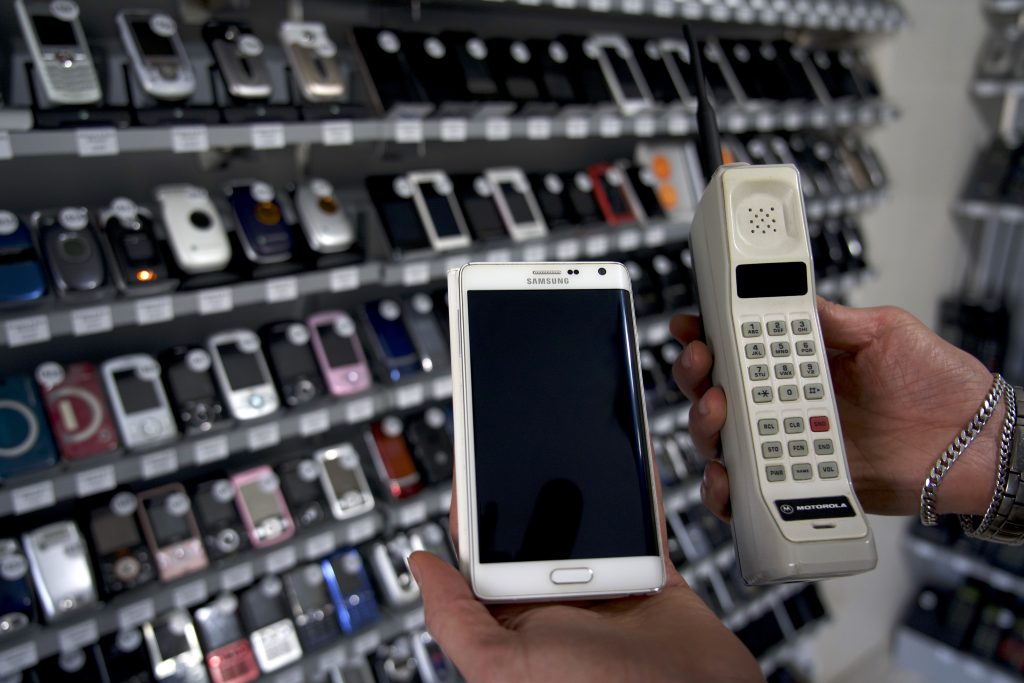 What is being planned to mark the 50th anniversary of the first cell phone call?
The 50th anniversary of the first portable cell phone call will be celebrated with a number of exciting events and activities.
The Tesla Science Center was supposed to hold a Big Gala Event on the anniversary, but it got postponed for various reasons. Instead, Marty Cooper, along with his family and close friends, will be throwing a celebration in New York that can be attended by anyone anywhere. Those who want to join in can take part virtually by going through the Wireless Communications Alliance website.
The Wireless Innovation Forum will also hold a Tech Talk featuring Cooper, so you may want to attend that too.
How has the mobile phone changed our lives in the past 50 years?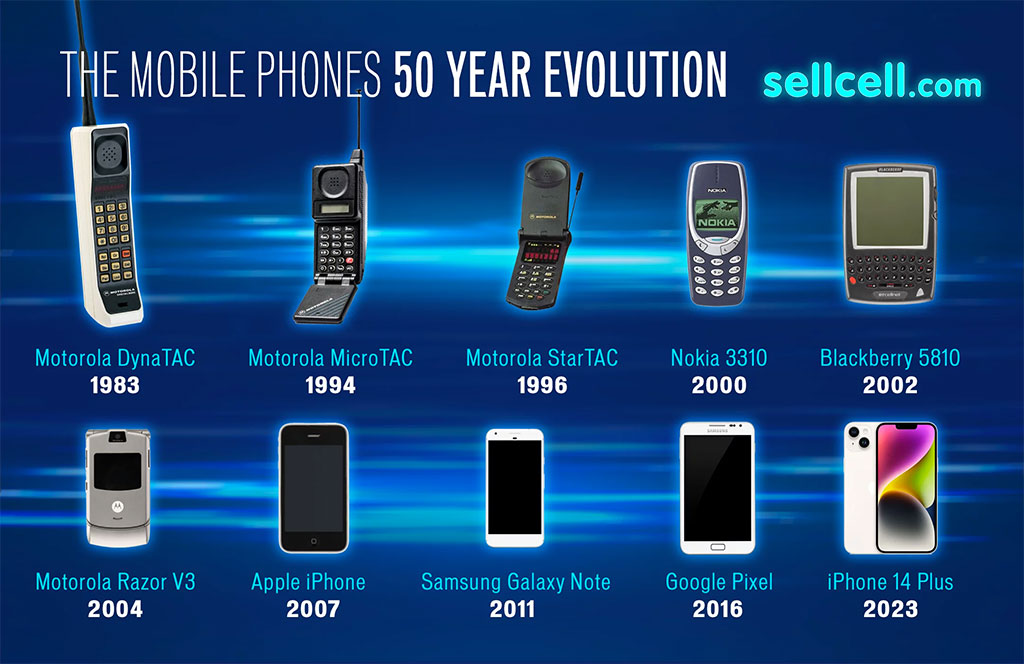 MOBILE PHONES 50 YEAR EVOLUTION
1983
Motorola DynaTAC
1994
Motorola MicroTAC
1996
Motorola StarTAC
2000
Nokia 3310
2002
Blackberry 5810
2004
Motorola Razor V3
2007
Apple iPhone
2011
Samsung Galaxy Note
2016
Google Pixel
2023
iPhone 14 Plus
Today, mobile phones have advanced dramatically from the bulky devices of the past. We now have sleek smartphones with unlimited capabilities that fit in our pockets. Advances in technology such as 5G networks, artificial intelligence, and facial recognition are pushing the boundaries of what is possible with mobile technology.
We are continuously being presented with new opportunities to use our devices in innovative ways, from streaming films and ordering groceries online to controlling our home appliances remotely. Let's go through a list of ways that mobile phones changed our lives.
Communicating with anyone, anywhere, anytime.
Improved access to information with the internet and apps
Greater convenience for everyday tasks such as shopping, banking, making reservations, calling for taxis, and more.
Productivity enhancements at work since smartphones give us access to any data, anywhere
Expansion of social media platforms that allow us to stay connected with our friends and family from around the world.
Empowerment of small business owners to reach new customers on a larger scale.
Advancements in healthcare technology, including remote patient monitoring systems.
Ability to keep an eye on certain health issues on your own by adding smart wearable devices, like a smartwatch.
Allows you to leave your wallet at home thanks to mobile payment options such as Apple Pay or Google Wallet.
Streamlined navigation with GPS-enabled maps & directions, allowing you to visit unknown places with ease.
Access to music, movies, shows, podcasts, and book wherever you go.
Ability to control and monitor your home from afar.
The possibility to monitor their car's performance remotely.
Introduction of artificial intelligence technology into our everyday lives.
Development of voice-based technologies such as Siri, Alexa, and Google Home
Celebrating the 50th anniversary of the first mobile phone call
Looking back at the past 50 years, it's clear that Martin Cooper's invention was a pivotal moment in the history of mobile technology. He set the stage for a future that's full of exciting possibilities and opportunities, and it's clear that his legacy will live on through all of us who continue to use and innovate with mobile devices today.
The 50th anniversary of the first cell phone call is an important milestone, not just for Martin Cooper and his legacy, but also for the entire mobile industry. It's a chance to reflect on how far we've come, and anticipate what lies ahead in the future of mobile technology!
History of the Mobile Phone
The mobile phone has gone a long way over the past five decades and we cannot wait to see what the future holds. Until then, however, let's take a quick look over a few key points in the evolution of the mobile phone.
HISTORY OF MOBILE PHONE / EVOLUTION

1973

The first handheld mobile phone, the Motorola DynaTAC, was invented by Martin Cooper.

1973

The first mobile phone call was made in this year by Martin Cooper.

1979

1G network was released in Japan. It reached western countries in 1981.

1983

The Motorola DynaTAC 8000X was the first commercially available mobile phone, offering 30 minutes of talk time and weighing two pounds.

1985

1985

In the same year, Siemens also produced its first mobile phone, the Mobiltelefon C1. This one also looked like a briefcase.

1987

The Mobira Cityman 900 was Nokia's first mobile phone. Also known as the Gorba, this model weighed just 800g, well under what other models did, but still not there yet.

1988

Samsung introduces the SH-100, a mobile device with a small display that made it impossible to even view texts. You could see the number calling you, though.

1989

Motorola releases the 9800X, the first truly portable mobile phone.

1991

The first flip phones were released by NTT Docomo's PDC Mova, namely the TZ-804.
The first GSM network is launched, enabling international roaming and SMS messaging.

1992

The Nokia 1011 was the first mass-produced GSM cellular phone, allowing people to make calls from multiple networks.
In December 1992, the first text message was sent by Neil Papworth. The message simply read "Merry Christmas."

1993

IBM creates Simon, which is considered to be the first touchscreen smartphone. It had a 4.5-inch monochrome LCD display and required a stylus. It cost $900.

The IBM Simon via Wikimedia Commons

1996

Motorola releases the StarTAC, the flip phone that really became popular.
The Nokia Communicator 9000 was also released, the first to ever feature a QWERTY keyboard.

1998

The Symbian operating system is created by Nokia, Ericsson, Psion, and Motorola.
Nokia launched the 5110, the first phone to have interchangeable cases, allowing people to have a more fashionable approach to phone model picking.
Siemens put out the S10 model, which was the first mobile device to feature a colour screen.

1999

The Nokia 7110 included a WAP browser that allowed users to access the internet and send emails on their phones.

2000

Camera phones became widely available with the release of the Sharp J-SH04 in Japan. The Nokia 7650 was the first camera phone to be released in Europe and North America in 2002.
The Nokia 3310, one of the most iconic phones, was launched.
The Ericsson R380 is released, the first phone running on Symbian. Nokia 9210 was released a year later.
Samsung released the SPH-M100 Uproar model, a device that allowed users to also play music. It was the perfect mix between mobile device and MP3 player at the time.

2001

3G network technology was introduced in Japan.
The Ericsson T39 was released, the first cell phone with Bluetooth capabilities.

2002

The Blackberry 5810 was the first smartphone with phone capabilities. It ran on BlackBerry OS.
Nokia 5210 came out, the first cell phone designed for tough conditions.
The T-Mobile Sidekick was released in October. It had a unique design and allowed users to enjoy a full keyboard.

2003

3G networks were also launched in Europe.
Andy Rubin, Nick Sears, and Chris White start developing Android.

2005

2006

Nokia N95, the first real smartphone experience device, is released. It ran on Symbian.

Nokia N95 via Wikimedia Commons

2007

Apple released their revolutionary touchscreen iPhone with a 3.5 inch screen and advanced applications like Safari and Maps.

iPhone First Generation via Wikimedia Commons

2008

HTC Dream, also known as the T-Mobile G1, is the first Android-run smartphone to be released. It was also the first phone to feature Google Maps.

2009

4G networks were introduced in 2009 in Norway and Sweden. A year later, Spring brought it to the United States.

2010

Samsung launches the Galaxy S smartphone, starting on the path that will make it one of the largest smartphone manufacturers in the world.
Samsung also released the SCH-R900 model which was the first 4G smartphone to hit the market.
Windows Phone operating system is released by Microsoft.

2011

Xiaomi enters the smartphone market with the Mi 1, a device solely sold in Asian markets.
Apple's iPhone 4S introduces Siri, the first voice assistant.
Nokia makes a comeback with the Lumia 800. These smartphones ran on Microsoft's Windows Phone OS.

Photo by Martin Abegglen

2012

Samsung releases Galaxy S3, the first Android smartphone to have a voice assistant. Called the S-Voice, it allowed users to control the phone with their voice.
Google renames Android Market into the Google Play Store and offers more content, including books and music.

2013

Smartphone sales exceed those of "dumb phones" for the first time, a Gartner report indicates, as quoted by TechCrunch.
The Pantech Vega LTE and the iPhone 5S are released, both featuring a fingerprint sensor.

2014

OnePlus joins the smartphone market with the OnePLus One, a device running on Cyanogen OS, a variant of CyanogenMod.
The Samsung Galaxy Note Edge is released, the first smartphone with a curved edge display. It was only curved on the right side of the phone, but it was there.

Photo by Maurizio Pesce on Flickr

2015

Samsung releases the Galaxy S6 Edge, the first phone to feature curved display edges on both sides.

2016

Google releases the first Pixel phone.

2017

This year brings us the first ever smartphone with an HDR display, namely the Sony Xperia XZ.
We also got our very first smartphone with Face ID capabilities in the form of iPhone X.

2018

We got our very first cell phone with a three-camera system, the Huawei P20 Pro. The primary camera had 40MP, the second one 20MP, while the selfie camera boasted 8MP.

Image by Malcolm Koo

The Royole Flexpai was released in November, the first foldable smartphone with an OLED display.

2019

5G networks are introduced commercially in the United States, South Korea, and other countries.
The Nokia 9 PureView is released, the first ever smartphone with five different cameras.

2020

The Samsung Galaxy Fold is released, one of the first foldable touchscreen displays. In 2020, the company also introduced the Galaxy Flip, a modernized blast from the past.

Image via Wikimedia Commons
Summary – From the First Mobile Phone Call to Modern Smartphones
The years have brought us immense technological advancements. From massive phones that you could barely carry with you to devices that put the world's knowledge a tap of a finger away, we've seen it all.
Given how fast technology evolves nowadays, it's exciting to see where the years will take us, giving us more augmented reality applications, more uses to artificial intelligence, and a focus on privacy and security.
Sources