Last updated June 5, 2020
It is that time of the year when family and friends come together, share greetings, exchange gifts, and – most importantly – feast on the many home-cooked delicacies.
While the good old tradition is still being followed by most in the US during Thanksgiving and Christmas, our new survey suggests that the sense of togetherness and contentment these holidays used to bring is fading away with time thanks to the extensive integration of technology, especially smartphones, into our daily lives.
Smartphones and tablets are taking over even the most anticipated festivities of these sacred holidays – family dinners.
According to SellCell's recent survey, three out of ten adults use either their smartphone or tablet at the dinner table during Christmas.
Things aren't looking too rosy when it comes to Thanksgiving day as the survey reveals 27% of the US-based adults bring their gadgets to join Thanksgiving meals.
Family meals in restaurants are the worst, with as many as 61% admitting they stare at phone screens when they are dining out with family.
Besides this, the study also highlights that the usage of electronic devices during mealtimes has pretty much become a norm for around 25% of the families based in the United States.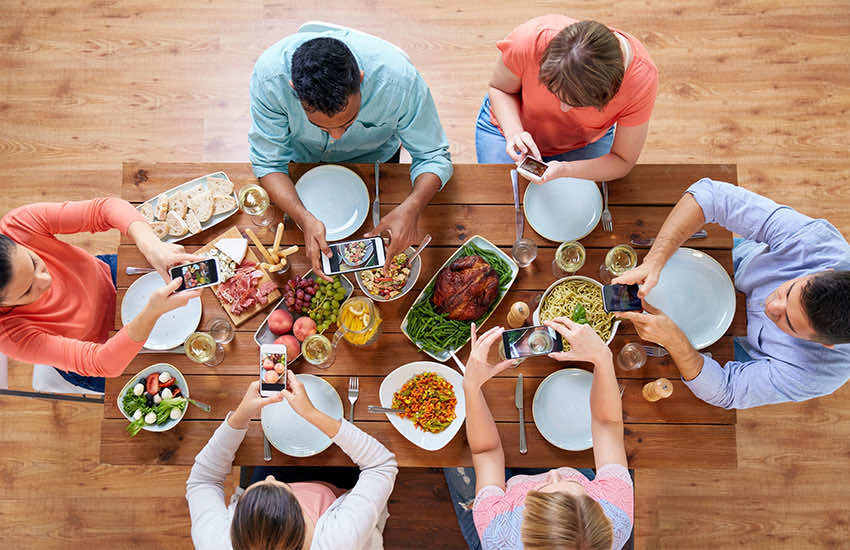 What are phones or tablets being used for at the dinner table?
SellCell's research also dived into the handset usage trends among adult users at mealtimes.
Unsurprisingly, social media apps — especially Facebook and Twitter — are the most frequented ones at dinner tables.
According to those who admitted to using tech at the table, 50% of them admit to using one or other social media applications instead of having meaningful conversations over dinner.
The next most popular handset activity — recorded at 42% — during mealtimes is watching videos online.
Again, not very surprising considering how easily one can get sucked into the YouTube vortex. Facebook's video streaming platform, FB Watch, has also been doing pretty well in recent years, reportedly serving videos to more than 720 million users across the world every month.
37% of adults keep their phone or tablet handy when they're eating to keep in touch with friends and relatives, while 28% say they are completing the last bits of work projects to meet deadlines.
Gaming on Android and iOS-based devices have become so much better in recent years, thanks to new powerful mobile chipsets and graphics-intensive games of the likes of PUBG and Fortnite.
Thus, it's hardly surprising to note that 31.97% enjoy 'multitasking' between eating and gaming at mealtimes.
Meanwhile, 31.60% are consuming news content through their mobile devices during a meal of some sort.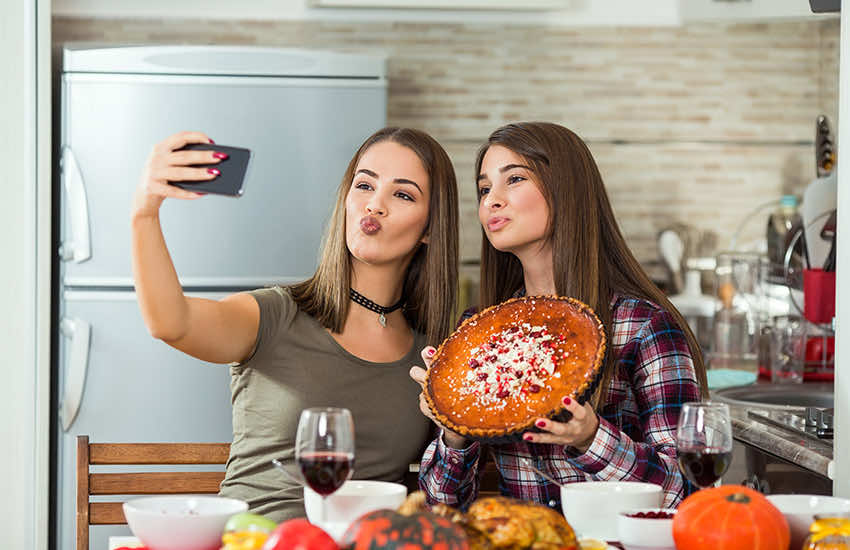 Takeaways from the Survey
27% of Americans use phones or tablets during Thanksgiving Meals
30% of Americans use phones or tablets during Christmas Day Meals
A staggering 61% of Americans admit to using phones or tablets during a Family Meal in a Restaurant
25% of US families use devices regularly at the dinner table during everyday family dinner
42% of the people that admitted to using a cellphone during dinner are watching videos whilst eating
50% are using social media whilst eating their family dinner
37% are using mealtime as a way of catching up and chatting with their mates
Around 32% love playing mobile games at the dinner table
Mealtimes are the perfect time for 31.60% of the US adults to catch up with the latest news
Survey Methodology
The report is based on a survey conducted in October 2019 involving 1210 adults, aged 18 years or higher, based in the US. The exact percentages for respondents' genders are as follows: Female – 53%, Male – 46%. The motive of the survey was to get a percentage estimate of adults using a smartphone or a tablet at mealtimes, especially on special occasions like Christmas and Thanksgiving, and understand their device usage trends.
Survey Findings & Charts
1.) DURING EVERYDAY FAMILY DINNERS DO FAMILY MEMBERS USE PHONES OR TABLETS AT THE TABLE?
KEY FINDINGS:
25% of American families use devices regularly at the dinner table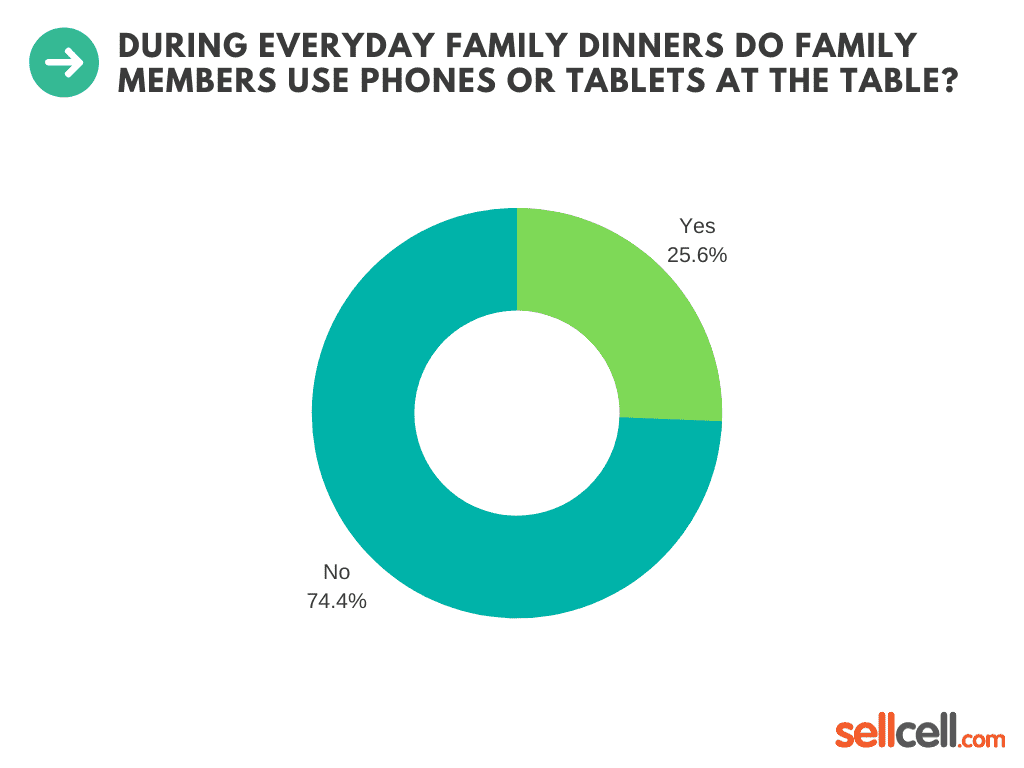 2.) ARE FAMILY MEMBERS ALLOWED TO USE PHONES & TABLETS DURING SPECIAL OCCASION DINNERS?
KEY FINDINGS:
27% of Americans use phones or tablets during Thanksgiving Dinner
Over 30% of Americans admit to using phones or tablets during Christmas Day Dinner
A staggering 61% of Americans admit to using phones & tablets during a Family Meal in a Restaurant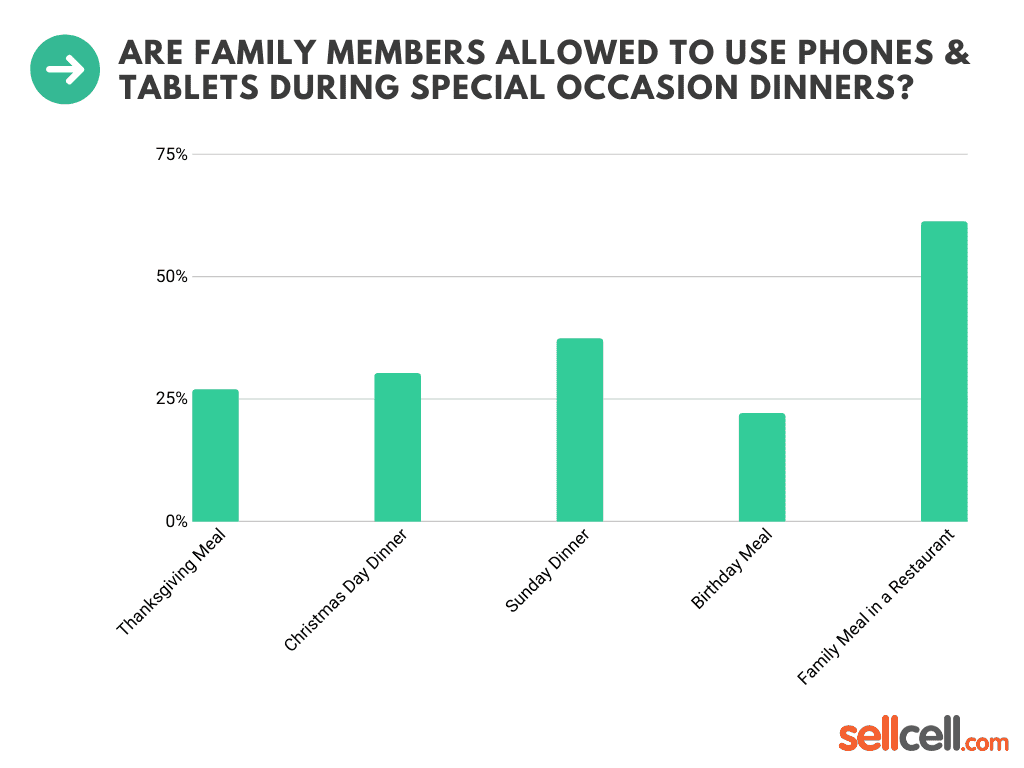 3.) WHAT ARE PHONES OR TABLETS BEING USED FOR AT THE DINNER TABLE?
KEY FINDINGS:
42% of the people that admit to using a cellphone during dinner are watching videos whilst eating
50% use social media whilst eating their family dinner
37% are using meal time as a way of catching up and chatting with their mates!
28% of those who admitted to using cellphones regularly at the dinner tables are completing work projects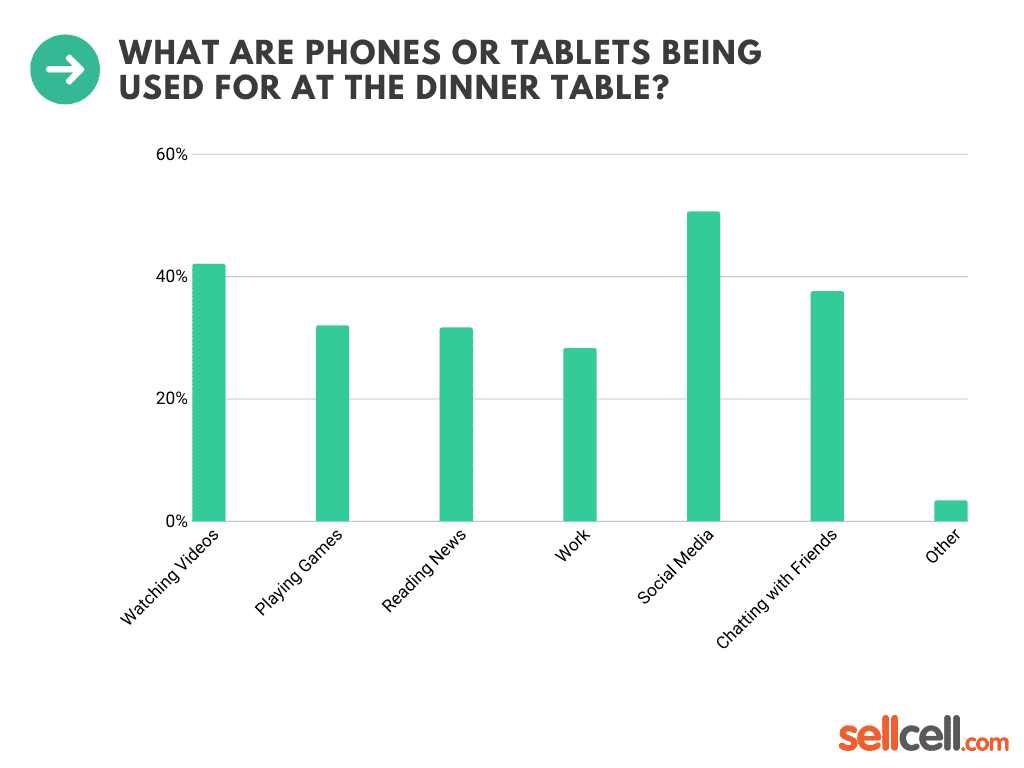 Download press kit for all data, graphs and images: