Smartphones are getting more expensive every passing year, and it's only a matter of time before we start seeing flagship handsets that cost as much as $2000 going mainstream. Although not as big a hit as expected among tech enthusiasts, Samsung's Galaxy Fold is not only the firm's first foldable phone to go on sale but also is the first-ever mass-produced phone to rock an extravagant $2000 price tag.
Apple was the first to introduce this upward price trend in 2017 with the unveiling of the firm's 10th anniversary iPhone, the iPhone X. After the $1000-iPhone went on sale, other OEMs followed suit and launched their big-budget counterparts, with some of them priced even higher than $1000. The trend still goes strong, with Apple's iPhone 11 Pro Max costing $1450, Samsung's top variant of S10+ selling at $1600, and more.
It's worth noting that the hike in the price has, however, upped the smartphone ante. Gone are the days when phone cameras were considered mediocre or when phones were seen capable of playing only silly flash games. Over the years, mobile phones have become more powerful and pack high-end specs and features, including AI capabilities. Fast forward to today, we now have a deluge of graphics-intensive games on iOS and Android, including PUBG and Fortnite — the likes of which we used to play only on a PC or a console.
With an influx of costly smartphones expected on the horizon, we asked around 2000 men and women in the US if they're willing to spend $2000 on a smartphone, what design trends and features do they expect to see, and what would be their brand of choice.
SURVEY HIGHLIGHTS:
A majority (76.7%) oppose the idea of $2000 smartphones, while 15.5% have not just decided yet.
Presently, only a mere 7.8% are willing to spend $2000 on a handset purchase.
Six in ten (62.2%) of those who oppose reveal they would never spend that much on a mobile phone in their lifetime, while two in ten (21.1%) think they might reconsider their decision after five years or more.
One in ten (11.5%) might consider buying a $2000 phone in 3-4 years, while only 5.3% would get one sometime next year or the subsequent one.
Among the most anticipated design trends are modular phones (48.3%) and foldable phones (41.1%), closely followed by fully bezel-less design (36.2%).
As many as 29% want more camera sensors on their future phones, while a little over 12% prefer port/button-free design.
The least popular design trends are dual screens (9.6%) and transparent screen technology (11.2%).
The factors, according to respondents, that influence high-end smartphone purchases listed in the order of their popularity – battery life (63.3%), Photography (53.6%), performance (49%), design (47.9%), gaming (37.1%), sound quality (25.8%), software (31.1%), and others (7.7%).
Around 56% believe Apple is the only brand worthy of spending $2000 on, while almost 27% root for a Samsung-branded handset.
Google comes third as the preferred brand at almost 9%, while a 4% reveal LG to be their brand of choice. Remaining 4 percent opt for other brands.
Of the respondents willing to spend $2K on handsets, 78.2% are Apple iPhone users, followed by 12.8% Samsung users, 4.5% Google users, 2.6% LG users, and 1.9% users of other brands.
Women are more likely to shell out $2000 on their next phone, as compared to men.
PROBABLY NOT A GOOD TIME TO LAUNCH A $2000 SMARTPHONE
Manufacturers may have no choice but to raise the price on their products to integrate the latest technology breakthroughs all the while staying profitable but, are consumers ready to shell out $2000 on a mere smartphone purchase?
The survey says no, with less than eight percent of respondents agreeing to spend $2000 on a smartphone right away.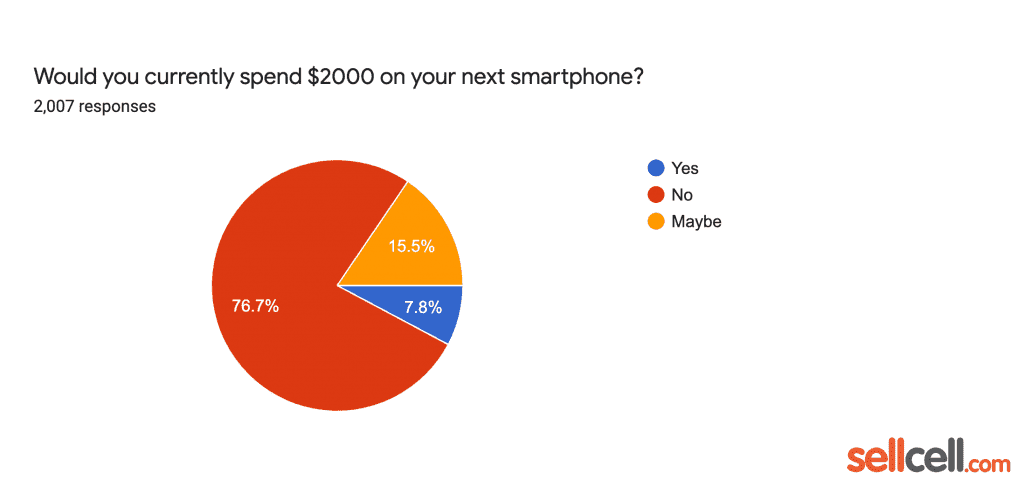 While a majority (76.7%) stay unconvinced by the idea of spending that much on a mere handset purchase, 15.5% of the respondents reveal they have not thought about it just yet.
When asked if they would buy a $2000 smartphone at some other point in the future, more than six in ten (62.2%) US adults told us that they would never in their lifetime consider getting one.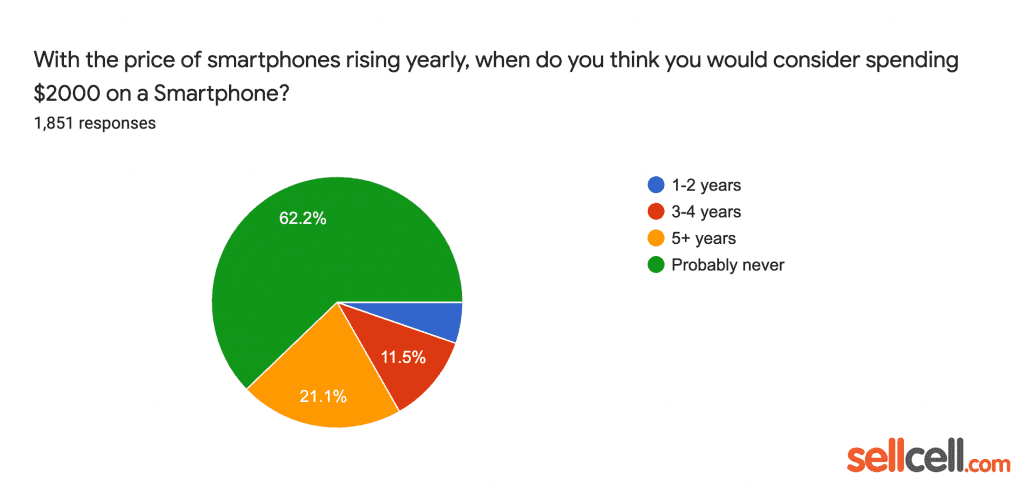 Meanwhile, two in ten (21.1%) responded they might reconsider their decision after the next five years. More than eleven percent (11.5%) could picture themselves spending $2K on smartphones in 3-4 years.
However, only around five percent (5.3%) of the consumers have plans on getting a $2000-smartphone next year or the subsequent one.
Interestingly the survey also reveals women to be the big spenders, compared to men. Around 61% of the respondents who voted in favor of $2K smartphones were women.
EXPECTATIONS FROM A $2000-SMARTPHONE
Surprisingly, the survey of more than 2000 US adults reveals modular design to be the most anticipated smartphone design trend. Modular phone concept, which garnered 48.3% votes in our poll, was partially adopted by LG and Moto in their flagship models a few years ago only to drop it later thanks to lack of interest among consumers.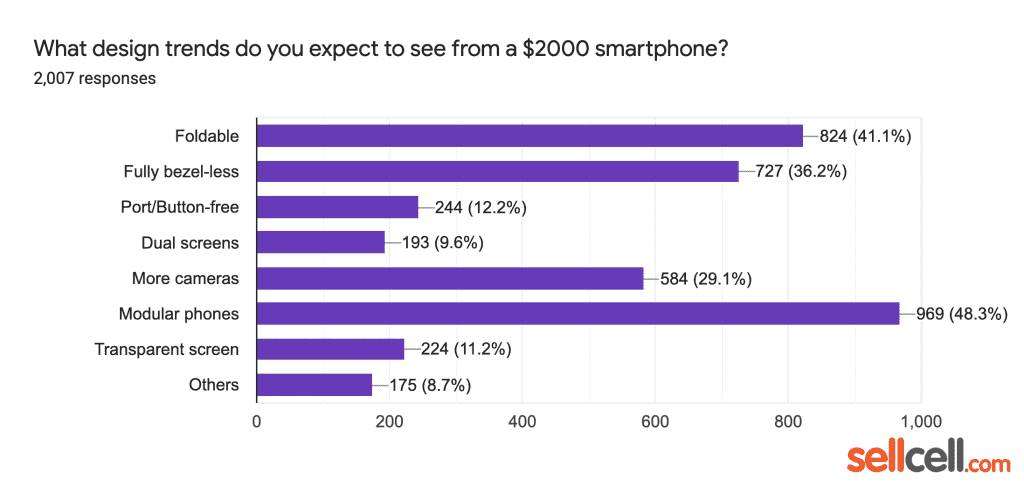 The concept of modularity in smartphones was first popularized by Google through Project Ara, which intended to make handsets truly customizable — meaning the user could change parts of a smartphone including camera, speaker, battery, storage, etc. when they are obsolete. The project, however, got shelved in 2016 for unknown reasons. But, a new patent recently filed by Google, revealing they are indeed working on a modular phone beside the usual Pixel lineup, has given a ray of hope for tech enthusiasts.
The foldable design concept takes the second spot at 41.1%, which isn't surprising considering we already have quite a few phone manufacturers working on their foldable phone models. Samsung was the first to jump the foldable bandwagon and already has a well-designed product out in the market. Apple is also reportedly working on its own foldable iPhone, although it is not clear as to when the firm will be able to pull off a consumer-ready product.
Fully bezel-less phone is the third-most-popular design trend, according to 36.2% of respondents participated in the survey. Although there are a plethora of 'almost' bezel-less phones featuring notch and hole-punch displays in the market, we are yet to see handsets with an all-display front — the ones with no sign of bezels and featuring under-display sensors. Several Chinese OEMs, including Xiaomi, already have a working prototype based on the concept, although they've not gone on sale just yet.
Meanwhile, almost three in ten – 29.1% – polled in favor of more cameras in a $2000 smartphone. It's hardly surprising — considering Nokia's 2019 flagship phone, the Nokia 9 Pureview, has five cameras on the rear. As if that wasn't already enough, rumor has it that Vivo's upcoming V17 Pro handset will feature six rear cameras. While the presence of quintuple cameras can help capture pictures in great detail, it's worth noting that Google Pixel 4, which is touted as one of the best camera phones thus far, only packs a dual-camera setup.
Some 12% think that port/button-free smartphones are the future. HTC had previously experimented button-less design in their U-series models by replacing clickable buttons with squeezable sides. Besides that, several Chinese OEMs have been working on mastering the design concept for quite a while now. Most notably, Meizu's prototype handset dubbed Zero — possibly world's first holeless phone — has managed to impress tech geeks with its radical new design features and high-end hardware specs.
Transparent screen is the second-least popular design trend at 11.2%. Although we have only seen such gadgets in sci-fi movies, this could one day become a reality as a lot of tech firms already hold at least one patent on transparent screen technology.
The dual-screen concept is the worst-rated design trend, with less than ten percent (9.6%) looking forward to smartphones with two displays — mostly a primary display on the front and a secondary one on the back. First brought to consumers by Russia-based Yota, we've seen the design being adopted more recently by Nubia in their Nubia X flagship handset. This design philosophy comes in handy, especially if you want to take a higher resolution selfie using the rear camera – at which point you'd be staring at the secondary display rather than the one up front.
When asked about the factors influencing their high-end phone purchase, 'Battery life' came out on top as the top priority for the most – at around 63%. 'Photography' took the second spot at 53.6%, followed by 'Performance' (49%) and 'Design' (47.9%).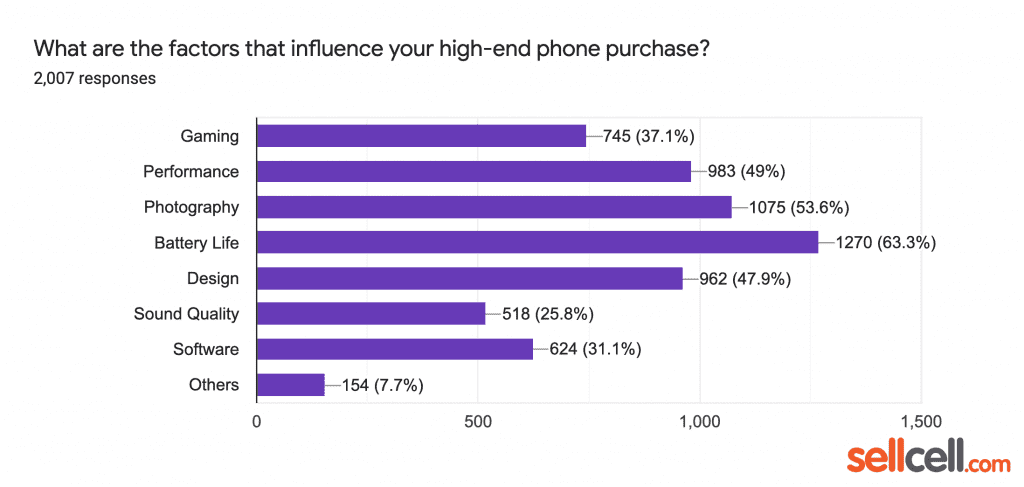 'Gaming' is still a strong determining factor when getting an expensive smartphone, according to 37.1% of US consumers. Among the least influencing are software (31.1%) and sound quality (25.8%).
APPLE REVEALED TO BE THE MOST WORTHY OF SPENDING $2K ON
For more than half of US consumers (52.4%), Apple is the only smartphone brand worthy of spending $2000 on — provided they had the means. It may come as no surprise to many, considering it is one of the only few brands that have a massive loyal fan following. The iPhones are also the best at holding their value, as compared to other phone brands.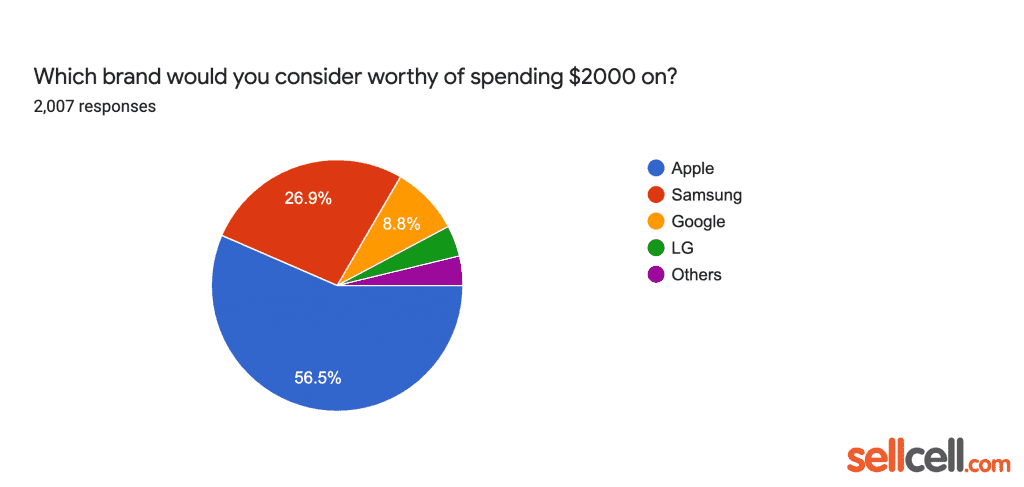 Although Apple ranks first for brand intimacy, it's worth noting that Samsung is not far behind and is the preferred brand for almost 27% of the consumers.
While close to nine percent (8.8%) admitted they might consider a $2000 Google Pixel phone at some point, only four percent said the same for an LG-branded smartphone.
The remaining 3.8% of the respondents revealed they would go with some other brand when the time comes.
The study also found Apple users to be the big spenders, with 78.2% of the total respondents that polled in favor of spending $2000 on a handset purchase admitting they currently own an iPhone.
Of the remaining respondents in favor of $2000-smartphones, 12.8% currently owns one of the Samsung devices, 4.5% has a Google Pixel, and 2.6% is with an LG phone.
SURVEY METHODOLOGY
The report is based on a survey – conducted between January 6-13, 2020 – involving more than 2000 adults, aged 18 years or higher, based in the United States. The exact percentages for respondents' genders are as follows: Female – 50.1%, Male – 49.9%.
The motive of the survey was to learn whether or not the US-based consumers are willing to spend $2000 on a smartphone, what design trends and features do they expect to see, and what would be their brand of choice.
The responses to the survey were collected without storing any personally identifiable information of the involved respondents.