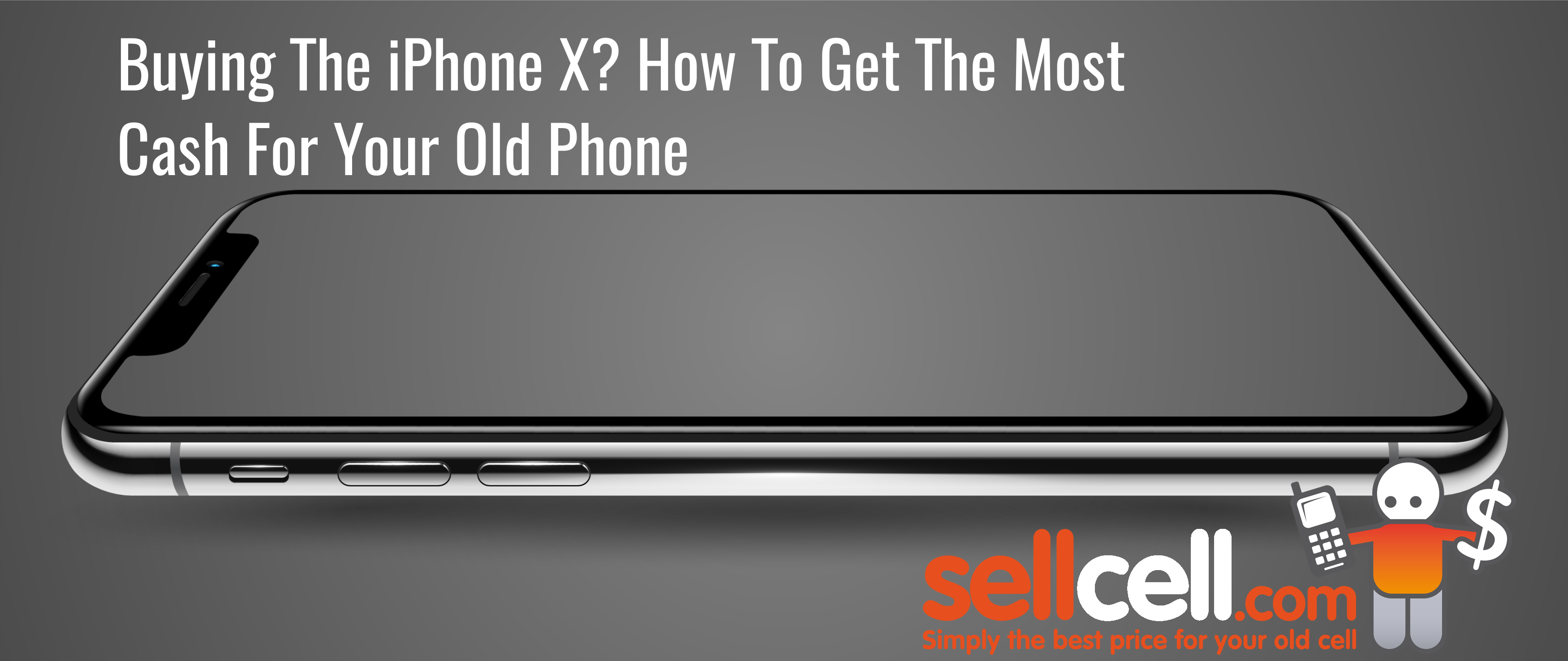 With the release of the iPhone X just one day away, many Apple fanatics will be looking to upgrade to the company's most expensive cell phone to date.
At a whopping $999 for the 64Gb version and $1,149 for it's bigger brother – the 256Gb model, for the average person, it might be time to start looking at different options to help you afford one of these pricey devices.
One the most productive ways in helping you pay towards the iPhone X would be selling with your old phone.
But what are the benefits of selling your phone now? Figures suggest that in the first two weeks after the release of the new iPhone, the price of used iPhones drop by 10%. Old handsets will continue to decrease in value too, so to ensure you release the maximum value from your device take action in evaluating the options available for trading in your old device now!
When the phone you are craving costs serious cash, how can you ensure that you get the maximum value for your old device to help fund this stylish, and beautiful new device? There are options available that may help to support your purchase, which we will now walk you through…..
What Are The Options?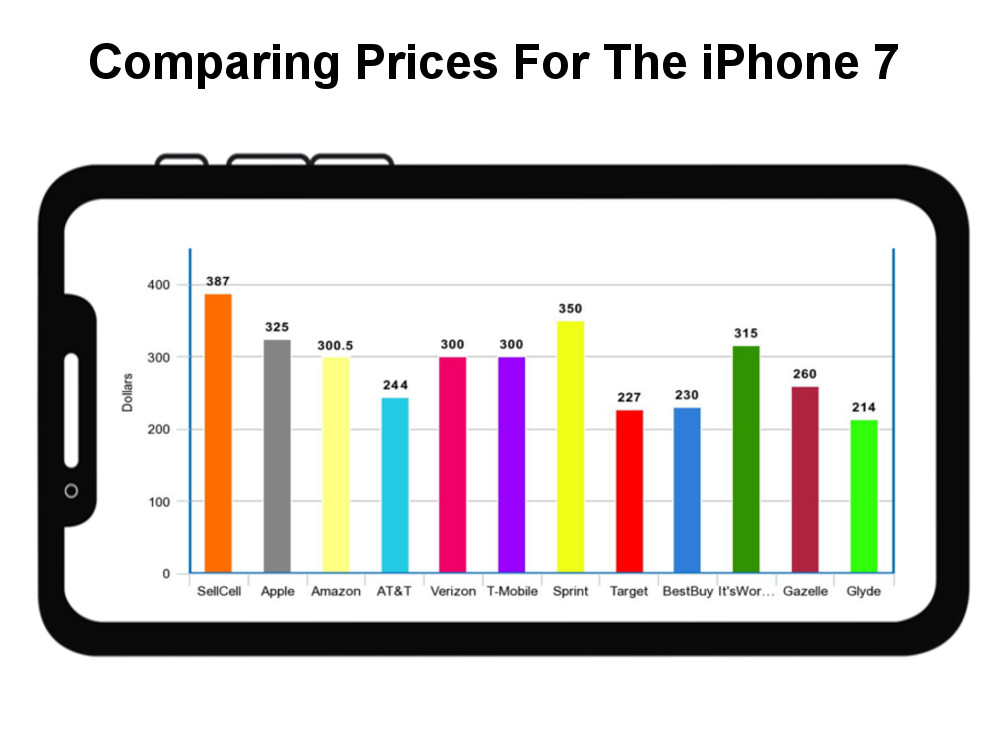 Table i: The chart above reveals the best prices you could receive when trying the sell or trade-in your iPhone 7 (32Gb).
The table above indicates the best prices when looking to sell the iPhone 7 (32Gb). When investigating the best price you could sell or trade-in an iPhone 7, the condition of the device was kept the same for each company (used).
All leading companies that buy or trade in old cell phones, whether that be wireless networks, buyback companies or retail stores were investigated, ultimately revealing the best prices and deals for the customer.
SellCell.com
SellCell.com is a price comparison website that looks to find the best price for your old mobile phone. The site will show a range of prices for specific devices offered by buyback companies featured on the site. SellCell work with over 30 different buyback companies including Cellular BuyBacks, SellMyPhone and Swop Smart, ensuring you will get the best price for your mobile.
As the table states, SellCell.com produced the highest price for an iPhone 7, pricing in at $387. This price is higher than any carrier trade-in deal, vendor gift-card or cash payment. By gaining cash from the sale of an iPhone, it gives you the flexibility look around at different plans and contracts instead of being constrained to a certain carrier or vendor, ensuring you get the best deal for you.
We also offer a best price guarantee on all devices. The best price guarantee ensures that you will get the best price for your iPhone. If you are to find a buyback company with a higher price after 24hrs of selling your iPhone, they will double the difference.
Apple's Trade-Up Program
Apple have their very own buyback scheme, it goes under the name of Apple's Trade Up Program. When looking at the price of trading in an iPhone 7, you can expect to gain in the region of $325. These are not the final prices as the phones will be subject to an evaluation from Brightstar. The price may decrease.
Apple are limited to two options of payment. The first mode of payment is instant in-store credit, a redundant offer unless you are looking to buy the device there and then. The second mode of payment is the Apple store gift card, more flexible than instant credit, but limits you to buying from just the Apple store. If you were to find a cheaper price or deal at another retail or online store, your gift card will not be valid.
Wireless Networks
The majority of wireless networks will only offer the customer a trade-in deal. A trade-in deal reduces the price of a new phone once the old cell has been given to the carrier. These deals are beneficial for those who are looking for a simple swap deal, although all of these wireless networks offer smaller payments than online recyclers.
At this moment in time, both Verizon and T-Mobile are offering $300 off the iPhone X for an array of mobile phones, including the iPhone 7. When going through with a deal from Verizon, you must sign up to a 24-month plan. This plan cannot be paid off early. T-Mobile's requirements are similar, you are subject to a 24-month plan, if the iPhone X is paid off the discount will be terminated.
Sprint are offering $350 off the device when you trade in a select number of mobiles. These mobiles include the iPhone 7. After 18 months of leasing the mobile, you have the option to pay off your remaining contract. At this moment in time, AT&T are yet to offer a trade-in deal. However, you can make around $244 in credits towards accessories or devices if you use their buyback program.
Amazon's Trade-In Program
Amazon also provide their own buyback program. Similar to other buyback services, the price you receive for your cell phone is determined by the condition of the device. The questions asked are extremely similar to other online cell phone recycling companies.
When selling your cell phone to Amazon, the proceeds are transferred to an Amazon gift card. The gift card does not limit you to buying just mobile phone related gear but it does limit you to using your credit on the e-commerce site. Overall, the prices are average for the iPhone 7 being $300.50 for a device in fairly good condition.
Buyback Schemes in Retail Stores
Both Best Buy and Target offer similar prices for a used iPhone 7, $230 and $227 respectively. If you were to proceed with selling your iPhone to either Target or Best Buy, similar to both the Apple and Amazon program, you would receive a gift card. This gift card is only to be used at the respected superstore.
If you were looking to buy the iPhone X from either of these vendors, the buy back schemes are great, it would make buying the device quick and easy but if you were to find a better deal online or at a different outlet, your gift card will be obsolete.
Gazelle
Gazelle are one of the most renowned mobile buy back companies in the US, yet offer a much lower amount of cash for the iPhone 7 then other buyback schemes, you can expect around $260 for a used iPhone 7.
Gazelle also have ATM kiosks dotted around the country. The kiosks may be convenient for some but the prices you will receive for your cell phone are dramatically lower than that of online buyback schemes. An iPhone 7 can be sold for anything between $60 – $145.
It'sWorthMore.com
Another popular buy back company is It'sWorthMore.com. It looks to buy back a range of different electrical items but the company mainly specialises in cell phones and laptops. The prices they offer for both the iPhone 7 are reasonably fair but not the highest. For a fairly used iPhone 7, you can make around $315.
Glyde
In comparison to both Gazelle and It'sWorthMore.com, Glyde is a marketplace based website, much different to the previous selling options. Glyde does not allow you to upload photos of your devices and payment can only be made via cheque or bank account. In terms of shipping and getting the phone from A to B, Glyde operate as the middle-man, ensuring all the shipping, packaging and pre-postage is provided by them.
Instead of being offered an instant price for your device, it is up to you to put a price on your cell phone. Although, Glyde has a recommended section to guide people on the current value of their phone. Being a marketplace, there is no guarantee that your device will sell. When advised on what price to sell your iPhone 7, the average sale equates to $214.
What's the Best Option?
It's safe to say that the customer has many options when looking to offload their old cell for the new iPhone X. Each option has it's perks, if you were hoping for a quick swap from your current phone to the latest device trade-in deals look rather handsome. Although, the deal you may be getting yourself into may cause you frustration in the future.
Companies that offer the customer a gift card in exchange for their mobile provide good prices but being limited to spending your cash at one store can be challenging, particularly if you see better deals elsewhere. Gift cards work well if you are loyal customer, but if your loyalty does not lie with a certain vendor, there are much better options for you.
Overall, the most effective option when selling your current or old cell phone is to go through a buy back company. They offer by far the highest price for your cell phone, all cash payment. By gaining a cash payment for your cell ensures you will not be bound to a gift card, store credits or a contract, providing more flexibility for you when choosing the best way to own that desired iPhone X. When selling your phone to a buy back company the ball is firmly in your court.
To get the best price for your cell phone look no further then SellCell.com. Click here to find out how much money you could get for your mobile.