Last updated April 12, 2019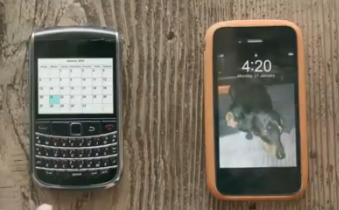 Samsung seem to enjoy their aggressive marketing strategy, which we have already experienced during the iPhone 5 launch, when they targeted Apple fans who queue up to get their hands on the latest devices. I think Samsung are getting slightly worried as they have now targeted BlackBerry in their new ad campaign, who are set to release their new phone and OS towards the end of this month.
The strategy is aimed at BlackBerry business users, and although they don't actually mention RIM, or BlackBerry you can quite clearly see a BlackBerry Curve at numerous points in the video. We even caught a glimpse of what seems to be an Apple iPhone with an orange case in one section.
Samsung themselves are set to launch their much anticipated Galaxy S4 early this year, so the last thing they want is the limelight taken off them by yet another competitor, especially when they are already locking horns with Apple.
For BlackBerry, it's without doubt a make or break phone and you can bet your bottom dollar that the media will be focusing long and hard on this launch.
Here is the Advert: