Last updated August 11, 2022
– Google Pixel sees a 4.9% increase in trade-ins compared to the Pixel 5 launch .
– The Pixel 5 becomes the most traded-in Pixel handset ahead of the Pixel 6 launch.
– Google overtakes Samsung as the most sought-after ecosystem among iPhone defectors.
Setting out to prove that not everything is about Apple, Google is preparing to launch its fantastic new Pixel 6 smartphone. Excited Android fans expect the latest handset in Google's range to debut on October 19th. And from various leaks as we head up to the launch, we can see that this might just be Google's first genuine contender to the iPhone.
Leaks aside, it isn't only Pixel purists who are keen to switch to the Pixel 6 when it arrives. It looks like a percentage of iPhone users are thinking of leaving Apple's ecosystem for Google's climes. Let's dissect how SellCell's recent trade-in figures are speaking volumes about Google Pixel 6 anticipation.
Highlights
In the two-week period pre Google Pixel 6 launch announcement, Pixel trade-ins have increased by 4.9% when compared to the Google Pixel 5 launch in 2020.
Over a two-week period, the Google Pixel 5 has jumped from a 15% share in trade-in figures, to 21%, a spike of 6%. This points to consumers' eager anticipation of the Google Pixel 6.
Despite only being a year old, the Google Pixel 5 has become the most traded-in handset ahead of the Pixel 6 launch announcement on October 19th. The handset previously held second position.
As SellCell's most recent survey of 5,000 iPhone users suggests, 76.8% won't be upgrading to the iPhone 13. Out of those not upgrading, a whopping 16.1% will trade in their iPhone for an Android. Almost half of these (45.1%) stated they'd make the leap to a Google smartphone. This compares to the 41.8% of respondents who chose Samsung.
Pixel Trade-Ins Increase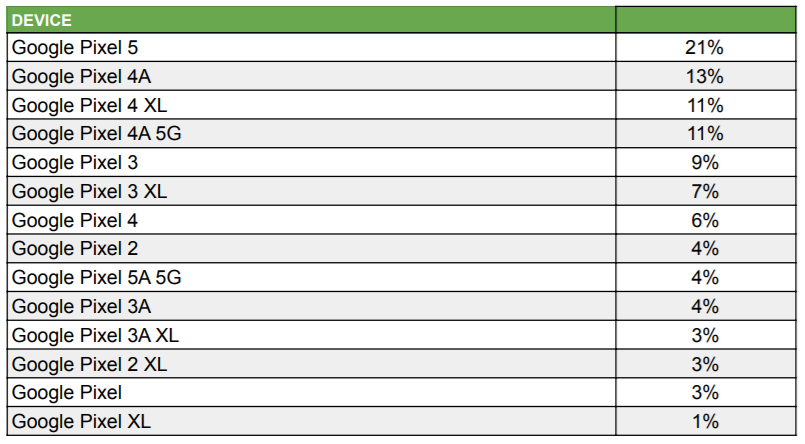 Ahead of the expected Google Pixel 6 launch announcement, SellCell has seen a spike in trade-ins. Not only for the whole Pixel range in general, but most notably for the Google Pixel 5. The handset has risen from a 16% share in Pixel trade-ins prior to September 27th, to 21% post September 27th.
This comes as somewhat of a surprise. The Pixel 5 has only been available for a year, and already people are trading the handset in. However, we've seen this pattern recently, with iPhone 12 Pro Max trade-in ahead of the iPhone 13 release. Apple's premiere flagship was only 12 months old; already consumers were trading it in, in anticipation of the 13-series release.
Why are we seeing the same pattern with the Pixels 5 and 6? Well, probably for the same reasons as people were trading in the iPhone 12 Pro Max ahead of the 13-series launch…
Why Is the Pixel 5 the Most Traded-In Google Pixel?
Trade-in values for smartphones are notoriously volatile. Therefore, the second a new handset releases, all preceding handsets from that manufacturer will see a sudden drop in value. So, what is the best way to capitalize on the value of your Pixel 5 in anticipation of the Pixel 6 release? Lock in a pre-Pixel-6 trade-in value and get the most money you can for your Pixel 5, once Google announces its new handset.
Shrewd Pixel 5 owners have—potentially—recognized this and are trading in Google's 2020 handset at values they know will exceed anything they're offered once Google officially announces the Pixel 6.
Additionally, we have 12-month contracts coming to an end. So, like with the iPhone 12 Pro Max, anyone with a Pixel 5 on a one-year contract is going to be eligible for an upgrade to the Pixel 6. Here, SellCell expects to see a spike in trade-ins.
According to SellCell, comparing data it collected in the two weeks prior to the 2020 Pixel 5 launch, we see an overall increase in trade-ins of 4.9% across the entire Google range, for the same period in 2021. This is when compared with handsets from competing brands, across all trade-ins.
So, it appears that it isn't just the Pixel 5 enjoying trade-in buoyancy. We can see growth through the entire range of Google smartphones.
How Have Google Pixel Trade-Ins Historically Performed?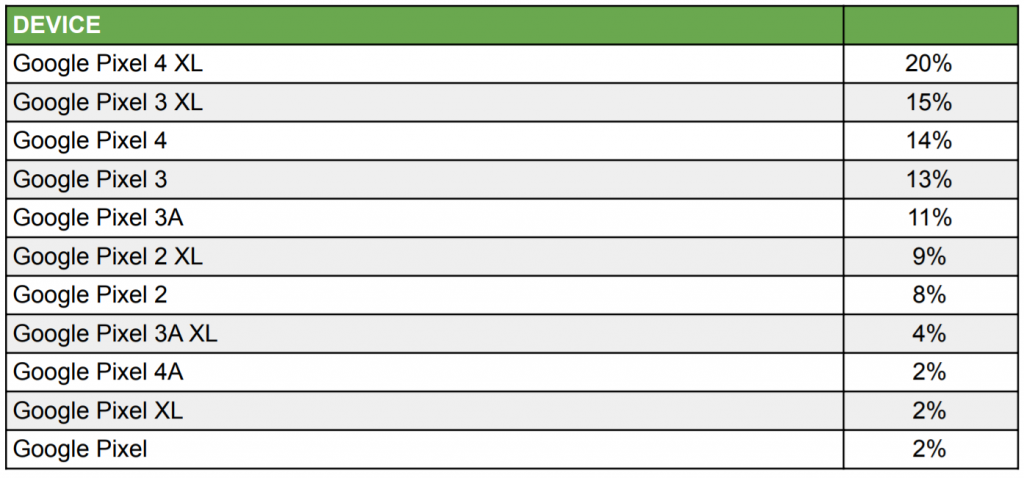 This isn't the first time a one-year-old Pixel handset has dominated the trade-in figures pre new Pixel launch. SellCell saw a similar pattern in 2020, prior to the Pixel 5 announcement on September 20th. Consumers traded in the then 1-year-old Pixel 4 XL, taking a 20% share of the trade-in market across all Pixel handsets.
Again, with two-year contracts up, it comes as no surprise that the then two-year-old Pixel 3 XL came in at second place with 15% trade market share; their vanilla counterparts taking third (14%) and fourth (13%) place, respectively.
What Does SellCell's Trade-In Data Tell Us?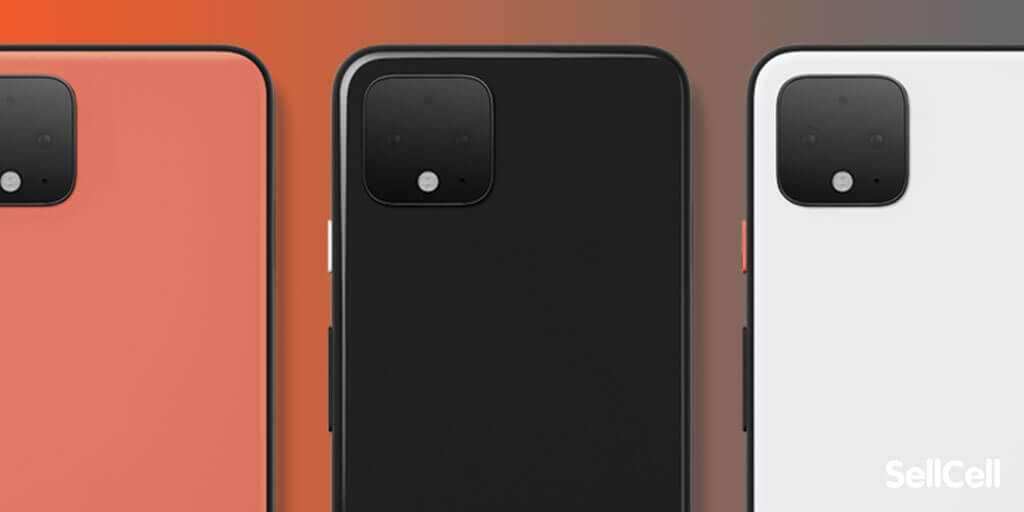 SellCell's trade-in data tells us several things; not least that consumers are hotly anticipating the launch of the Pixel 6. SellCell can say that Google's 2021 handset might well be its most popular yet. This surety comes directly from the insight into consumer trends that the spike in trade-ins provides.
It also tells us that brands such as Samsung need to take note of Google's next handset. Samsung has seen its own struggles in the face of the iPhone 12. These have lasted throughout 2021. Playing second fiddle to Apple might not be at the top of Samsung's list of objectives. However, it beats playing third fiddle. Could Google topple Samsung from second place? That remains for us to see.
The data also illustrates that trading your handset in—before the release of a new handset by the same brand—makes sense. How so? To put it simply, because you get a better price. If SellCell's pre-iPhone-13-release trade comparison taught us anything, it was that. Not to mention a recent iPhone 13 opinion survey SellCell carried out…
What Did SellCell's iPhone 13 Opinion Survey Tell Us?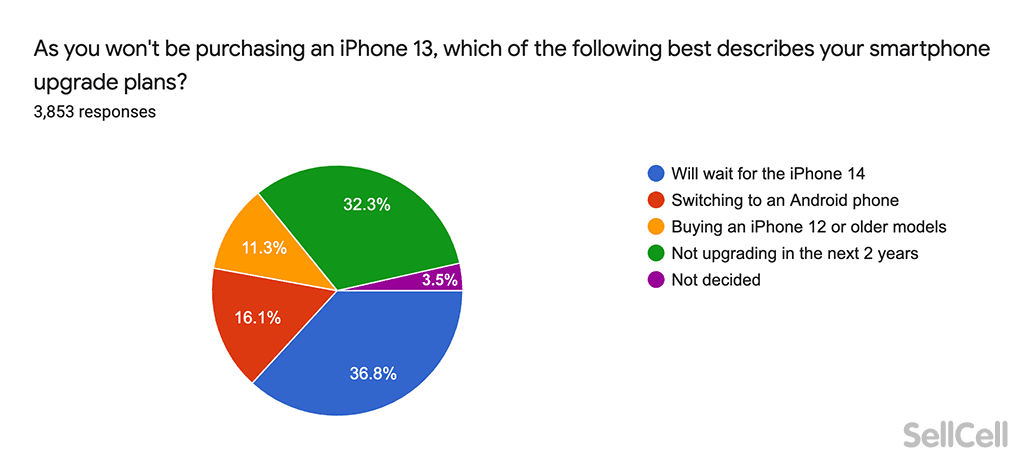 SellCell's iPhone 13 post-launch survey told us a lot. Not least how many people plan to defect from iPhone to Pixel in light of the lukewarm reception the 13-series received. With iPhone purchase intention falling by 20%, SellCell's prediction about the Pixel 6′ success may well ring true. The survey polled 5000+ people with 76.8% of iPhone users stating that they will NOT be upgrading to an iPhone 13.
Out of those not upgrading to an iPhone 13, 16.1% of those will switch to an Android phone. This is a substantial loss for Apple. From that 16.1%, we see that it is Google, rather than Samsung, that is the preferred choice.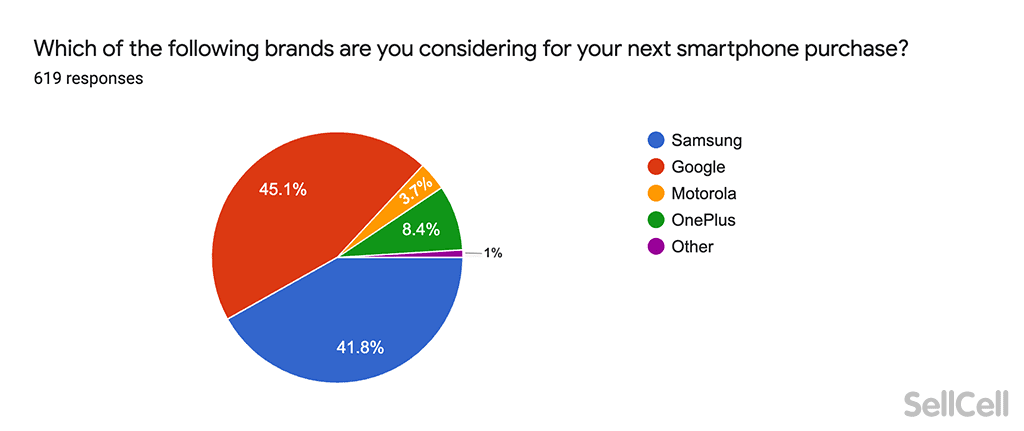 As you can see, of that 16.1% of people not buying the iPhone 13, the majority plans to jump ship to Google, i.e. the Pixel 6, which takes a 45.1% share of the purchase intention. Samsung takes 41.8%. This should set alarm bells ringing, and raises the question whether Samsung's latest Z Fold3 and Z Flip3 have enough clout to keep the brand in second place, having lost first place to Apple in early 2021.
Methodology
SellCell obtained its trade-in data from customers selling a Google Pixel smartphone, of any model, between 09/27/2021-10/10/2021, on the SellCell.com website.
SellCell conducted its iPhone 13 opinion survey online, between 09/23/2021-09/30/2021. There were over 5,000 respondents, all of whom were Apple iPhone users, aged 18+, and based in the United States. SellCell collected survey responses without storing personal, identifiable participant information.
Is It Time to Trade Your Google Pixel In?
In short, if you are looking to trade your current Pixel phone in for a Pixel 6, then now is definitely the time. The price of every Google handset currently in existence will fall dramatically when the 6 comes along.
This is why you should also use a comparison service such as SellCell to complete your trade in journey. It does all the hard work for you, finding you the best price for your Pixel smartphone and dropping it in your lap. All from a pool of over 40 buyback vendors, with trust ratings displayed next to their brand logo for consumer peace-of-mind.
Not only that, but you can take advantage of a price-freeze. So, lock your price in for at least two weeks, if your chosen buyback vendor supports this feature. Then you can keep your Pixel 5 (or whatever model you currently own) until after the Pixel 6 launches, yet keep the pre-launch price.
This way, you can know you're getting the best price for your smartphone. Even irrespective of that price-drop once the Pixel 6 hits the stores.