Last updated June 20, 2023
What is 5G?
We have all heard about 5G being launched in 2019/2020 across the Globe, but what is 5G and how much of an improvement will it be on 4G?
5G simply stands for the fifth generation of wireless technology – the next generation of mobile internet connectivity. The benefits for users will be around speed and the fact that it is a much more powerful network than 4G. In simple terms, this means that providing you have a 5G enabled phone you will have the benefit of faster downloads and where information will be passed to you quicker than ever experienced before. Download speeds are expected of around 10 gigabits per second (Gbps)
Businesses will be able to communicate and connect a whole lot faster than they can now across a much more reliable and robust network. The launch of 5G will underpin a surge in the Internet of Things (IoT) and Smart Connections across the World
What are the benefits of 5G networks?
Quicker download speeds
Faster ability to upload
Better quality streaming of videos
A move forward with IoT integration
New 'Smart Technologies' will be launched
A more robust network
Longer battery Life
Will 5G work with my existing phone?
It looks like devices that were bought and used on a 4G network, initially will not be able to be used on a 5G network, unless a 5G modification is available for the phone. As the rollout date for 5G approaches, manufacturers are now beginning to line up a whole series of devices that will have the ability to be used on the new 5G network. Old phones that still work on the 4G network won't become obsolete or unusable. They will coexist with the new, faster 5G devices. That doesn't mean that at some stage in the future the 4G devices will have to be phased out
When will 5G be available in the US?
| Carrier | Initial Rollout Date |
| --- | --- |
| AT&T | There is an initial rollout to support businesses and wider coverage for mobile networks across 2019. They will have 5G full coverage by 2020 across all key US states. They have already begun offering 5G mobile support across some states in the US, including Texas, New Orleans & Atlanta to name but a few |
| T-Mobile | T-Mobile deployed 5G Mobile to around 30 cities at the back end of 2018 including New York, Las Vegas NV, and Dallas. This can't currently be used as there are no T-Mobile 5G phones on the market, so interaction with these networks will be the second half of 2019 |
| Verizon | Already leading the way in some cities with Fixed 5G/ broadband, city by city mobile deployment starts from April 2019 around the Chicago Region. Verizon have been marketing 5G Home since the middle of 2018 for pre-order |
| Sprint | Sprint have announced that they will roll-out Mobile 5G to several key cities in the US by May this year, which will be focussed around commercial operations and airports |
| US Cellular | Launching across major cities later in 2019 |
When will new 5G phones be available to buy?
Most of the main manufacturers are on the 5G bandwagon and will be launching a series of phones or modifications to their existing phones throughout 2019. So with the networks almost ready across key cities in the US, let's see which phones will be launched
Samsung Galaxy S10 5G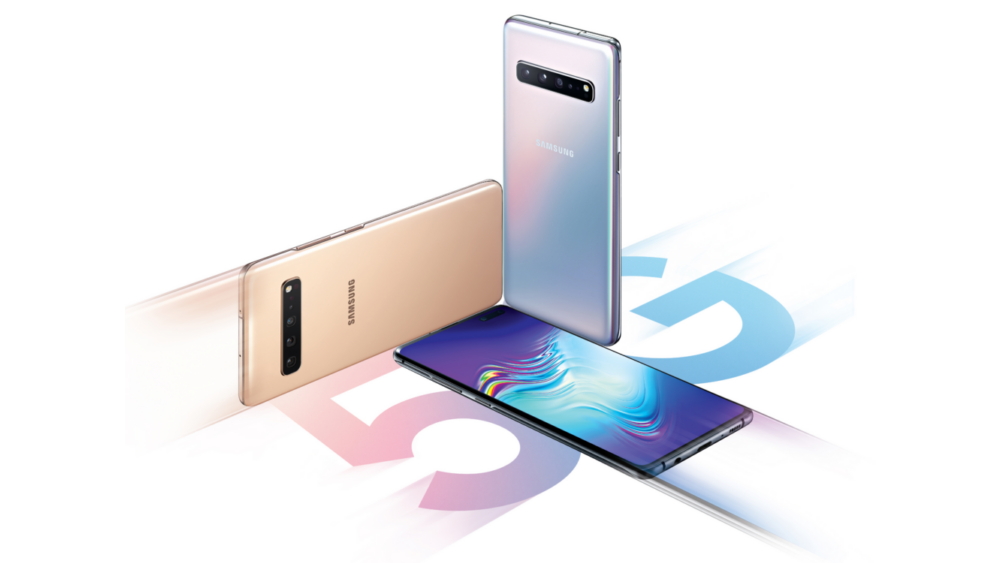 We told you about the imminent launch of the Samsung Galaxy S10 5G a few weeks ago when we were discussing the merits of upgrading to a new S10 & S10 +. The expected launch date for this new Flagship Samsung 5G device is around June 2019. As well as being 5G ready, the device has some of the great features available with the S10, including those amazing 4 cameras, a 6.7 inch OLED market-leading screen which is actually bigger than the normal S10. The battery power will also be impressive, powered by nothing less than a 4,500 mAh battery. This device with its enhanced features and 5G capability is bound to be slightly more expensive than it's sister phone which is currently sold at $899. The device will initially only be sold through Verizon at launch, but will be widely circulated to the other carriers in the weeks post launch
We talked about the Galaxy Fold, the world's first folding phone being launched this month and this may also have the 5G as well as the 4G chip We will wait and see!
Other Samsung 5G phones will be launched throughout 2019/20. The launch of the next Samsung S11, will no doubt be available in the 5G versions
Motorola Moto Z
Interestingly, Motorola have developed a snap-on accessory that will enable some of their phones to be able to connect to the 5G Wireless network. Motorola have aptly named all of their product extensions 'Motorola Mods' and this 5G Mod is now available from Verizon
The Motorola Moto Z, launched through Verizon is available for as little as $10 a month. Check it out here. The Moto Z is positioned as the world's first smartphone that can be upgraded to 5G using moto mods
LG V50 ThinQ
Like Motorola have done with their Moto Z, a few of the phone companies have actually exclusively partnered with a carrier in the US to be able to launch a new 5G phone to the market. LG, have done this with Sprint. LG indeed will launch the LG V50 ThinQ, which will be fully 5G enabled and also have some cool features like multiple cameras and great levels of storage. It's likely that this device will be launched in Summer 2019
OnePlus 5G Phone
There have been lots of rumours that OnePlus were not going to release their 5G phone in the US due to likely high price that would sit way ahead of some of the other OnePlus lineup. The 5G phone looks like it will be slightly bigger than existing phones alongside a very nice looking display. It is expected that this phone is due to be released in May 2019 and could top the $1000 price point. We await with bated breath
Huawei Mate
Not surprisingly, Huawei will launch a 5G phone in 2019 and just like Samsung this phone will be foldable. The highly anticipated launch of the Mate X, a phone that folds out to be the size of a tablet won't come cheap and is rumoured to cost around $1800. As the device can be used as both a phone and a tablet, it will be positioned no doubt as more than a 5G phone
Apple
Our friends at Apple are keeping tight lipped about their plans for a 5G phone and no announcement has been made about a launch for this currently. Apple are currently having some battles themselves with Qualcom around 4G LTE Processors. This legal battle is likely to have a knock on effect as to how quickly they will launch a 5G phone to the US market, or any market
So, is it Worth The Upgrade or Should You Wait to Buy One?
Roundup
AT&T, Sprint & Verizon have committed to 5G rollout prior to the Summer of 2019 – T Mobile is a little later and will rollout in 2020
There will not be full 5G availability in 2019 & we are uncertain of Apple's plans which will no doubt mean no Apple 5G phone until 2020
5G has many speed benefits, faster data and a better efficient use of battery
The 5G launch definitely sounds exciting, but existing phone owners do not need to worry about buying one of the new phones. The 5G networks will offer some fantastic benefits from a speed perspective, but it is worth bearing in mind that the coverage will only be available in a limited number of areas and markets in 2019. The availability consistently of 5G depends on whether the towers have been upgraded in your area. 4G LTE networks are also proving to perform really well, so don't feel forced into buying one as your old phone will still work
Samsung are expected to launch their 5G in the first half of the year, whereas their exclusive partner Verizon may not be ready for a phone enabled 5G network until the later part of 2019 and only across selected cities. Verizon doesn't launch their 5G mobile network until April 11 and then it's only available online in Chicago and Minneapolis. Beware that although a date of June 2019 was initially muted, Samsung may wait until Verizon's network is live across a wider number of US cities before launching the Galaxy S10 5G
Should You Wait to Buy One?
On balance, providing your area is 5G enabled, the new 5G phones are something that we would definitely consider an upgrade for alongside any other new features that are also being launched. The new phones all come along with new fantastic product upgrades too, primarily to improve the screen size & view and improve the camera functionality. So if you get 5G as an additional benefit alongside these great functional features it's a yes to an upgrade from our camp
At the end of the day if you are ready for an upgrade, it makes sense to opt for a 5G version. If you plan on having the device for the next 2-3 years the 5G rollout will be well underway then
What to do if You Want to Upgrade to a new 5G Phone?
News of 5G releases and pre-sales will no doubt be widely communicated soon in line with the coverage plans for all of the networks. If you are thinking about upgrading, it's worth making sure that you get the best price for you old phone to put towards the new device
Your old phone can lose a little bit of it's value as a new launch approaches, so keep your eye on the trade-in prices of your old phone as news of the new pre-sale dates are announced. Using SellCell.com, for instance will guarantee that you get the maximum price for your old phone with a best price guarantee
Most of the BuyBack companies on the SellCell site also lock the price of the trade-in for around 30 days. If you are really savvy, as soon as you hear about the release, 30 days before lock in the best price with your preferred BuyBack company. Don't just on the carriers trade-in offer as it can be up to 25% less
If you are upgrading to a new 5G Phone, make sure that you get the best price for your old phone to put towards it. Check out the trade-in prices on SellCell.com