Things happen. Your car breaks down, a medical bill hands you a steep deductible, or extra days off from a remodel at work mean less pay on your paycheck. Whatever the reason, you're looking for extra cash ASAP.
You could start a side hustle like Postmates, Uber, or dog walking. These are excellent ways to make sure you don't go into the red again next month. But all of them have a ramping-up period during which you're making no money. It doesn't help you in the short term.
An excellent option to consider is selling your stuff. Most of us have too much clutter anyway, filling up our spaces and minds with things we don't need. Technically, you can probably sell every kind of thing you own, but a handful of items are more likely to turn a fast and reliable profit.
Here are possessions you could sell now:
1. Books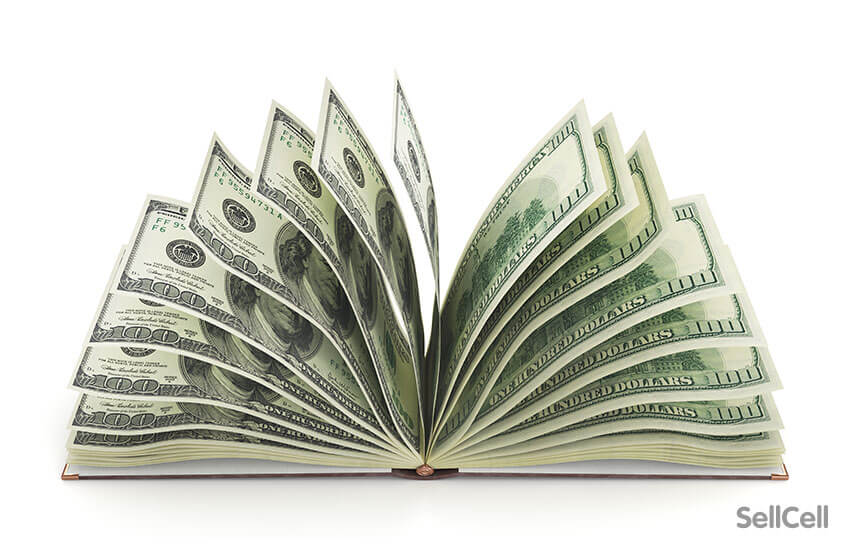 Dozens of sites like BookFinder.com and Powell's Books allow you to sell your used books for cash without leaving your home.
You send them a list of ISBNs and/or titles. They make you an offer. If it's good enough, they'll have you print out a shipping label and send the books in. Not much later, you get a PayPal deposit or similar payment.
Start With: Mass-market paperbacks you're not going to read; classics you own but have admitted you won't open.
Don't Bother With: Book club editions; textbooks more than one edition old.
Interesting Opportunity: There's also an aftermarket for good-condition older magazines, yearbooks, and newspapers.
2. Clothes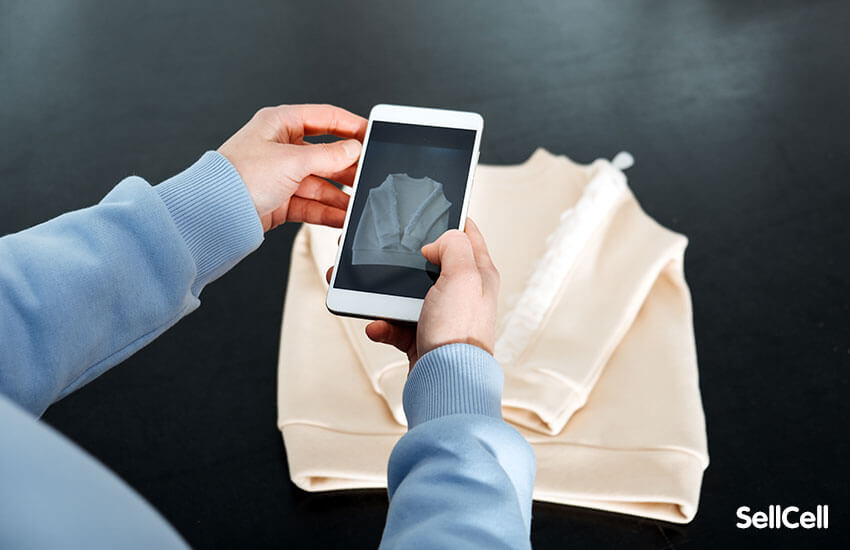 Just because you're tired of wearing it or your kids have outgrown it, that doesn't mean your old clothes are worthless. You can go to a local second-hand clothing store like Buffalo Exchange or Plato's Closet and get cash for good-quality clothes you no longer need.
If you don't want to leave the house, ThredUp offers a service for clothes similar to what we just described for books. TheRealReal will sell luxury clothes for you on consignment, often with a turnaround time of under a week.
Start With: Jeans, skirts, and sweaters. These seem to have the highest resale value and the quickest turnaround.
Don't Bother With: Socks and underwear, because eww.
Interesting Opportunity: It won't result in immediate profit, but you can donate clothes that don't sell and claim a tax deduction. It's not cash right now, but it's better than nothing.
3. Furniture
Admit it. At least one room in your home has an old couch, table, or chair you never use but haven't gotten around to scrapping. Or maybe you have a garage or shed with a whole bedroom set that needs a home.
Either way, you can clear out a lot of extra space and enjoy a potentially nice payday by selling your furniture on sites like Craigslist or apps like OfferUp. It's best to go local with these items since shipping something large and heavy can be expensive and a hassle.
Start With: Couches and comfy chairs. These seem to sell fast and can fetch $100 or more if they're in good condition.
Don't Bother With: IKEA furniture or anything else made from particleboard and laminate.
Interesting Opportunity: More than one family has made a tidy, recurring supplemental income by flipping furniture. Curb shop and take offers of free furniture for moving it yourself – they're surprisingly common – clean them up, and sell them for a profit.
4. Gift Cards
Gift cards are cash waiting to happen, so if you have one you don't use, sell it. You won't receive the total face value, but the money you get will be better than the card sitting unused in a drawer while you're strapped for cash.
Sites like Cardpool and Raise are quick and easy marketplaces for most major brands.
Start With: Electronic gift cards. You'll get paid immediately, whereas you have to mail in physical gift cards before you see the cash.
Don't Bother With: Gift cards for local stores and restaurants. Most card-buying sites won't purchase them, though you could try listing them on Craigslist.
Interesting Opportunity: If you have a little time and good-as-cash gift debit cards, you can churn the payments through a rewards card for extra money.
5. Jewelry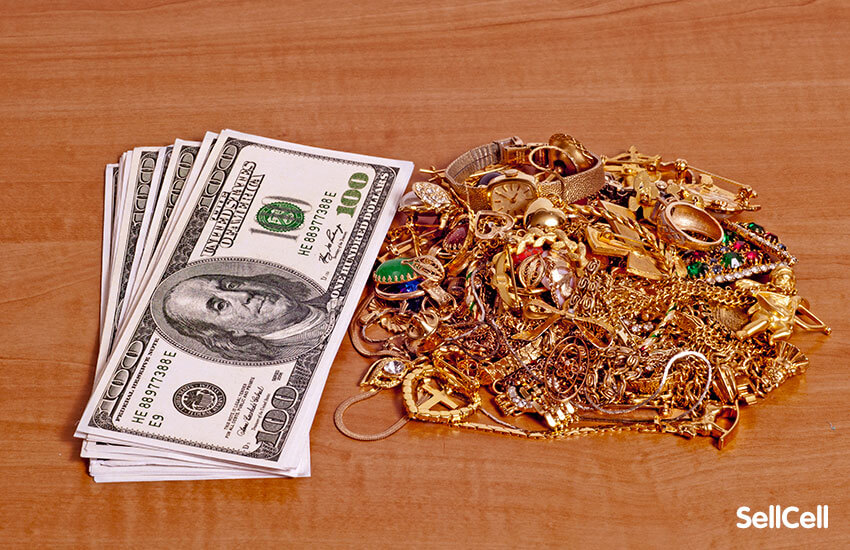 Jewelry is portable and tends to hold value. You won't get what you paid for it – or what the ex who bought it for you paid — but reliably, it's easy money.
The biggest problem is jewelry has sentimental value, making it feel worth more than the local jewelry stores will offer in exchange. Keep this in mind.
Start With: Anything you haven't worn in a year. Jewelry sitting in a drawer does you little good.
Don't Bother With: Pawn shops will give you even less for your jewelry than a local jewelry or resale shop will.
Interesting Opportunity:Your costume jewelry isn't worthless. You can sell it at the same resale shop where you take your clothes.
6. Old Phones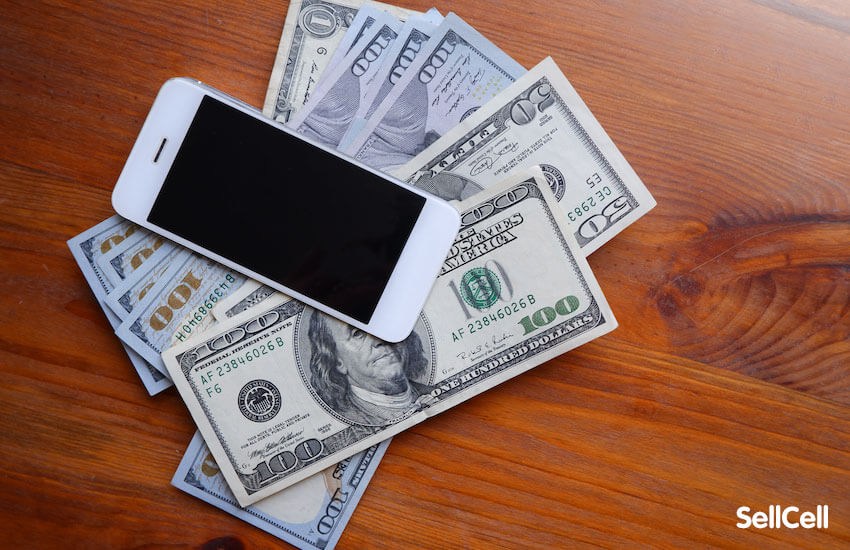 If you're like most people, you have at least two old phones lying in a desk drawer somewhere, surrounded by their accessories. You can turn them into money with SellCell.
Newer phones can resell for hundreds of dollars or more. Even older and broken phones will fetch you a decent amount of cash, as buyers can refurbish them and sell them to overseas markets.
Start With: The phone you had before your latest upgrade. It will fetch the highest price. Use a comparison site like SellCell that will guarantee to get you the most money for your old device by comparing 40+ buyers.
Don't Bother With: Phones that are missing screens or are in parts. Broken phones can be sold but they need to be in one piece.
Interesting Opportunity: As with furniture, you can collect old phones from people who don't want to bother to sell theirs, then sell them online.
7. Sports Gear
Two universal truths about sports gear:
At any given time, almost everybody has a surprising amount of stuff they don't use anymore in some corner of their home.
At any given time, a newcomer to the sport needs low-priced equipment.
Play it Again Sports is a national chain that buys and resells sporting goods, especially in the youth sports market. You can also post on Craigslist or OfferUp to see what the market is like there.
Either way, you turn the last reminders of a hobby you've abandoned into the money you need to move forward.
Start With: Whatever gear is in season right now. It will fetch the highest prices and sell the fastest.
Don't Bother With: Home fitness gear like treadmills and weight benches. The market is typically glutted with them to the point where you can hardly give them away.
Interesting Opportunity: If you're an expert at a sport, consider giving private coaching lessons in your local community. It's an easy way to pick up a few dollars doing what you love.
8. Toys
Kids love their toys — temporarily. After they've outgrown them, they typically just add to the pile of possessions keeping their room a messy disaster.
With their permission, you can send those playthings out to be somebody else's new favorite while bringing in money for the family. Craigslist, OfferUp, and stores like Once Upon a Child can give you reasonable prices on the most popular toys and a little money for classics.
Start With: Branded crossover pieces like Star Wars, superheroes, or Dora the Explorer. They tend to have staying power.
Don't Bother With: Anything broken or worn. The toy market is pretty flooded, so there's little interest in less than the best.
Interesting Opportunity: Look into any toys you've kept from childhood. A few specimens might be legitimate collectibles and sell for hundreds or even thousands of dollars.
9. VHS Tapes
To be clear, almost all of your VHS tapes are useless and worthless. Technology has moved on three different times since they were popular, and they don't have the hip nostalgia value of LPs and similar technologies.
That said, specific collectible and first editions of some movies, especially Disney classics, can fetch a surprising amount on eBay. Most of your collection will earn you less than you spend on postage, but it's worth checking out.
Start With: Disney animated movies, cult classics, and obscure niche titles, especially titles that were never upgraded to DVD.
Don't Bother With: Blockbusters. The market is full of them, and they have little nostalgia value.
Interesting Opportunity: if you have old LPs, the market is even better for them — though they must be in great condition and scratch-free.
10. Vintage Items
Old stuff is worth very little until it gets old enough to be considered a classic. That's why programs like "Antiques Roadshow" are so popular.
If you have dusty belongings from a relative's estate or a storage unit you haven't opened in 10 years, go through it for things old enough or retro enough to be making a comeback. eBay is the best place to sell vintage items, but a local market might get the money to you sooner.
Start With: Retro items popular with the hipster crowd, like typewriters, see-through phones, and movie posters.
Don't Bother With: Anything broken. The price plummets.
Interesting Opportunity: If you're crafty, you can take pieces of broken vintage items, make art or decorations out of them, and then sell your work on Etsy.
Honorable Mention: Your Body
No, we don't mean "sell your body" in that way. We mean monetizing your anatomy for science, such as by selling blood plasma, eggs, or sperm or signing up for medical trials. This is a very personal decision and not for everybody, but it can come with a healthy paycheck at the other end.
Final Thought: Cleaning Up Your Finances
Jettisoning some of your unwanted things can give your bank account an immediate boost, but it can also cut your spending moving forward. Just a few of the ways decluttering and organizing your home can save you real money include:
An organized garage means you stop buying a tool you can't find only to locate it a day or two later.
Organizing your mail means no more missed bills and late fees.
Your remaining possessions will be better maintained, meaning you replace them less often.
That's just the beginning of how less clutter and more organization can keep your household more firmly in the black. Start by removing stuff you don't need – at a profit – and use that extra mental and physical space to start getting your finances on track.
Courtney Hillington is a freelance writer in New York who knows what it's like to have to scrimp and sell items.