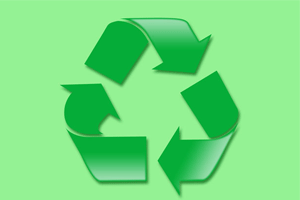 The term 'Manassas' is probably most well-known across the United States as the site of not one but two significant Civil War battles, ones that are called by the phrase 'Bull Run' in the North. Now, however, the town of Manassas, near the site of these battles, may be on track to become famous for something else: a vigorous interest in recycling.
Manassas, which is located in the state of Virginia, has recently issued information to the town's residents urging them to recycle a large variety of goods. The information, which was produced by the town's department of Public Works and Utilities, recommends the recycling of a large variety of materials including paper goods such as magazines, phone books, and even unwanted paperbacks. Garden wastes and leaves are also appropriate for recycling, as are plastic and glass bottles.
The public information, however, went beyond typical the typical municipal guidance because it specifically called on Manassas residents to also recycle a wide range of electronic goods including printers, computers, electric typewriters, televisions, and most notably, cell phones. Of all of these items, cell phones are the ones that consumers probably toss away the most frequently since mobile phone technology is changing at such a fast clip.
Cell phone recycling is fast and easy to accomplish and all consumers need to do is go online and search for outfits that will accept old phones. Best of all, many of these recycle old cell phones for cash.