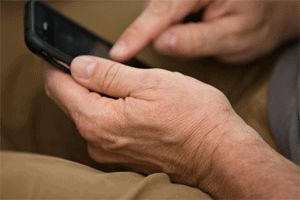 A new Harris Poll, which was commissioned by Placecast, has shown that Americans are eagerly adopting new and old cell phones for the purpose of shopping rather than making calls or texting. The poll shows that 20 percent of all adult cell phone users in the United States have used their phones to make a purchase via the internet at some point during the last 12 months, with consumers also becoming increasingly interested in marketing via text messages.
Purchase rates with the owners of smart-phones are higher than with those who own standard cell phones, with 34 percent of smart-phone owners having used the device to buy online in the last year, against 20 percent of standard cell phone owners.
Overall interest in using cell phones to make purchases has increased by eight percent in the last two years, with 38 percent of all cell phone owners acknowledging that it is at least somewhat important. Once more, this feeling is more strongly felt by the owners of smart-phones, with 59 percent believing it is somewhat important for them to be able to shop via their cellular device.
Adults in the United States have also shown a greater receptiveness to the idea of marketing via text messages, with over three in ten cell phone owners who do not already receive such messages from companies admitting to an interest in receiving such texts from brands, so long as it was optional.