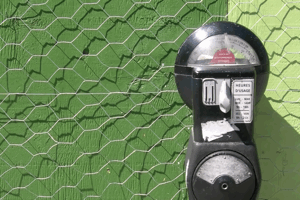 Drivers in New York City may soon be able to pay parking meters by using their new and old cell phones. The Department of Transportation in New York has begun inviting businesses as of this week to submit their proposals for the creation of a new system that would allow drivers to use their cell phones to pay parking meters rather than have to hunt for quarters.
"We're giving no quarter to the inconvenience of feeding coins into the meter," quips Janette Sadik-Khan, the commissioner of the New York Department of Transportation. "Piloting "pay by phone" technology can eliminate the mad dash for meter change and it's another great example of technology improving quality of life for New Yorkers."
Once a proposal gets the green light, the new system should be introduced in the form of a pilot program that will include just 300 spaces in an as yet undetermined area of the city. Should the pilot program prove to be a success, the Department of Transportation could then decide to expand it across all of New York City. Those who would like to be able to pay parking meters via their used cell phones will need to sign up to the system and provide debit or credit card information so that they can be billed. Once that is done, they will then be able to use their cell phones to pay parking meters for as long as parking regulations allow them to remain in a particular location.