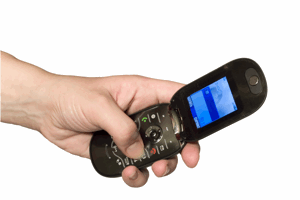 A young woman who became lost while hiking was saved by smart use of her old cell phone, according to Massachusetts State Police. State Police were able to rescue the 25-year-old woman who became lost while hiking in the Freetown-Fall River State.
"Nobody goes hiking thinking they're going to get lost," notes Rick Boulos from the Air Wing of the State Police, who flew the helicopter which helped rescue the young woman. The hiker's cell phone was dying, but police credit her for using the device in as smart a way as possible, able to call police, stay in touch with a state trooper who was in the helicopter that was sent to look for her, and then aid the helicopter in finding her by shining the light from the dying phone into the air, where those inside were able to pick it up by the use of night vision goggles.
Not that the rescuers themselves had it easy, however, with dense forest to get through and the helicopter itself running low on fuel, with the nearest refueling station, New Bedford Airport, inaccessible due to thick fog.
Troopers say that the rescue should serve as a lesson to other hikers, noting that they should both ensure that their cell phones are fully charged, and also carry matches with them in the event that they need to light a fire for either warmth or to attract attention from rescuers.