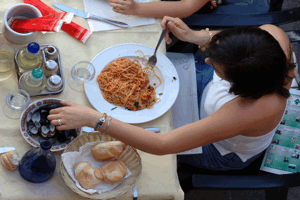 Several movie theaters have begun implanting a "zero tolerance" policy on the use of new or old cell phones during a film in order to prevent audience members' enjoyment of the movie they have paid to see being ruined by someone else's selfish thoughtlessness, but now a restaurant in Washington DC in the United States is also following suit.
Rogue 24, a restaurant in the nation's capital, has decided to implement a "zero tolerance" policy of its own, forcing diners to sign a contract agreeing not to use cell phones or PDAs before they can get their meal.
"They're distracting to other guests, and we simply ask people not to use them," says the restaurant's executive chef and owner, RJ Cooper. "Your mom and dad wouldn't have allowed you to use a phone at the dinner table and we don't either. Even if you don't care about other patrons' experiences, think about your own dining companion, sitting there being ignored while you use your phone. It's just bad manners."
Rogue 24 only takes table reservations over the internet, and diners must sign the "no cell phones" contract prior to even confirming their requested date and time. The policy only applies to the actual dining room, with customers free to use their cell phones in other areas of the restaurant such as the front bar or bathrooms. Cooper notes that the policy is a little different to those of museums, which forbids high end photography or loud conversations.