Last updated April 12, 2019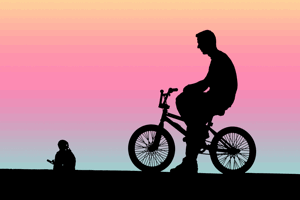 A ban on using new or old cell phones while riding a bicycle is being considered after the California Legislature in the United States sent the proposed bill to Governor Jerry Brown. The new bill would create harsher penalties for those caught using a cell phone to talk or text while operating a motor vehicle and for the first time extend the law to cover cyclists as well, albeit with lesser penalties for offenders than other motorists.
Bicycle groups do not appear to be opposed to the idea, with most believing that it is only a matter of time before other states also move to include cyclists in the ban on using cell phones while on the road. "We can and should be held to the same standard as people driving cars," believes the president of the lobby group for cyclists in Washington DC, the League of American Bicyclists, Alan Clarke. "One needs to be paying attention, both hands on the handlebars." Clarke is one of those who believe that the ban is almost certain to eventually spread to other states in the US besides California. "It doesn't cause me any heartache to see that passed," he notes. "My hope is it will be enforced vigorously."
Cyclists that violate the new law, if it receives final approval from the Governor, will be hit with a $20 fine for a first offence and a further $50 for every subsequent violation.