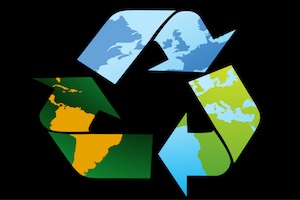 The United Nations has moved one step closer to a ban on developed nations exporting electronic waste to the developing world. 50 nations have ratified an amendment that has been made to the 1989 Basel Convention at a recent United Nations environmental conference that was held in Cartagena, Columbia. The amendment will help to restrict the exporting of electronic waste to developing countries and although as few as 17 nations actually needed to ratify the amendment, the deal, which was brokered by Indonesia and Switzerland, has received widespread support.
The new amendment to the Basel Convention removes many legal barriers to making sure that the ban can be legally binding, stating that "all forms of hazardous waste including that sent for recycling, to obsolete electronic waste, will be banned from leaving wealthy countries destined for developing countries".
The ban also restricts the exportation of traditional electronics such as old cell phones and unwanted computers, as well as other potentially dangerous devices such as refrigerators, air conditioners, and washing machines. Between 2001 and 2005, 1.2 million old televisions, air conditioners, washing machines, and refrigerators are estimated to have entered the Philippines, according to a study of e-waste shipments that was conducted by the Philippine Board of Investment and the Japan International Cooperation Agency.
"I've been working on this since 1989 and it really does look like the shackles are lifted and we'll see this thing in my lifetime," says the executive director of the Basel Action Network, Jim Puckett.