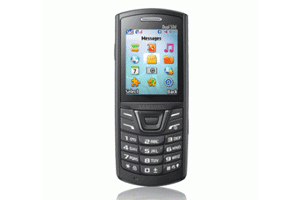 Samsung is all set to launch a series of new cell phones in 2011. One of them is strangely named as Samsung Ch@t 322 and the other one is called Samsung E2152.
The Samsung E2152 has a candybar design and apparently accessible now in Europe, and the Samsung Ch@t 322, which is a QWERTY device, will be launched shortly.
New phones as such are not that exciting in themselves but industry experts are excited by the features of these cell sets. They are said to consist of equipment developed by ST-Ericsson, a unit which has grown out of the joint efforts of Ericsson and STMicroelectronics.
Both the handsets come with the feature of carrying a couple of sim cards, thus giving a user the advantage of separating their business calls from private calls. One can make and receive calls over two different networks using this feature.
Dual-Sim technology has the probability of expanding five times as much as now over the coming years.
You are lucky if you like German football. That's because Samsung has decided to launch a new cell phone called the Wave smartphone which will be devoted to Bayern Munchen. This special version is called the Bayern Munchen version.
This handset comes pre-loaded with a feature through which you can avail of T-Cell's football TV service for 3 months absolutely free of cost. There are also many other features other than this chief feature.
This is not the first time that Samsung has launched a dedicated cell set. In the previous years, it has come out with many special editions of its phones (such as Galaxy S).