Last updated April 12, 2019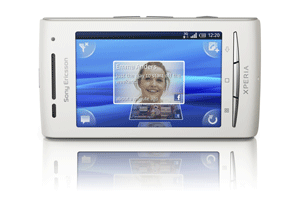 Three now presents the latest Sony Ericsson gizmo Xperia X8 – your choice in this new year!
You can conveniently choose from the following options available:
Outright purchase on 'pay as you go' for less than £100
Contract purchase of handset at a fixed £15 per month
Three's One Plan tariff for £25 providing full data allowance
The biggest advantage of Xperia X8 as compared to many other new handsets is that it is easily affordable while at the same time providing great features. This new model will surely be welcomed by consumers who are low on budget.
Sony Ericsson's Xperia X8 is an Android smartphone providing a host of features like 3-inch capacitive touchscreen, 3.2 megapixel camera, GPS, WiFi, virtual QWERTY keyboard and Sony Ericsson's exclusive Timescape user interface. The only pitfall with this model being that it works on version 1.6 of Android's operating system, while many other Xperia models are using better versions. Another drawback is that Xperia X8 will probably be the last model to receive any future upgrades, considering the continuous problem that is being faced with Android upgrades.
Sylvia Chind, the Head of Branded Devices Department at Sony Ericsson, believes that Xperia X8 is an affordable multimedia smartphone with great functionality, allowing the customers to make optimal use of Sony's 3G network, which spans across 97.3 per cent of UK's total population.
Undoubtedly, the new well-designed Sony Ericsson Xperia X8 is a great deal on affordability and features.