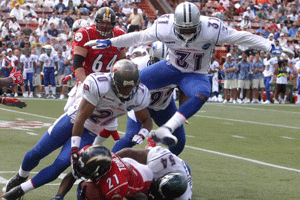 It's the Super Bowl next month, perhaps the biggest annual sporting event in the United States, and one company is taking the opportunity to use the event to spread the word about cell phone recycling and the recycling of all other electrical goods into the bargain. ECS Refining is using a new marketing campaign, designed by the company Pure Matter, which operates out of San Jose, to recycle their old products such as used cell phones and televisions if they're thinking of upgrading in preparation for the big game. The campaign began broadcasting across radio stations in California last week.
"While the Christmas holiday season generally marks the height of the electronics buying season, we see an additional spike in TV purchases coinciding with major sporting events such as the Super Bowl," says the president of ECS Refining, Jim Taggart. "Our new campaign aims to remind consumers that they should responsibly recycle their old electronics when they uncrate that new big screen TV over the next few weeks." Taggart goes on to add that "By choosing to recycle your old TV at any of our two hundred and thirty recycling locations, you can be sure that it will be safely dismantled domestically by experts, and all of the hazardous components will be recycled using the latest methods."
The ecollective program does not just apply to televisions, of course, but also many other common forms of electronics such as computers, monitors and old cell phones.