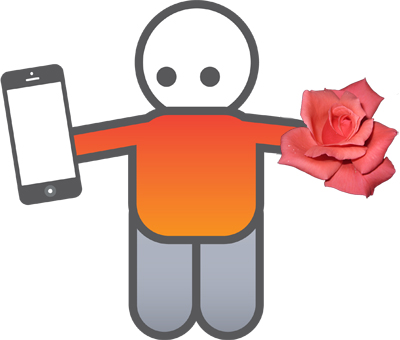 It's no secret that technology has slowly invaded pretty much every aspect of our lives. You can use your iPhone to manage your finances, plan your vacations, do your shopping, and track your calendar, so it should come as no surprise that there are also several apps available to help your relationship.
iPhone apps can actually be a great way for couples to connect and communicate when you can't physically be in the same room. Whether you are in a long-distance relationship or simply miss your other half during the workday, here are eight apps you can use to stay close.
1. Avocado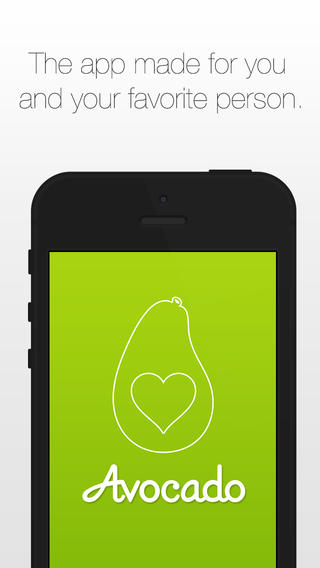 Named for the fact that avocados always grow in pairs, this Avocado app allows you to connect with your significant other via your own private messaging system. Featuring a private and secure way for you to send text, picture, and video messages, you can compile all of your conversations with your "boo" in this one central location. You can also use shared lists and a shared calendar to make sure you are always on the same page and even send virtual hugs and kisses to brighten the day of your loved one.
2. Kahnoodle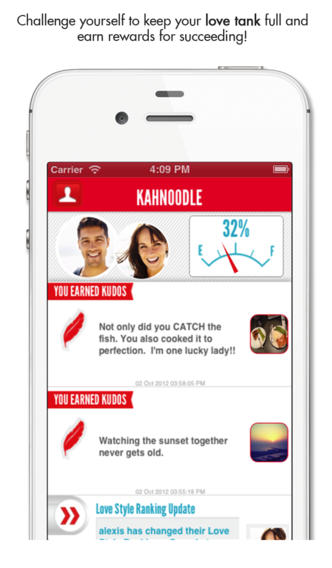 Have fun communicating with your partner via this app that bills itself as a "couples game." Kahnoodle allows you to create love coupons as rewards for the little things your significant other does. You can also get tips about special things you can do to help make your loved one happy. When you're at a loss for something new to do together, turn to the app's Date Night Deals feature to find great discounts in your area.
3. Couple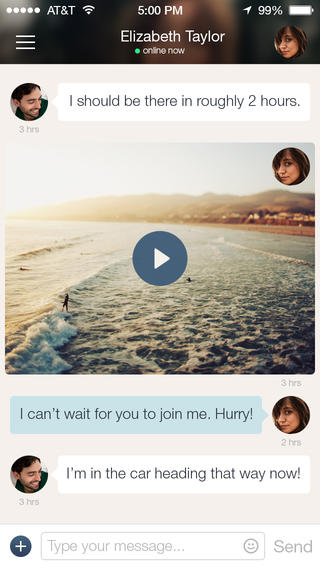 Formerly known as Pair, Couple lets you share everything in your life with your partner. Utilize the private messaging system to send voice messages, custom emoticons, and "secrets" (photos that will disappear after a limited amount of time). You can also send a ThumbKiss to each other by touching the same spot on your phone in unison, which causes both phones to vibrate.
4. Love Maps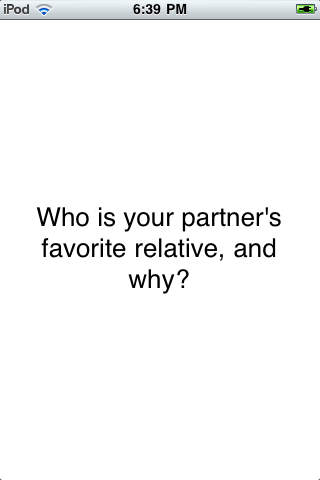 Like your own private version of The Newlywed Game, the Love Maps app helps you keep up to date with your significant other's life. Answer a variety of questions about your partner and then find out if you got them right. The app was developed by The Gottman Institute as a way of helping you keep a constant "Love Map" of your partner's world.
5. HeyTell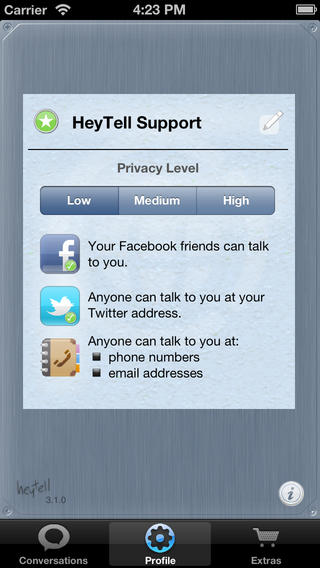 Sometimes a picture or text message doesn't cut it when you want to communicate with your loved one. The HeyTell app allows you to send quick voice messages with the simple press of a button. Similar to a walkie-talkie, it lets you hear each other's voices without having to go through all the hassle of actually making a phone call.
6. Between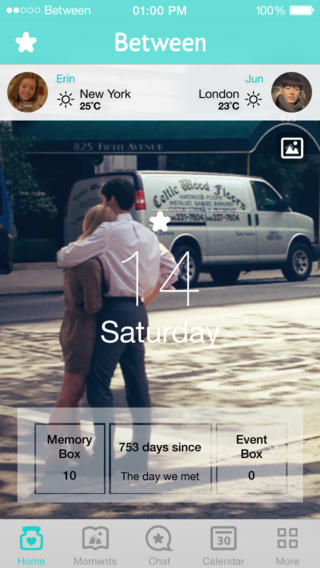 Designed for long-distance relationships, Between gives you a place where you can document all your favorite memories together. Featuring a private chat feature with special stickers and stamps to enhance your conversation, Between also helps you create a timeline that tracks the history of your relationship. You can add "Moments" by incorporating pictures, events, and more, and then use it to look back on your history together.
7. Icebreak for Couples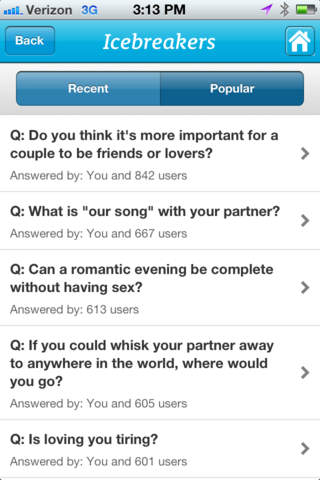 You may think you know everything about your partner, but Icebreak for Couples seeks to help you learn something new every day. You will each be prompted with an "icebreaker" question once daily and you can compare your answers to see how your opinions match up or differ. The app will track your relationship health and give you a "relationship score" in addition to tailoring the daily questions to you.
8. Kindu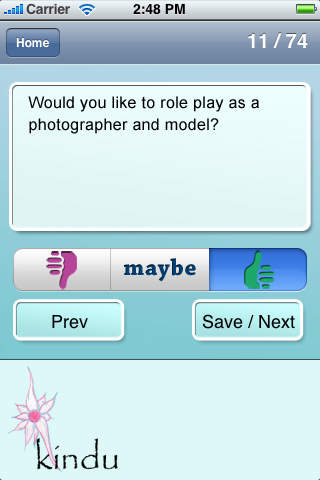 While the other apps can help you stay close on an emotional level, Kindu wants to help you and your partner connect on a sexual level. Created by a group of medical students taking a sexual health course, this app allows you and your significant other to broaden your horizons in the bedroom. It presents a variety of ideas and fantasies and then lets you rate them as something you'd like to do, are not interested in, or might want to discuss. Your partner will also rate the ideas and you will each only be presented with the results you were both interested in.