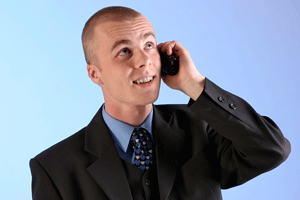 There has been a staggering degree of innovation when it comes to apps on new and old cell phones, and yet little of that creativity seems to have had any kind of impact on the actual phone call itself. While the use of such devices has been redefined by everything from texting, social networking, location finding, games and photo sharing, the ordinary cell phone call has failed to innovate.
Three years ago in the United States, cellular network data such as email messages, streaming video, texts and a number of other services exceeded the amount of data from cell phone calls for the very first time. "The phone call on phones hasn't changed that much," says the chief executive officer of start-up Sidecar, Rob Williams. "All the innovation is on the data side of the phone."
Sidecar, which is based out of San Francisco, is hoping to be able to re-imagine the humble phone call by transforming them into what the company refers to as "smart calling". The notion behind the Sidecar app, which became available for Android and iPhone on Tuesday, is that there is a certain demand among users to be able to share the likes of pictures, location and video data while a phone call is taking place.
Some of this can be achieved by using other apps, but Williams says it "takes about nine clicks", without using Sidebar. Sidebar users can also call each other free.