Last updated April 12, 2019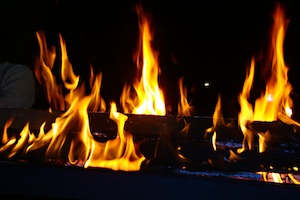 A forgotten old cell phone helped to save the lives of a family caught in a house fire on Tuesday night in Canada. Shea Smith, who works at the bakery at Real Canadian Superstore and his family, lost their possessions, which were uninsured, when the fire gutted their home in Duncan. Shea's mother Lisa and Sandy Wall, her partner, were asleep when Smith arrived home at 173 McKinstry Place to drop off some video games he had purchased. Smith then left to catch a ride that was waiting for him, only to realize he had forgotten his cell phone and decided to go back for it. This move saved his family's lives as, once back inside the house, he saw smoke coming from a small cloakroom.
"Four foot flames were reaching up and were already on the walls," Shea says. "I slammed the door, yelled 'Fire!' and then tried to fill a garbage can with water. When I opened the door to the cloakroom, fire just billowed out and I was blown back. I kicked the door closed and got everyone out."
The interim bakery manager at the store, Anders Oke, sees Smith as a hero. "If he hadn't returned for his cell phone, they might have been asphyxiated," he notes. Smith and his family are now staying with grandparents until they can find somewhere else to rent, though Shea says he has learned his lesson about not having insurance.