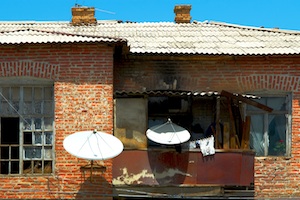 Cell phone records have revealed that around a fifth of the population of the New Zealand city of Christchurch fled the city following the massive earthquake that struck on 22 February this year.
Statistics NZ has conducted a novel study based on records that were taken from two of the nation's three cell phone networks. It discovered that no less than 20 percent of the new and old cell phones that were in operation in the city of Christchurch in the ten days prior to the devastating earthquake were used outside of the city in the week following the disaster. A large number of people fled just to the surrounding areas of Canterbury, although around eight to ten percent made calls on their cell phones from Otago, with another eight to ten percent also calling from Auckland, with the city of Wellington coming in third. Just two percent of the callers fled to Marlborough, with around the same amount also heading to the West Coast.
The new study is somewhat unusual given that cell phone firms in the great majority of countries prefer to keep their call data secret. However, Kirsten Nissen, an analyst from Statistics NZ who is based in Christchurch herself, says that in this instance the two networks were aware of the public value of their information, although a third, unnamed network declined to cooperate.